We've seen huge transformations in the online betting world ever since gambling took its first leaps into the world wide web. But nothing sums up these changes better than the world of mobile betting apps, the best of which are a culmination of all the advancements, hard work and ingenuity which has gone into making today's online gaming scene so satisfying. Check out the table below for our picks of the best of the best mobile apps.
Best Betting Apps

#1



Live match alerts keeps you up to date with the action


Wide selection of different bet types to choose from


Early Payout available on selected matches



Read review
Visit site

#2



Huge amount of betting markets on Semi-Final


Money back free bet on England vs New Zealand


Right number, wrong team offer on First Try Scorer Bet





Read review
Visit site

#3



Huge variety on this and other international tournaments


Great odds for Rugby World Cup "Name The Finalists"


Choose between several options as top tournament try scorer





Read review
Visit site
Most Important Info
How to Install an App on Android/iOS
This is only relevant for native apps, as mobile web apps do not need to be installed. Luckily, this is barely any extra effort at all. Generally speaking, you'll simply head over to your relevant app store – whether that be through Google Play or the App Store – and download the app. Then from your phone, you can either register or log into the account you use on the desktop. There shouldn't be more to it than that.
However, just to make sure that you can install with the utmost confidence, we are going to go through each platform and explain how you install for all of them, step by step.
Android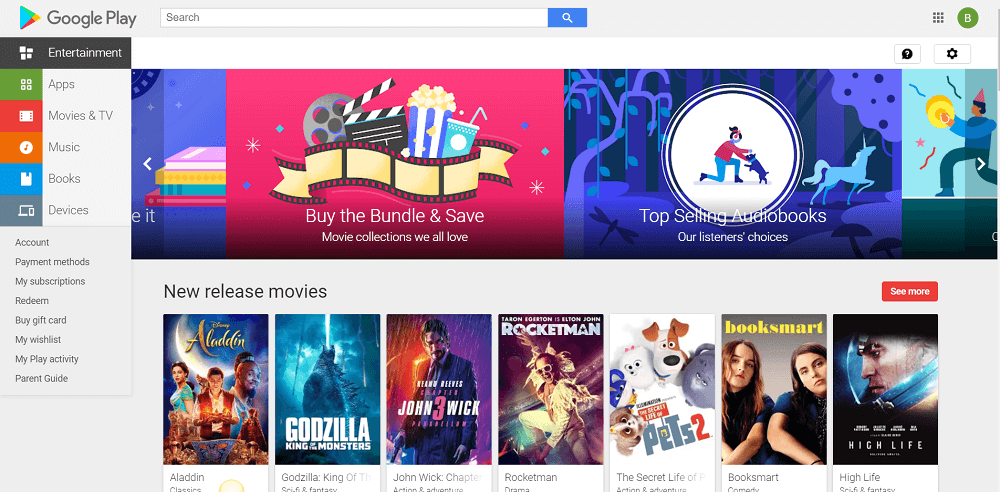 There are actually two different processes to downloading apps for Android. There are plenty of apps you can download in just a couple of clicks through the Google Play app store, and other APK files which require manual downloading. It's the latter that you'll need to know, as Google doesn't allow betting apps on their store.
So, how do we download APK files in order to get our betting apps?
Open your settings and go into the security menu.
Check the unknown sources app to allow for apps from outside the Google Play store.
Download a file manager app in order to select an APK file on your device.
Generally speaking, you should now be able to download the APK file directly from the source. Other methods include downloading an APK file from your computer to a device and uploading them to a cloud storage service. Regardless of the method, you should now have access to the app whenever you need it.
iOS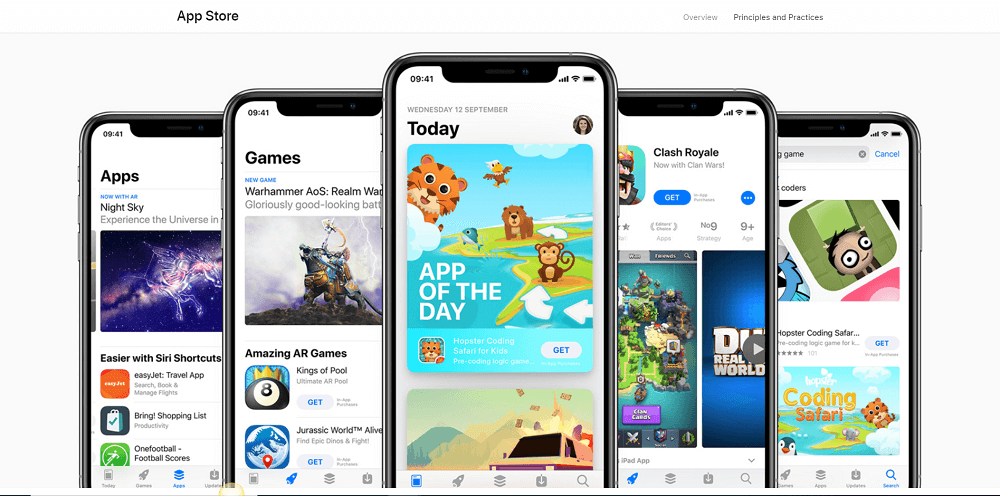 As betting apps are allowed on the App Store – which is where you will find apps for iOS devices –, the process here is quite a bit simpler. Nonetheless, here's a quick breakdown for those of you who are unsure.
First off, you'll need an Apple ID. This is your account for Apple services, including the App Store. If you don't have one, you can create one by entering a few details.
Now, go to the App Store from your home screen. Generally, this should be easy to find on your iOS device.
Search for the app you want, and simply tap the app to download.
Once it has finished downloading, move the app to a convenient spot on your home screen.
Windows Phone
The process for downloading an app to a Windows device is almost identical to our previous example, with the exception that you download apps from your phones 'Marketplace' rather than the App Store. However, there are a couple of differences, so we'll outline them here just so you can be absolutely certain of how to move forward.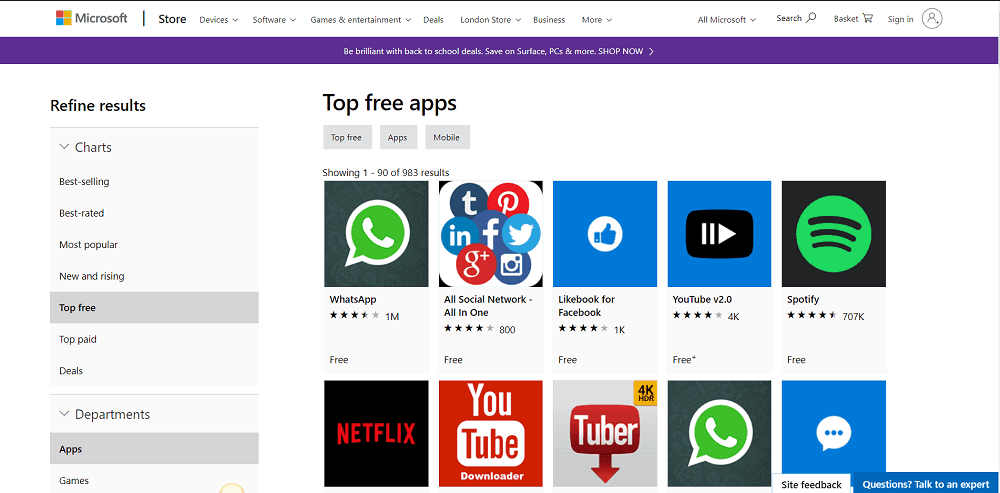 Head to the start screen and find the "Marketplace"
From here, click applications. This with allow you to search for the app you want. You can either find it directly via the search button if you know exactly what you are looking for, or you can browse categories.
Tap on the app you want so it can download and install.
Once it has installed, you will find it under the games folder of your homepage. If you wish, you can move your apps to a different folder.
What Are We, and What Should You, be Looking for?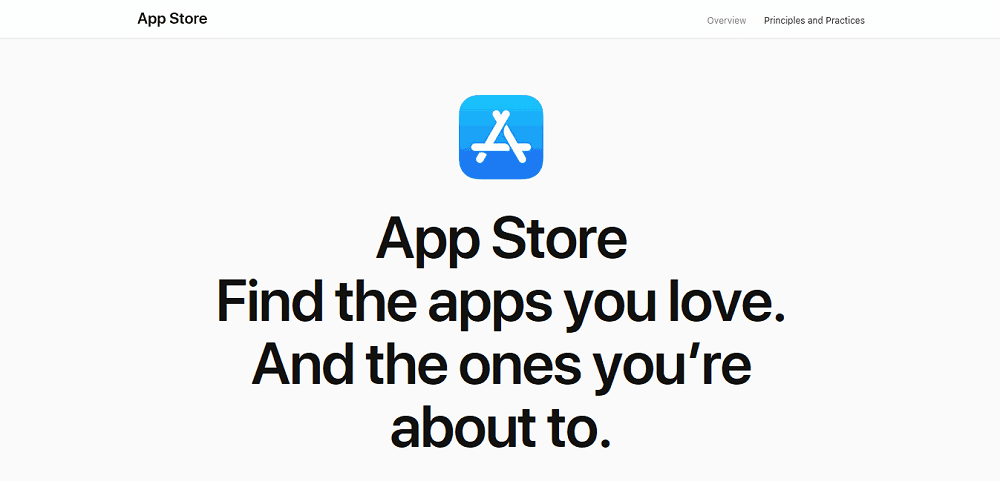 An app is essentially the sum of its parts. While there might be one thing which makes an app great, it has to be built upon a foundation of so many other positive attributes in order to stand out. So easy are the best apps to use, that we often forget just how much work goes into them and how many different elements go into creating a top-notch product.
Today, no one should settle for anything less than the best from their mobile apps. There are so many world-class options out there, that there's no reason to accept any disappointment. We suppose, in a way, that is the issue that there's so much choice that often people feel overwhelmed by what is available.
Well, that's exactly why we are here to help. Not only have we painstakingly compiled our list of the best mobile apps, but we're also going to be taking you through the things you should consider when trying to decide which app is right for you. So, without further delay, here's our list of some of the things we, and you, should be looking for when trying to find the right betting app.
The quality of the bookmaker
The first thing you'll want to consider – and in all honesty, is likely the first thing you'll think about – is the quality of the bookmakers behind the app. We can't think of a single example of a bad bookmaker that has an excellent app; the two things just go hand in hand. In general, the mobile app product is a bite-sized, portable version of the main site. If the main site is bad, and if the bookmaker isn't anything special, the chances of the app being different are incredibly slim. So, before we even look at a mobile app, check the bookmaker itself is worth bothering with.
Reputation
Of course, reputation is something that should come with your analysis of the bookmaker. Checking that a bookmaker has a quality reputation that is backed by licensing and encryption is, of course, vitally important. However, there is also the specific reputation of the mobile app to consider here as well. While it's rare to find a site that has an app better than its desktop bookmaker, it is not so rare to find a good bookmaker that is a bit of a let-down when it comes to its mobile app. So, this part of the site has a separate reputation.
All the important security features should hold up from the desktop site. However, the reputation for how well the app works, for instance, is something you can generally find out through customer feedback. Luckily, good app stores tend to have feedback options, so this isn't generally hard to find.
Content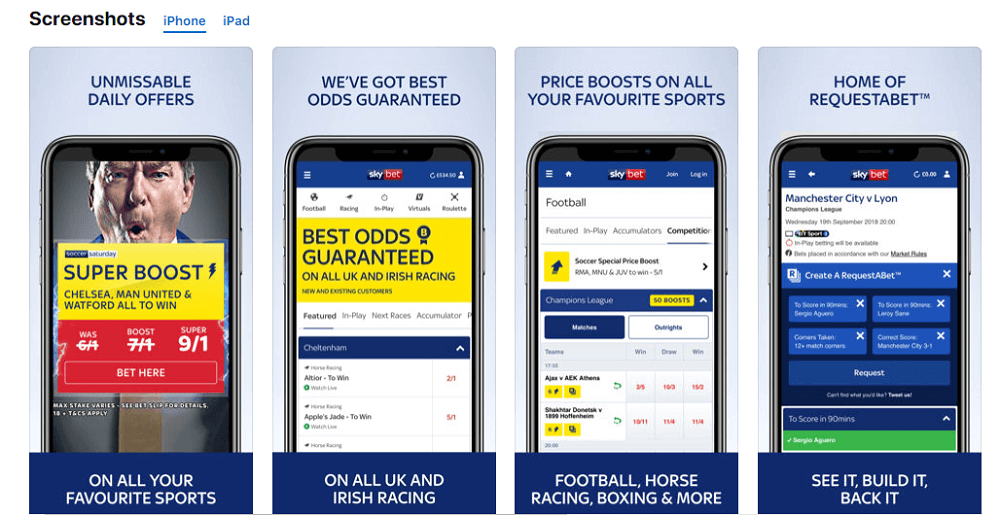 Another important thing to consider is whether the content of the mobile app closely resembles the content found on the desktop site, or if there are things missing. Ideally, the variety of sports and betting options on your mobile app should match its bigger brother in every respect, meaning you aren't missing out on a single part of the betting experience.
Don't take it for granted that everything will be available on mobile, and make sure that they cover your favourite sports with your favourite betting options to avoid disappointment.
Promotions
This is actually an area where the mobile app can exceed what is available on the desktop site. Mobile exclusive promotions are becoming increasingly more common as bookmakers push to do everything they can to get users onto their mobile options. Of course, what makes a promotion good on mobile is the same as the desktop site: fair terms and conditions and a calculable benefit to your gaming experience that you can actually utilise and enjoy.
Design/Usability

Mobile apps live or die on their design. The standard is now so high that if an app looks anything less than world-class, and if the experience is anything less than fluid to the point of faultlessness, they will be chewed up in the customer reviews and spat out by their users. And if you ask us, they are right to do so.
Never settle for anything less than the best. When you use a mobile app, scrutinise the experience, because ultimately, a quality gaming experience is what finding the right app is all about. And if you can't find what you are looking for in one place, there's plenty of other places to look. Of course, the design does come with an element of subjectivity, meaning what is right for you may not be right for another person. But that's OK – there's enough choice out there for you to find exactly what suits you.
Check it works with your operating system
There's not a huge amount to add to this, as it's fairly self-explanatory. Nonetheless, it, of course, makes a whole heap of sense to ensure that whatever mobile app you are looking to use can indeed be used on your preferred operating system.
Difference Between Native Apps and Movile Web Apps
Many of you probably won't know that there even is a difference between the types of mobile apps. However, they can be split into two distinct categories: namely, native apps and mobile web apps. There are significant differences between the two. Native mobile apps are designed specifically for a particular kind of mobile device, generally Android OS or Apple iOS, although Windows OS is also an option.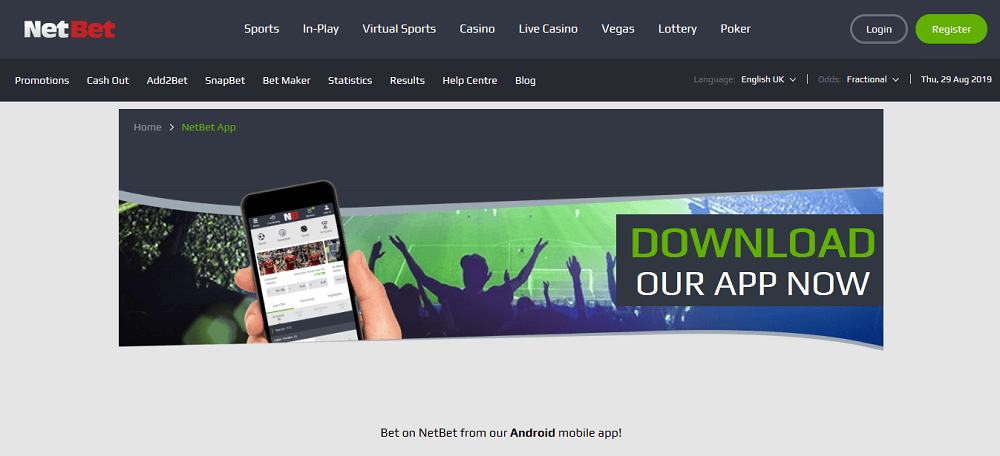 These types of apps are downloaded directly onto your device, which has a whole host of positives including making them faster to open and access. This means they can often perform faster thanks to the information they need being stored locally. This also means they can often work offline, so you don't always need to rely on internet access. In addition, native apps generally utilise the technology of the operating systems better, allowing users to use device-specific features and access device hardware.
Cons for native apps are generally on the side of the bookmakers, as they are very expensive to develop and maintain, and also need approval from app stores. Of course, there's also the minor inconvenience of actually having to download the app but as we mentioned, this shouldn't be too much of a bother.
Mobile web apps, on the other hand, do not need to be downloaded and are instead accessible via the mobile device's web browser. This is an advantage in itself and also means that these sites can be accessed by most devices, so you don't have to worry as much about it working on your preferred operating system.
They are also much cheaper than the alternative, meaning smaller sites with less of a budget can still provide a quality mobile experience. For the most part, they can also provide just as high quality an experience too. However, there are restrictions on their ability to utilise the features of a mobile device. Another factor to consider is that, due to a lack of regulation and no approval process, they are more likely to have security issues. But, if you properly research the bookmaker, this should not be an issue.
Both options have their pros and cons, but each can deliver an excellent mobile experience when done correctly. Regardless of which route your bookmaker chooses, you should retain the same high expectations.
Regular App Features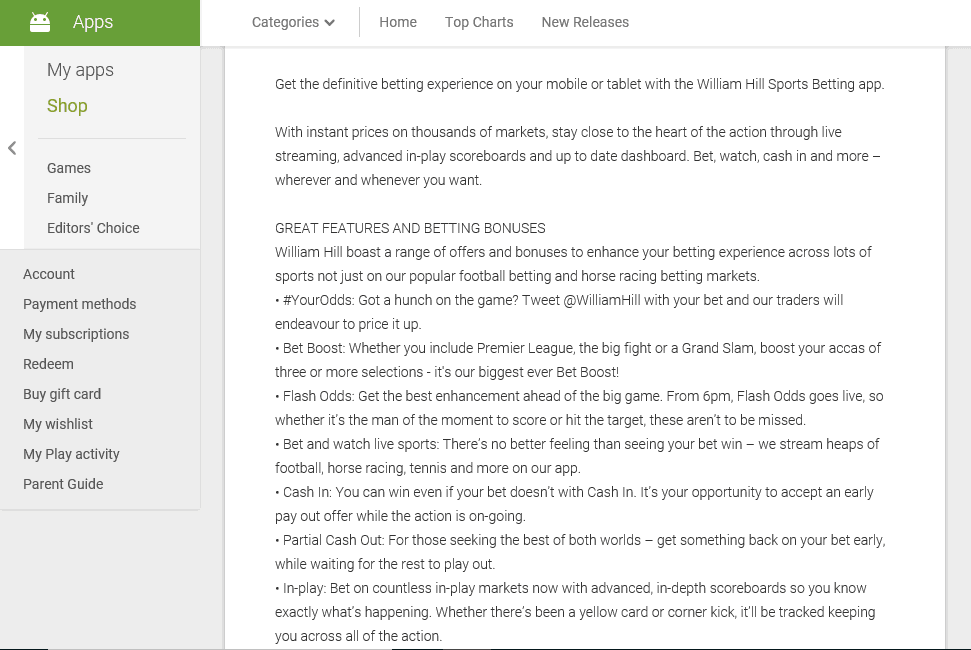 As we've said, a great app is really the sum of its parts. This doesn't just mean that a great app should have excellent customer service, easy to use design and plenty of games to bet on, but also lots of features to make your experience as detailed and enjoyable as possible. There are a countless number of features available across the equally unfathomably huge number of apps out there, but there are also ones which have become staples of what makes an app excellent.
Here, we are going to be taking a look at some regular app features for you to look out for, and how they can improve your mobile experience.
In-Play Betting
We're starting with in-play betting because it's now become so common that it's generally expected from mobile apps – at least ones by major bookmakers. Still, it's important to check that not only does your mobile app include in-play betting, but also that it includes it across a wide variety of sports. There are plenty of brilliant apps for in-play betting, with Bet365 standing out as among the finest examples.
This is also the perfect opportunity to check out the speed and ease of use of an app, because by its very nature, in-play betting is all about being able to respond quickly to events. There are few better marriages in the world better than fast and intuitive in-play betting and the ease of mobile use: particularly if it's coupled with our next feature…
Top Bookmaker: BetVictor
The BetVictor bookmaker and casino app is available on iOS and Android, offering an excellent selection of in-play action. Alongside this, you can also access a variety of pre-event markets, check out the latest promotions and Cash Out mid-event on selected markets.
Live streaming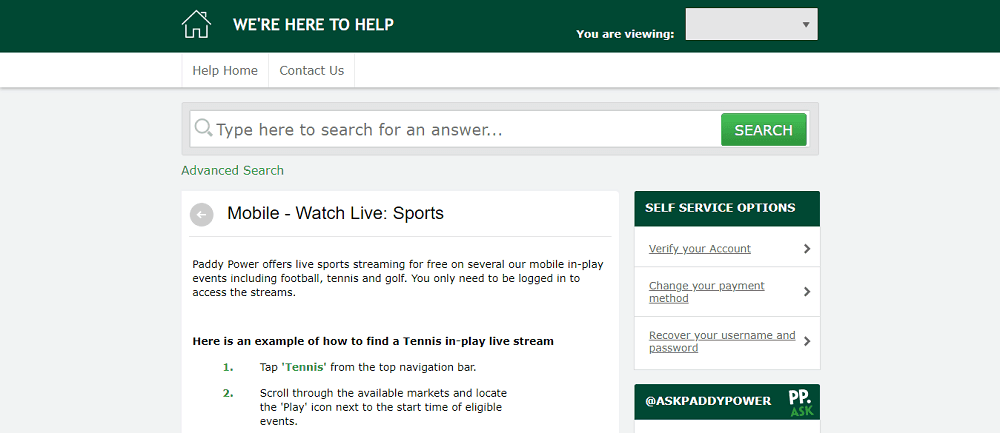 This is one of the most sought-after features for mobile apps but one that is less common than in-play betting for both financial and licensing reasons. If you have a mobile app with extensive live streaming coverage across a lot of different sports, you're almost certainly talking about a big name with a lot of cash behind it. That's because this is one feature that does not come cheap. An example of a bookmaker with the size and power to pull this feature off, is the always excellent William Hill.
Combined with our last feature, live streaming provides one of the finest, most futuristic betting experiences possible. The next best thing to live streaming would be some kind of updating graphic which gives you an idea of what is happening on the pitch, alongside helpful stats.
Top Bookmaker: Paddy Power
Few can rival Paddy Power in terms of the bookmaker's live streaming selection. From football to tennis and horse racing, you can follow the action as it unfolds through the Paddy Power desktop site, as well as on the go via the app.
Odds Boost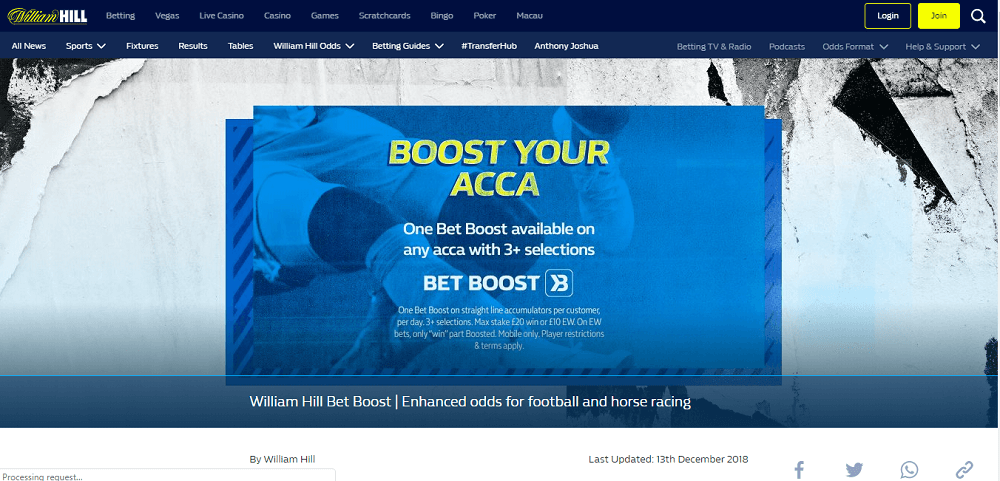 Another awesome feature is the ability to boost the odds and therefore your potential winnings on a chosen bet. This is such a win-win situation that you can't expect to be able to do this all the time, with Odds Boosts generally being restricted, with one boost a day being common. A great example of this feature is through Betfair, which offer one of the most generous boosts on the market. It doesn't take much to see why this option is so hugely popular.
Top Bookmaker: William Hill
If you're a fan of football or horse racing and want to take advantage of boosted odds, then William Hill is the place to be. Plus, with all the bookmaker's promotions and special offers available through your mobile device, this truly is a no-brainer.
Cash Out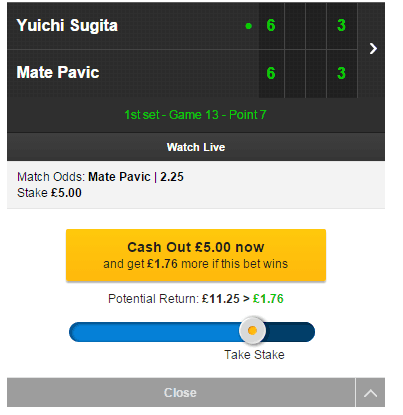 This is generally a feature which is also available on the desktop page, but it works so brilliantly with a good mobile app that we had to include it here. This allows you total control over when you take the profit from your bet.
So, for instance, if your bet is coming on, you can receive your money early at a lower price. Or, if things aren't going your way, you can still get some of your stake back. This is an ideal companion to the others features we've given as examples and really couldn't be better suited to portable usage. Plenty of sites now include this feature, with the mighty Ladbrokes being a prime candidate.
Top Bookmaker: Betfair
Betfair's handy Wagertool Cash Out is a free app available on Android and iOS. It allows you to cash out of all markets at once quickly and easily. You can also use it to quickly cancel any unmatched bets in the blink of an eye, putting you firmly in control of your betting experience.
Create Your Own Bet

We talked about the importance of the variety of betting options. Well, you can't get much better in that regard than being able to create your own bet from scratch. Your imagination is your limit here, and if you are feeling lacking in that department, some bookmakers even offer you the chance to browse other people's betting ideas and see if you want to get in on someone else's unique bet. While this is becoming more and more common, Coral remain one of the absolute best in this regard.
Top Bookmaker: Coral
Betting juggernaut Coral boast one of the best betting apps around. It's the complete package, with live streaming, live betting and plenty of bonuses available at your fingertips. And Coral are known for their innovative promotions, including Your Call, where you can get a price from a bank of football specials.
What are the Best Apps for Different Kinds of Players?
While quite a lot of what we talk about here is objectively good or bad, there's also a subjective element to finding the right app for you. One app may not be objectively better than another, for instance, but may simply better suit your needs and tastes.
Here, we are going to look at three different types of betting, and which apps are best suited for those players.
Best Apps for Beginners
We'll start off by looking at some of the finest apps for those just beginning to dip their toes into the mobile betting world.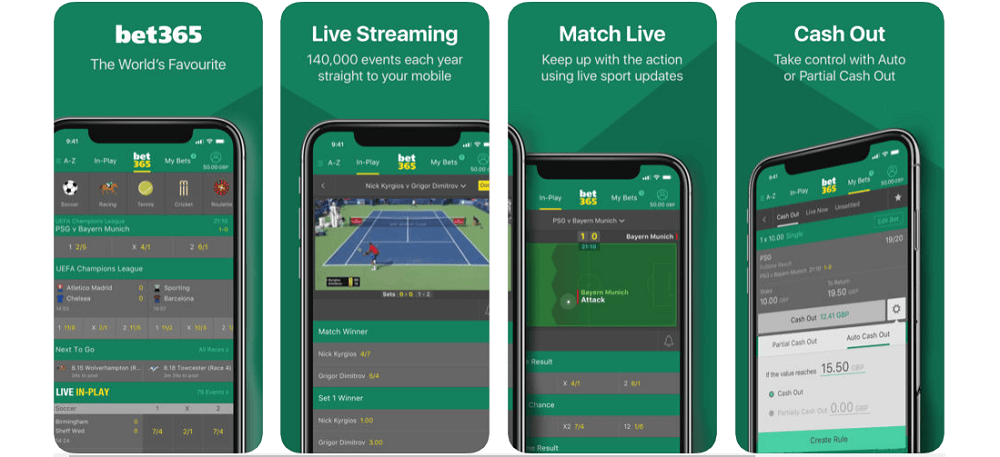 Bet365: What's really remarkable about Bet365 is they have managed to balance an extraordinary amount of content with perfect organisation to create a product that is both detailed, but not overwhelming.
William Hill: One of the most highly regarded bookmakers and mobile apps in the world, William Hill make ease of use one of their prime priorities. Being a veteran bookmaker doesn't mean you have to be behind the times, as William Hill prove here.
Paddy Power: This is another heavy hitter that finds ingenious ways of putting a huge amount of options on a small screen in a way which is easy for the user. It is fine-tuned to perfection to create an effortless betting experience.
Best Apps for Accumulators
Looking to pull off a combination of winners with a well-placed multi-bet? These apps may be for you.

Ladbrokes: Not only do Ladbrokes have a huge amount of options to mix and match your perfect accumulator bet but their 'edit my acca' section allows users to remove a selection when the acca is ongoing to provide greater control over your bets.
Unibet: While Unibet is known as a generous bookmaker with excellent odds in general, it's their accumulator bonuses which really make them stand out here, providing a high percentage bonus for a relatively low number of selections.
Betfair: One thing that Betfair deserve credit for is their lightning-quick and intuitive Cash Out feature, which is also available via its accumulators. Few can match them in terms of their generosity in this regard.
Best App for Betting Exchanges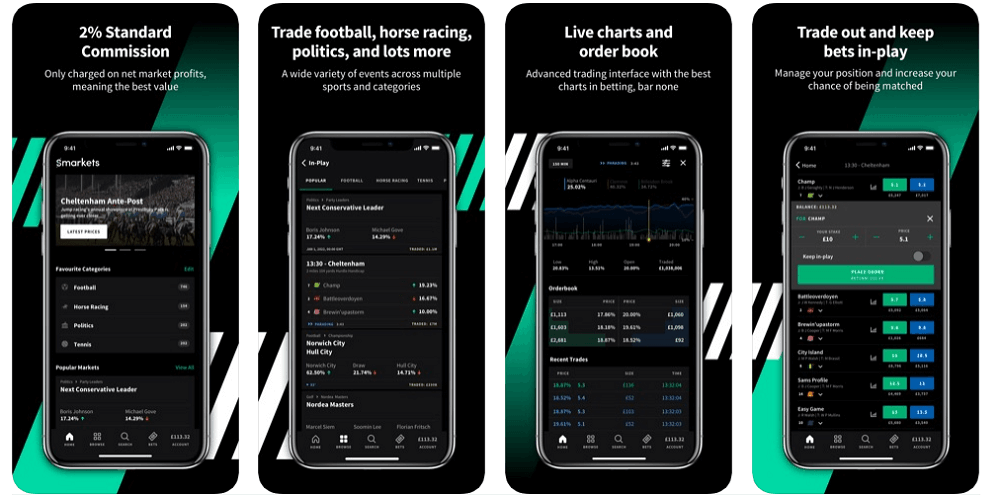 If you want to bet against other members of a site as opposed to a bookmaker pulling the strings, then these betting exchanges give you the best possible mobile experience.
Smarkets: This is a betting exchange which prides itself on its ultra-low commissions and stays away from gimmicks. And there's certainly nothing gimmicky about their world-class mobile offering.
Betfair betting exchange: Betfair is the only bookmaker to do the double and get recommended twice here, thanks to its terrific betting exchange, which manages to be both among the biggest and the best.
Matchbook betting exchange: If we were to make a list of best apps for beginners looking for betting exchanges, then this may very well take the crown. It is beautifully intuitive, fluid and easy to use, as well as offering great value.
FAQs
To help you get to grips with all the information covered here, we've gathered together some of the answers to the most frequently asked questions here.
What's the difference between a native apps and mobile web apps?
The key differences between these two is that mobile apps are designed specifically for your operating system and thus need to be downloaded onto your mobile device. This allows them to work more distinctly and often faster with your device as a result and can be used offline. Mobile web apps, on the other hand, work via your web browser and can be utilised by most operating systems.
Where can I find different mobile apps?
You can generally expect to find mobile apps available through the bookmaker itself, or at least a link to a relevant app store, which is where you will find native apps in general. Of course, for mobile web apps, they are only accessed via the site itself.
Can I expect promotions when using mobile betting apps?
You certainly can. In fact, many mobile betting apps have their own specific promotions in order to help bring in that coveted mobile crowd. They can be very generous as well, depending on the bookmaker.
What differences should I expect between a betting desktop site and mobile app?
Well, there will be obvious design and practical differences between a bookmaker running on a desktop and one running on a smartphone for example. However, in terms of the amount of content, the very best have little difference between them, meaning you should have the exact same standards you would from the traditional webpage.
Does the lack of a native betting app mean a lack of care for mobile users?
One thing we think is unfair is the belief that anything less than a dedicated app for your operating system means that a betting site does not care or is not willing to put the effort in for its mobile users. This is rarely the case. After all, the mobile market is hugely coveted.
The fact is that these apps are simply incredibly expensive to create and keep up to date and can be beyond the means of smaller sites. A good mobile web app is instead for them the only option and, in many instances, can still provide an excellent mobile experience.