Registration process
---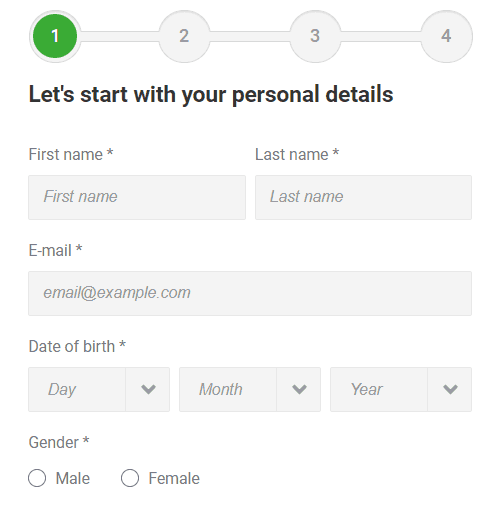 With 11 million customers over 100 countries, it's fair to say that Unibet knows a thing or two about making the registration process as smooth as possible. Simply click that 'Register' button at the top right-hand corner and you'll go into this screen.
It's worth pointing out that directly above this is the ability to choose between three welcome bonuses. We'll go into the specifics of these later on, but this is an excellent way of making the options available to the user really clear. This first step asks you to include your name, a valid e-mail address and a date of birth (you have to be over 18, naturally) and gender. All fairly simple and self-explanatory stuff.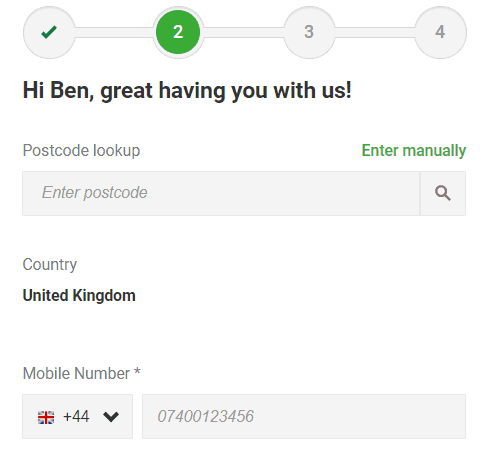 Next you just need to add your address. You can do this by entering a postcode and looking up your address or entering it manually. At this stage, you will also need to enter a phone number.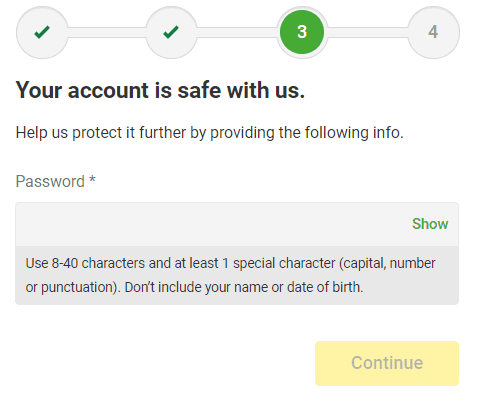 Next up, there's your password, which follows the restrictions you can see above to ensure a safe, strong password. Naturally this is important to protect yourself and your sensitive information.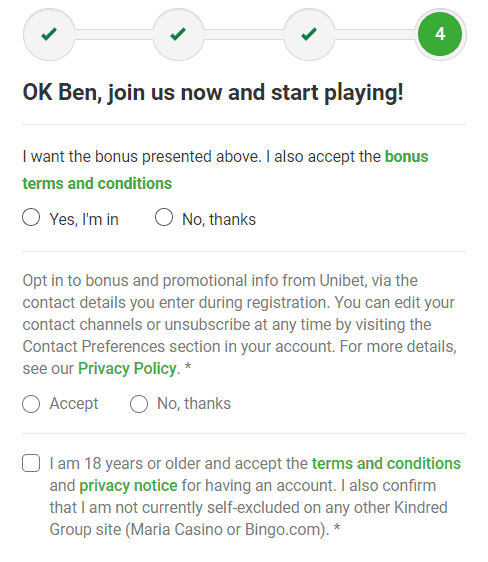 Last but not least, you'll need to select whether you accept the terms and conditions and privacy policy. You can also choose whether you want to opt in for promotional info.
The only criticism we have here is that it is always helpful when sites give you the option to decide how to receive such information, which does not appear to be available here. Another side note is that you enter your banking details at a later point meaning there's no pressure to add funds simply to sign up.
All in all, this registration process is as easy and as well put together as we thought it would be.
Deposits and Withdrawals options
---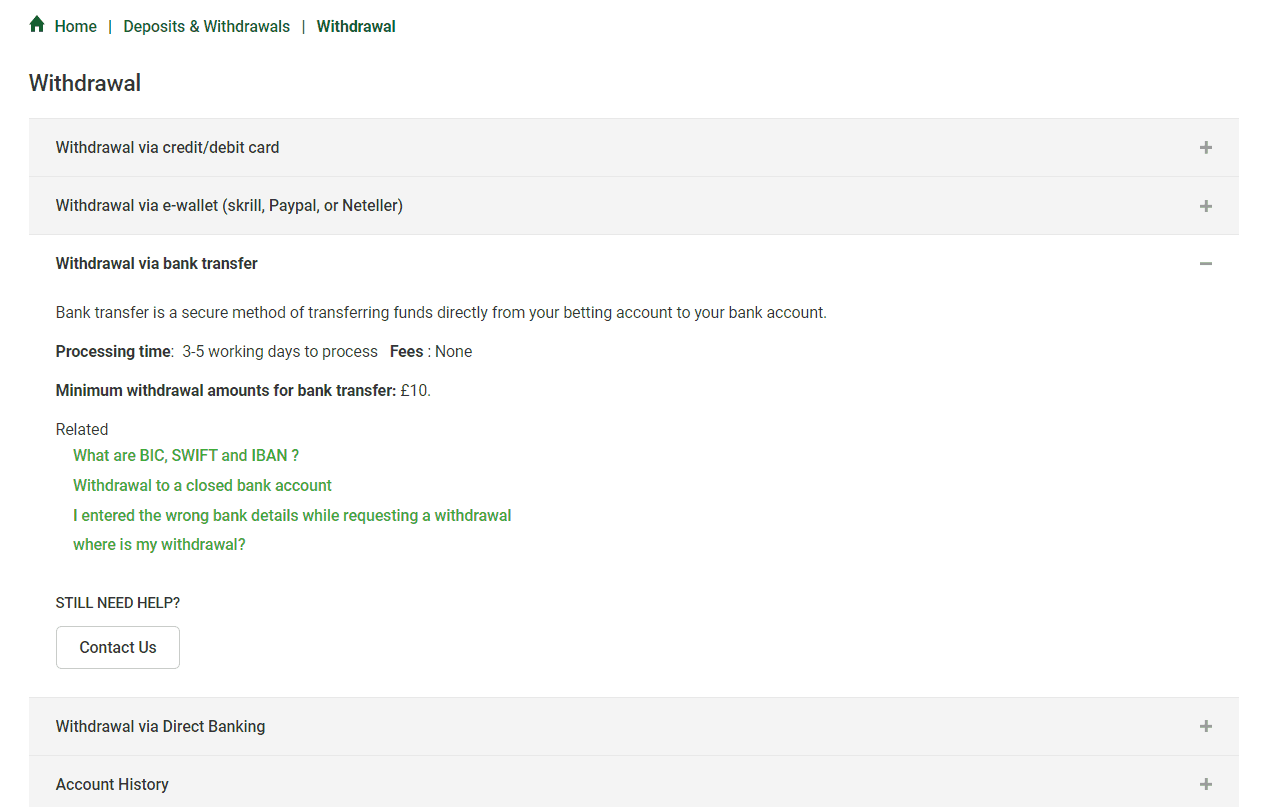 Just like Unibet have registered millions of people, they've also taken deposits from them as well. This means that there's plenty of options that are well explained and easy to use. All the information you should need can be found in their centre but we'll go through some key points with you here so you can get an overview.
Deposit options include credit/debit card, Paysafecard, e-wallets, bank transfer and Trustly. The minimum deposit for cards is £5 and the maximum is £10,000. Paysafecard has a minimum of £10 and a maximum of £800. Apple Pay has a minimum of £5 and a maximum of £10,000. E-wallets have a minimum ranging between £5 and £10 and a maximum of £10,000. Trustly has the same range as the latter example. Finally, bank transfer has no set minimum or maximum amount. It is also the only option which is not instant, generally taking between 1-3 days. There are no additional fees for any of these options.
Withdrawal options include credit/debit cards, e-wallets, bank transfer and direct banking. Credit and debit cards have an average processing time of 1-3 working days with a minimum withdrawal of £15. E-wallets generally take up to 12 hours to process and have a minimum amount of £10. Bank transfers can take between 3-5 working days and have the same minimum amount. The same applies to direct banking. No fees are applied from Unibet.
The only issue we could imagine anyone having with these payment options is a lack of choice for those who want to use cryptocurrencies. However, that is very much the nature of the beast when you have such a mainstream site, and whether or not this affects you really depends on your personal usage. With that said, there can be no doubt about the quality of options here.
Welcome Bonus
---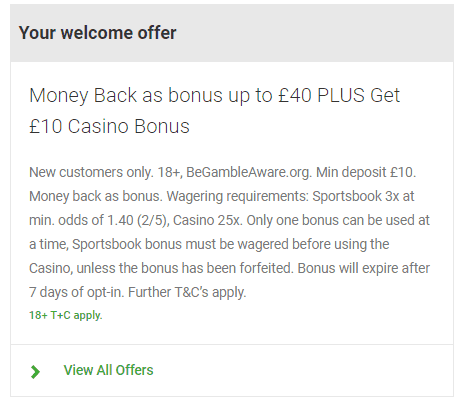 One of the things that established sites like Unibet often get criticised for is not moving forward with the times because they don't feel the same pressure that up-and-coming sites do for getting new customers. Perhaps the simplest test of this is the Welcome Offer, which gives us a glimpse into how intensely a site is still trying to entice new customers.
Providing a risk-free bet to the tune of £40 certainly sounds promising, but of course, the devil is in the details. Here we'll be taking a closer look at the terms and conditions of this bonus to see whether it stacks up. Keep in mind that terms and conditions are subject to change as well as the promotion itself, so do check out the Welcome Bonus on the site yourself to get the full picture and avoid disappointment if things have changed since the time of writing. This is also the case for when we look at other promotions a little later.
With that in mind though, we would say that most betting sites retain a certain level of quality for their promotions. So, even if changes are made, we hope this look into the promotions will provide you with a framework for the level of quality you can likely to expect.
Sportsbook bonus description
First things first, this offer is exclusive to United Kingdom customers meaning that customers elsewhere will not be eligible. The way this bet works is that you will receive money back on your losing bet up to £40, with a minimum of £1. Minimum odds are 2/5.
The most important thing to note here is that the wagering requirement is a mere 3x, which is very little compared to most other similar offers. Another important thing to note is that you have seven days to meet this requirement, but considering how small the wagering requirement is, that is not the barrier it otherwise could be. Overall, this is a simple and inviting bonus offer, which can provide real value to the average player. Great stuff.
Sportsbook promotions
---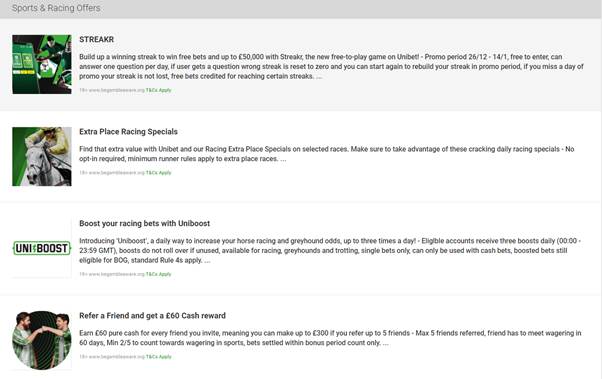 When it comes to bonuses and Unibet, this is far from a one and done affair. Sportsbook promotions are ever changing, varied and plentiful here. If there were any doubts about Unibet resting on its laurels, this promotional page makes it seem unlikely. Once again though, the proof is in the pudding so let's take a look at exactly what make these promotions tick.
STREAKR: This is a free to play game where you receive prizes for answering a question a day correctly. The bigger your streak, the bigger the rewards. There wasn't a huge number of specifics in that regard, but we do know that fee bets are common and there's a grand prize of £50,000. Plus, it's tough to complain when something is free, both in terms of money and risk.
Uniboost: You can increase your horse and greyhound racing odds three times a day, with no rollover. So, you'd best use them while you can. Single bets only and the maximum bet is £20 for boosted odds. Another great reward without the need for over the top terms and conditions.
Refer a friend: If you invite a friend to join Unibet, you can receive £60 in cash, with a maximum of five friends allowed amounting to £300. The key condition here though is that the friend must wager at least £400 in sports or £1000 on the casino within 60 days. Obviously, this depends on how much your friends bet and so won't be suitable for everyone but is a great bonus for those who can get use out of it.
Multi-Boost: This provides you with a percentage boost on accumulators, with a 5% boost for a 3-fold, a 10% boost for a 4-fold and a 15% boost for a 5-fold or more. Your extra winnings are capped at £1000, which is a pretty generous amount.
In-Play free bet club: Opt in to this promotion to receive a £10 free bet each week. In order to qualify you must place five or more bets of £10 in a week with minimum odds of Evens. Sports that qualify includes football, darts, cricket, basketball and tennis.
The thing that we really love about these promotions is that every single one of them is aimed at your average user as opposed to the high rollers who are often targeted by other sites. We suppose that Unibet's popularity means that casting as wide a net as possible makes sense and here they've provided a selection that really feels like it understands how ordinary users bet. Everything is well thought through, adds real value and is accessible to the vast majority of players. Excellent stuff all round.
The only criticism we suppose would be that if someone did want a huge promotion, they may not find it here, especially with the like of a VIP section. However, this will not be an issue for the vast majority of users.
Pre-match offer
---

Sports
The reach of Unibet is huge and so is the variety of sports content that is available. You'll find all the usual suspects here, including Basketball, American Football, European Football and so on, alongside lesser known options like Trotting and even Pro Wrestling. The amount of markets is also huge. One game we looked at random had 87 markets to choose from, and that's not including the Bet Builder options.
Unibet is also known for quality margins. Using a match between Sheffield United and West Ham as an example, we're going to work out the overround to find out exactly how good those odds are. The overround is when you convert the odds to percentages. 100% should be the final outcome were there no margin for the bookmaker, so anything above that number represents the house's edge. This is essentially how bookmakers make money and stay in business. Anything under 110% is generally viewed to be good.
Sheffield United's odds were 19/20, which converts to 51.3%. A draw had odds of 5/2, which converts to 28.6%. West Ham had odds of 17/5, which converts to 22.7%. Altogether that comes to 102.6%, which is excellent value. A great selection with just as good odds, nothing to complain about here.
Esports
One great example of the versatility of Unibet is its selection of Esports. As an example, there were 158 games to choose from when we checked at random. Major games covered include CS:GO, Dota 2, League of Legends, Rainbow 6 and it even has its own specials.
A quick look at some odds at random, we used a game between Dota teams Ninjas in Pyjamas and Geek Fam. These had odds of 3/5 and 5/4. This comes out at 62.5% and 44.4%, giving it an overall percentage of 106.9%. This is a little higher than the traditional sports example but that is to be expected. All in all though, an excellent Esports selection.
Other specials
Another thing that makes the variety here so great is that Unibet is clearly not afraid to go a little off the beaten path when it comes to finding new and fun things to bet on. This can be seen clearly through its TV and Novelty selection of bets which include all kinds of pop culture events to bet on. Not only that but the selection is, like the site itself, international.
Here you'll find specials from all across the world, from Grammy awards to the Swedish stock market. Of course, what is available here entirely depends on what is happening at the time, with no set criteria for what makes it into this part of the site.
Cashout and Bet Builder
We've briefly mentioned Bet Builder on here and it can be found on virtually all football games on Unibet. Cash Out is also a hugely beloved feature available on pre match football bets, live football bets, football outright markets and tennis outright markets. The only downside is a lack of the partial Cash Out option, which is a rare flaw for a site like Unibet.
Live offer
---

To be honest, it would be quite the surprise considering how overflowing the rest of the site is with content if Unibet was lacking in the live bets department. Of course, it is not, with a huge amount of games to choose from in-play. Of course, the amount of markets available depends on when you are looking but with such an international selection of sports to choose from, there's rarely – if ever – an hour of the day where there isn't quite a few options to choose from. Odds remain excellent for in-play as well.
We've picked a tennis match between Elena Rybakina and Elise Mertens for this example. The odds for these come out at 3/5 and 13/10 at the time of writing. And when we say time of writing, we mean that quite literally, as the odds change at a lightning pace alongside the action. This is something that is hugely important for an in-play betting experience. Converted into percentages, this is 62.5% and 43.5%. This comes out at 106%, which is once again, very competitive. Perhaps the most impressive thing about their live offer though is the streaming options.
Live streaming is something many smaller sites simply can't manage, and while we don't hold that against them, this is absolutely an advantage for an industry juggernaut like Unibet. You can watch Tennis, Football, Badminton, Ice Hockey and much more all from the comfort of your laptop or mobile device while placing live bets. And it all works as smooth as butter too.
Security
---

If for some reason you are under the impression that millions of people have been using Unibet for years and maybe no one noticed they didn't have a license, we have some good news for you. Unibet is licensed by both the UK Gambling Commission and the government of Gibraltor. But of course, security goes much further than that.
It is also important to note that your data is protected using SSL technology. Essentially, this means that internet baddies can't steal your vital information. Also, for those of you interested in the casino side of things, that is also proved to be both fair and random. They also have an extensive privacy policy that is available for you to view alongside their terms and conditions.
Finally, their commitment to responsible gaming includes providing advice, tests, reality checks to tell you how long you have been online and options to set deposit limits, time outs, self-exclusion and software to block betting sites. They also offer help and support via GamCar, BeGambleAware, Gambling Therapy and Gamblers Anonymous. We can't find anything to criticise when it comes to Unibet and security.
Service and Customer Support
---

We always say that the ultimate in customer support is an around the clock live chat function and Unibet has exactly that. It's also available across the several languages we mentioned before.
Furthermore, there is also a phone number to call and all of our interactions with the customer service team not only provided near instant responses, but helpful ones as well. The only downside – and it is a minor criticism – is that you need to go through the FAQ in order to find live chat and this can be tricky the first time around.
But other than making the location of live chat easier, everything else is top notch. Even the FAQ itself is one of the very best we've come across, explaining things in a clear and concise way.
Design and Usability
---

From a technical standpoint, Unibet is about as flawless as they come. Not only did everything work without a hitch – which is a bigger deal when you start to look at the sheer amount of content on this site – but everything is easy to use, brilliantly laid out and, all in all, crafts a wonderful user experience.
In terms of aesthetic, it's fairly traditional but remains easy on the eye, even if we doubt it will win many awards in that department. Of course, everyone is entitled to their own tastes when it comes to the look of a site, but we can't imagine Unibet's style upsetting many.
Not only that but, for the most part, both its main site and mobile app are beautifully designed and easy to use. Meanwhile, the live streaming and commentary options, alongside an ever-improving array of promotions, give Unibet a sense of life and progression that few can match. Those few kinks stop Unibet from being completely perfect but it does come very close.
Mobile
---

You can't be a betting juggernaut nowadays without having a mobile app and it's clear that Unibet have no intention of dropping the ball in that regard. They actually have four apps for each of the different areas of their site because that's just how jaw-droppingly large the variety of what's available is. You could actually say eight apps because there's two for each, one for Apple and one for Android.
These apps may have been broken down into different parts but in doing so, they have crafted virtually perfect mini experiences with nothing notable (at least as far as we could tell) being lost during the process.
Other products
---

You may have guessed from those apps that Unibet has more to offer than just a sportsbook. The casino part of the site in particular gets every bit the level of attention the sports side of things does. It is an absolutely world class experience, with new games from the very best software developers from throughout the world. There are even exclusives to show you just how much Unibet care about this part of the site.
A site this big also means huge jackpots and a dizzying array of slots, table and video poker games just to name a few. There are even casino tournaments where huge prizes can be won. And this is before we even mention the enormous live casino.
Not only does this include all your favourites played live in front of your very eyes but also includes the likes of Monopoly and Deal of No deal to further expand your horizons. Make no mistake, when it comes to casinos, Unibet is up there with the best of them.
Just as impressive are the dedicated Bingo, Lottery and Poker areas, each of which retains the impossibly high standards found elsewhere. If you're looking for a betting site with a little bit of everything, few can pull so much off at once than the mighty Unibet.
Summary
---
We are happy to say that we think Unibet have earned every ounce of their success. It's clear why so many people choose Unibet over the competition even in such a fiercely tough marketplace. Unibet rarely puts a foot wrong and goes above and beyond in almost everything they try. Whatever you are looking for from a betting site, if you can't find it here, it's probably very, very niche. For everyone else, Unibet is a world class example of the possibilities of what a modern betting site can be. It's among the very best the world has to offer.