What is accumulator betting?
An accumulator bet is a multi-bet that consists of two or more selections. Often referred to as Accas, Combo bets, Parlays, and Multi-bets. The most important feature of an accumulator bet is that all your selections must win in order for your bet to pay out.
NG
Best Promotions for Accumulator Betting
#1

Works for any single pre-match/live bet! NO STAKE LIMIT
If you loose your stake will be refunded
Opt in (account Settings-> Participation in Bonus offers)

#2

Multi Bet boost up to 250%!!!
5 or more selections
Minimum odds of 1.2

#3

'Yakata' accumulator bonus
Bonuses range from 5% to 200%
Odds of at least 1.2

#4

Acca Boost up to 15%
5 or more selections
The maximum boost amount is N25,000

#5

Accumulator bonus up to 170%
5 selections or more
Minimum odds of 1.2

#6

Up to 225% accumulator bonus
Starting at 5 selections
Minimum odds of 1.2

#7

Partial winnings if acca loses by one stake
10 or more selections
Odds of at least 1.2

#8

100% refund on accumulators
Wagers with 7 or more selections
Odds with minimum of 1.7

#9

Boosted winnings acca bonus
Minimum of 3 selections
Odds of 1.2 or higher

#10

Accumulator boost up to 45%
Minimum of 5 selections
Odds of 1.2 or more

#11

Accumulator bonus up to 125%
2 selections or more
Minimum odds of 1.35

#12

Up to 135% multiple bet bonus
Minimum of 4 selections
Odds of 1.2 or higher

#13

Up to 50% acca bonus
Bonus starts from 2 selections
Odds starting at 1.3

#14

Get up to 100% more winnings!
3 or more selections
Minimum odds of 1.2 per selection
What are the best tips for accumulator betting?
We've compiled a list of the some of the best accumulator betting tips to help you make the most of this type of bet. Whilst there is no sure way of winning an acca, following these tips will surely increase your chances of getting that all-important pay-out.
Treat your bet like any other kind of bet
Betting is not about how many different selections you win; it is about how much of a profit you make and whether your profits are exceeding your losses. Accumulator betting is no different and you should always look at these types of bets as being a large single bet. Ultimately, having a five-fold acca that gives you total odds of 12.00 to win, is identical to placing a single wager on an underdog who also has odds of 12.00 to come out on top. The only difference is that in terms of probability, a single underdog has more chance of winning than five other possible favourites. Be cautious with your bets and remember that it is important to have patience when using an accumulator bet.
Shopping around for the best odds
Whilst this tip is beneficial to all forms of betting, it is crucial to have the best odds when you're compiling an acca. Since all the odds in your selections will be multiplied by each other, even the smallest change in odds can have a massive impact on your potential winnings. Different bookmakers will have different odds depending on the different markets. If you enjoy creating an accumulator bet from over/under goals, you might find that one bookie offers the best odds but when creating an acca from draw no bet, it is a different betting site that offers the better margins. Shop around to make sure that when you finally get that big win you've been dreaming about, you will make as much profit as you can.
Only including value bets
Value bets are of the utmost importance to any serious bettor. A value bet is one where the outcome of a match is perceived as having a higher probability of occurring than what the bookmaker's odds suggest. A commonly used formula to working out a value bet is (Probability of winning) x (Amount won per bet) – (Probability of Losing) x (Amount lost per bet). Don't worry if you're finding this a bit complex as it is an advanced betting concept which takes times to understand and apply properly. We've written a highly in-depth article which explains value betting and probability in a lot more detail to help you understand this concept further. Putting value bets in your accumulator will not only increase your chances of getting a win but will also increase the final pay-out so we definitely recommend you looking into this further.
Do not get carried away with your selections
Many bettors who choose to go for an accumulator fall in the trap of choosing to wager on numerous favourites with short odds in the same bet slip. Whilst this is not a problem if you've done your research and you think that these bets have value, more often than not, punters place these bets thinking that favourites will automatically win. If all the selections are on shorts odds, players will need to choose a large number of selections in their acca just to get a reasonable pay-out. Betting ₦50 on 5 matches with odds of 1.45, 1.37, 1.50, 1.73, and 1.22 will only provide a pay-out of ₦314.
On a similar note, going back to the high risk, high reward nature of accumulator bets, many players can sometimes become blinded by the great increases in potential winnings every time they add a selection to their bet slip to the point where they keep adding more and more bets. It is important to stay in control of your goals and keep your bets realistic. Do not be overly greedy and create a bet slip that is impossible to win.
Why you should consider a draw no bet instead of the full-time result
Draw no bet means that if the match you place a bet on ends up tied, your selection will become void and you will not lose your money. Choosing to put a draw-no-bet into your accumulator is therefore a very helpful way of mitigating your losses. When a betting selection is determined to void as a result of a draw, the odds of that match are removed from the bet slip and the potential final pay-out is reduced. Draw no bets essentially prevent one drawn game from totalling destroying your accumulator and leaving you with nothing. As we always say, less winnings are always better than no winnings so consider adding a draw no bet to one those risky selections.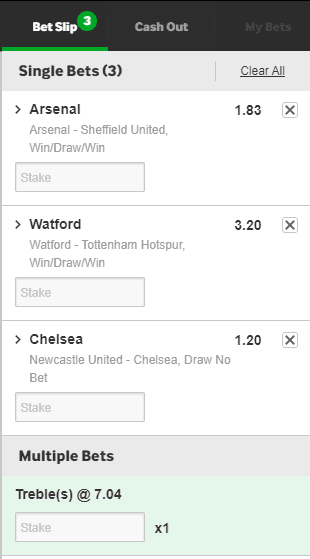 Understand the acca rules
Different bookmakers have different rules when it comes to accumulators, so it is very important to read their terms and conditions carefully before placing any bets. As we briefly mentioned earlier in this article, bets becoming void is one of the most common cases that you should pay attention to. If there is an increased chance of a bet becoming void (for example in an Asian handicap bet) you should consider the risks of having a reduced pay out compared to the other selections you are wagering.
Let's say that you made the following accumulator bet:
Manchester United to beat Watford – 1.87

Manchester City to beat Bournemouth – 1.63

Aston Villa to beat Tottenham – 3.12

Pierre Emerick Aubameyang to score the first goal for Arsenal – 2.45
Your odds for this acca will be 23.30.
Now imagine that during the warm-up of Arsenal's game, Aubameyang gets injured and is unable to start the game. Since he does not play for even one minute and therefore had no chance of scoring a goal, that bet selection will automatically become void and the odds removed from the bet slip.
Your updated bet slip will look like this:
Manchester United to beat Watford – 1.87

Manchester City to beat Bournemouth – 1.63

Aston Villa to beat Tottenham – 3.12
Pierre Emerick Aubameyang to score the first goal for Arsenal – VOID
Since the rest of your selections are still valid, your new odds will therefore be 9.51.
Look for the best accumulator offers
Similar to shopping around for bookmakers with the most competitive odds, you should also shop around for the best accumulator offers. Many bookmakers nowadays choose to offer acca-related promotions so it's important to be on the lookout. Some will be in the form of a refund of your wager if one selection loses (also referred to as an acca insurance) while others might take the form of a 100% bonus on your winnings if you are victorious. Do your research and find a bonus that appeals to you so that you can maximise your accumulator bet winnings. Alternatively, you can scroll down this page and see our own hand-picked list of best African bookmaker accumulator offers.
How to make an accumulator bet?
To make your own accumulator bet, simply choose all the selections that you think will come true (as you would with any other single bet), and your bookmaker will combine them into one bet slip – it's that easy! You must remember to place your wager on the accumulator section of the bet slip and not on the singles (as can be seen in the image below). It is important to note that in an accumulator all your bet selections must be of different types i.e. not 'connected'.
If you wish to bet on different selections of the same event, for example the winner of a match, the number of corners, and the first goal scorer of the same match, you would either need to choose them as single bets or else you would need to create your own bet using a bookmaker's bet builder or request a bet tool (if they have one). We will discuss more on this later.
Check out our main article about Bet Builder feature here.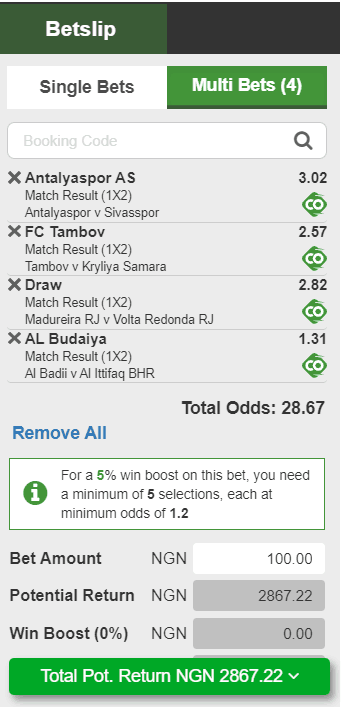 Accumulator Bet Calculator 
It is fairly straightforward to calculate your potential winnings when placing an accumulator bet, especially when using decimal odds. All you have to do is multiply each of the given odds by each other and then by the amount that you are wagering.
For example, let's say the odds during a Premier League matchday are as follows:
Arsenal to beat Chelsea – 1.86

Southampton to beat Tottenham – 3.64

Liverpool to beat Crystal Palace – 1.47

Everton to beat Newcastle – 2.45
If you decided to place a ₦50 accumulator bet on Arsenal, Southampton, Liverpool, Everton, then your winnings would be 5 x 1.86 x 3.64 x 1.47 x 2.45 which would give you a hefty pay-out of ₦1219,2. It is not difficult to see why these types of bets are so popular with so many people around the world – the promise of a big win coming from a small investment is enough to leave all mouths watering.
If you would like a much simpler way of calculating your accumulator betting odds, we've created an automatic pay-out calculator which can access here.
As we touched on earlier, you cannot create an accumulator bet from two or more selections that are mutually dependent on each other, for example one team winning the first half and then winning the match. This is referred to as a correlated market and the reason for this is because each selection no longer remains independent which, in turn, increases the risk of the bookmaker facing a loss, as if one team is leading at half time, they are seen as being more likely to win the match. If you do choose to bet on mutually dependent selections, you will have to place your wager as two singles bets without the option of placing an accumulator bet as shown on the screenshot below.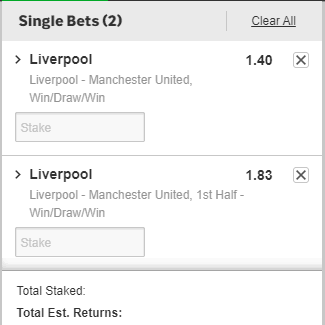 Sometimes bookmakers will also alert you when you have made selections with correlated market restrictions, as can be seen below.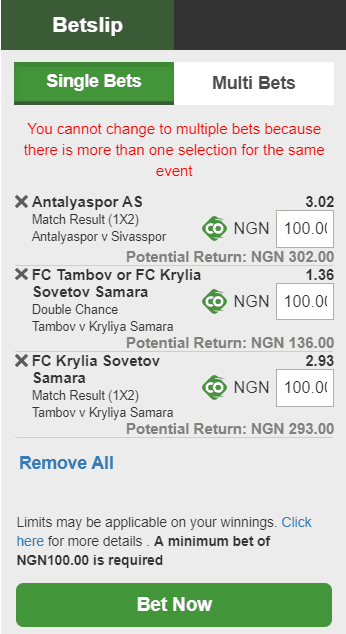 What are the different types of accumulator bets?
There is a whole host of accumulator betting options to choose from depending on how many selections you wish to choose. If you place a wager on 4 valid selections, you will have a four-fold accumulator while if you wager on 7 different selection you will have what is called a seven-fold accumulator, and so on. It is important to note the word 'leg' is sometimes used by bookmakers instead of 'fold' so if you see a five-legged bet it is still referring to an accumulator.

What are System Bets?
A system bet is similar to an accumulator in that it consists of multiple selections, however an important difference between the two is that in a system bet, you do not need to win all your selections to get a pay-out. The way this happens is thanks to the way the bet is built as all the selections in your betting slip will be played out in separate combinations based on singles, doubles, trebles, 4 folds, 5 folds and so on.
Remember though, the more matches you want to bet on, the more you will have to wager. There are many different types of system bets depending on their size which you can see in the below table. As you can see, bets can range from the simple double and treble options which consist of a two-legged and three-legged multi-bet respectively, all the way to larger, more complex selections like the Lucky 63 and Goliath bets. If accumulators never seem to go your way, we highly recommend checking out system bets.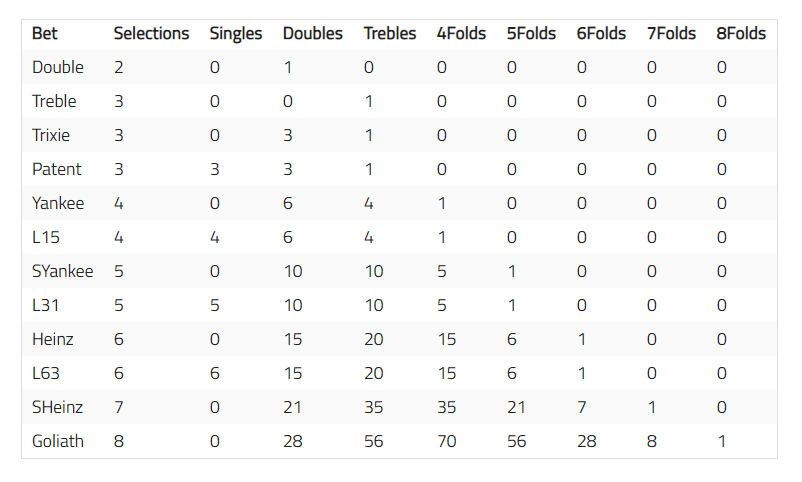 What is Anti-Accumulator Betting?
An anti-accumulator bet, also known as a lose-to-win bet, is the opposite of an accumulator bet in that you will win if you guess your selections incorrectly. Similar to a regular acca bet, when making an anti-acca you have to choose two or more selections from different events that are not mutually dependent. An important difference between the two however is that whilst with you need to win all your selections in a regular acca to receive a pay-out, in an anti-acca you only need to guess incorrectly on one result to receive a partial pay-out. Your winnings are calculated proportionally based on the actual accumulator's winning price.
Receiving a partial pay-out for only guessing one selection incorrectly is exactly why you should consider going for an anti-accumulator bet. Suppose we have a 3-fold regular acca with the odds 1.42*1.61*1.85 = 4.23 (total). The probability of winning this accumulator would be as follows: 1/4.23 * 100% = 24% meaning that chance of losing this acca is: 100 – 24 = 76%
With this in mind, we can conclude that there are odds of 1.32 (100/76) that the anti-accumulator will come true, therefore increasing your chances of winning.
What are some of the biggest soccer accumulator betting wins?
In order to give you some motivation when placing your next acca bet, we've compiled a list of 6 of the biggest soccer accumulator wins ever recorded.

Conclusion
Accumulator bets are one of the most exciting aspects of betting and can easily transform a regular day of soccer into one of the most heart-racing, adrenaline-pumping, memorable days of your life. With all that said however, it is important not to overuse accumulators as the odds are always going to be against you and the chances of winning low. If you are cautious and patient, and if you follow the tips provided in this article and do some proper research, who knows? Maybe you could be the next big winner added to our list. Remember that you can place an accumulator as a Free Bet.
In this article we have covered: