Sport is known worldwide for bringing people together – regardless of age, gender, race, or background. If a good game is on, people will gather together to watch it. People will travel thousands of miles across the globe to come together in the name of sport. It is regarded as the most unifying and inspiring development peace tools in the world. And for good reason.
Take the World Cup, for instance. It is one of the most popular global competitions on the planet and saw around 3.5 billion people tune in to watch it last year. That's more than half of the global population aged four and over!
However, you don't have to dig very deep to realise that the world of sport is not all about unity and equality as we idealise it to be. In fact, there seems to be a surfacing theme of disparity between genders and races in sport. It is becoming extremely apparent that there is a significant gap between genders when it comes to participation, prize money, and popularity.
The gap between males and female in (but obviously not exclusive to) sport is becoming quite blatant if you compare numbers between women's and men's wages, audiences, and recognition in almost each event. The figures can be calculated, and the statistics shown but that path will be trod in due course so, strap in!
The issue is deeply rooted in our culture, not just sports culture but the world's culture in general. It wasn't until the twentieth century that female participation in sport increased, mainly due to changes in modern society that emphasised gender parity. But shouldn't people in sport be helping to combat these problems, not further create them?
As the Women's World Cup continues to break records around the world, women's sport is currently a hot topic in the media. With record audiences and sponsorship income, the world's most famous football competition is currently sparking world wide conversation and women's sport, and women in general.
Over the past few decades, we have seen the 'gender gap' between male- and female-oriented sports decrease, but one may ask, why is this gap still so big? Or more pertinently, why was there even a gap in the first place?
How big is the gap between male and female athletes?
Below we will look at a few quantitative factors that can help us identify currently how big the difference is between male and female sports. Our team looked at some of the most popular sports to take a deeper look into the difference between males and females in professional sport worldwide.
5 Instances Of 'Rule Making' In Sports That Prove Women And Men Athletes Are Treated Differently
Highest Paid Athletes 
When it comes to professions, salary is always the first comparison that people make when comparing roles. Traditionally, the higher the pay, the more significant your role. In sport, it's similar – the more successful you are, the more you're paid.
The most successful athletes usually are wealthier because they have to ability to attract more viewers, which makes them more appealing to sponsors, and able to boost ticket prices. But onefactor that you might not expect to determine your salary is your looks, this is meant to be sport. Athletes are now being judged by much more than just their ability to perform well. 
By looking at the previous table, there is an alarming trend in male sportspersons being paid more than female ones and this begs the question, is there a bias?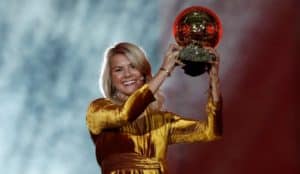 Lionel Messi, the world's greatest footballer, currently earns nearly 100 times more than his female counterpart, Ada Hegerberg – who was recently named the first female winner of the Ballon d'Or.  Perhaps the most telling incident in relation to gender disparity happened at the Ballon D'Or event when she won the award in 2018. Instead of an acceptance speech and gracious applause from the crowd as would have been the case with any male footballer, Ada was asked whether she would twerk for the crowd by world-renowned DJ, Martin Solveig. She answered his request with a certain disappointment in her voice and a crestfallen look on her face and just said, "No." It just goes to show that women in sport are not only oppressed and belittled because they cannot match male stamina, but they are also objectified and sexualised publicly in spite of their momentous achievements.
Ada Hererberg asked to 'twerk' upon recieving the Ballon d'Or
The best and quickest way to put this in comparison is the annual list of the richest people in sport, revealed each year by Forbes. As many of you are aware, the Forbes 100 ranks the highest paid athletes in sport each year. In 2018 there was only one woman in the Forbes Top 100 highest paid athletes list!
Based on statistics, males have always demanded higher salaries and received much greater financial benefits compared to women. The sad truth is that male sportsmen have monopolised the industry to such an extent that Serena Williams was the only woman that could muscle her way into the male-dominated world of rich athletes. For there to still be such a discrepancy between these two genders is mind-boggling and calls for some sort of action to be taken.
Endorsement and Sponsorship
Endorsement and sponsorship effectively underline how much business potential each sport and athlete can generate. Whether people like it or not, at the end of the day, sport is still a business. And a very lucrative one at that.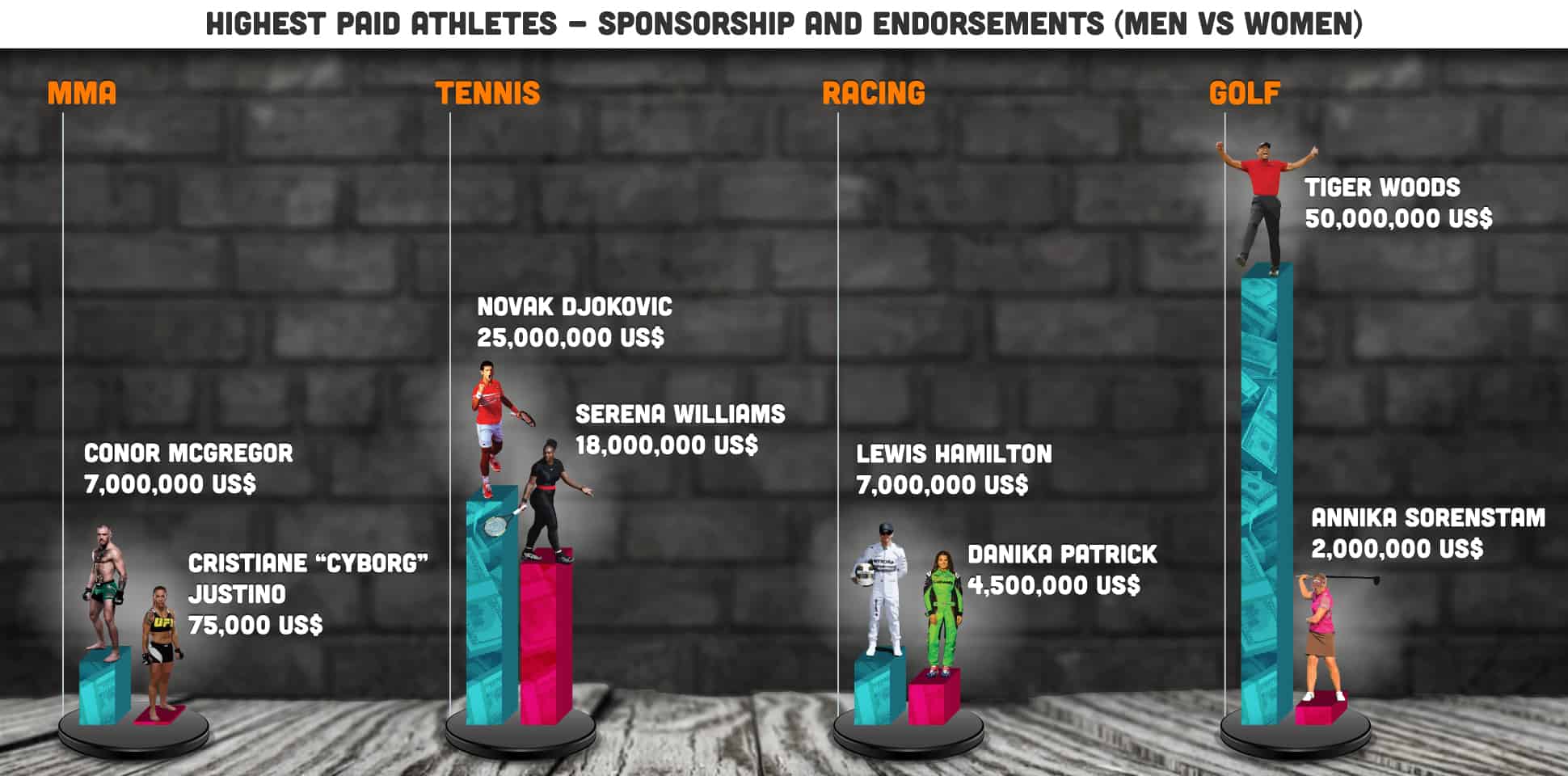 We again see the same old pattern, with males massively outweighing their female counterparts when it comes to monetary value. In terms of 'business opportunity', women's sport can offer a completely different mode of impact and the forward-moving brands are finally beginning to recognize this. Those that are recognizing this are reaping the rewards.
The FA recently announced a new seven-figure title sponsor deal for the Women's FA Cup last week, and moved the final to Wembley, a massive sign of improvement in England. This presents much more opportunity for all involved with the sports, players, sponsors, and fans alike.
"There are some sports you can invest in and you get your sponsorship benefit, but it's quite a saturated market, whereas we felt within women's football it wasn't that saturated. We could make a pretty big impact in terms of the investment and make a difference," Colin Banks, head sponsor of the Women's FA Cup since 2015 explains.
Yet, to put this into perspective, women's sport only receives 0.5% of the sports world's total sponsorship income (men receive 62.1%). Shouldn't this market be presenting itself as a major opportunity for investment and sponsorship opportunity, rather than being totally disregarded?
Most watched sports
"Where TV viewership goes, broadcast rights follow," – that's what global managing director for Futures Sport, Kevin Alavy says. So, by that reasoning, the recent surge in views of women's sport should welcome greater value to female tournaments in the future. With close to 150 million views of the UEFA Women's Euros last year and 34 million in the Women's Rugby World Cup, the status of these tournaments is slowly rising, as should their value to stream.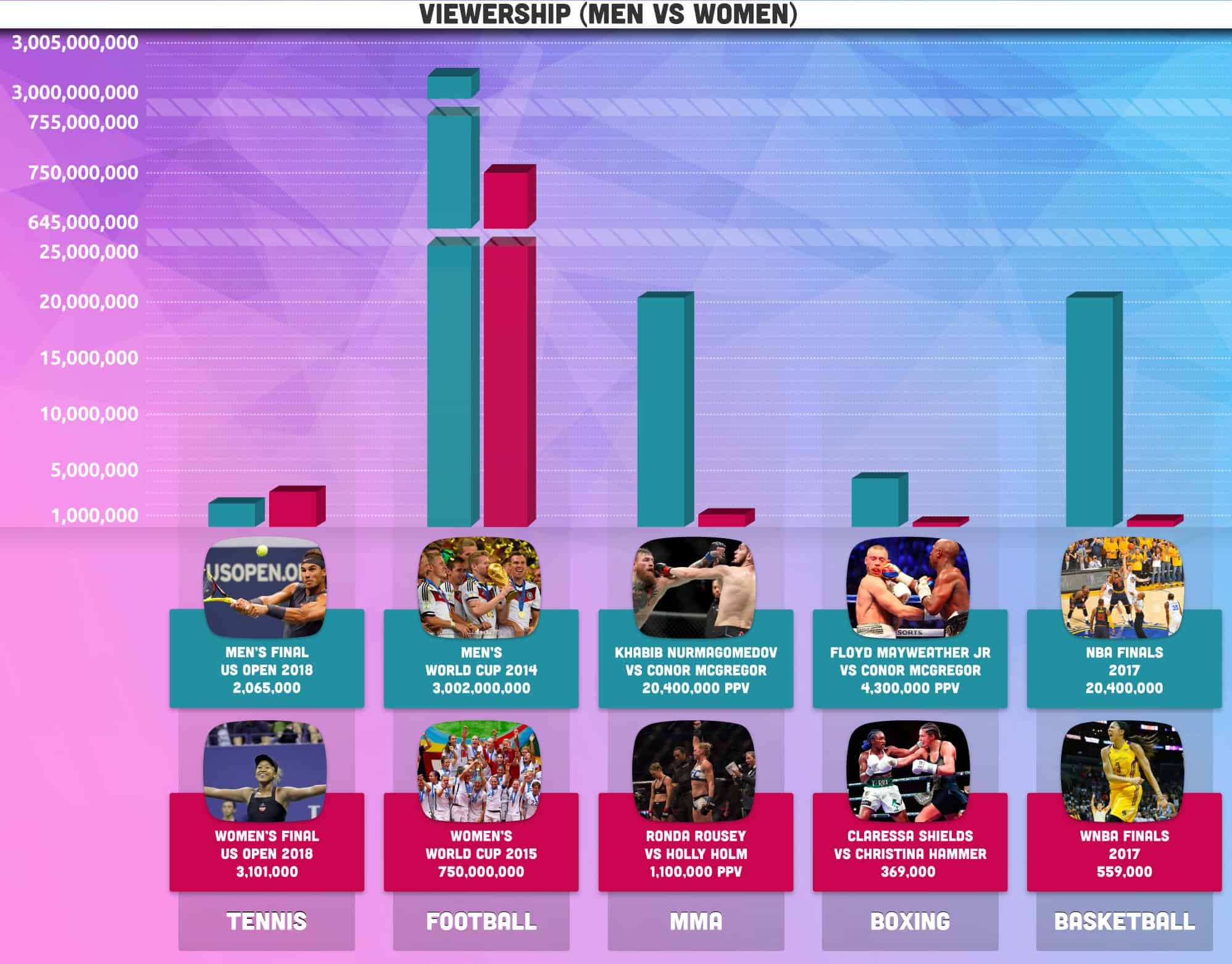 ---
The anomaly stats in the previous table show that, in tennis, the US Women's Open Final had more viewers than the US Males' Open Final. Unlike in the last two tables, where the difference between male and female was the least of all sports, this time, the females have weighed in their success.
But again, we only have to look at football, boxing, MMA and other traditional sports to see that males are attracting many more viewers, and therefore, attracting bigger sponsorship endorsements. Again, investors focus on what makes them most money at the end of the day.
Let's take Ronda Rousey for comparison. Rousey is considered to be one of the greatest and most influential women in sport. Becoming the only female to win championships in both UFC and WWE, before then becoming the first and only female to headline a pay-per-view event in both sports.
Even though her record-breaking fight saw her command an impressive 1.1 million pay per view (which is extremely impressive figure) yet the UFC star was out shadowed by her male comparison, Conor McGregor, who has undoubtedly become a household name. His 2.2million buy rate bout with Khabib Nurmagomedov ensured that the men dominated the limelight once again.
Although it is great to see a female fighter pushing the boundaries in her sport, there are (as always) some flaws beneath this. However, many people argue that Rousey had been given the opportunities that other talented female fighters were't, not only because of her skills, but also her looks. It never seems to be the case when it comes to male fighters. But why should supposedly one of the greatest fighters in the history of sport be judged on how she looks at all? 
The same goes with boxing, Claressa Shields will bid to become the fastest boxer in history to win world titles in three weight classes when she faces Ivana Habazin on 17 August 2019. If she is victorious in her 10th bout she will surpass male fighter Vasyl Lomachenko, who became a three categories weight world champion in his 12th contest. Yet again, the sheer difference in viewing figures could slap you in the face with its flagrancy.
Her recent bout with Christina Hammer was labeled the biggest female boxing fight of all times and attracted 369,000 views on free-to-air TV.  Compare this to the same man again, Conor McGregor, whose first and only bout in boxing was able to set a record-breaking 4.1 million pay per views with his fight with Floyd 'Money' Mayweather.
With 4.1 million paid views for McGregor and Mayweather at an eye-watering cost of $99.99 price tag to view and only 369,000 free-to-air views for Shields and Hammer. The difference and financial impact is again clear to see.
Number of active professional athletes
They say if you want to fix a problem you must go to the root of the problem. The number of active professionals (male vs females) is again repeating the same sexist pattern.
Participation at grass levels route is a key factor in shaping professional sport. If there are not enough females competing in sport, how can we ever expect viewing figures, players salary, and sponsorship fees to be on par with males in sport.
Again the repeating trend highlights the significant difference between male and female sports. One can presume the lack of participation can be put down to the lack of opportunity that presents itself to female athletes.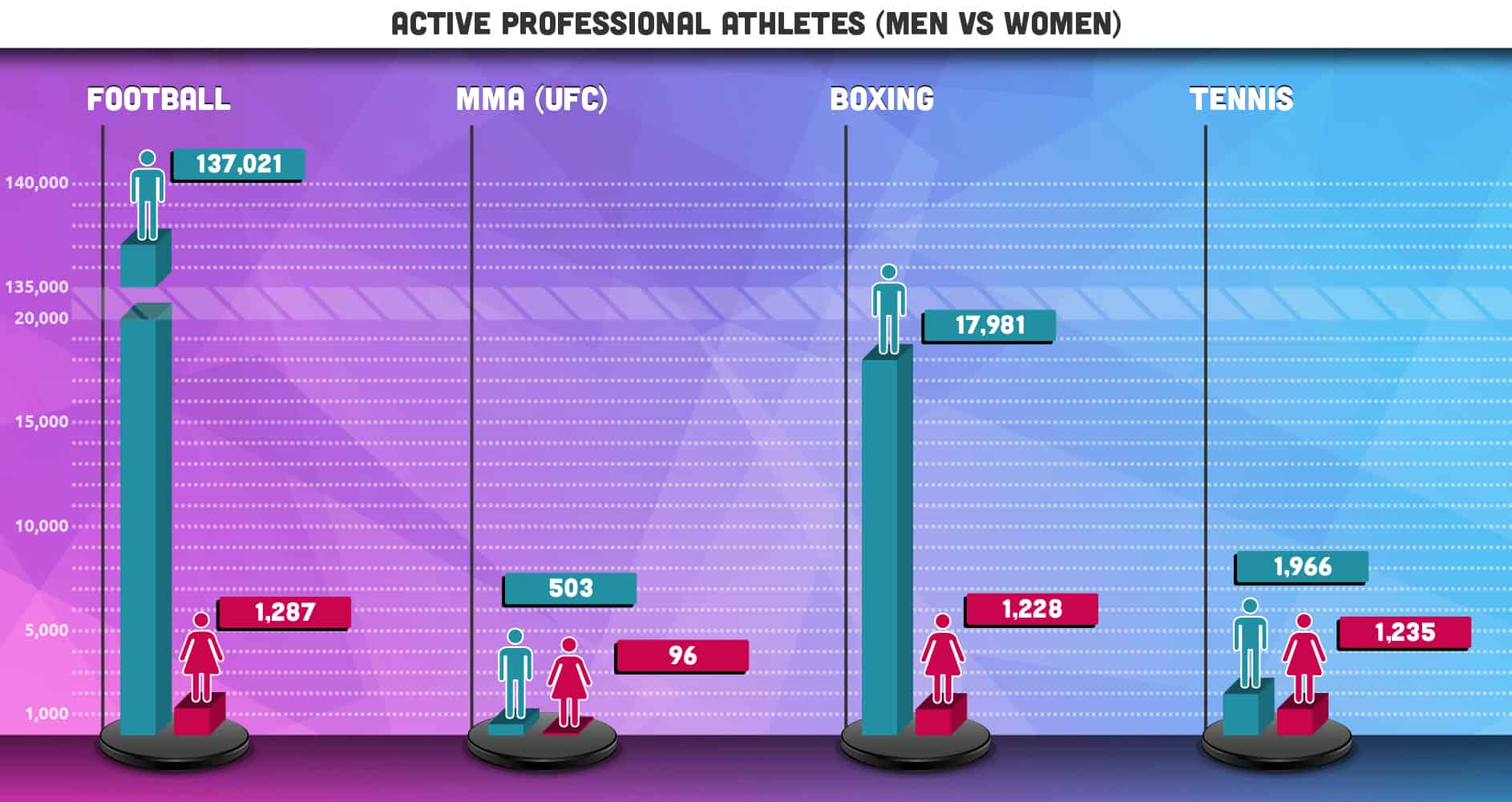 ---
If we want to achieve true gender equality in sport, then efforts need to be made early on in children's lives. Most boys are inspired or encouraged at a young age to pursue a life in sport, with local football, basketball or rugby clubs. The dream to become an athlete is far less common among young girls. Females from a young age tend to have very little hope to pursue a profession in sports, which could potentially give them the opportunity to have a successful career. This seems to be a common factor for the whole generation.
It comes as no surprise that there are less active female professionals in sport, The facts speak for themselves – women receive less pay, sponsorship, and less opportunity. On top of that, they also need to combat stereotypes and discrimination – can women really be blamed for losing the fervor for the sport? People in sport should be doing more to help combat these issues, rather than aiding them.
There is no denying that women and men are being treated in different manners, despite competing in the same sport. A bizarre case of double standards saw, Alize Cornet, the French tennis star,  was recently handed a code of violation, for removing her top on court and revealing a sports bra during a match in the sweltering heat. She had left the changing room with her top on the wrong way round, and went to adjust it. Male tennis players regularly switch their tops on field, and receive no such violation. What's the difference for women?
Number of competitors at the Olympics
It's not all bad news however! The world's most historic global sporting competition is leading the way to balancing the weight between gender disparity in sport. As the gap continues to narrow at least it shows we are heading towards the right direction.

---
But again, if we look at the root of the problem. The International Olympic Committee has continuously missed its target of a 20% minimum presence of females on the committee. And despite them 10 months ago appointing a female CEO, they are currently having to deal with one of the most shocking sexual abuse scandals the world of sport has ever seen.
The IOC appointed Sarah Hirshland to become their first female CEO and took over after its previous CEO Scott Blackmun had to step down following the sexual abuse scandal that rocked the world, involving former gymnasts national team doctor Larry Nassar. Nassar was sentenced to 300 years in prison after more than 250 women, including Olympic gymnastic champions Aly Raisman and Jordyn Wieber, testified about the abuse at his hands.
Just when we thought things were improving, it's a harsh reminder of the challenges that sport faces moving forward. There are endless amounts of hurdles to overcome if we are to move towards gender equity within sport, yet that doesn't mean we should not combat them.
Is the gap widening or reducing?
Admittedly, times are changing and this can only be viewed as positive. As women in sport continue to grow in their capacity, popularity and quantity, the media is beginning to shed light on the gender gap in sport. We are finally beginning to see a lasting impact. But are we doing enough?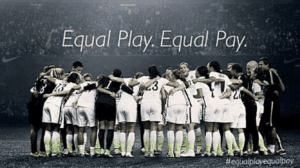 Social campaigns such as #EQUALPAYEQUALPLAY are hoping to inspire the next generation of sport that is based on solid foundations of gender parity and helps to break the mold surrounding sexism in sport.
US World Cup win proves female players deserve equal pay
Research showed that gender-diverse companies outperform competitors by more than 15 percent. And since we've already distinguished that sports is a major business, those who are recognizing the importance of gender equality in sport will surely reap the rewards by engaging in such activity. People are slowly beginning to let go of old misconceptions and gender stereotypes.
People can continue to argue that 'men able to bring in more revenue, therefore deserve better pay' but it's easier to generalize rather than address these issues. Did you know? The US Women's National Team, who recently filed a lawsuit against US Soccer, have brought in more revenue than the men's national team EVERY YEAR since 2016! After budgeting for a loss of $430,000 for BOTH it's national sides in 2016, they went on to make $17.7 million profit thanks to the WOMEN'S National Team winning the World Cup. Yet females continue to be paid less and receive fewer bonuses.
And as the US Women are currently attempting to repeat that feat and win another World Cup this month, they are also in the middle of a huge legal battle against gender equality. Filling lawsuits during the middle of a World Cup, it again highlights the issues that females face in order to swing the balance.
More recently we have seen mixed genders in sport. England Women's Football team are currently being managed by Gary Neville, and are hoping the blend between male and female, can help land them the World Cup. A feat the men's team hasn't been able to replicate since 1966!
Overall it is clear to see that women do not deserve to be disregarded when it comes to sport, nor should they be judged 'as less important' or had 'less of an impact' in sport over the years. Neither should it be said 'they are unable to generate as much revenue as males'.
After our analysis above it, and most of our readers will be aware it is clear to see there is still a huge difference between male and females in sport. Although this may not be down to sport itself, some will argue, society is the main course of the problem. Sport is betrayed as something that brings together and decreases equalities. So, therefore, this should be displayed at the core of sport and throughout. Yet this is far from the case.
They say that every little helps, but it's clear to see we need to do as much as possible to help break the hoodoo. Whether you are a fan, player, executive, or a relative who has zero interest in sport, we can all help to end a long-standing social problem, by using sport to unite people together worldwide.
---
Athletes featured in this article: Lionel Messi, Ada Hegerberg, Stephen Curry, Chiney Ogwumike, Conor McGregor, Cristiane 'Cyborg' Justino, Saul 'Canelo' Alvarez, Katie Taylor, Novak Djokovic, Angelique Kerber, Serena Williams, Annika Sorenstam, Ronda Rousey, Floyed Mayweather Jr, Claressa Shiels, Christina Hammer,  Ivana Habazin, Vasyl Lomachenko, Alize Cornet,  Aly Raisman, Jordyn Wieber,