Bonuses, Bets & Promotions
---
Since we've already alluded to those all-important welcome bonuses, we may as well begin there – although they are far from the only examples of promotions that 10Bet has to offer.
Here we'll be taking a close look at the intricacies and terms and conditions of some of their promotions in order to decide whether or not they are good value of not. For example, if a promotion offers a large bonus but has unattainable wagering requirements – which is the amount you have to bet in order to receive your winnings –, then the initial large bonus isn't worth as much as it may originally appear.
While we'll be looking at what we believe are the most important and relevant terms and conditions, this does not mean we will cover all of them. So, for more information, make sure to check the website for yourself. These offers can, of course, change over time but we hope this will give you an indication of the kind of quality you can expect from 10Bet.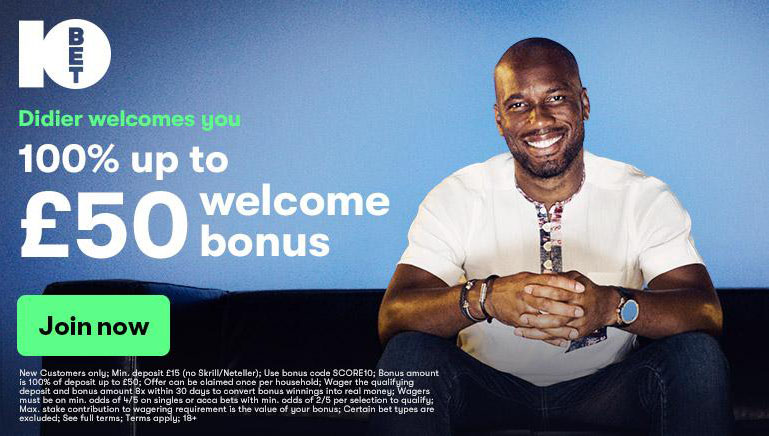 £50 Welcome Bonus:
To get this bonus, you simply need to sign up to 10Bet and deposit a minimum of £15 in order to receive a 100% bonus up to £50. While a £50 bonus is less than the £100 many competitors offer, this is made up for with an excellent 8x deposit and bonus turnover amount, although this must be completed in 30 days for bonus release.
£10 Free Bet:
When you bet a minimum of £10 on selected football leagues, and you lose due to a 0-0 result, you can get your stake back up to £10. This free bet is valid for seven days.
Six Nations Free Bet: Similar to our last example, if you bet on a first try scorer with a minimum £5 bet on a Six Nations game and lose but your pick still scores a try, then you can receive your stake back up to £10. This is only available for one fixture per customer and also is valid for seven days.
You're Covered £10 Free Bet: If your horse falls, you can get a free bet up to £10, although this is only available on specific races.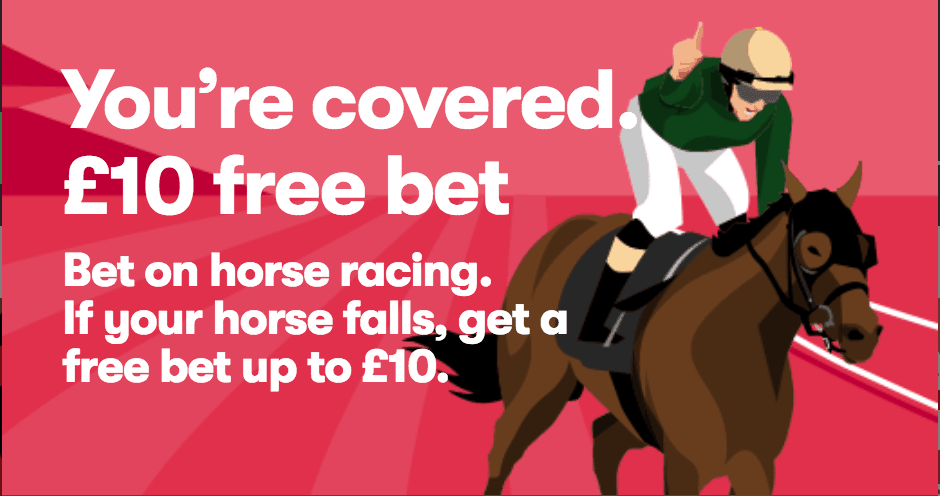 Heads Up £10 Free Bet: The final in this series of similar promotions, if your horse is beaten by a mere head, you can claim your stake back up to £10. The usual terms apply here.
50% Acca Boost: The bigger the acca bet you put on, the larger a winnings boost you will receive. You'll get an additional 2% added for trebles all the way up to an additional 50% for 16 folds, with minimum odds of 1/2 each. Essentially, this rewards you for placing bigger bets.
All in all, this is an excellent – if a touch unoriginal – selection of promotions by 10Bet. Each offers some significant value, whether it's through a generous bonus on lost stakes or giving users attainable cash bonuses. It's a practical, useful set of bonuses here.
Betting Markets
---
We've already mentioned variety as being one of 10Bet's best features, so you'll not be surprised to learn that the betting markets here are plentiful. There are 67 sports available at the time of writing and these include everything from football and horse racing to beach soccer and bandy. There's also a wide selection of e-sports available, bringing this site into the modern age.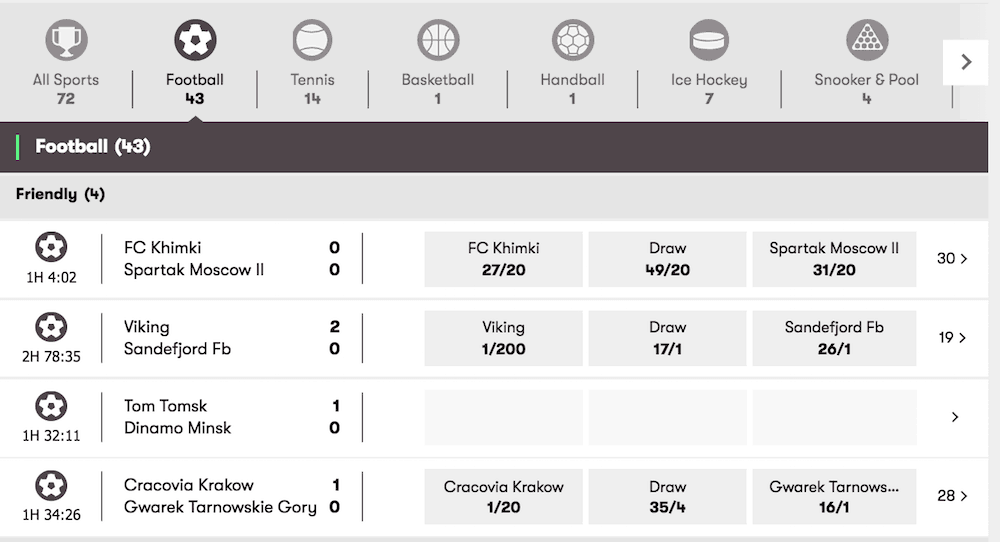 Similarly, the casino has options ranging from slots to table and card games, alongside a live casino. This is matched by in-play betting on sports to create a vibrant feel to the site which not only provides more options but makes it feel much more lively than many of its competitors. In conclusion, 10Bet is an excellent all-rounder.
Mobile App
---
There is a mobile version of the 10Bet site available, meaning that you can easily access the site from your mobile or tablet device.
Although we have heard some criticism of the looks of 10Bet, we honestly don't see the problem. We suppose it's not the most eye-catching of websites out there, but it's easy on the eye and does its job perfectly well. Most importantly, it also functions extremely well, with there being little difference between the site experience and the app experience. Thankfully, all the variety is matched with functionality for a wholly enjoyable betting experience.
Live Streaming & Virtual Sports
---
Unfortunately, there is no live streaming available at 10Bet at the time of writing, at least in the case of physical sports. Virtual sports are available and although there's not the most plentiful selection in the world – with only three options available, including football, horse racing and greyhounds –, they are all of a very high quality.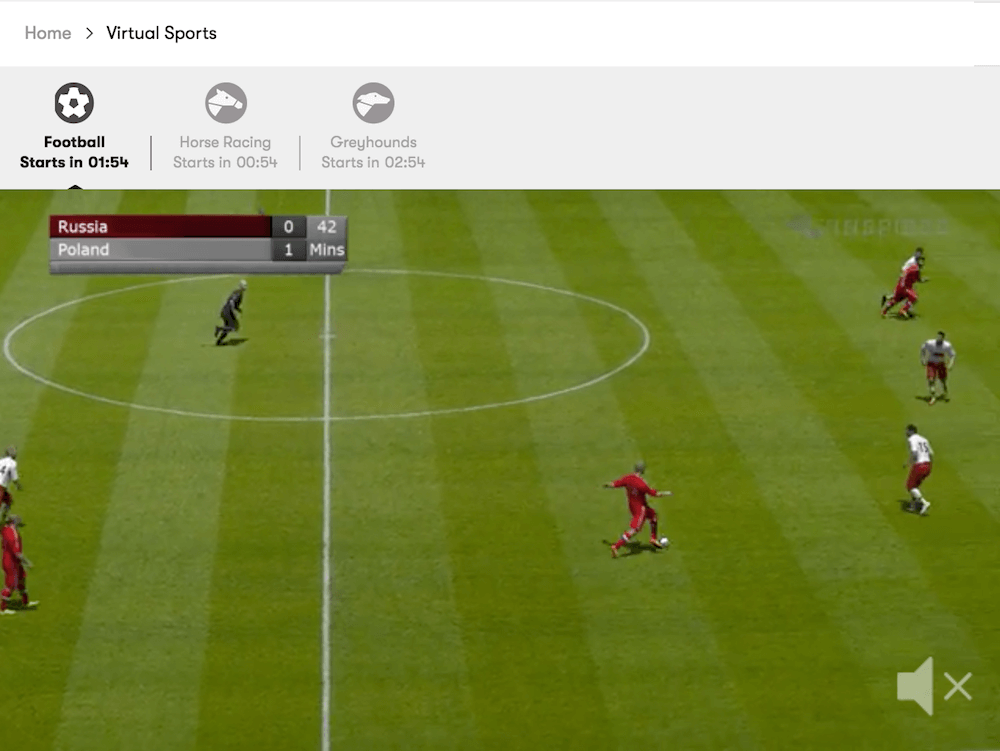 Payment and Withdrawal Methods
---
There's a great selection of payment options to choose from at 10Bet, including debit cards, PayPal, Neteller, Paysafecard, bank transfer, Eco and Skrill. These are all clearly found at the bottom of the page.
Where 10Bet does suffer issues though is having all the other information easily and readily available. You'll find it across two separate sections within the FAQ and pretty much everything is here, but a few design tweaks would have made this a lot more user-friendly.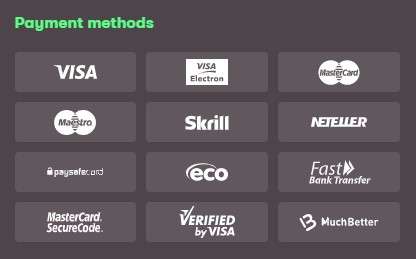 Some positive points include the fact that deposit limits can be set daily, weekly or monthly, with deposits beyond those limits being rejected automatically. Additionally, 10Bet does not charge for deposits or withdrawals, however, the payment provider may.
Other useful information found on the 10Bet site includes the fact that the minimum withdrawal amount ranges between £5 and £25, depending on the method used, and the maximum amount is £50,000. These will also take 1-2 business days to process, while deposits are immediate.
Like we said, almost everything you could need to know is here but a simple table displaying all this information, for instance, would make things a lot easier to understand. They also need to be much clearer when it comes to verification documents.
Customer Support
---
There is mostly good news when it comes to the 10Bet customer support. They are available via e-mail, phone and live chat. Not only that but we found them to be very helpful every time we contacted them. You can also get in touch them 24 hours, seven days a week.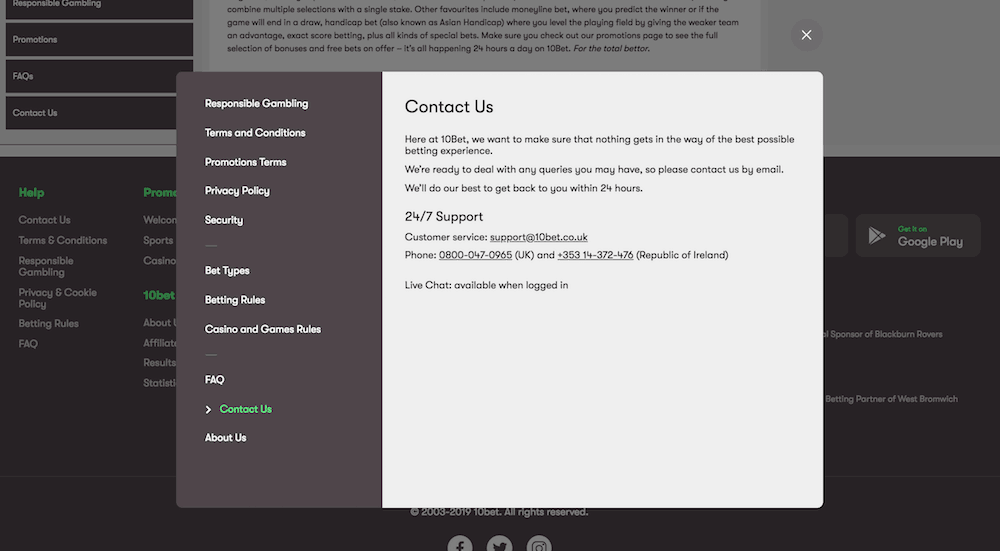 The only downside to this is that live chat is only available if you have a 10Bet account. This means that if you have some questions about the site that you want answered before you sign up, you'll have to go through one of the other contact methods. However, considering they got back in touch within an hour when we emailed them, this shouldn't be too big of an issue.
Reliability and Security
---
One area in which 10Bet does make things crystal clear is with its security. They use state-of-the-art 128-bit encryption to keep your data safe, alongside a firewall to block unauthorised access. There's also an automatic time out feature during long periods of inactivity. Finally, there's a credit card verification system.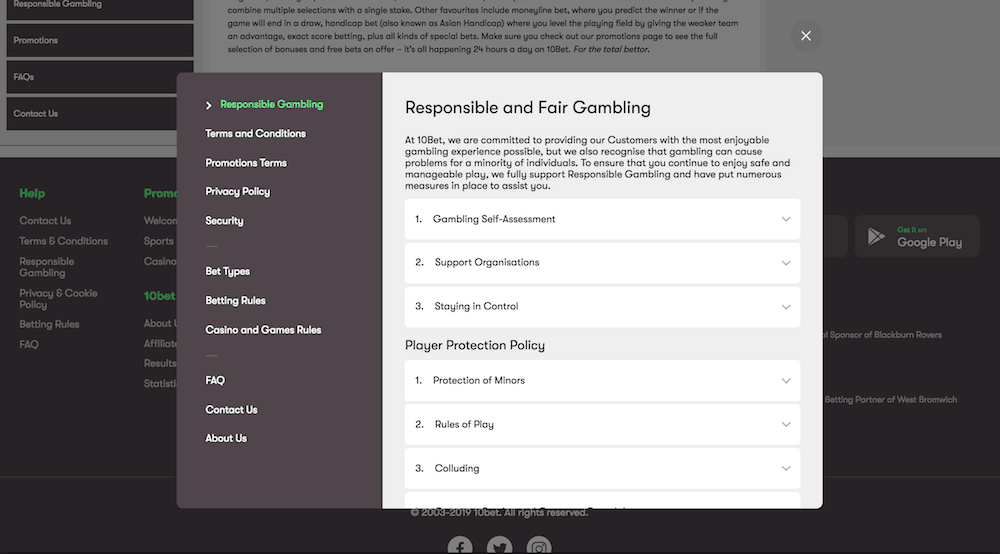 They are regulated and licensed by the Great Britain Gambling Commission and, alongside being able to set limits to create a responsible environment, there are also links available to several organisations that offer support to people who may find they have a problem gambling.
Casino Welcome Bonus
---
Alongside the many sports promotions we've already mentioned, there are also several casino options including a £100 welcome bonus. While the sports welcome bonus gives you 50% of your deposit, here the bonus is 100%.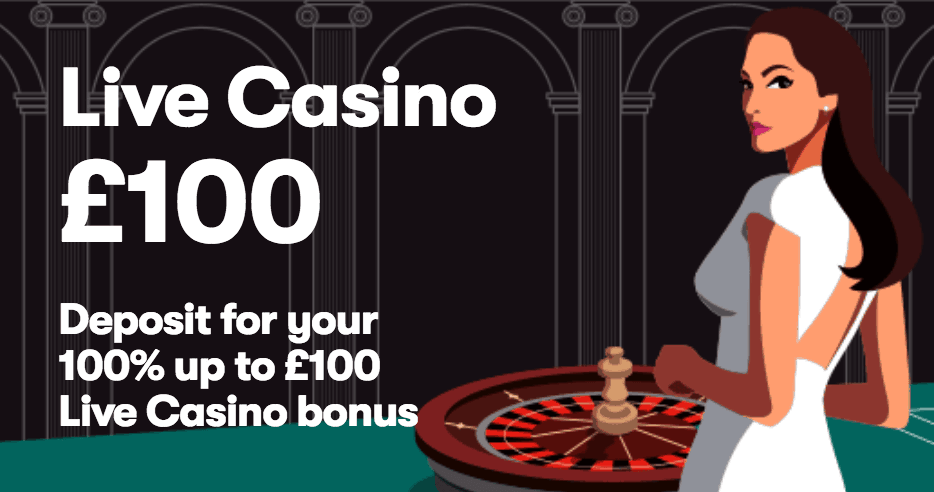 Unfortunately, this does come with a huge leap in deposit and rollover requirements – this time running up to 40x. On top of that, it has to be met in 15 days, making this a much lower value offer than the sports equivalent.
There's also a 25% mobile bonus, which is sadly let down once again by high wagering requirements – which are 35x– , as well as free spins and a cashback bonus.
10Bet Summary
---
Although 10Bet is not a perfect site, the only real issue that should be addressed urgently is the difference in the quality of promotions from the sports to the casino side of the site. And although that is no small problem – after all, if 10Bet is to cater to both sports and casino users, it should treat each with equal importance –, the fact that this is the main thing that springs to mind as far as flaws go does show just how high quality the rest of the site is.
Sure, there's the odd flaw here and there regarding things like live chat availability to non-members, as well as some structural issues regarding information. However, for the most part, it's a success. The site looks great, is very easy to use and, with the odd exception, is logically laid out. Not only that but the mobile site looks brilliant as well.
Although we've criticised one element of the promotions, it's important to point out that the weakness of the casino terms and conditions are very much exaggerated by how good some of the other promotions are. And all this comes with a great variety of content from regular sports and beyond. Furthermore, their customer service is top-notch, being helpful and friendly as well as quick to respond.
When you throw all this together, you may not get a perfect site but you do get a very good one.