Bonuses, Bets & Promotions
---
As we've mentioned, Matchbook may be different to other traditional betting sites but that doesn't mean you don't get any perks. And that, of course, means promotions. We're going to be looking at both promotions that are available on the Matchbook exchange site at the time of writing.
Do keep in mind though that bonus offerings can change quite often on many betting sites and some are even time sensitive by their very nature. So, do not be surprised if there are differences between our listing and the bonuses available when you check out the site for yourself. Nonetheless, we hope this gives you a good idea of the kind of value that you can expect from the Matchbook promotions in general.
One last thing to point out before we dive into it is that, while we do mention some terms and conditions here, we will only be covering the ones we deem most relevant to assessing just how good the promotion is for customers. This is not intended to explain the entire terms and conditions. Instead, the full details of each promotional offer can be found on the website itself.
Unfortunately, since the 1st January 2020, there are no more Sign Up or Bonus offers avaliable at Matchbook.
Well, there's little doubt that no promotions aren't as many as certain competitors, but that does come with the territory of being a betting exchange. But the commission rate is a huge reason to pick Matchbook over other sites.
Betting Markets
---
While being a betting exchange does mean that there's not enough demand for something like e-sports, the offerings here are still pretty generous. You'll find things like darts, MMA and even politics bet options, alongside more popular sports to bet on like horse racing and soccer.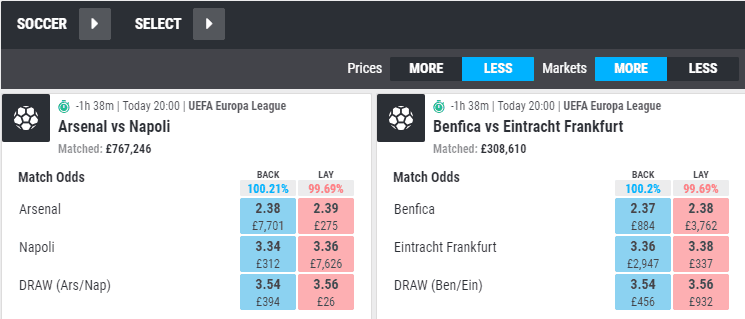 The amount of variety within those sports is equally impressive. Take soccer, for instance: you can choose from games played across several countries and leagues from the La Liga to the Premier League. It's a very high quality selection here.
Mobile App
---
We have been hugely impressed by the Matchbook mobile app. It can convincingly compete with many major players in the betting industry when it comes to its quality and ease of use. Everything you could want is here, making the sometimes confusing world of betting exchange sites simple to understand for newcomers and detailed enough to be satisfying for more seasoned customers. We're not alone either, as our research showed very high levels of customer satisfaction.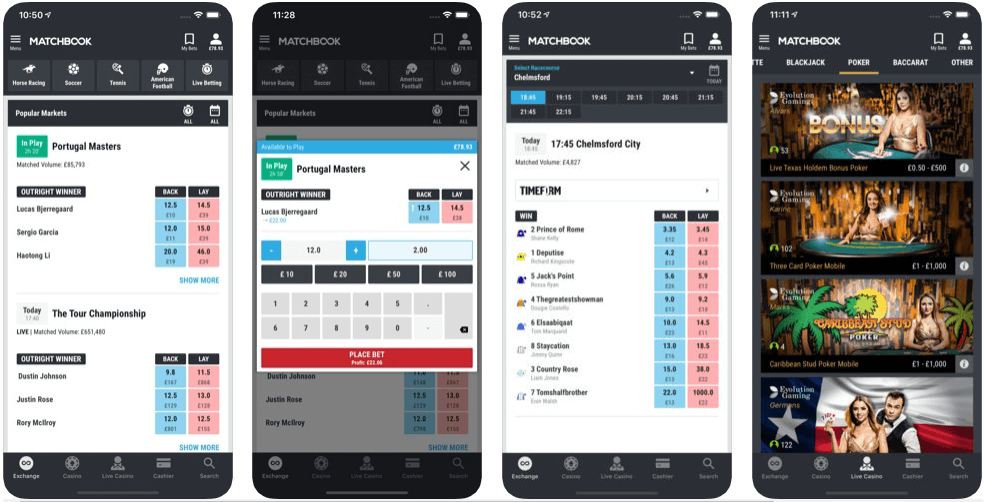 Live Streaming & Virtual Sports
---
Unfortunately, there is no live streaming available from Matchbook at this time, although as very few traditional bookmakers have this option anyway, we can't be too critical of that fact. They do, however, follow sports in a non-traditional way via their podcasts and insights, which is an interesting and useful feature.

Of course, being a betting exchange, there are no virtual sports available either. We can't really blame them for that fact though, considering it would go against the core concept of the betting exchange site.
Payment and Withdrawal Methods
---
The full information on payment and withdrawal conditions is pretty comprehensively covered by Matchbook's FAQ section – which, as a side note, we found to be excellent. Nonetheless, here's a quick overview.
Among the payment methods available on the site are Visa and Mastercard credit and debits cards, Neteller and Skrill. Withdrawals must be made by the same methods of their original source. In other words, the same method by which you deposited funds will be used to credit withdrawal requests. Mastercard has some additional policies also found in this section.
Withdrawal requests are handled by the site within six hours, while the payment type will dictate the rest of the transaction times. This is also the case for fees, as well as minimum and maximum limits. Some information in that regard can also be found on the Matchbook site.
As you can probably tell, while Matchbook offers most of the information on payment methods that we needed, it would be handy to have certain details clearly available via a table for ease of use and understanding. Generally though, they do a great job of explaining all the important points. You can also get detailed information on your deposits and withdrawals via your account. Finally, accepted forms of identification include photo ID, such as a passport, driver's license and National ID Card.
Customer Support
---
We were hugely impressed by the customer service at Matchbook. They were very quick to reply and even went so far as apologising for the delay, showing their obviously extremely high standards. Not only that but it was clear that the customer service team were very well versed in any and all questions we had, making the experience a very happy one.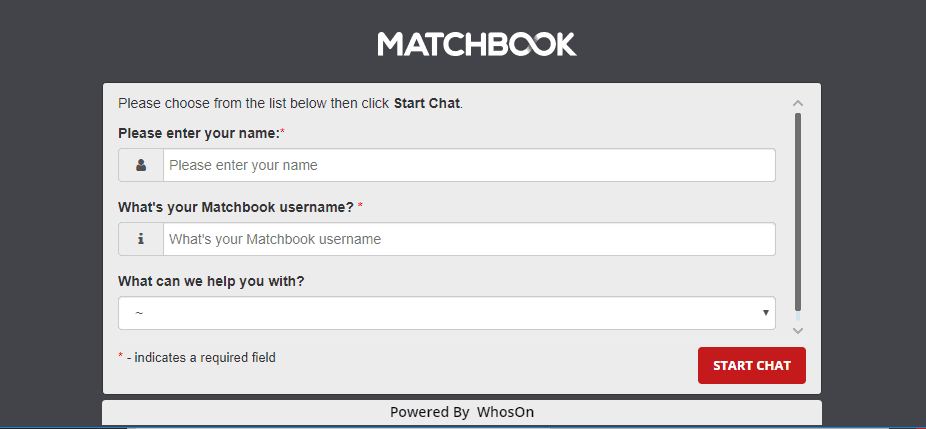 The opening hours are also pretty extensive too, with support being available between 8 am and 1 am for the live chat GMT. You can also contact them via telephone, regardless of where you are calling from, and email support is available too. We'd love to see 24/7 coverage but the customer service in terms of options and quality is all-around excellence.
Reliability and Security
---
Matchbook is licensed and regulated by the Gambling Commission in the UK. They also utilise Secure Socket Layer encryption in order to ensure that all your vital information remains safe.
On top of that, responsible gaming is something that they clearly take very seriously, with options for players to set deposit limits, time outs and self-exclusions. There are also links on the site to organisations that can offer help and support to those who think they have an issue with gambling. All in all, we've been very pleased when it comes to the reliability and security of Matchbook based on everything we've seen.
Casino Welcome Bonus
---
It's surprising that a betting exchange has any promotions at all, nevermind a welcome offer for its own casino. However, it is here, giving you 100% up to £100 as well as 100 free spins. We think we sense a theme here.

The amount of spins you get is relative to the amount you deposit. For instance, you will get 20 free spins for £20 and 100 free spins for £100. These extra spins also have zero wagering requirement, so there's no need to rollover.
The rollover requirement for the buy-in amount is 35x, which is pretty competitive. Do keep in mind, as is usually the case, that different games count towards the wagering requirements by different percentages, with slots being 100% while others go down to 10%. For full details on this and all the terms and conditions, be sure to check out the Matchbook site itself.
Matchbook Summary
---
In a way, Matchbook is an unusual one to rate because, of course, it's not your typical betting site. That means that for certain things, your expectations need to be different. We think though – comparing it to other similar betting exchange sites – that it does an all-around excellent job of creating a different but worthwhile online betting experience.
The site is a joy to use, as is their mobile app. The betting markets are vast and varied, and it has plenty of extras that many wouldn't expect from a site of this kind. That's not to mention that the customer service is excellent and the site explains itself very well, which is so important for any potential newcomers.
In our opinion, Matchbook is a wonderful example of an exchange betting site and proof that you can provide something a little bit different to the norm and still keep up excellent standards.