PWR.bet Bonuses, Bets & Promotions
---
In order to be the best at what you do, you need to prove yourself. This is where PWR.bet keeps on improving. Their initial welcome offer was solid, but it was never better than bonuses their competition offered. This is not the case anymore, as PWR.bet stepped up their game. It is not bad to receive a 100% up to £35 + 10% cashback. For such a low deposit, you are being heavily rewarded.
There are also a couple of casino bonuses that can be claimed on PWR.bet. For example, you can get your 5 free spins as a welcome bonus, and those are free of charge, you just need to sign-up for an account. There are also a couple more casino bonuses, but we will discuss those a bit later.
In order to claim PWR.bet promotions and bonuses, you will have to agree with certain terms and conditions. First and foremost, a minimum deposit for a welcome bonus is £10, while the maximum one is £35. Furthermore, the minimum stake of £0.25 has been put in place. Lastly, you will have to rollover bonus amount 9 times before claiming it while only the bets with odds 2.00 or higher will qualify.
Given the fact that PWR.bet offers a lot of different bonuses, there is no point of going over each and every one. We will highlight some of those bonuses, just so you can have an insight on what to expect on PWR.bet
Welcome bonus: 100% SPORTS WELCOME BONUS + 10% CASHBACK
There is not much to say about this welcome promotion. However, if you are unsure about PWR.bet and you want to give them a chance, this welcome bonus is the perfect start for you.
PWR Wheel Levels: This bonus/promotion is based on a VIP program. Basically, your first deposit will award you with a wheel spin, where you will definitely be rewarded. Prizes are changed weekly so stay tuned.
PWR.bet Betting Markets
---
I would dare to say that PWR.bet will provide you with everything other sports betting bookmakers offer. For instance, you can bet on all sorts of sports, starting with the popular ones like soccer, tennis, ice hockey, basketball. PWR.bet also covers fighting sports such as MMA, UFC, and of course, boxing. Lastly, PWR.bet will also provide you with markers for certain esports titles like CS:GO, Dota 2, League of Legends, etc.
As for the regular sports, top leagues are not the only thing you will be able to bet on. PWR.bet offers betting markets for lower leagues as well. This means that alongside Premiership, you will also be able to bet on Championship league, League 1, League 2, etc. The same goes for other top soccer leagues as well.
We already briefly mentioned esports betting at PWR.bet. Even though you will not be provided with the most exciting special bets for certain esports titles, PWR.bet is definitely one of the better esports betting bookmakers.
PWR.bet Mobile App
---
Almost every sports betting bookmaker has its own mobile app, and that is completely normal. However, not all of those sports bookmakers are providing you with top-notch quality when it comes to their mobile apps.
This is not the case with PWR.bet. They put in a lot of work into their mobile app, and it works like a charm. Everything you need is located just a couple of touches away, and the best thing about it, it is well-optimized.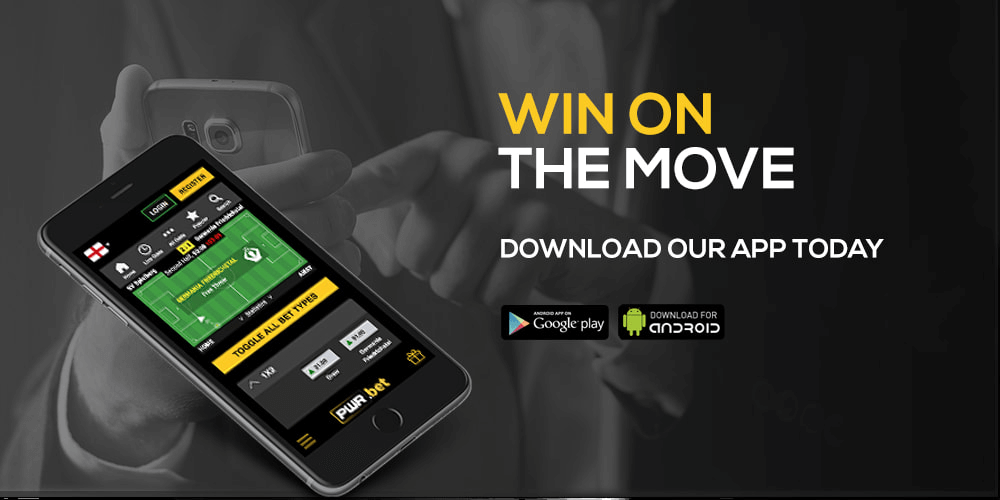 Furthermore, PWR.bet decided to merge sports betting and casino into one mobile app, and in my personal opinion, this is great. I do not think anyone likes downloading two different mobile apps for the same bookmakers. Take note that PWR.bet mobile app is available on both Android devices and iOS.
When it comes to PWR.bet mobile betting, you should be glad to hear that there are no hiccups anywhere in the mobile app. Placing bets is really easy as your betting slip will appear on the screen. Furthermore, live betting is also an option via the mobile app. Lastly, you will have no trouble finding special bets for either pre-match betting or live betting, and I am positive that you will enjoy PWR.bet's mobile app.
PWR.bet Odds
---

In this part of the review, we will go over 3 types of odds. First and foremost, pre-match betting, followed by both live betting and outright betting. Let's start with pre-match betting odds. These are basically the core for every sports betting bookmaker, and this is the case with PWR.bet.
You will enjoy high odds for some popular sports such as soccer, tennis, basketball, ice hockey, and horse racing. However, PWR.bet is not really offering the highest odds for baseball, rugby, and handball. All in all, you will not be disappointed with pre-match betting odds provided by PWR.bet
Live betting, on the other hand, does not offer anything new or spectacular. To cut things short, you are basically getting standard odds which can be found on a lot of different sports betting bookmakers as well. But to be honest, you should join PWR.bet because of their pre-match betting odds and not live betting odds.
Lastly, outright betting is becoming more and more popular in the sports betting markets. You are basically betting on league or tournament outcomes which are mostly rewarded with enormous odds.
PWR.bet Live Streaming & Virtual Sports
---
At the moment, PWR.bet is not providing you with live streaming, and hopefully, this will be a subject to a change in the near future. Keep in mind that PWR.bet is still a youngster in the sports betting world, but they are on the right track.
The same thing can be said about virtual sports. So far, we have not seen anything on PWR.bet about this subject and is highly like to remain like this.
On the other hand, every live betting match will have a feed where you can track statistics, goals, cards, break points, and all the other necessary information that should help you create successful betting predictions.
PWR.bet Payment and Withdrawal Methods
---
When it comes to deposit and withdrawal methods, PWR.bet decided to provide you with a lot of those. Two most popular methods are credit cards and e-wallets. Both VISA and MasterCard are accepted on PWR.bet. As for the e-wallets, there are tons of those. We will mention the most popular ones, Skrill, Paysafecard, NETELLER, ecoPayz, etc.
All of the methods listed above are safe, and PWR.bet takes good care of that. When it comes to depositing process, all of your banking information is stored on the offline servers which are encrypted, so you do not have to worry about a thing.

Just like every other Sport betting bookmaker on the planet, PWR.bet put in place certain limits when it comes to minimum and maximum deposit and withdrawals. First and foremost, $10 is the lowest amount that you can deposit, and the same goes for withdrawal. This is tied to both credit cards and e-wallets.
Withdrawals, on the other hand, are also limited to $10. You are probably wondering about withdrawal times. We got you covered. Credit cards payouts usually take 3-5 working days. However, if you decide to withdraw your balance to your e-wallet, you will roughly wait around 24 hours.
Certain sports betting bookmakers can make it complicated for you to withdraw funds, but this is not the case with PWR.bet. Take note that you will have to verify your identity before withdrawing, as this will make withdrawal process fast and smooth. It is also important to notice that there are no fees while withdrawing your balance.
From my point of view, I would advise you to reach out to PWR.bet customer support as soon as you signed up for an account and send them your ID verification documents. Trust me when I say it, it is better to do stuff like this in the early stage, then after you make a withdrawal.
PWR.bet Customer Support
---
There are some sports betting bookmakers that will provide you with customer support on your native language. However, this is not the case with PWR.bet. But still, this does not change the fact that you cannot get help if you reach out to PWR.bet customer support.
At the moment, the only language available for both live chat and e-mail is English, and we should all be fine with that. There are also two ways of reaching out to PWR.bet staff, live chat and via the e-mail address.
From what we were able to find out, PWR.bet staff was very polite, and they answered all of our queries within minutes. However, we did have some wait time before we were connected to the agent. Hopefully, this is something that can be resolved in the near future, as no one likes to wait. The best thing about this method is that it is available 24/7, 7 days a week.
When it comes to customer support via e-mail, you are not getting anything special. It usually takes them around 24 hours to resolve your problems or answer your questions. All in all, a very common way of reaching out, but from my experience, I would prefer live chat as a customer support method. This is the mail address where you can reach out, [email protected].
In conclusion, both support methods were as polite as they can be. It is obvious from the start that PWR.bet uses professionals to help out their customers, and there is not much more to wish for.
PWR.bet Reliability and Security
---
We have already mentioned above that PWR.bet is operating in Malta. This means that they are also licensed and regulated by the Malta Gaming Authority. If you are into sports betting, you can probably understand that a lot of sports betting bookmakers are licensed and regulated in Malta.
When it comes to security, PWR.bet stepped up in order to provide newcomers and community members with the highest security possible. At the moment, they are using SSL encryption which basically keeps all of your personal and banking information safe. As for the fairness of their games, they use random number generators to ensure that.
Limiting yourself can be troublesome for some bettors, hence why PWR.bet added limits for responsible gaming. Basically, you can set a limit for yourself which is tied to deposits, wagers, and losses. Take note that you can decrease those limits and that you can only increase them once every 24 hours.
PWR.bet Casino Welcome Bonus
---

It was already briefly mentioned that casino welcome bonus is a thing with PWR.bet. Firstly, you can grab 5 free spins on Starburst without having to deposit.
Furthermore, you can also claim your 100% matched casino welcome bonus where you will be entitled with an additional 25 free spins. Take note that this casino welcome bonus caps at $400 or £200.
From my point of view, you will have a hard time finding a better sports betting bookmaker that will provide you with these types of casino promotions. All in all, an excellent casino welcome bonus.
PWR.bet Bookmaker Summary
---
If you read through our PWR.bet preview, you can clearly spot that there are some good and bad things about this sports betting bookmaker. Let's start with all of the things that are good.
Firstly, you will be able to enjoy high odds, which is really important when it comes to bookmaker selection as you want to be rewarded with the highest amount of profit as possible. Secondly, a welcome bonus is a must in today's' market and this is where PWR.bet thrives. Thirdly, mobile app is another thing that makes certain sports bookmaker good, and PWR.bet did wonders with their mobile app.
There are a couple of bad things about PWR.bet as well. To start off with reputation, PWR.bet does not have one. They were established not even a year ago, and they are still trying to find their footing in the betting world. In my opinion, they are on a good track. It would also be nice if this sports betting bookmaker adds live streaming to their site, as I believe that a lot of customers enjoy watching games that they want to place live bets on.
In conclusion, PWR.bet will provide you with everything that other sports betting bookmakers provide you with and more. I believe that their welcome bonus is really unique and you can get a lot of value in it. All in all, if you are looking for something new, PWR.bet could be the best thing for you.