Bonuses, Bets & Promotions
---
We already mentioned one bonus an alluded to several others. Well, QuinnBet certainly hasn't scrimped when it comes to promotional offerings, so there's plenty to choose from here. We won't be covering everything though, as there's far too much to look at. Instead, we will pick a select few promotions which we think represents the general quality of bonus available at QuinnBet well. Do keep in mind, as is always the case with promotions, that they can be replaced at any time. Some are even time-sensitive by their very nature, such as when they are tied to specific sporting events and/or tournament.
Furthermore, even though we will be mentioning some terms and conditions in order to give you an overview of what to expect from these bonuses, it is intended as exactly that: an overview. Therefore, for the full terms and conditions, be sure to check out the QuinnBet website for yourself. With that in mind, let's delve deep into what's available on QuinnBet's promotional page.
Welcome Offer UK: As we mentioned, there are two welcome offers depending on whether you live in the UK or Ireland. The UK offer gives you 50%, up to £25, back of your first day sportsbook losses or a guaranteed £5 free bet when you bet a minimum of £10. UK Customers only (18+). To receive the no deposit free bet, you must enter the coupon code "BET" in the coupon tab at registration and have your account details fully verified.
The minimum odds are 2.00. This is a very solid introduction to the site, so let's see what the Irish side of things has to offer.

Welcome Offer Ireland: Surprisingly, it's quite a different welcome offer here, although it starts off very similar. Place a qualifying bet of £10 – also with minimum odds of 2.00 – and you'll receive £40 in free bets, which are split into three £10 sports bets and one £10 casino bonus. The sports free bets have minimum odds of 1.50, while the casino bonus has a rollover requirement of 30x. This is another rock solid welcome offer here, managing to be different but while offering a similar level of value as the UK equivalent.
Money Back as a Free Bet if 2nd to the SP Favourite in All Races Every Day: This is an example of the kind of thing you can expect away from the welcome bonus. It is an offer much more interesting than its name is catchy. You will receive a refund of your losing stake as a free bet up to £10 if, as the name suggests, your pick finishes second to the starting price favourite. This free bet can be used at events with odds of 1.50 or more.
The bonuses we've looked at may only scratch the surface of what's available at QuinnBet – there's a whole host of weekly specials that we've not gone into, for example. But it already shows us that this bookmaker is dedicated to adding real value to the player experience through quality promotions.
Betting Markets
---
One thing that ties in with both the betting markets and promotions at QuinnBet is the focus on racing. It becomes clear from just looking at the bonuses that horse racing and greyhound racing are a major part of this site's appeal, considering how many offers they dedicate to those sports. It's no surprise then that the betting offering when it comes to racing is very extensive.

However, their selection of betting markets is much broader than just that. Here you'll find the likes of football, darts, MMA, rugby and much, much more, including live betting, with currently ongoing sports being easy to find from their homepage. There's also a wide amount of leagues to choose from throughout the world, depending on the international scale of the sport you are looking for. But for instance, you'll easily find the La Liga and Serie A alongside the Premier League when it comes to football, to give but one example.
The only thing really missing are e-sports, which are unfortunately notable by their absence. If that's something you aren't interested, however, we imagine you'll be more than happy with what's on offer at QuinnBet.
Mobile App
---
Even though QuinnBet might not be the best-known betting site in the world – they are fairly new, after all – they have still managed to provide an excellent mobile app to satisfy customers who want to play on the go. Here you can place bets, cash out or just check out the latest prices and live bets. It's every bit as easy to use and as detailed as the desktop site itself and offers a smooth and seamless transition to the smaller screen.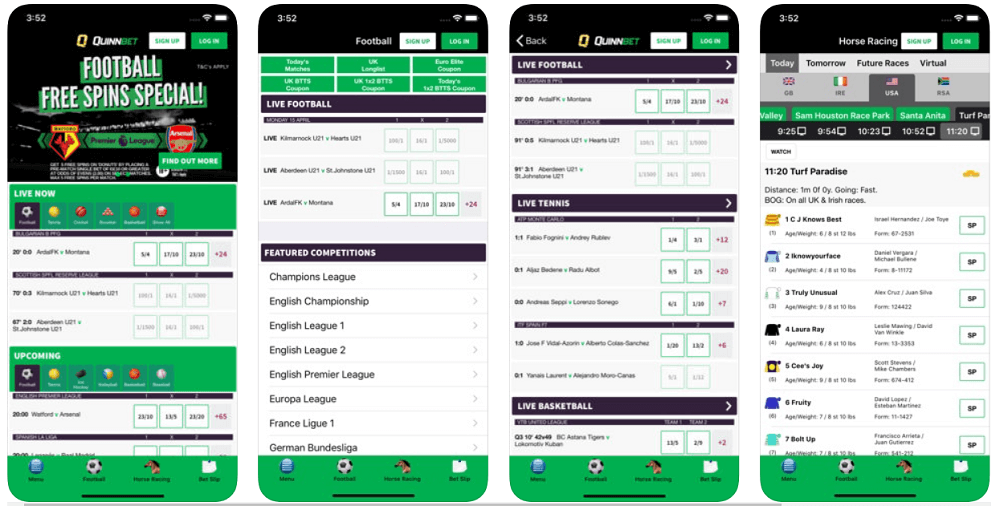 Live Streaming & Virtual Sports
---
At the time of writing, the only live streaming available is for greyhound racing, although customer service have informed us that they expect horse racing to be added at some time in the future. Very few sites that aren't household name betting juggernauts are able to get many sports live streaming on their site, so we won't criticise QuinnBet too harshly in this regard.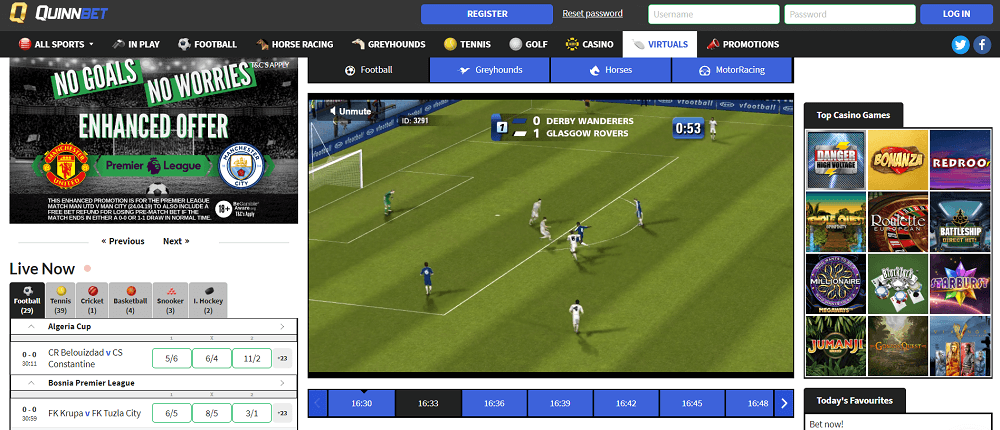 One area though where QuinnBet does have plenty of options though is with virtual sports. QuinnVirtuals is an entire section dedicated to virtual football, as well as greyhounds and horse virtual racing. It's all detailed and easy to use, and shows off the variety available at QuinnBet.
Payment and Withdrawal Methods
---
Full information on deposit and withdrawal methods at QuinnBet can be found in the terms and conditions on the site. However, we will give you a quick overview here, so you can know what to expect.

The following deposit options are available at QuinnBet: Credit and Debit Cards (full list found on the site), Neteller and Skrill. The minimum amount is £10 and the maximum is £5000. There may also be a withdrawal fee of 5% if the financial activity on the account equates to less than half of the money the user has deposited.
Methods of checking and verifying customers' identity at QuinnBet includes documentation such as a driving license, passport, birth certificate etc. While the information you need can be found fairly easily on the site, one small structural criticism we have is that this information is more digestible all in one easy to read place, such as in a table. It's hardly a deal breaker but is something that could save people a moment or two.
Customer Support
---
On the plus side, if there is anything you want to know that is missing from the terms and conditions, you can always contact customer support. They are available via email and live chat. When we logged onto the latter, it said that they aim to get back in touch within five minutes and we could leave an email in case they were longer than this. However, in our experience, the responses were pretty much instant and far less than that stated predicted response time. Perhaps it is different at other times of the day but we contacted them during peak hours and had no issues whatsoever.
Aside from the speedy response, we also found them to be amongst the most helpful and informative customer service teams we have come across. The only downside is that they don't have 24-hour coverage, with their day ending at 11 pm. We understand the logistical issues with having an around the clock service but it really is the only way we could think to improve their excellent customer support.
Reliability and Security
---
QuinnBet is licensed by the UK Gambling Commission, with all their license information linked on the site. They are also licensed in Ireland under the Betting (Amendment) Act 2015. Data protection is fully explained in their extensive privacy policy and there are options available to encourage responsible gaming. These include deposit limits and self-exclusion, as well as links to provide help for those who feel they may have an issue with gambling. On top of this, QuinnBet has the best odds guaranteed on all UK and Irish horse racing, and competitive odds elsewhere.

Casino Welcome Bonus
---
We already mentioned how extensive the promotional options are at QuinnBet and that doesn't just extend to the sportsbook. There's also plenty of bonuses available for its casino such as their Casino Welcome Bonus, which includes a maximum of 10 free spins, a £20 casino bonus and a £10 free bet.

This is a tiered welcome bonus with a £10 stake getting you 20 free spins, while a £1000 stake gets you the maximum bonus mentioned. The casino bonus has a rollover requirement of 5x and do remember that stake contribution does depend on the game category. For example, slots and scratch cards count 100% while poker only counts 5%. Further terms and conditions can be found on the site.
QuinnBet Summary
---
QuinnBet might still be a relative newcomer in the online gaming world but what it has managed to achieve in such a small space of time really is very impressive. It makes us very optimistic for this betting site's future.
As for the present, you've already got plenty here to make QuinnBet worth your consideration, especially if you're a fan of horse and greyhound racing. But it's also no slouch when it comes to other sports and even has plenty available for virtuals and casino fans. You only need to take a look at their promotional page to see that this is a site doing everything it can to provide a better player experience. And although it might not be quite where you would want it to be in certain areas like live streaming and around the clock customer service coverage, these flaws are understandable and certainly aren't enough to take away our recommendation. This is a very good betting site and one we hope will get even better with time.