Bonuses, Bets & Promotions
---
Aside from the welcome bonus, there is only one other traditional promotion available at Smarkets. While that might not seem like much, remember that as a betting exchange, the expectations for promotional variety is different here. That's because of the logistical differences between these kinds of betting sites. If you look at other betting exchanges, you will also find that they also have fewer promotions than traditional betting sites. This is a product of being a betting exchange, so we don't think it is fair to criticise them for this fact.
However, there are some bonuses available that we will take a look at. Do keep in mind that this is intended as an overview, so full terms and conditions can be found on the site itself. Furthermore, promotions can often change, especially if they are tied to a time-sensitive event. With that in mind, let's take a closer look at the kind of quality of bonus you can expect from Smarkets.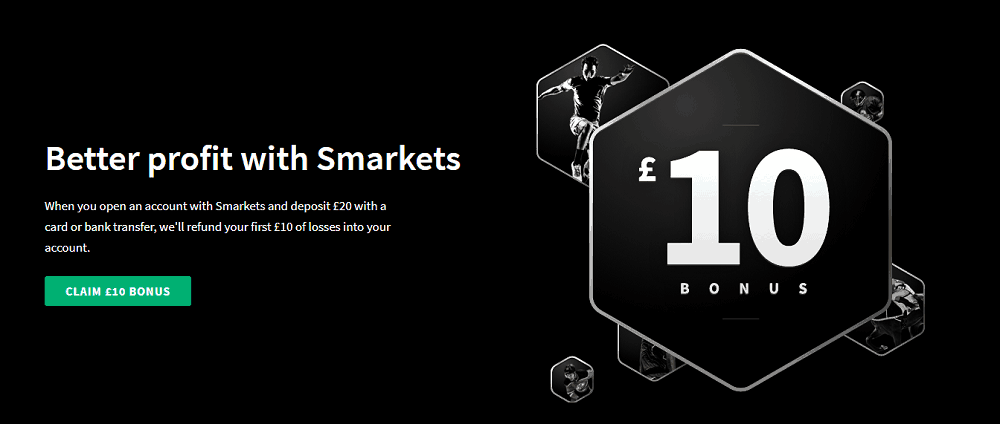 £10 Welcome Bonus: Open an account and deposit £20, and your first £10 of losses will be refunded. This essentially allows you to bet that amount risk free. You must bet at least the qualifying deposit amount, otherwise, funds will be forfeited and this is one promotion per person.
Premier League 2018/19 New Customer Offer – Up to £50 Risk Free: This is split up into five £10 risk free bets across your chosen team's league matches in the 2018/19 Premier League season. Each team has its own unique code and if you place your bet and you lose, you will be refunded up to £10.
It's a quality couple of bonuses from Smarkets, to the extent that you can see why they can't be this generous across a dozen or so other examples. However, it doesn't end there. The reason we have said 'traditional bonuses' is because, while Smarkets other promotions might not be what you may expect from a betting site, they do offer other rewards and incentives that are more appropriate with the betting exchange model.
These include 0% commission for certain customers and ticket giveaways for race days. We think when you consider this – alongside just how good those two promotions are –, that not only is this an area of criticism for Smarkets but something they deserve to be praised for.
Betting Markets
---
There's an excellent selection of betting markets at Smarkets. Here you'll find sports popular throughout the world including US-centric examples such as American football, basketball and baseball, alongside those more popular in Europe like rugby and football. Speaking of the latter, there's an absolutely huge amount of options for football. Everything from the Champions League to La Liga is more than covered here.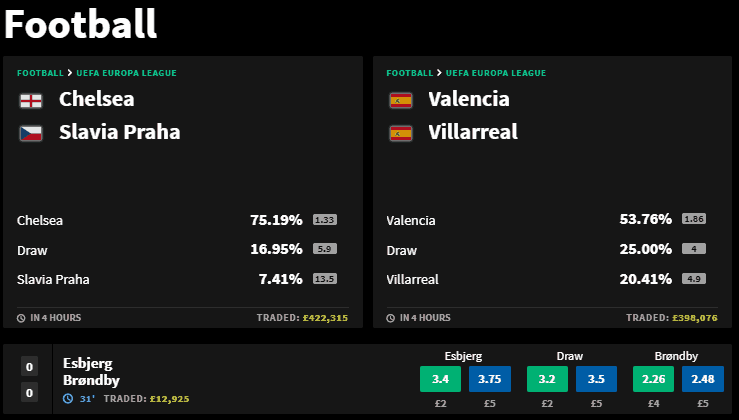 Other more popular options include horse racing, tennis and, in a great example of the uniqueness of this site, politics. That's right betting on politics at Smarkets is not simply a niche option but one of its most important. Current affairs, TV and entertainment aren't quite as popular but more variety is always welcomed. The only thing we can consider to be missing is e-sports, although to be fair, we are unsure of its demand in betting exchanges.
Mobile App
---
Smarkets has both a mobile app, which is available on iOS and Android, and a mobile version of the site. This means you should have no issues regardless of what handheld device you are using. The app allows users to manage their bets easily while on the go and even provides options to change the interface depending on your preferences. The mobile site has also been improved to include a trade out feature, a keep bets in play feature and two click betting.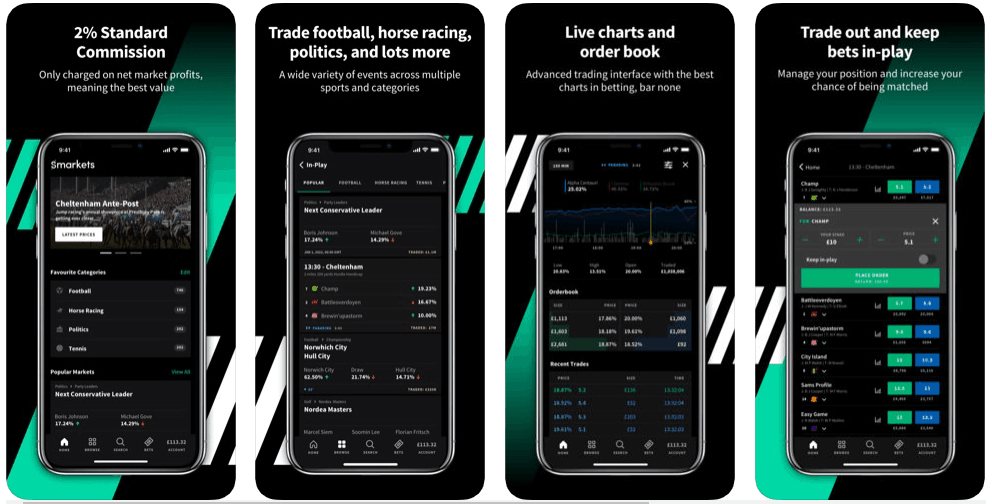 Live Streaming & Virtual Sports
---
This is an area where Smarkets is lacking, although we don't feel we can criticise them too harshly in either case. As far as live streaming goes, this is something that is often missing from all but the largest betting sites in most instances. And despite that, Smarkets does make up for it in other ways. For instance, there's an ongoing log for football matches, providing you with great details regarding things like goals and attacks. The lack of virtual sports is of course, simply a result of the kind of betting site Smarkets is.
Payment and Withdrawal Methods
---
The information regarding banking, alongside plenty of other things, is all available via their Help Centre, which was very comprehensive in our experience. We'll provide a quick overview of the payment methods available but full details can be found on the Smarkets site.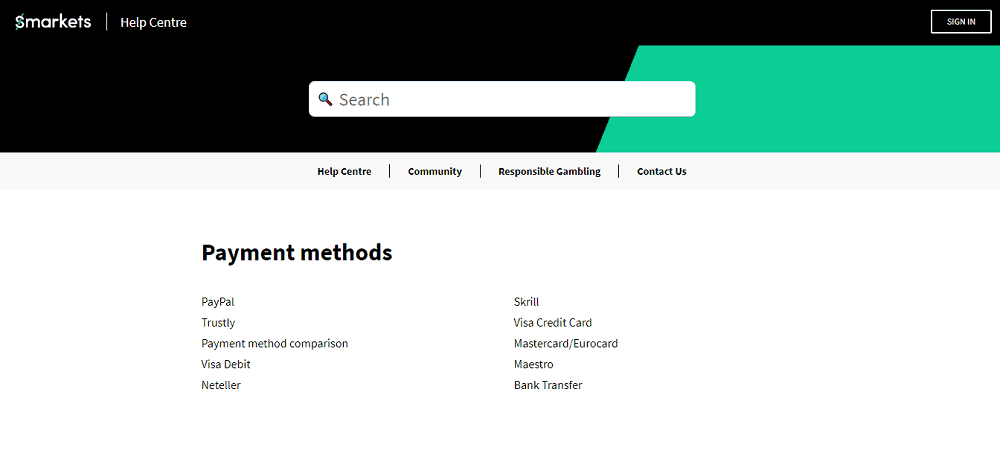 The following options are available for deposits: Credit/Debit Card, Neteller, Skrill, Bank Transfer, Trustly and PayPal. All credit and debit cards, as well as bank transfers,  have a £10 minimum and no maximum is stated. Neteller has a £20 minimum, Skrill has a £10 minimum and both have a maximum of £5000. Trustly has a £40 minimum with no maximum stated. PayPal has a £20 minimum with no maximum states. There are no deposit fees.
The withdrawal options are the same. The minimum amount for Credit/Debit cards, as well as Neteller, PayPal and Skrill is £10. The minimum amount for bank transfer is £20 and for Trustly, it is £40. There is either no maximum or maximums are limited to the deposit amount, with the exception of PayPal, which has a maximum amount of £5500. There are no fees for withdrawals, with the exception of Bank Transfer, for which there will be a £10 charge or equivalent.
Most accounts at Smarkets are verified electronically. However, if this is not possible, your account can be verified using photo ID and proof of address.
Customer Support
---
Alongside its excellent Help Centre, there's also customer support in the form of e-mail, phone and, most importantly of all, a live chat feature, which is available 24 hours a day, seven days a week. The latter is really the holy grail of customer support options, with the only caveat being that you need to be signed in to contact them. This does mean that you may have to utilise other methods if you have a question and are not yet signed up but really, that's a very small issue considering there are still other options.
Their customer service team are fast, friendly and available when you need them. What more could you ask for?
Reliability and Security
---
If you are concerned about the reliability and security of Smarkets, there really doesn't appear to be any need. They are regulated and licensed for UK customers by the Gambling Commission and are also licensed by the Malta Gaming Authority for elsewhere. On top of this, they utilise encryption technology in order to keep all of your communication with the site and all of your data safe.
They also have a responsible gaming section within that ever useful Help Centre, which can direct users towards help and support, as well as the ability to set deposit limits and utilise self-exclusion and take a break options. There's even the option to self assess gambling habits to help understand if you may have a problem, which is a really thoughtful touch and shows how seriously Smarkets take this issue.
Smarkets Summary
---
Although Smarkets doesn't do what some of its competitors do – with live streaming being an obvious example –, it excels in so many other areas that the minor flaws are easy to look past. They clearly take promotions seriously and prove that quality is more important than quantity with their offering. On top of that, there's the around the clock customer service and the great site itself, which is beautifully designed and showcases their extensive betting markets very well.
One vital part of Smarkets is its ease of use. For those unfamiliar with betting exchanges, this can really make a massive difference to not only whether they sign up but also how easy adapting to this new way of betting is for them. And of course, the cherry on top are those low commission rates: all of which makes Smarkets a site to seriously consider amongst some very stiff competition.