Bonus, Bets & Promotions
---
While the promotions on Thunderpick – if they can even be called that – may not be traditional, they are the ideal place to start because it's an area where Thunderpick really stands out from the pack. That's not necessarily for better or worse, but rather they're on a plain almost entirely of their own.

While the rewards we see here appear to be more of a core concept of the site, so are probably less likely to change than a more traditional promotion, it is worth pointing out that bonuses are always subject to change. So, don't be alarmed if there are differences to what you see on the site and what you see here. It just means they've made adjustments since the time of writing.
Furthermore, we won't be publishing full terms and conditions here, but will be sticking to what we think is most relevant to your understanding of what is on offer. Therefore, make sure to check the actual site itself for full information.
So, what exactly is the deal here? Well, Thunderpick works on a rewards system based on ranks. The higher your rank, the higher the reward. For example, the Bronze rank gets a €5 gift card while a Silver rank would get you a €10 gift card. You may be thinking that a rewards system is not exactly that innovative, but it is how you get ranking points that changes the game – no pun intended.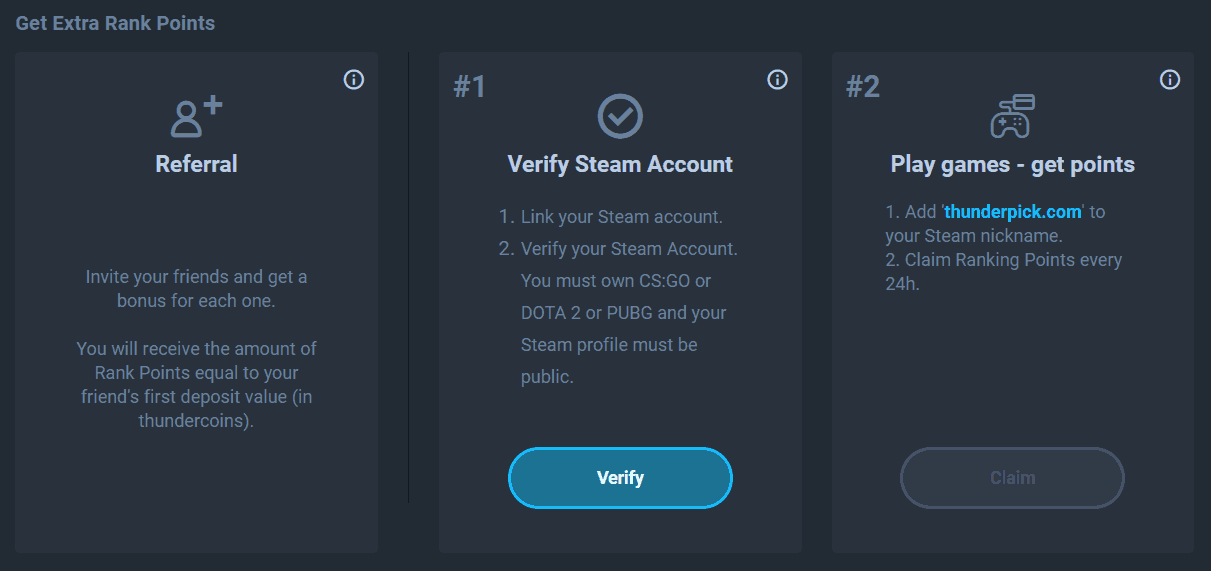 You receive points for linking to your Steam account, playing games and referring friends. Once again, the emphasis on e-games is absolutely integral to the ideas behind this site.
It is worth pointing out that Thunderpick does appear to have a traditional welcome bonus of some kind, as we were told by customer service. By using the bonus code WELCOME, you can receive a 5% bonus up to €500. However, as we have been unable to find any terms and conditions on this bonus, we are afraid that we can't fairly consider its merits.
Betting Markets
---
Of course, the betting markets include a truly extensive set of options for e-sports: far more than you could expect from your average betting site. They have everything from Rainbow Six and Call of Duty to Fortnight and League of Legends, to name but a few.

However, just as important is that they are not slacking elsewhere. Sports you can bet on here include the obvious like football and baseball, among others. It is not the biggest selection we've ever seen but it's certainly not bad either, especially considering their key market is clearly elsewhere.
They also impress on the casino side of things, with an extensive selection of slots and table games. The only area in which they are lacking in our opinion is virtual sports, although we assume that's because there's little demand for it amongst this audience.
Mobile App
---
Unfortunately, there is no mobile app at the time of writing, which is surprising considering how technologically advanced the rest of the site appears. Nonetheless, they have done a fantastic job with the mobile version of the site, which is every bit as sleek and easy to use as its bigger brother.
Live Streaming & Virtual Sports
---
There is live streaming from e-sports games across the world and the quality of the streams is incredibly impressive. With all the options, the layout and this, it is clear that Thunderpick are aiming for nothing less than the absolute best experience for people looking to bet in that market.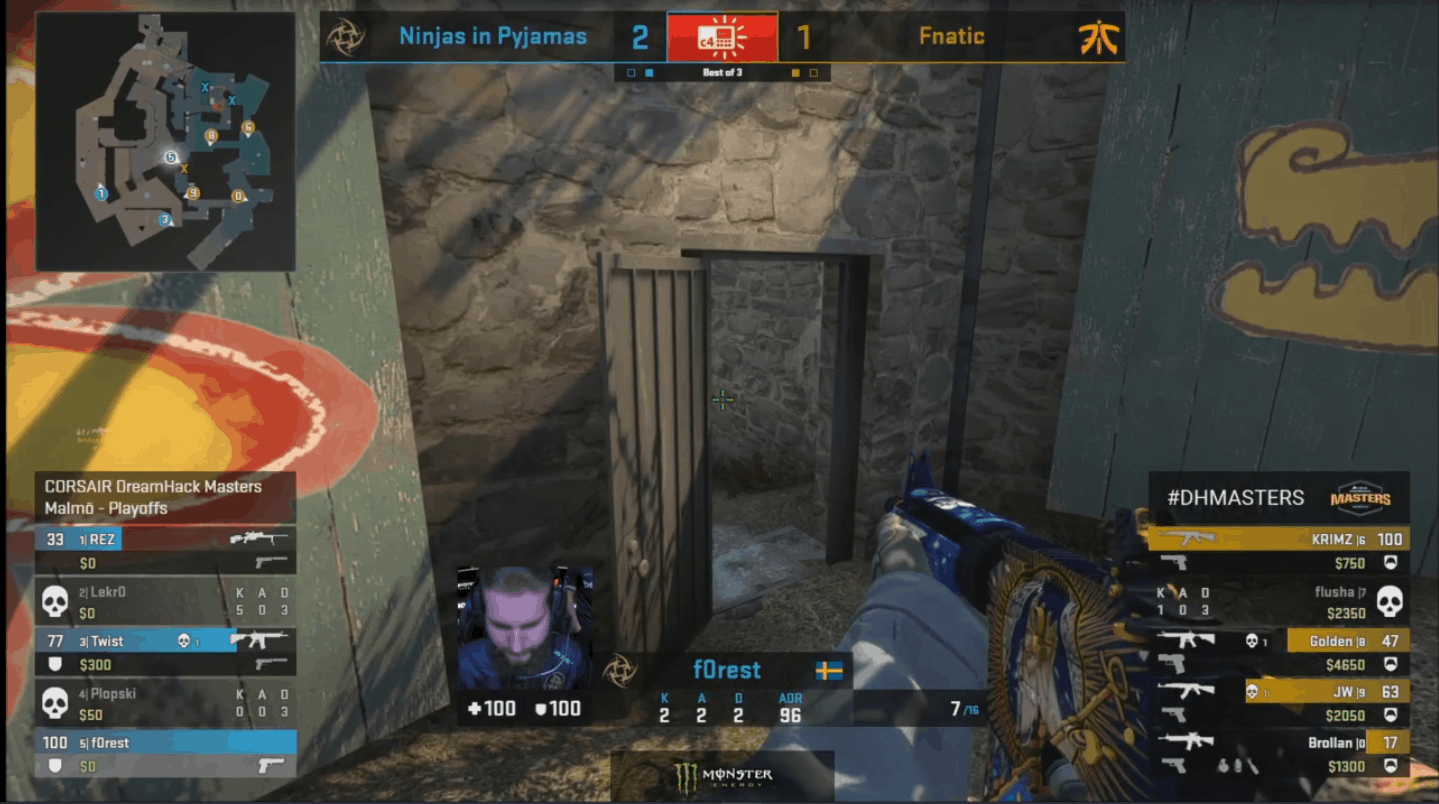 Unfortunately, this is not the same for traditional sports, although there are other difficulties in streaming in many cases which are likely beyond the control of Thunderpick.
On a similar point, we would also like to note that another way of keeping up to date with the online streaming world is through the site's excellent social elements. Here, you can chat to other users, share opinions, tips and just generally feel part of a community. They even have their own YouTube channel alongside social media platforms. If that isn't going the extra mile, we don't know what is.
Payment & Withdrawal Methods
---
While there is certainly no shortage of payment options here – you can choose from Visa, Mastercard, QIWI Wallet, Paysafecard, Skrill and Bitcoin – we do wish that Thunderpick would be a bit clearer in terms of fees and transaction times. In general, transfer times take between 24 hours to five days, although this can change depending on holidays.

Another thing to keep in mind is that 100% of the value of each deposit needs to be bet in order to withdraw funds to prevent Thunderpick being used as a trading platform. Still, we're really talking about a few tweaks in clarifying the FAQ section here rather than anything that should put you off signing up. Thunderpick has an excellent selection here, meaning the options are truly international and varied.
Customer Support
---
While we do think that the FAQ section could be a touch more detailed in some areas, we can't fault the customer service team. They provide live chat coverage between 8am and 12pm Central European Time.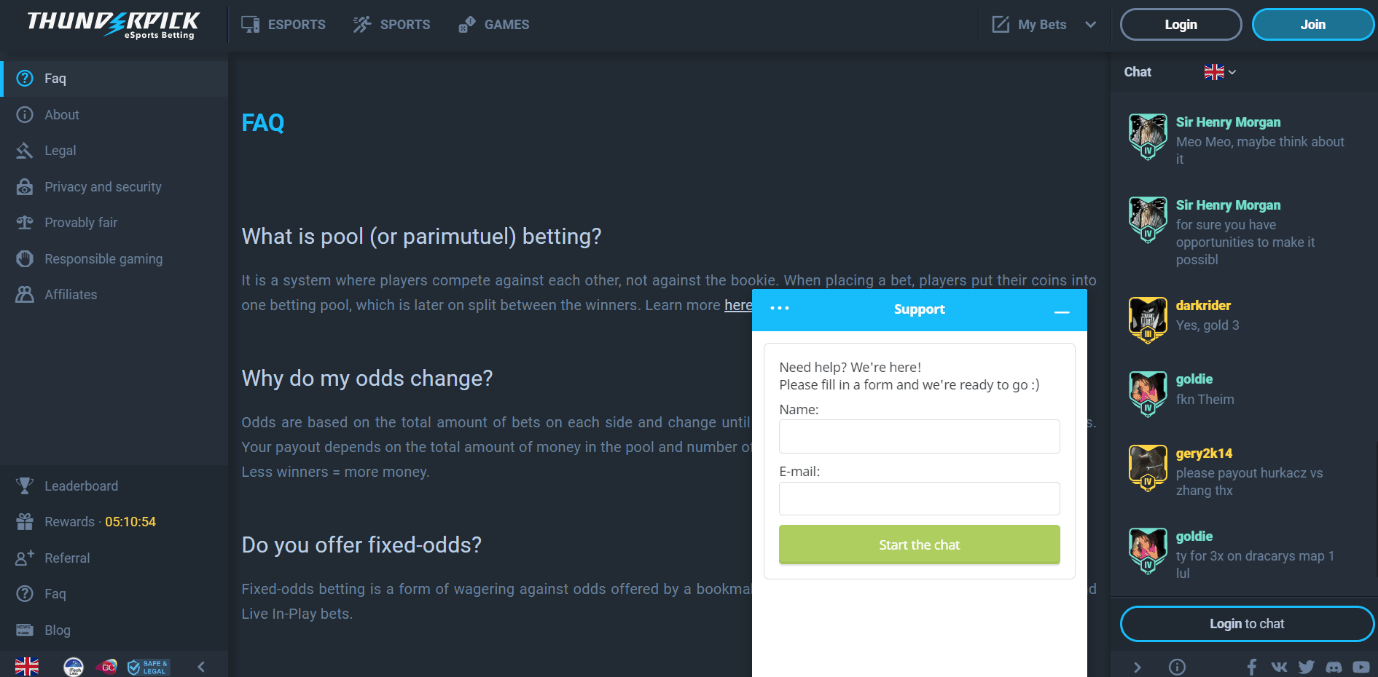 This, alongside the social elements which help Thunderpick stand out so much, really make this bookmaker feel like a community. Of course, around the clock live chat is always preferred, but this is an excellent compromise.
Reliability and Security
---
Alongside having a pretty excellent reputation according to our extensive research, it's clear that their efforts – particularly amongst the e-gaming community – is not going underappreciated. Thunderpick are also licensed and regulated under the laws of Curacao.
On top of that, they have a very responsible and extensive policy regarding personal data. This is one area in which their FAQ section is not lacking in detail. The same can be said when it comes to responsible gaming. Alongside advice, they also have self-exclusion options and information for places those who feel they may be developing a problem can find help.
Bookmaker Summary
---
In pretty much all areas, despite a couple of minor issues, Thunderpick is a very good betting site. However, when it comes to e-sports, they stand at the top of the mountain as one of the absolute best available today. The way they have brought together social elements, have connected with Steam, provided live streaming, not to mention just the sheer amount of options available, makes them one of the absolute premier betting sites in that regard.
We suppose the focus may be too heavy for those not interested in e-sports – despite their other betting options also being top quality – but for someone who is into e-gaming, this has to be the place to play. Due to a couple of potential improvements and the fact that its appeal may be a touch less broad than others, Thunderpick falls just a touch short of perfect. But make no mistake, in the areas where Thunderpick excels, it is in a class of its own.