Bonus, Bets and Promotions
---
While we appreciate that ZigZagSport feels confident enough in its product to not have their promotions plastered all over the betting sheets, we do have to point out, that at the time of writing, they do only have three available to customers.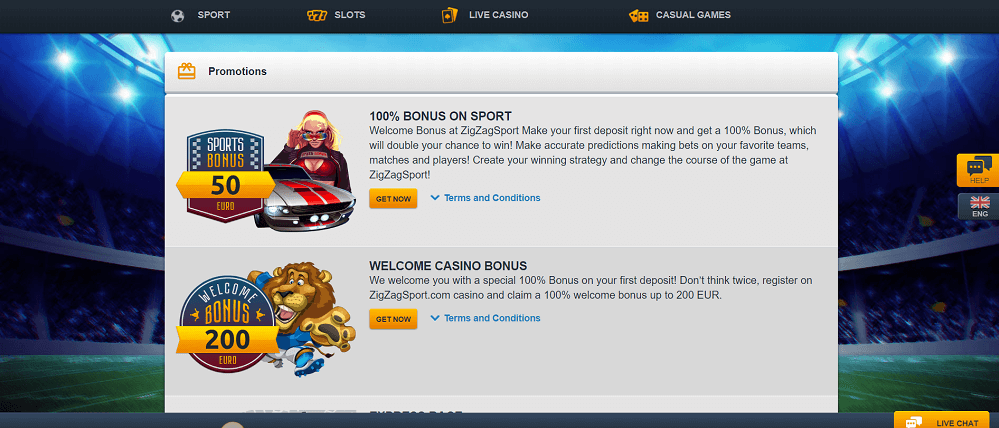 Of course, how much a huge promotions list matters to you down to personal preference and we would much rather have three excellent promotions than 10 bad ones. With that being said, more could not hurt. But we are optimistic in this regard because ZigZagSport is still a new betting site and the promotional page is one area which is more likely to change than anything else.
With that in mind, we'll be taking a look at what is available bonus wise at the time of writing. Do keep in mind that terms and conditions are subject to change at the discretion of the site, but we will do everything we can here to provide you with as comprehensive a look at what to expect as possible.

First off, we have that that 100% Welcome Bonus on Sport. You'll need to deposit a minimum of €10 to a maximum of €50 to receive a bonus matching that amount. This is only available for those who are depositing for the first time and can only be redeemed within the first 48 hours from when the deposit is made.
The wagering requirement here is 8x, which is very competitive. The bonus remains on the account for 14 days, with minimum odds of 1.90 on single bets. Express bets also qualify with a minimum of two events with minimum odds of 1.50 for each to qualify. One important, and rather unusual note, here is that you have to contact customer service to receive the bonus.
The next sports-based promotion is Express Race. It's a promotion aimed at users betting on what they call "express bets" but are generally known as accumulator bets. This is where you bet on several unrelated events to gain larger odds and potential winnings. This promotion further boosts your odds by up to 25% based on how many bets you have made. For instance, 3-5 bets will net you a 10% boost, while over 15 bets will get you the full percentage.
You will need a minimum of three bets to qualify, with each requiring a minimum of 1.50 odds. This is an excellent promotion which is both creative and provides real value. Do note though that the promotion is only available on weekends.
Although some people will no doubt want more, we are impressed by the promotions that ZigZagSport have, and it does show that quality is more important than quantity.
Betting Markets
---
We mentioned before that one of our key concerns was that ZigZagSport's minimalist design might be one which is there to help facilitate a lack of content, even though first impressions were good. Happily, that appears to not be the case.

There's a fine selection of sports to bet on here, including tennis, football, ice hockey, basketball, volleyball and much, much more. Just as important is that in the coverage of these sports, they don't just stick to the major leagues. This means that there's plenty of options within those sports categories. Using football as one example, they cover the Champions League, Europa League, Premier League, Bundesliga, Serie A, Primera Division, Ligue 1 and the Euro league, to give you just a few options.
Not only that but there's just as much choice when it comes to bet types. For instance, in the Champions League, they have over 900 options for bets on a single event. How do they reach those kinds of numbers? By including markets like Race to Two Goals, Both Teams to Score, Total Goals, Goal from 1 to 35 minutes, Asian Handicap Bets, Winning Margins and much more. The amount of choice here is truly staggering and when you combine that with e-sports and specials selections, you have a very well-rounded set of options.
In addition to the sportsbook, the site also is a bit of a jack-of-all-trades, with slots, casual games and even a live casino. However, there is one area in which ZigZagSport is unfortunately lacking and that's virtual sports. How much that matters to you depends on your personal tastes, as virtuals aren't for everyone. But having them included can only increase their demographic and appeal.
Mobile App
---
Unfortunately, there is no mobile app at the time of writing, which is something we honestly expected from a website this early on in the market. While these things are preferable, we are more forgiving when a smaller site doesn't have something like an app because the reasons are usually practical rather than due to a lack of effort.
That is especially the case when there's a dedicated mobile version of the site via your browser which works as well as this one does – with nothing, as far as we can, being lost in the switch to the smaller screen. The kind of minimalist design which ZigZagSport favours lends itself to an intuitive, easy to use mobile experience.
Of course, having an app would be preferable. Whether or not that is something in line for the future remains unknown, because as polite as customer service was, they were unable to give us any kind of timeline in this regard.
Live Streaming
---
Much of what we said in the previous section also applies here. Generally speaking, it would be quite unusual for a site at this early stage to have extensive live streaming, especially when it comes to bigger tournaments. This is because there is often issues with licensing, which means that often, only the most successful and established brands are capable of providing such a service.
However, ZigZagSport clearly does the best it can it this regard, providing constant updates and even graphics so you can get an idea of the action that is unfolding as you place your live bets. The amount of effort that has gone into this element of the site is obvious and is also complimented by the excellent website design. This allows them to provide such fast-paced information in a setting which makes it easy to digest and doesn't feel overwhelming.
Payment and Withdrawal Methods
---
There's a wide variety of banking options for customers at ZigZagSport, providing the site with a truly international appeal. These include ecoPayz, WebMoney, Visa, Mastercard, PaySafeCard, Neteller, SoFort, SafetyPay, Euteller, MBMULTIBANCO, TrustPay, Skrill, Neosurf and Poli. Several currencies are also accepted including EU, PLN, RUB & SEK, which should also give you a clear idea of the target markets here.

While the selection is good, more information should be included in the FAQ regarding things like fees and transaction times. The site has a good reputation in this regard though, so we will view this as a rare structural oversight.
Customer Support
---
One area in which ZigZagSport deserves massive praise is in its customer service. We've reviewed countless sites and we would put the customer service team here amongst the absolute best we have come across. For example, when we asked them to explain what an Express Bet was, their response managed to be both detailed and thoughtfully put so we could easily understand the concept while not being bombarded by technical detail.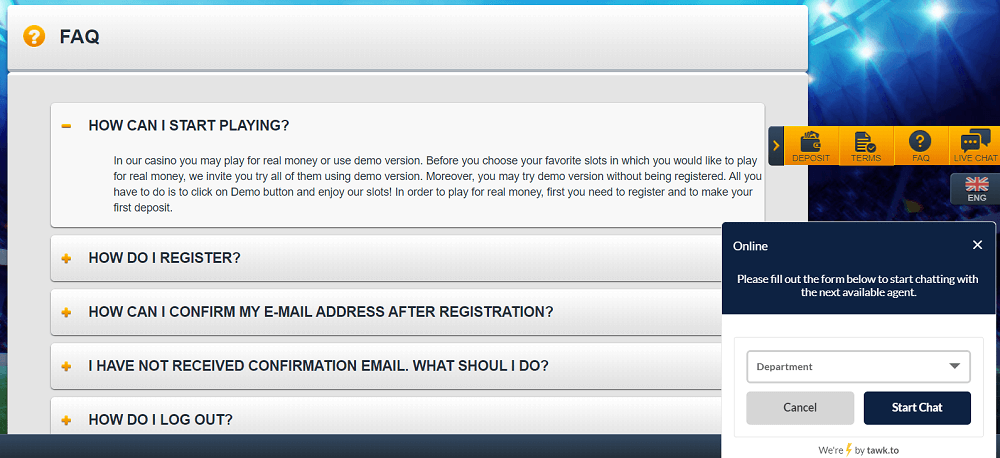 Fast, friendly and informative, we really couldn't have asked for more. Not only that but the team are available 24/7 via e-mail, live chat or phone. Top marks all around for our interactions with the staff at ZigZagSport.
Unfortunately, they are slightly let down by their FAQ section, which could be more detailed in certain areas than it is – particularly in banking which is an issue we mentioned in our previous section. One last flaw is that the live chat is only available in English and Russian and can't make the site translations for variety. We understand that having such diversity on the customer service team is a tall order, but considering how impressive ZigZagSport have been elsewhere, we hoped they would pull another one out of the bag here.
Realiability and Security
---
In terms of reliability, with this being a relatively new site and a lack of feedback we could find in our research means we don't think we can say anything too conclusive about the general consensus from customers. However, the signs are all looking good.
What we can find is positive and perhaps more important than that is a lack of negative feedback. This is because people – especially when it comes to betting sites – are far quicker to criticise than compliment. When you combine that with our overwhelmingly positive experience with the site, we would say that – while reputation comes with time – ZigZagSport is well on its way in the regard.

We can't speak for anyone else but we had no issues during our time with ZigZagSport in terms of reliability or security. Everything from banking to customer service was all world-class and if this can be considered a typical experience with the site, then we think we will see that positive reputation become more and more well known as the years roll by.
Moving onto the more practical side of things, ZigZagSport is licensed by Curacao and has an extensive privacy policy ensuring that your data is handled responsibly. They are also RNG certified, so their games are proven fair by an independent body. Finally, they are clearly committed to responsible gaming, providing advice and sources to help those who may need assistance. The only improvement we'd suggest is to make these options available at the deposit stage.
Casino Welcome Bonus
---

We were impressed by the welcome bonus for the sportsbook, and there's more of the same on the casino side of things. This is a 100% welcome bonus up to €200 but does come with a wagering requirement of 40x. The minimum deposit is €10, which is also the maximum stakes for active bonus wagering per game. Additionally, bets on roulette, card games, baccarat and craps do not count towards the bonus.
The wagering requirement is a jump from what we saw on the sportsbook but that is always the case when comparing casino to sportsbook promotions. All in all, this is a very competitive offer considering what else is out there, if not as impressive as the sportsbook promotions.
ZigZagSport Summary
---
There are areas which could be improved at ZigZagSport. However, these are generally either oversights which, although annoying – like a need for a more detailed FAQ section – shouldn't ruin anyone's gaming experience. Or they are in an area which will only affect a certain part of their potential user base, like the lack of virtual sports. Of course, if the latter is very important to you, then you should look elsewhere. But for most other people, we think that ZigZagSport has more than enough to justify them as your pick as your preferred bookmaker.
This is simply a case where a site does so many things well that the few areas which could be improved pale in comparison. When you combine this with – what for many people will be – the very compelling classic design, then you might not have a perfect site, but you could have the perfect site for you. If you're looking for a straightforward but in-depth gaming experience, and aren't interested in too many bells and whistles, then ZigZagSport makes for an excellent choice.