Bonuses, Bets & Promotions
---
As we've mentioned, promotions are one of the first things you are likely to notice the moment you enter OgaBet's homepage. However, something that is very important to note is that the promotions do vary somewhat depending on the country you are from. So, for the purposes of our analysis, we are going to stick with one as an example of the quality you should expect. For the record, we are looking at the promotions available for players from Nigeria for the purposes of this section.
There are actually three promotions available at the time of writing, which means we can take a look at them all. This might not be the most promotions you've ever seen from a bookmaker but ultimately, it comes down to quality over quantity. If OgaBet has the former, then it's still worth plenty more than the vast majority of their competitors.
Nonetheless, it's worth mentioning that even though we'll be covering all the sports bonuses currently available, promotions are often added, changed or substituted, much more often than most of the other elements which make up a betting site. So, don't be surprised if the promotions we cover here have since changed.
Another important point is that while we will mention the terms and conditions we consider vital to assessing the quality of a promotion, this is by no means intended to be a comprehensive look. Therefore, make sure you check out the full details on the site. With that said, we may as well start with that welcome bonus we've mentioned.

100% Welcome Bonus: This is a bonus for new players and all you need to do to reap its rewards is register and deposit while selecting Active Bonus. The maximum bonus you can receive is 300N. The wagering requirement is 20x with minimum odds of 2.00. We feel those terms are quite competitive compared to other similar promotions.
Usain Bonus: Despite the name, this bonus actually has pretty much nothing to do with Usain Bolt. Instead, this is a straightforward promotion which provides a bonus percentage on accumulator bets based on the number of selections you have picked. For instance, five selections will gain you a 10% bonus, while 23 selections will net you a 100% bonus. The full list of percentages is available on the site. If you were planning on putting on an acca bet, then this just makes the experience that bit more interesting.
Odds Boosts: This is a really simple one. Just head on over to the sportsbook and select Odds Boost, and you'll see what odds boosts are available. It may be straightforward but it's also an effective bonus.
Well, we said that quality matters more than quantity and we think that OgaBet has done a good job in that regard. Would it be preferable if they had a dozen promotions at this level? Of course, but that may not be realistic. What is available here though does add real value and is something that can genuinely improve a person's online experience, which is exactly what promotions should be about.
Betting Markets
---
We mentioned at the start of this review that on first glance, OgaBet appears to be brimming with content. On closer inspection, that certainly seems to be the case. There's a ton of sports to choose from, including the likes of football, basketball, American football, baseball, handball, ice hockey, MMA, rugby and much more.

Not only that but the majority of sports here have plenty of betting options too. For example, with MMA, both UFC and Bellator are covered and for basketball, you'll find the likes of the NBA, NCAA and WNBA. However, one thing that is notable by its absence is e-sports, which is something we hope they can add to the site in the future.
Mobile App
---
Not only do OgaBet have a mobile app, which is available through the Google Play Store, but it has also been recently updated. We can't tell you what the old app was like but what is available now seems to do a decent job of shrinking the site down for the smaller screen. There are tons of betting options available and it offers a mobile experience which retains the style of the main desktop site.
Live Streaming & Virtual Sports
---
This is a pretty interesting one because although OgaBet doesn't offer live streaming for sports in the traditional sense, they do have a compromise. This an interactive graph which recreates the action of a football game, for instance, on screen.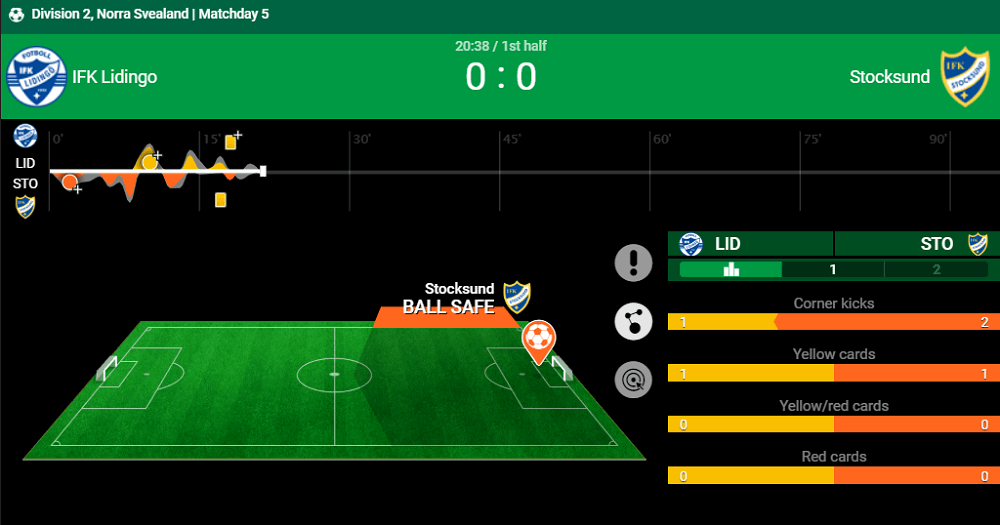 While it's not quite the same as watching the actual game live, it is a nifty solution which lets you follow what's going on roughly as it happens. Live streaming is not possible for many sites, so it's great to see somewhere like OgaBet find a way of allowing users to keep track of the action. It's surprisingly detailed and during our use, it worked smoothly and without issue.
The same can also be said for their virtuals sections, which is truly excellent. You can pick from virtual basketball, virtual tennis, and two types of virtual football. This is one of the most impressive virtual sections we've come across. It was a very pleasant surprise for us and we're sure, plenty of the site's users too.
Payment and Withdrawal Methods
---
The details regarding deposit and withdrawal methods will, of course, depend on the country you are from. Really, this just shows off the scope of how many places OgaBet is available throughout Africa, and how varied their payment methods have had to be in order to be available to so many customers. In the case of Nigeria, OgaBet has two payment methods: Voucher and Interswitch.

You should be able to find all the information regarding payment types for the country you are from via the FAQ section. You can find this at the bottom of the screen. Our research showed that this section is very detailed and should provide the answers you require. However, if it does not and you still have enquiries, then there is always customer support.
Customer Support
---
Unfortunately, right now, customer support only appears to be available through e-mail. On the plus side though, they do have a reputation for being fast and friendly, as well as competent. So, getting answers to your questions should not be an issue. It's just that an around the clock live chat feature would simply be a more convenient way of getting those answers faster.

Nonetheless, as far as an e-mail based customer service goes, it is a good one. We hope they can add a live chat function sometime in the future to boost their offering in this area.
Reliability and Security
---
OgaBet is licensed from the Gaming Commission of Ghana Act 721, and information regarding how your data is handled can all be found on their terms and conditions and in their privacy policy. They store your personal information within a secure network behind a firewall.
In addition to this, they also have a section dedicated to responsible gaming. This includes the ability to set limits on deposits, bets and losses, alongside a self-exclusion option.
OgaBet Summary
---
While there are certainly things we'd love to see included as part of OgaBet – such as a live chat function – what is here already amounts to a very good betting site by our estimation. They offer plenty of variety in their betting options and plenty of ways to keep their site more interesting, like live graphics of ongoing games and high-quality promotions.
If OgaBet remains exactly how it is though, it still amounts to a worthwhile betting site with a lot going for it. It's one we're sure will satisfy plenty of players from many different countries.