Bonuses and offers
---
Very unique, but definitely worth considering, especially if your new to online sports betting. Sporting Index will literally give you £100 when you open a new account, and it's with no deposit as well. After 7 days the money is taken away but it's a great way of getting to know the site and how the spread betting works. All the terms and conditions are explained thoroughly on the site but be aware that this bonus money is non-withdrawable, it's more for practice use.
Unfortunately, the downside to the site, is that they don't actually offer a deposit bonus for when you do make your deposit. For some people this might not be a bad thing because it means that they don't need to complete any type of rollover and anything they win belongs to them. Others however would like some form of bonus, and it's something they lack on the site, there are no competitions or annual bonuses which can be claimed.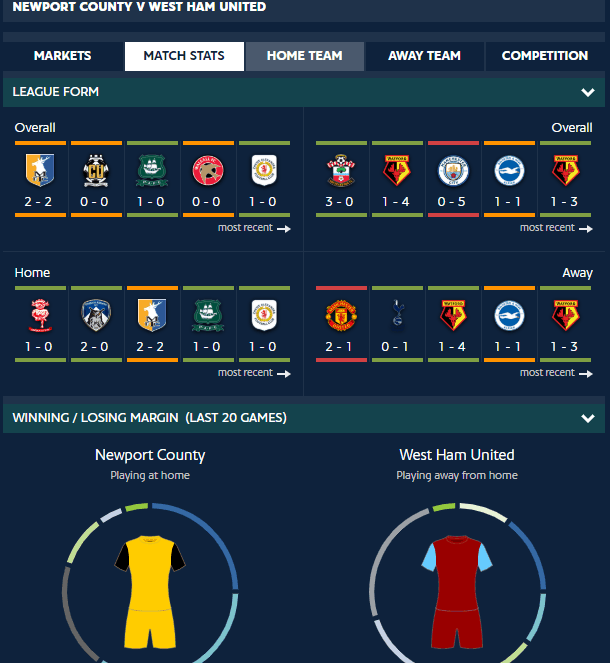 Spread and Odds Betting Coverage and Markets
---
As mentioned previously, it's not the prettiest of layouts on the site. Everything looks slightly clustered and a little disorganized. We are strong believers in being able to easily find the sports you want to bet on and everything to look simple. It is also a bit slow when it comes to opening certain pages on the sites. Having said all this, the amount of sports they have to bet on is very impressive. They have approximately 20 different sports to bet on, plus all the different leagues and competitions in those sports and markets (Like corners bets etc). Extremely specific bets and leagues which not even some of the best bookmakers in the world have, are displayed in front of you. Everything seems to be split in to corrects categories too which is good, and the top bar with the main sports changes on a daily basis based on what big sports are on in that day.
When betting pre-match, you will notice that there will be much more betting market options on each game than if you were to bet live. It's very good on sporting index that they actually end up keeping a majority of the pre-match betting markets available during the live games. Obviously only the ones that are still active or do-able.
Interestingly enough, the site also offers 'specials bets' such as betting on TV shows, politics and televised competitions. This becomes very popular with a lot of punters, especially those who watch and follow the shows. This is only offered on the odds side of the site.
The main attention on the site seems to be focused on the football, and rightly so, with it being the most popular sport to bet on in the UK and Ireland. It firstly displays the in-play games and the odds next to them. For more odds on more markets you just need to select the game and it will open it up for you. Then next to the 'up next' button you will see 'competitions'. This will open up all the different leagues in all the countries that you can think of that have matches coming up. They also have a statistic bar and live action center for in-play games which is pretty cool because this way even though you cant watch the match, you can still keep and eye on which way the action is going.
As mentioned above, they specialize in Spread betting. Spread betting gives you two options when betting on a match, that is to buy and to sell. The difference between the two numbers is known as the spread. This is essentially how the bookmaker guarantees a profit if you were to bet on both outcomes of the match. Understandably this is slightly complicated to the average better or newcomer to the site, but don't fear, on the top bar of the page you can change the layout of the page to Odds.
The odds page actually looks completely different, a brand new color and everything. Every live match at that current time is displayed first with the 'quick bets' button which is home team to win, draw and away team to win. It also doesn't just show live football matches, you have the horse races displayed for that current day with the odds along with other live sports on that current day. If you do select football however, once it's finally loaded, you will see a list of all the matches for that day along with live matches and other leagues form around the world which you can bet on.
Once you've selected your bets, the bet slip on the right hand side of the page will pop up and you will see you bets where you can input the amount you wish to bet on. You also given the option to select accumulators and single bets along with doubles, trebles and specials such as Yankee's.
Mobile Interface
---
The app is downloadable on any device from the App Store or Google Play Store and is arguably easier to use than on a desktop. Every year it is being updated constantly in order make it better, which leads us to believe that the majority of customers using the site are mobile players. It seems they are putting more time and effort into the mobile application, which makes sense really, as it is the way forward.
The app offers lots of potential, has a nice lay out with easy to navigate the matches and sports. It's much better than the desktop version of the site for sure. Unfortunately, it can't be open via the android store as google doesn't offer gambling apps, however it's downloadable from their website. The customer support is very simple to reach, simply open up the 'chat' button and you will be directed immediately to the live chat room. All the FAQ's are in the top left corner of the page or at the bottom if you scroll all the way down. Payments and registration remains the same as desktop when you are using the mobile app too.
You can also access the site on mobile without using the app, by simply googling 'Sporting Index'. However, we do not recommend this as this is slow and doesn't seem to fit in scale appropriately as their app does or on desktop.
Virtual Sports
---
Average comes to mind when scanning through the limited options available on the virtual sports part of the site. Firstly, it wasn't the easiest to find, as you have to go to the top of the page and go to games then sports in order to get there. Virtual sports is essentially the ability to bet on sports that has already been pre-determined and is usually in the form of graphics or cartoon. It's good to have a punt on and over the years has become extremely popular, so popular that some sites have begun using real people and real matches and upgrading their software to make the graphics of the matches even more realistic for punters. Unfortunately, Sporting Index haven't got there yet. Only 5 virtual sports are being offered, that being Cricket Roulette, Horse racing, Darts, Target golf and beat the keeper which seems to be some form of penalty shootout game. Not the greatest feature on the site and clearly not something they are entirely interested on putting too much time and effort in to.
The do not offer any live streams unfortunately, however I'm sure this is definitely something they will consider going forward as this is a demand in certain punters.
Payment technicalities
---
Very much like most half decent online bookies, Sporting Index allows the majority of payment types, such as debit card, MasterCard, Skrill, Neteller and more. The one thing to consider is that this is only in Great British Pounds unless playing from Ireland where it will be converted into euro's. Regarding withdrawing, this has to be done with the same method that you deposited with. So, if you made your original deposit via card and want to withdraw via Neteller, then you would need to call them on their landline number and have your account fully verified.
For UK and Ireland residents, a withdrawal will take approximately 3-5 working day (Not including weekends) and the best part about it, is there are no fee's attached from Sporting Index. The only fee's that could occur are from wither your bank or bank provider, so double check with them. When opening an account or making a withdrawal, they will require a UK Driving License or passport, along with a proof of address that is clearly dated within the last two months.
Customer support and similar features
---
I had the pleasure of contacting customer service in order to pick their brains a little, and I have to be honest, I was very impressed. The main things to look out for in customer service is speed, accessibility and details. In my opinion, it's a tick, tick and tick. Simply phenomenal and one of the best customer services I've had the pleasure of speaking with.
Firstly, the live chat which can be found at the bottom of the page and is available 24/7, is very easy to open and you don't need to fill in pointless information before you get to an agent, you simply open it up and you get a message straight away. Then it took approximately 1 minute and 7 seconds for the agent to reply to my question, and for the first time in ages, he answered everything I asked for and more meaning I had no more follow up questions. As a little touch at the end when I said goodbye, he wished me a nice day. The conversation took less than 2 minutes and I was very satisfied with the speed and efficiency.
They also have a twitter which can be contacted, and you can ask any questions which they would be more than happy to respond too as well.
RELIABILITY AND SECURITY
---
Sporting Index aren't shy of providing their security procedures and showing off their licenses. Very clearly stated at the bottom of the page you can find that they are authorized and regulated in the UK by the Financial Conduct Authority and the UK Gambling Commission.
They also provide links to GamStop which is a site which helps those who may have a gambling addiction. They use plenty of cookies and performance/functional cookies which help remember certain information, meaning you don't have to keep repeating yourself. More info on the cookies is explained in great detail in the FAQ's page.

CASINO
---
The casino part of the site that they have is not as popular as the football, however, it does still contain daily updates meaning this must still be a work in progress. One thing they do have which is great is a wide variety of slots games from the very popular game 'Starbursts' all the way too 'Sherlock Of London' which seem to be the more exciting games they have. The main casino page also offers table games such as Blackjack and poker and roulette's. Finally they have six Jackpot games (Divine Fortune, Hall of Gods, Mercy of the Gods, Mega Moolah, Cosmic Fortune and Arabian Nights).
The live casino, which can be found on the page after regular casino, is very well displayed with all the different live presenters and games shown clearly. The games are varied from deal or no deal to hippodrome roulette all the way too speed baccarat. You can categorize them in alphabetical order or keep it from the most popular first. They are also categorized on the side of the page (Roulette, Blackjack, Baccarat, Holdem).
Conclusion
---
Sporting Index is extremely popular with experienced punters, this is mainly due to the spread betting platform they have, as they seem to be leading the way with this. No other bookie in the UK is putting this much effort into spread betting platforms and layouts. It's understandable that they would like to attract more new customers to the site, but until they introduce a decent deposit bonus this may be tricky. The non-deposit bonus is very good, but once the customer loses it after 7 days then I can't see them carrying on. Great ideas, great platforms, average site. Work to be done but definitely moving in the right direction.