Registration process
---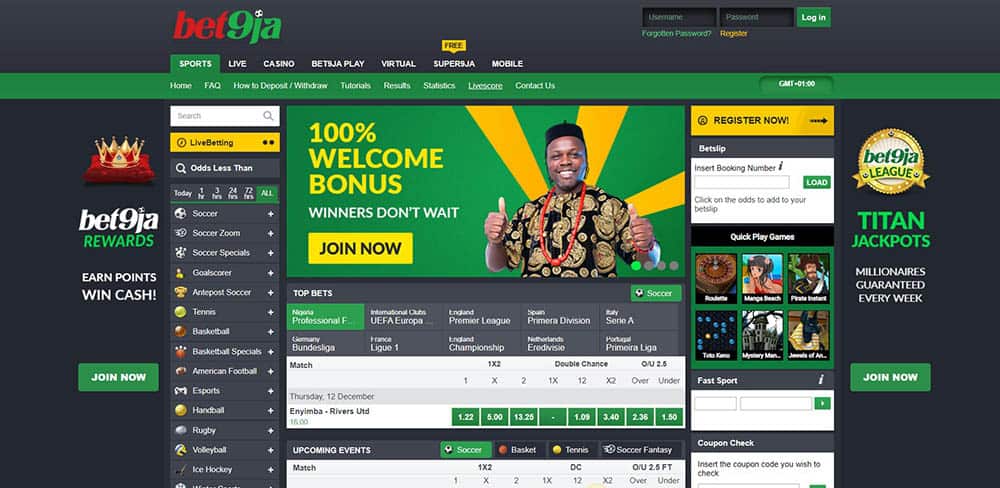 Perhaps part of the reason that Bet9ja has so many visitors is that it is incredibly easy to sign up. All you need is an e-mail address, mobile and relevant location in Nigeria to register. Bet9ja makes no secret about its geographical target audience and here you can select from all the states where Bet9ja is available.
Other than that, all you'll need is a date of birth – above the age of 18, of course – a username and a strong password. And that's all there is to it. Other information is needed specifically for banking, but you can add this at a later point, meaning there's no pressure to deposit any cash before you've got to grips with the site. Simple and easy: we have no complaints here.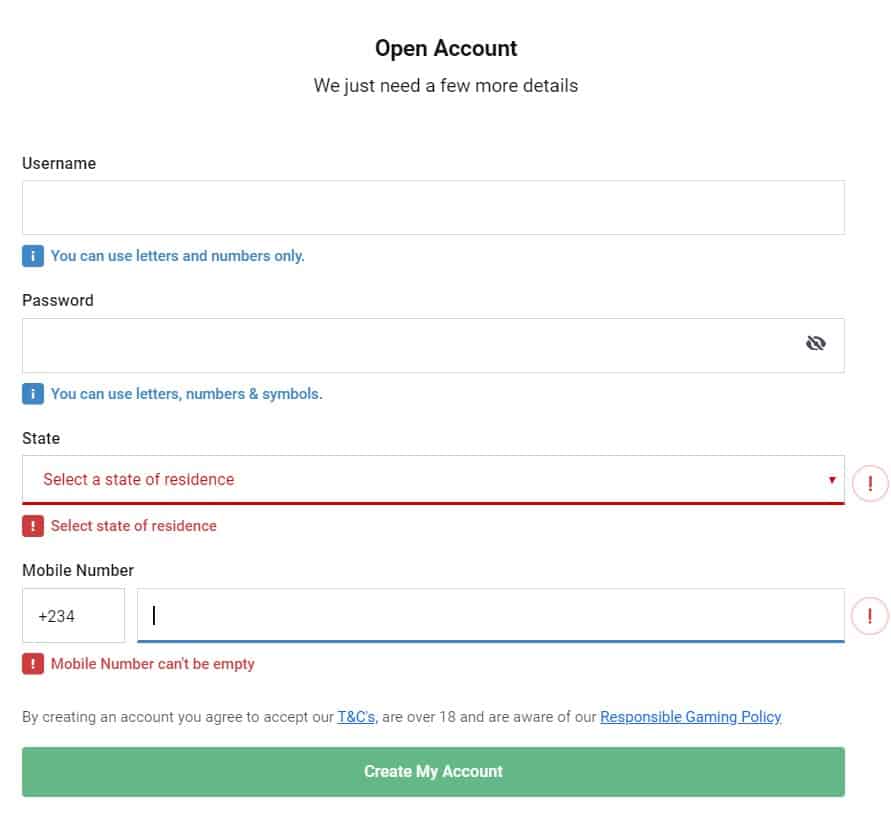 Deposits and Withdrawals options
---
The deposit options at Bet9ja are naturally tailored to the target location, so while some options might not be available, that isn't something we would consider a fair criticism. We would only think it fair to criticise deposit options if they are lacking for that region. Luckily, this is not the case.
The current online deposit options available at Bet9ja include; Interswitch, Quickteller GT Bank, GT Bank USSD, Polaris Bank, OPAY, NIBSS, Zenith, Zenith USSD, Providus Bank, UBA Instant Bills Pay, UBA USSD (Magic Banking) and Unity Bank USSD.
There are also bank cash deposits which include; standard Bank Deposit, Stanbic IBTC and Unity Bank IN-Branch. Along with this, there's option to deposit via ATM. So, ther's no lack of banking options for Nigerian users here.
All these options are instant. The minimum for all is N100, except those which are card dependent. The maximum ranges between N10,000 for Interswitch and N9,999,999 for GT Bank and GT Bank USSD. Withdrawals to your bank account take 24 hours and have no additional fees, and minimum and maximum limits range between N5,000 and N9,999,999.
Check our extensive guide to payment options in Nigeria here.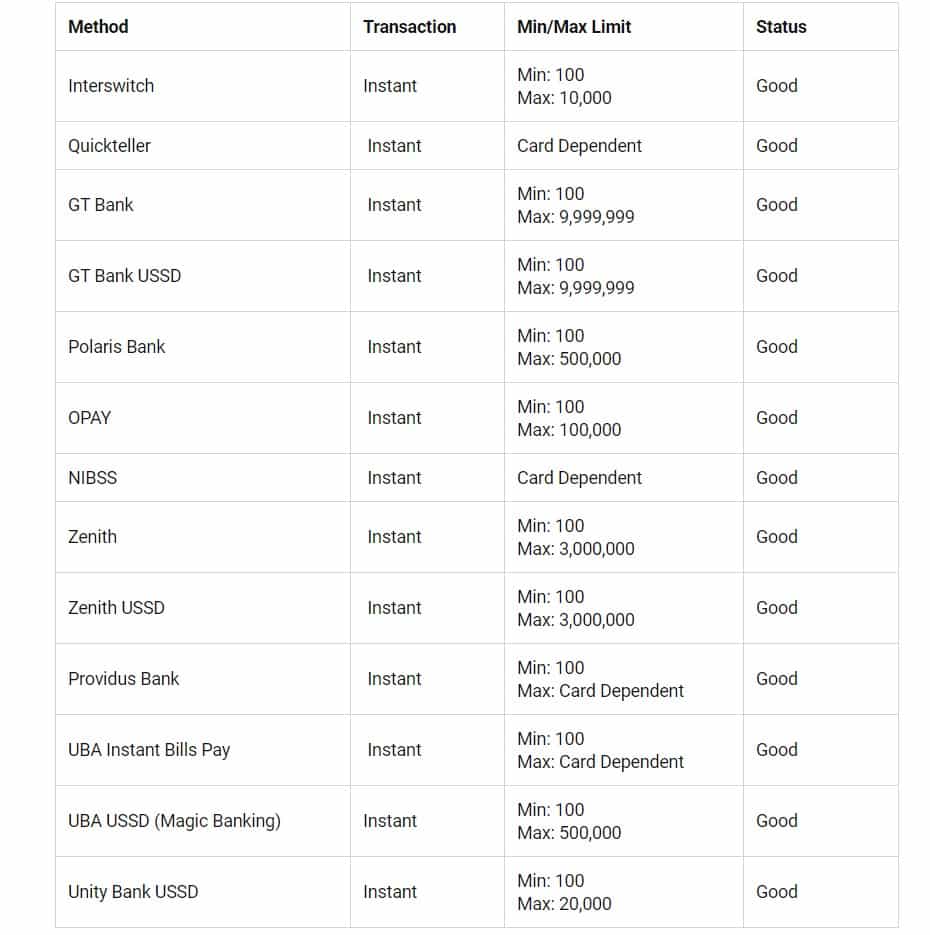 The only thing that people might be disappointed by is the lack of cryptocurrency options, but as Bet9ja is such a mainstream product in Nigeria, that is to be expected. Another small potential issue is that the site doesn't specify how to prove your identity.
We don't think this is anything to be concerned about, as there are no reports of this being an issue and as a huge site, we certainly would have found something if it was a problem. Rather, we expect you can utilise standard ID and this is a mere oversight.
Other than that, Bet9ja knocks it out the park in this regard.
Welcome Bonus
---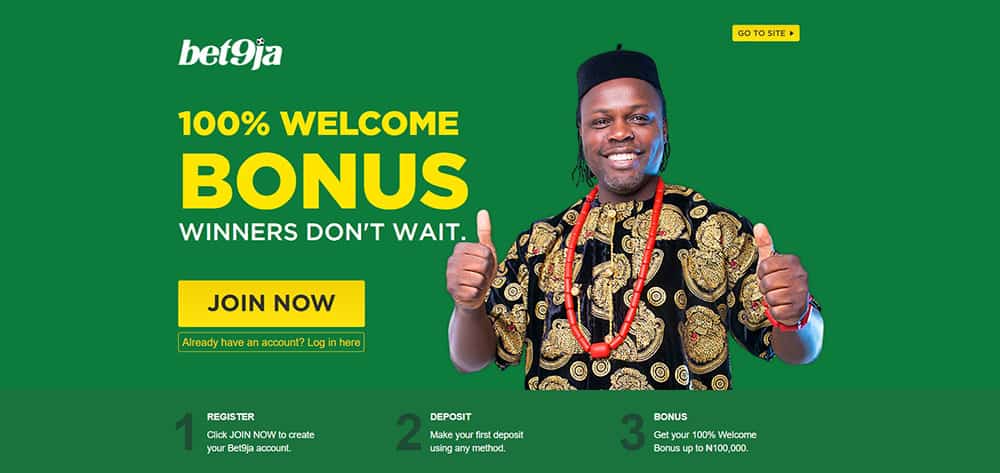 Bet9ja isn't shy about showing off its welcome offer. It's the very first thing you see when you head into the site. In bright bold letters, it says "100% Welcome Bonus Winner Don't Wait". It's the first tool this site uses to get new customers. And the man in the photo certainly looks happy about it.
However, the devil is in the detail. A 100% welcome bonus could be great or close to useless entirely depending on the terms and conditions. So, with that in mind, let's take a closer look.
First things first, and something which makes this promotion stand out is the fact that you can also utilise this sign up bonus if you register in their brick-and-mortar stores. Often traditional users get left out when it comes to promotions, so this is really nice to see. Of course, the typical one promotion per user rule applies here, meaning accounts with the same details – say duplicate e-mail addresses, for example – will not be eligible. It only extends to one per household, mobile and card number.
In order to receive this bonus, you simply need to deposit into your account, and you will receive a 100% bonus of that amount up to N100,000. That means if you deposit more than N100,000, that remains the maximum amount you would receive. The full worth of the deposit must be staked on markets with minimum odds of 3.00. You will not be able to withdraw the bonus until it has been wagered 10 times, and this must be completed within 30 days. Finally, there does not appear to be any code for this promotion.
Do keep in mind that that bookmakers can change terms and conditions and you should always check on the site itself to be sure of the full details.
With all that said, we think this is an excellent welcome bonus. It's generous in terms of the amount and has what we would consider very fair terms and conditions. A 10 times wagering requirement, for instance, is very competitive. You could easily find competitors with similar welcome bonuses with requirements two to three times that amount. This is a straightforward promotion with plenty of value.
Sportsbook promotions
---
Alongside the welcome bonus, there were a couple of other promotions available at Bet9ja at the time of writing. Just a quick note on that point before we move forward: promotions are often updated and changed, so do make sure to check the site itself to see if that is the case in order to avoid disappointment. With that said, these promotions have been available at Bet9ja for some time, and in any case, should remain a good example of the type of quality you can expect, alongside the welcome bonus.
First up, there's the 170% Multiple Bonus which provides a boost to accumulators. The larger the number of selections, the larger the bonus. The promotion begins at five selections, with a 5% bonus and goes all the way up to 38 selections for a 170% bonus. Minimum odds for all events are 1.20. This is a classic promotion that has little downside, although we will say that we think few will actually go for the largest percentage option. Check our extensive guide to Accumulator Betting and Promotions here. 
There are also free bets for the Bet9ja league, which is one of their virtuals sections. The only issue with this is how these are handed out is not made clear on the site, which is a tad disappointing.
Lastly, there's Odds Surge, which allows you to bet on a selection of boosted odds from some of the biggest games throughout the world. A couple of important points to note is that Odds Surge is only useable on single bets and you will not be able to cash out on these bets.
There is a good selection here, although some less general options would further sweeten the deal.
VIP/Loyalty Service
Alongside promotions, Bet9ja also provides a rewards program. The way this works is simple, you receive points based on each N100 stake you place, with more points for more selections.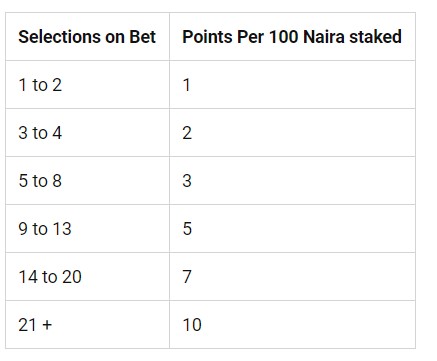 These points can give you better ranks, beginning with Blue and ending in Diamond.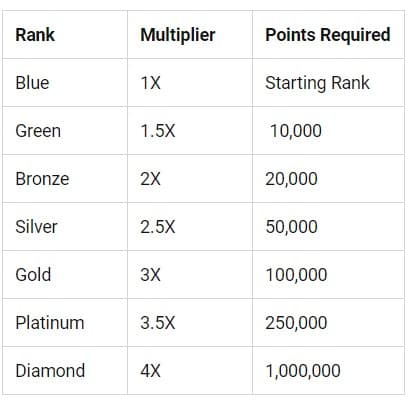 And these ranks, as you can see from the table above, work as a multiplier. This means that the higher the rank, the higher you can receive points and get those cash prizes.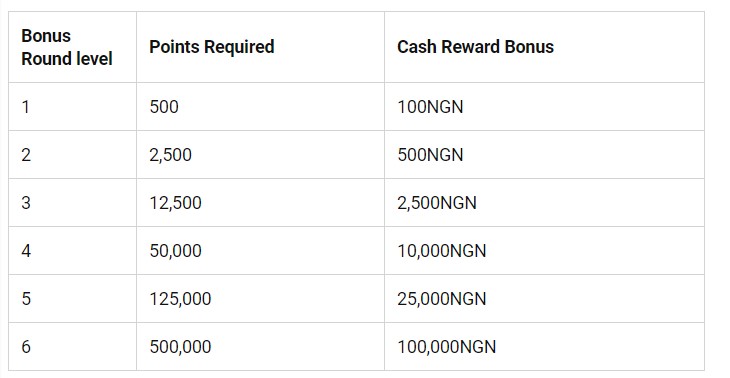 The most important thing to note when it comes to this rewards system is that is works on a monthly basis. This means that you have a month to pull yourself up to the next ranking, and you will start at that ranking from the following month. Some people might prefer to be rewarded over a longer period of time, but it is still an effective system.
It's also clear that this is aimed at those higher rollers, but considering you have smaller promotions to balance this out, it doesn't feel like some players are missing out. Rather, it seems like the promotions are set out to appeal to a wide demographic of players. Considering the popularity of the site, we think that's an important thing to consider. As always, check out the terms and conditions on the site itself to avoid any confusion in the case of changes.
Pre-match offer
---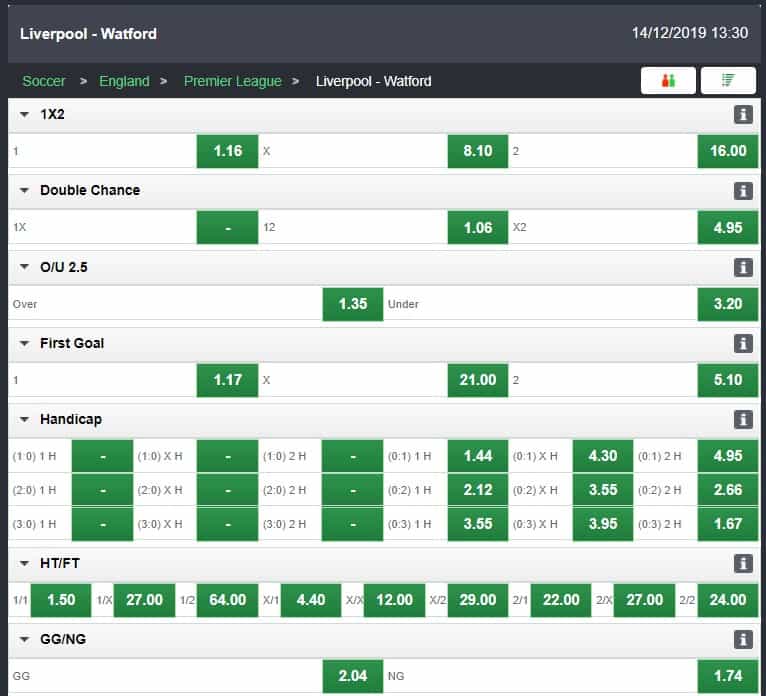 One of Bet9ja's greatest strengths is in the versatility of its sports selection, which is easily one of the largest in Nigeria. You can pick from the likes of tennis, soccer, basketball, rugby, cricket and golf, to give but a few examples, alongside less traditional options like politics.
What's more impressive than the number of sports available though is the amount of choice you have to bet on those sports. They don't just cover soccer, but they cover soccer all across the world, from the Bundesliga to the Primeira Liga, and across different abilities. So, you can bet on League 2 to the Premier League with ease. In fact, there were 774 soccer games to bet on at the time of writing.
The number of submarkets available is also impressive. We picked a game between Liverpool and Watford as a random example and found well over 100 betting market to choose from.
In terms of margins (what is also known as the overround), Liverpool winning was given odds of 1.16, a draw was given odds of 8.10, and Watford winning was given odds of 16.00. This translates percentage-wise to 86.2%, 12.3% and 6.3%. This gives us a total percentage of 104.5%. Keep in mind, anything less than 110% is viewed as competitive, so Bet9ja is more than delivering in terms of quality odds.
Another element we have to praise Bet9ja for is the great amount of detail you get in terms of statistics. You could look up league tables with the click of a button and even break them down into home and away wins. This site is actively making it easier to make better bets and we have to credit them for that. Our only criticism is a minor one, and that's an inability to change the way odds are formatted. Other than that, we couldn't be happier.
See the list of most popular betting terms and markets here. 
If you want to understand all bet9ja codes meaning check this url. 
Esports Offer
While Bet9ja does usually focus on more traditional sports, for the most part, it does seem to have a soft spot for eSports, with 63 events available to bet on at the time of writing. These were spread across CS: GO, DOTA 2 and Antepost games, and although some sites might have more game options, there's plenty here to satisfy the majority of those players interested in eSports.
There are also five key markets to bet on, including the winners, maps handicap, maps total, maps 1 winner and correct score. It's also worth pointing out that they cover a wide range of events and handily break them down, so you can find exactly what you are looking for.
In terms of margins, we picked a CS: GO game between Evidence and Redemption as an example. Evidence has winning odds of 1.84, while Redemption has winning odds of 1.88. Converted to a percentage, these come out as 54.3% and 53.8%. This gives us an overall percentage of 108.1%. So that is more than our sports example, but still very respectable.
Read our guide to Esports Betting here.
Other Specials (politics, weather, celebrities, etc.)
As we mentioned, political bets are available, but nothing else related to things like TV events or pop culture is at the time of writing. Whether this is an issue for you depends on your personal tastes, but we imagine very few will consider it a dealbreaker.
For what it is worth, when they do cover something, they go all out considering they offered 77 markets on the US presidential election. This is a nice bonus but hardly Bet9ja's greatest strength.
Cashout & Bet Builder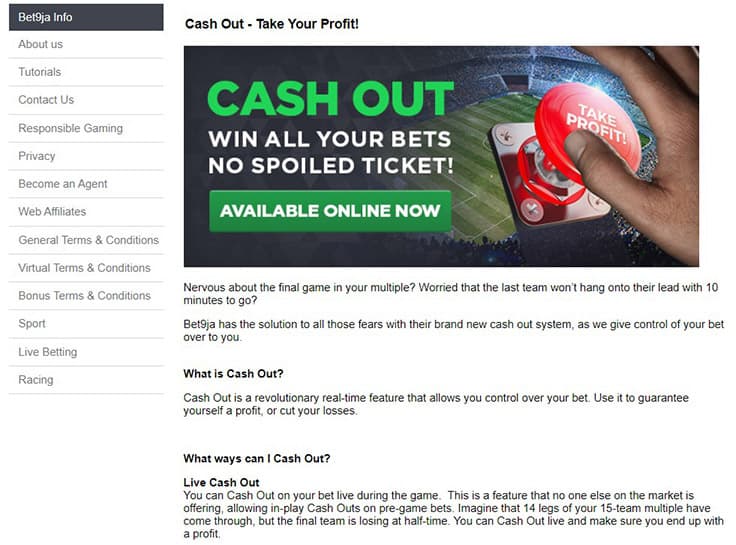 Cash-out is available for Bet9ja users. This means you can take control of your bet, allowing you to take your winnings early, or try and cut your losses.
All you need to do is go on 'My bets' and hit the cash out icon if you are happy with your payout options. Payouts are based on the remaining probability of your bet. This can be done live or even pre-game in the case of accumulator bets. Unfortunately, Bet Builder does not appear to be available at Bet9ja, although hopefully the huge amount of betting markets makes up for it.
Live offer
---

We've already discussed how great the variety of sports, in general, is at Bet9ja and we are happy to say that the story is the same when we look at their live betting options. If you can bet on it and the time is right, you should be able to bet on it live. Not only that but the multi-view, multi bet and event view layout makes following several live bets at once an absolute breeze.
They even have a calendar, so you can organise your live bet schedule in advance. The number of submarkets is great too. We joined a game live in the closing minutes to find it still had 40 betting markets to choose from even at that late point.
Also included is live streaming on certain events: the schedule for which can be found on the calendar we just mentioned. The only condition to this is you need to have N200 in your account to access the stream. Getting good live streaming anywhere can be tough: it's one of the most demanding things that a site can deliver. With that in mind, we'd say this is a pretty fair deal.
For those sports not covered by the live stream, the best next thing is provided: updating graphics which help you follow the action.
You also get a tactical sense of what is going on even if you can't watch the game. In fact, with all the stats they provide, the best way of betting on a game might be to have these graphics with you, so you can enjoy their analytical look alongside the game live. It's not quite live streaming, but it's about as good as you can get without it. All in all, this is a terrific live offering.
Check out our extensive guide to Live Betting here. 
We have also a list of best betting sites with Live Streaming here. 
Security
---
Considering that Bet9ja is – and we don't mean to bang on about this too much – one of the most popular sites in Nigeria, there's few out there doubting their legitimacy. After all, it would be pretty bold to sponsor football leagues and TV shows while not running a legitimate business.
Nonetheless, you may be interested to know that they are registered as KC Gaming Networks Limited and hold a Lagos State Lotteries Board License, alongside a Sportsbook and Gambling licensed issued by the state of Osun.
They also keep your data safe by utilising SSL encryption. Furthermore, they are clearly committed to responsible gaming, providing advice, a test for problem gambling and help via customer service. This includes both temporary and permanent self-exclusion, as well as deposit limits. Their privacy policy is also helpful, with terms of data use clearly set out.
Finally, complaints can be made through their call centre, Twitter or through sending them a message on their website itself. We didn't expect anything less but Bet9ja has really gone all out in terms of security.
Service and Customer Support
---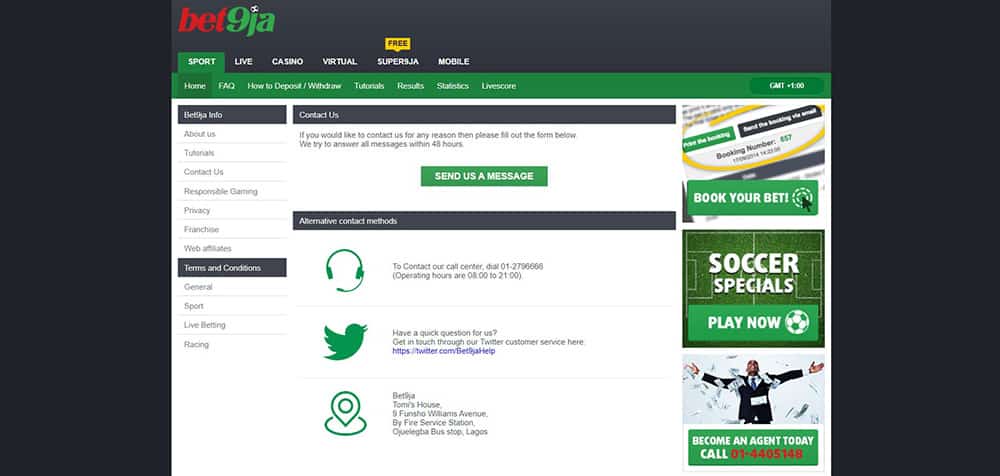 Firstly, Bet9ja do not have live chat. That is probably the most important thing to start off with. We understand that within their market, this is entirely usual, but if you were hoping for such a huge site to be exceptional in that regard, we are afraid you are going to be disappointed.
However, they do have a dedicated call centre, which is available between 08:00 to 21:00. It's not quite the around the clock coverage some may have been hoping for, but for many customers, actually being able to talk to someone will actually be preferable. There's also the option to send Bet9ja a message and to get in touch on Twitter.
In terms of the actual customer service itself, we found them to be very helpful and informative, and considering they have an excellent reputation generally, we feel confident in speaking highly of them in this regard. The only language available is English, which may disappoint some users.
Finally, the FAQ sections are generally very good and informative. Unfortunately, they can be difficult to find as there doesn't appear to be any logical links towards some elements of the site. For instance, the terms and conditions for promotions. This is something we actually had to ask customer service about and be directed to.
With that said, the good far outweighs the bad here, but there are some wrinkles that Bet9ja could iron out. All in all though, they are there when you need them and they are helpful, which is the most important thing.
Design and Usability
---
We've discussed how great a first impression Bet9ja gives and there's no doubting that its design is a huge part of that. It's colourful, classically structured and easy to use. We'd be lying if we said that Bet9ja did anything to break the mould design-wise, but it sticks to that tried and tested bookmaker layout and does so with care and style.
Most importantly, it's an enjoyable site to use. Almost everything can be found in seconds and even if you are making multiple bets at once, everything is easy to keep track of. The one downside is a lack of language options beyond English. Aside from that, there is little to complain about here.
Mobile
---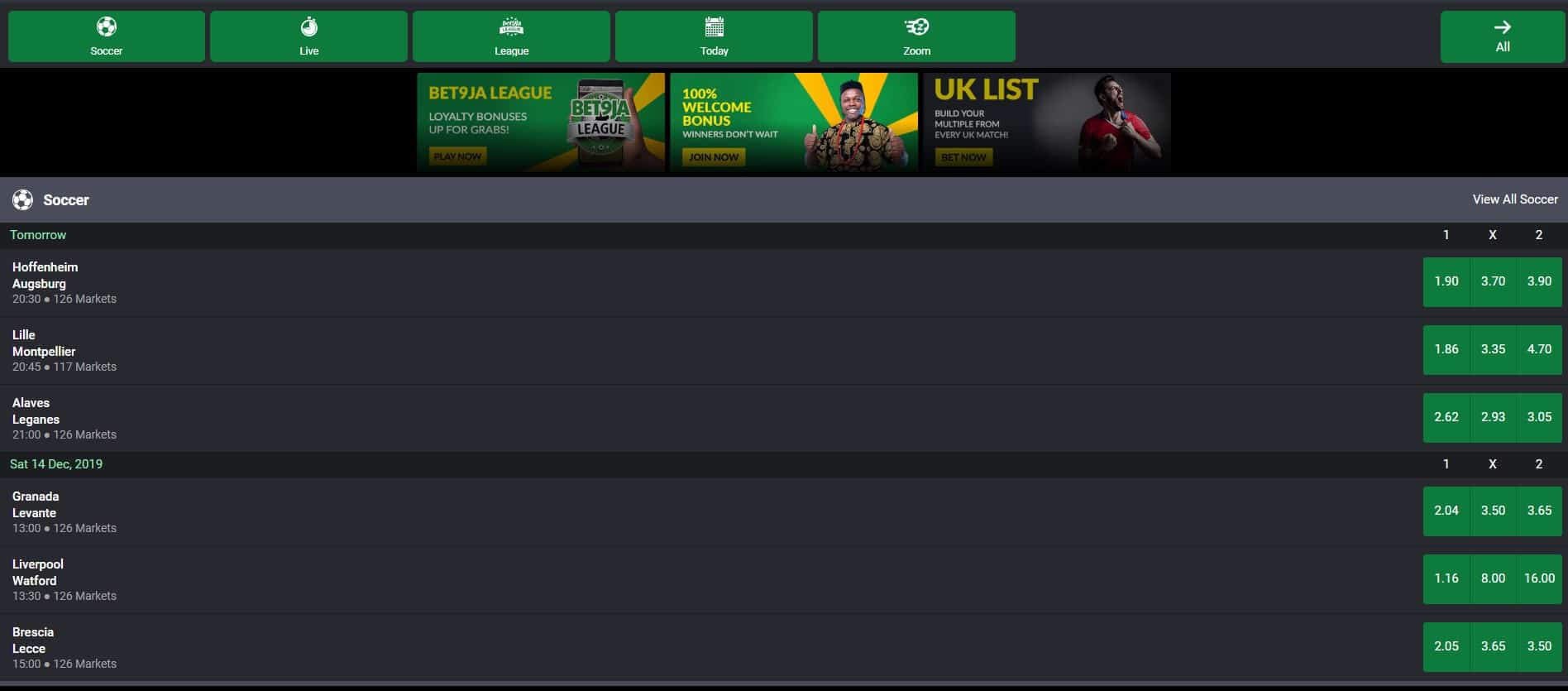 Bet9ja has quite a few mobile betting options. First, there's the mobile version of the site itself, which is every bit as intricately and cleverly designed as the desktop option. This means that anyone, regardless of the operating system, can use the site on the go.
As impressive as this is, consider that they also have the option for dedicated casino and sportsbook apps. This takes things to the next level with thousands of sports at your fingertips, alongside the full casino experience. Regardless of whether you go with the app or the mobile version of the site, it's a terrific experience on the smaller screen.
Check our extensive guide to best betting apps in Nigeria here.
Other products
---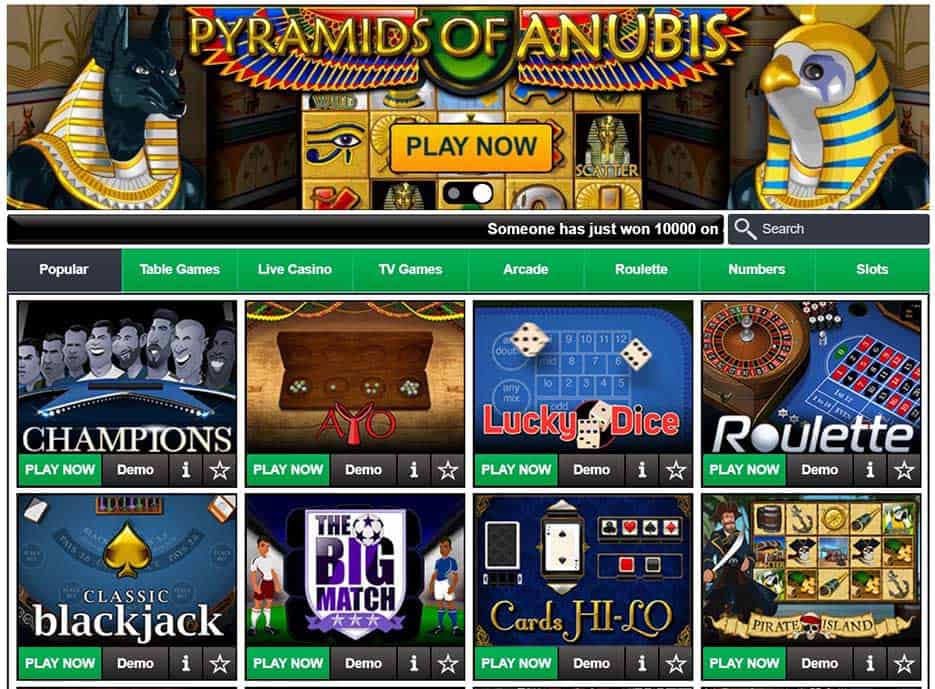 While our main focus is the sportsbook, we couldn't talk about Bet9ja without discussing all the other wonderful things their site has to offer.
As mentioned previously, there's also a casino available. And what a fab addition it is. This boasts several great table games, TV and arcade games, roulette, numbers games, slots and even a live casino. While this is impressive, we would still put it a notch below the sportsbook, although that is largely due to the strengths of the sportsbook rather than the weakness of the casino.
On top of that, there's an extensive virtuals section, with ongoing virtual football, tennis, horse racing and dog racing to choose from. The visuals are great and all the added details like the live table and event ticker create a truly immersive experience. Another interesting product that Bet9ja has is Zoom Soccer. Bet9ja's key focus is the sportsbook, but these additions are far from afterthoughts.
Summary
---
Put simply, there's a reason that Bet9ja is so popular. Don't get us wrong, this is not a perfect betting site. We would, for instance, like certain terms and conditions to be better structured into the site and promotions related to specific events would really help improve the personality of an otherwise colourful experience. However, these pale in comparison when you consider the sheer amount of good that is here.
The sports selection is terrific and the other site elements, like the casino, are well-rounded offerings too. The mobile experience is excellent and the site in general is a joy to use. There's room for improvement, no doubt. There is for most betting sites. But even if Bet9ja were to remain just as it is for a very long time, we still think it would be one of the finest betting sites within its target market.