Registration process
---
Well, it doesn't get much simpler than this. The registration process at SportyBet is as easy as entering a phone number. Naturally, you'll need to have a number which is from a relevant part of Africa like Kenya or Nigeria, but that is quite literally it. You can even log in with Facebook if you want.
While you no doubt sacrifice certain elements with a registration as simple as this, you also gain so much in terms of accessibility. It makes SportyBet seem like it's just a couple of clicks away, as opposed to being like filling out a tax form before you can enter through the virtual doors. It's easy and breezy, with everything else – like bank details – being added in at a later point.
Deposits and Withdrawals options
---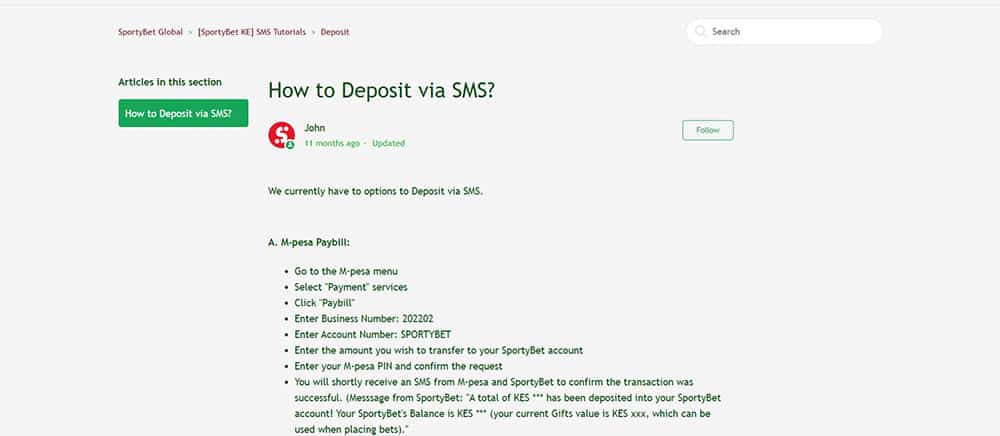 There is quite an interesting selection of banking options from SportyBet, as well as the site being one which really lays out their target audience.
First off, you have two fairly traditional methods via bank card and bank account. In order to deposit with your bank card, simply enter your card details and tell them the deposit amount. You can then enter your PIN, bank token or OTP which can be sent to your mobile phone depending on the verification method. Phones are really important to banking at SportyBet and this is just one example.
Depositing with your bank account requires you to once again fill in the relevant details (including your bank name, account number) and tell them how much you want to deposit. You can then verify your transaction by entering your birth date or OTP. Once again, this is all nice and simple.
Both these deposit methods come without fees. Bank accounts that are accepted include; Access Bank, Diamond Bank, Fidelity Bank, First Bank of Nigeria, First City Monument Bank, GT Bank, Zenith Bank and ALAT by WEMA. The minimum transaction is NGN 100.00 and maximum transactions are NGN 9,999,999,00. Transactions should be immediate although, of course, SportyBet can't do much about issues on the bank's side of things.
Withdrawals are just as easy and can also be done through a bank account. The same information is needed. There are no fees, with the exception of an additional carrier fee of NGN 50.00 when less than NGN 1,000,00 is withdrawn. The maximum withdrawal limit is the same as the maximum deposit. Withdrawals should be completed within 24 hours. When you add a new account, you'll need to verify your identity via SMS.
The importance of mobile doesn't stop there either, as you can also deposit and withdraw funds through your phone either through M-pesa Paybill or STK Push. And this is just as simple. In the case of M-pesa Paybill, you simply go to the menu, enter business number 202202 and account number SPORTYBET. Tell them how much you wish to transfer, enter your PIN and you are good to go. In order to withdraw your funds, simply send an SMS to 29123 with the amount you want to withdraw and your PIN code.
STK Push deposits work the same way. You send an SMS to that number telling them how much you want to deposit. In terms of proving your identity, you may be asked to confirm your address via a verification letter sent to the customer.
Like we said, SportyBet makes their target audience crystal clear with these options: not just geographically, but the type of customer they will attract as well. All of this is about convenience and simplicity, as was the case with the registration process.
Sure, they could have cryptocurrencies, for instance, but that would be in stark contrast to their focus on ease of use. We suppose they could do both. However, for the type of customer they are clearly after, the options available here more than fit the bill.
Check our extensive guide to payment options in Nigeria here. 
Welcome Bonus
---

Few things are as useful at attracting new customers than a welcome bonus. That's why betting sites in general wear them loud and proud. SportyBet is a little more reserved than some in that regard. It isn't plastered everywhere on their homepage. But we suppose that would get in the way of the design and usability which is so vital to their vision.
However, it is very much here in the form of an NGN 1000 (or currency equivalent) giftset. How much you receive depends on your first deposit and these are split into various amounts.
If you deposit NGN 50, for instance, you receive NGN 150 in gifts, whereas a deposit of NGN 200 will get you NGN 600 in gifts. These gifts are also effective for longer the bigger than deposit, between 6 and 10 days. Gifts can only be placed on bets of more then 3.15, and no duplicates are allowed.
The different gifts must become valid in sequence. So, for example in the case of an NGN 50 deposit, the gifts worth NGN 150 are broken down into; 1X NGN 3, 1X NGN 7, 1X NGN 15, 3X NGN 25 and 1X NGN 50. You would have to bet the 1X NGN 3 in order to unlock the 1X NGN 7 gift and so on.
However, a lack of detail on terms and conditions – particularly when it comes to wagering requirements – has unfortunately made it impossible for us to properly analyse the quality of this offer. This is a really glaring oversight which we hope can be resolved soon.
Sportsbook promotions
---

And that is not the only offer available at SportyBet. However, before we go on, we do think it is important to point out that SportyBet is very much a site which likes to keep updating and improving their promotional content. We can tell this because as you are reading this, there are several promotions on that page which have recently finished. And the promotions that are currently there all have time restrictions. That includes the Welcome Bonus.
This, of course, means that depending on when you are reading this, all of the promotions could have since changed. Nonetheless, most sites have a level of quality for their promotions, so we hope that even if that is the case then by looking at them here, you can get a good idea of the quality of promotion you'll be getting, even if the exact details have changed.
So, alongside the Welcome Bonus, we also have Sportsbooks Match of the Day. This one is about as simple as it gets, as they offer odds boosts for a chosen match across all pre-match markets. There's also the opportunity to win gifts if you refer your friends to the site.
That's all there is for the moment. However, from the past, we can see promotions for free bets and cash gifts, alongside a prediction competition with a prize of NGN 100,000. We really like that the promotional page is constantly changing. It not only offers users a wider variety but also makes the site seem fresh and forward-thinking.
Plus, it's always a good sign when a site seems committed to improvement and coming up with new ideas. It shows they are not satisfied with resting on their laurels and that is hugely important in such a competitive market.
Once again though, it's a lack of detail which lets it down. For instance, we have no examples of odds boosts, nor information on exactly what prizes you get for referring a friend. On top of that, a side effect of these constantly updating promotions is that there's no current customer reward option. We understand that would mean having to keep a promotion indefinitely and that isn't the route that SportyBet appear to be going down, but we do think a compromise could be reached here to have the best of both worlds. However, there's still plenty available as it stands.
Check our extensive guide to Accumulator Betting and Promotions here. 
Pre-match offer
---

We said that our first impressions were good and a huge part of that was down to the amount of sports that appeared to be available. And now we have looked a little closer, we are happy to report that the first impression does appear to have depth.
First off, we'd like to note that there are sites out there with more sports options. What is available at the time of writing at SportyBet includes; football, basketball, tennis, rugby, cricket, volleyball, ice hockey, handball, darts and beach volley. So, it's a solid list of popular options but is lacking some of the more left-field possibilities available elsewhere.
See the list of most popular betting terms and markets here. 
However, what makes them stand out from the pack is the sheer amount of options within those sports. When they say they cover football, for instance, they mean everything from the Premier League to Ligue 1 and beyond. SportyBet is a site which focuses on providing the best version of what it does, and that means that on the face of it, other bookmakers may have more options. However, few have this level of depth to those options.
There were 292 games markets available when we checked at random, and a game between Crystal Palace and Bournemouth had 118 betting markets to choose from. And that's not the only manner in which sports coverage is extensive here. You can also check out the results from relevant sports and tournaments throughout the world and follow the games via live graphics, which we'll discuss in more depth a little later on.
In terms of margins, we'll use the same example. A home victory had odds of 2.13, which is an implied probability of 46.9%. A draw had odds of 3.50, which as a percentage is 28.6%, and an away win has odds of 3.51, or 28.5%. Altogether, that is 103.2%, so a 3.2% overround or margin, which is very respectable.
Overall, we are very impressed with the sports options at SportyBet. We admit that some more sports markets would be preferable to cater to those with less mainstream tastes. The lack of esports is a touch disappointing. Having said that though, every sport that is covered is done so impeccably.
Read our guide to Esports Betting here.
Cashout and bet builder

We'll start with the bad news: there's no bet builder at SportyBet that we can see at the time of writing. However, we will say that one of the plus points of their betting market options being so comprehensive is that it's less of an issue than it would be on many sites.
The good new though is that cashout, both full and partial, is very much an option here. A partial cashout is where you leave part of your stake untouched, meaning your usage of this feature is very versatile.
In order to cashout, you simply select the option on your bet slip to receive your money early. The amount you receive naturally depends on the likely outcome of your bet. The only key conditions are that you can't cashout early with a bet based on a promotional gift – which is fair enough – and that it is only available on bets above NGN 400. The latter point is the only serious flaw here.
Live offer
---

One of the most impressive parts of SportyBet has to be its live offering. Not only are live bets a huge part of the betting experience, but the way in which sports are covered really puts this over the edge into the category of truly excellent.
First things first though, there is no live streaming. This isn't something we can criticise SportyBet for, as because of licensing issues, this is something that is simply beyond the reach of many betting sites. However, we have to praise them for their extraordinary efforts to find the next best thing.
While betting live, you can follow the action thanks to a seamless and beautifully put-together series of graphics. These make following what's going on the pitch an absolute breeze. It's not only entertaining but it keeps you better informed, meaning you can make smarter and more strategic bets.
Read our extensive guide to Live Betting here. 
We have also a list of best betting sites with Live Streaming here. 
Security
---

SportyBet is licensed by BCLB under the Betting, Lotteries and Gaming Act. This means from a legal perspective, you can consider this site entirely legitimate. Furthermore, SportyBet, as per their privacy policy, promises to protect your data and will not disclose your personal information to third parties unless it is demanded by the authorities.
There's also a section on advice for responsible gambling and you can enforce measures like self-exclusion to help if you have an issue. It's a shame that this can't be done through the registration process, but we suppose that is part of their simplicity first approach in that regard. You need to contact customer service for help, which wouldn't be too much of an issue, except things didn't quite go to plan.
Service and Customer Support
---
This is a mixed bag. On the plus side of things, the Help section in general is very good. It doesn't include absolutely everything we would want to know, but it does include most things and is pretty well written. There's also a live chat function, which appears to be available 24/7, although we couldn't get confirmation on that.
Unfortunately, we had some technical problems which led to it taking a long time to get a response. We don't think this is typical and we certainly hope not: all we can see it that our experience could have been a touch quicker. However, when we did get a response, it was clear that customer service was trying their best to help as much as they could, which is very much appreciated.
All in all, there's a little room for improvement and we hope the experience of other customers is smoother and that the issues we faced were an anomaly.
Design and Usability
---

Moving onto something much more positive now, as the design of SportyBet is generally excellent. It looks great, everything works as it should, and it manages to balance a lot of content in a rather elegant way. And it is not just from a structural perspective that everything is well designed. Unlike our issues with live chat, we suffered no technical hiccups in any other regard. Once again, this made us hope that our problems there were just a one off.
In terms of ease of use, you can't get much better than this, with a design which manages to look modern and colourful while having a classic structure that makes it a breeze to understand. The only thing lacking would be some extra languages and some betting news. But all the other important things it does very well indeed.
Mobile
---

This impressive design is also carried over to the mobile side of things. The SportyBet mobile app is every bit as impressive as its bigger brother and perhaps more so, considering the sheer amount of information that needs to be put on the smaller screen. And yet it does so with ease, proving that the structure of this site remains one of its finest qualities.
From a technical standpoint too, everything works just as it should on desktop and all your options, including cashout, are very much available. It's also worth pointing out too that SportyBet recently updated their app just as we are writing. This showing us that – just as was the case with promotions – they are consistently moving forward with site improvements.
Other products
---

While the sportsbook is clearly the most important part of SportyBet, it is impressive just how many extras they manage to pack in. What's more, the consistent level of quality they offer is fantastic.
First off, there is the Virtuals section, which manages to be every bit as impressive as their live betting offering in terms of ease of use and the quality of the video used. They are a perfect addition to the sportsbook and we really can't find anything substantial to criticise in this regard.
There's also a jackpot section which allows you to enter competitions to win huge prizes if you can make several predictions correctly. For instance, at the time of writing, they had an offer to win NGN 5,000,000 for predicting 12 games to win correctly.
These are some great additions here. They are all thought through, well designed and, just as importantly, fit into the rest of the site seamlessly.
Summary
---
While we think there is much more positive than negative with SportyBet, we also can't help but feel frustrated by the site. That's because with just a few more left-field options and by explaining itself a bit better, it could really reach another level. We know we had issues with customer service, but we don't believe they are typical of your experience. We are hopeful that SportyBet will iron out these wrinkles because we can clearly see through their app and promotions that they are consistently striving to improve.
Nonetheless, they remain right now a very good betting site with mainstream appeal. They are one that's easy to use and has plenty of depth. Things could be better, but they've already done enough to be worth a recommendation to African players.