Registration process
---
To begin the registration process, simply navigate to the easily identifiable 'Register' tab at the top of the web page. MelBet conveniently offers 4 possible channels through which interested players can register. These include by phone number, by means of 'one click', by email, or via a social network. Each channel is relatively straight forward, requiring only basic information to open an account. The only limitation discovered here is that when registering via social media, only two Russian social media channels are available. We are not sure if these are shown to everyone or if there is an issue with the site identifying our location.
We opted to create an account by email. The procedure to complete this very simple three-step process was as follows: first, select a country from a dropdown menu; secondly, input name, surname and choose currency; lastly, enter email, create a password, and choose which bonus to receive from a list of 3 options (or no bonus if you do not wish for one). A confirmation email is supposed to be sent and activated but we did never receive any email. The account still worked normally, so the next step was to make a deposit.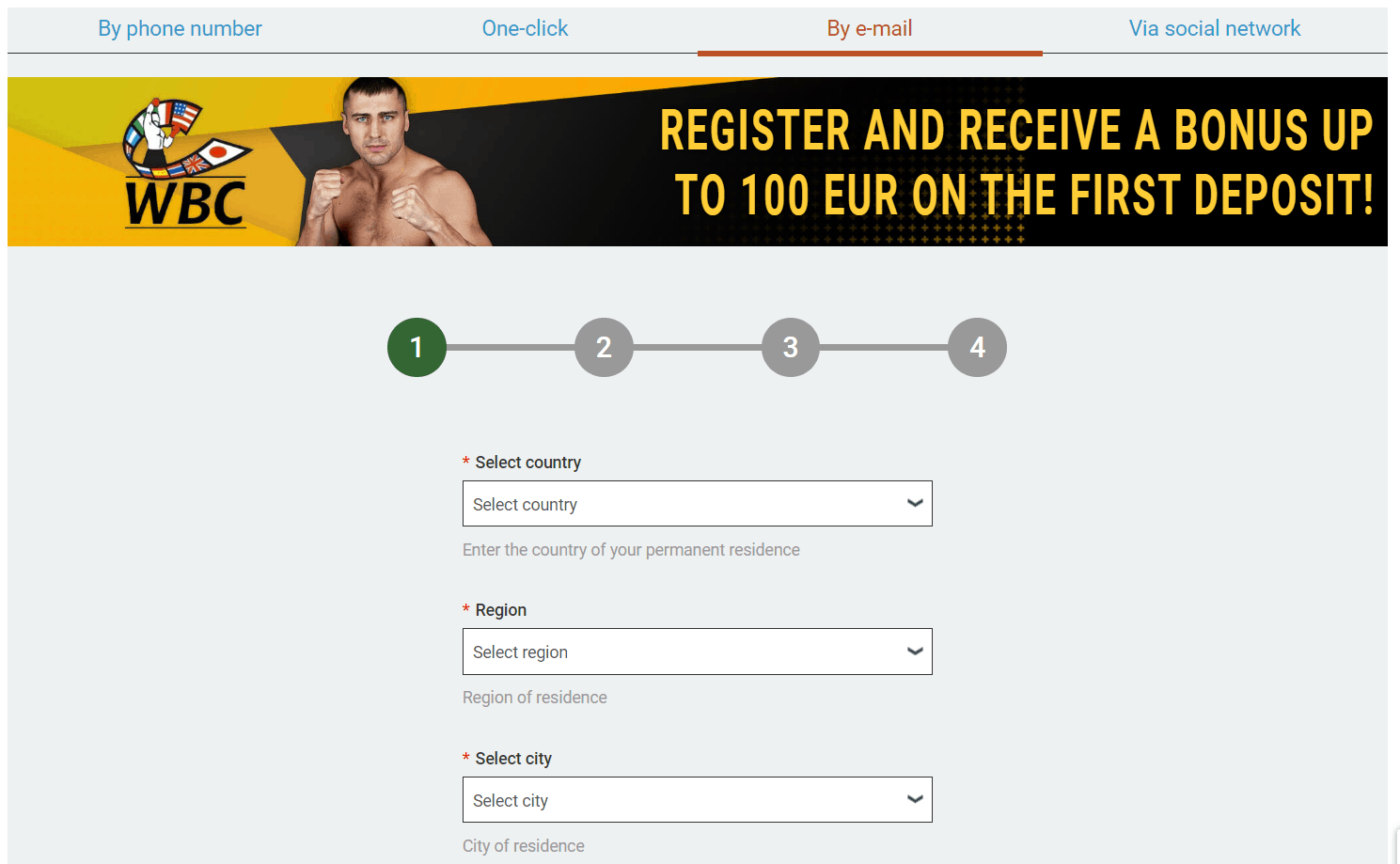 Deposits and Withdrawals options
---
When it comes to making a deposit, MelBet offers a wide array of options including via bank cards, e-wallets and various other payment systems, including through mobile or internet banking. Interestingly, at the time of writing, players can also make deposits via 24 cryptocurrency channels, adding even more flexibility to the choice of payment. The site does not provide much information on each payment option which means its up to each user to decide what is best for themselves. That said, MelBet does make it clear that it recommends making payments via Perfect Money, which is a similar version of PayPal where deposits can be submitted securely through the internet.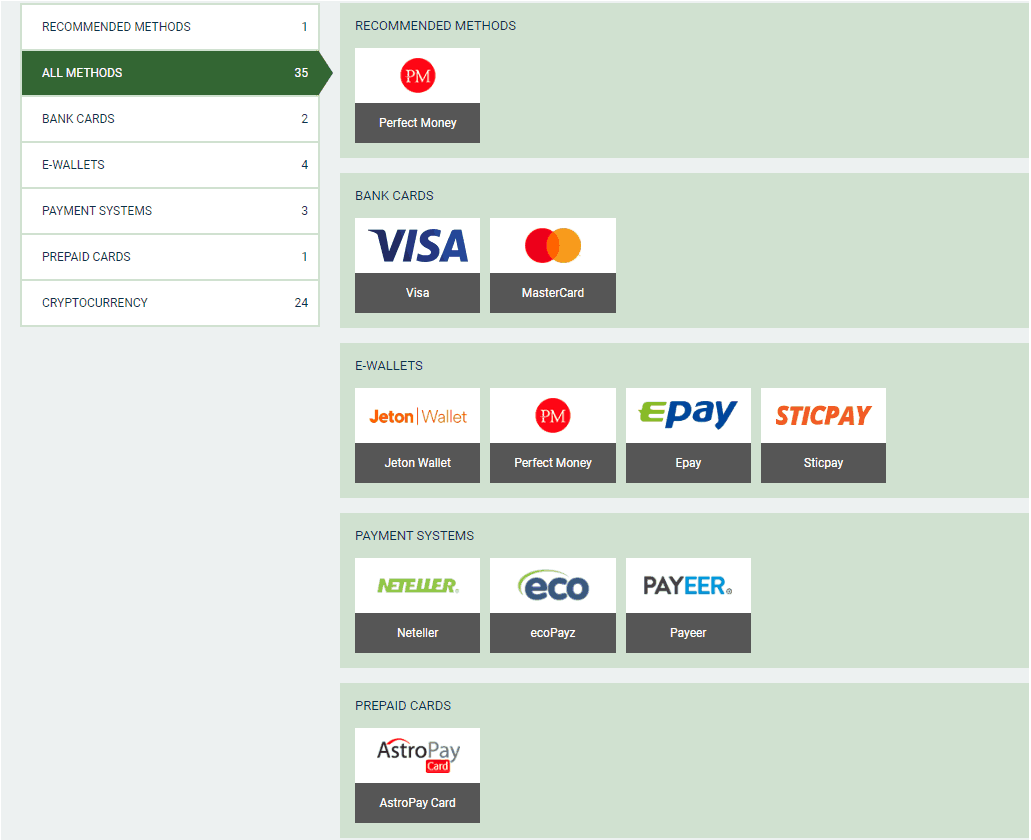 No information was provided regarding deposit/withdrawal fees and maximum deposits at the time of writing. The minimum deposit required varied across each channel but ranged between €1-2 for bank cards, e-wallets and mobile and payment systems; and €1-5 when depositing via internet banking. It is important to note that when depositing via credit or debit cards, you must send a copy of photographic ID, a copy of a bank statement, and copies of the front and bank of the cards used for the deposit (yes, your middle digits and security code can be covered!).
Another great aspect about MelBet is its straightforward processing of withdrawals. You can make a withdrawal via the same mode of payment used to make the deposit, they are processed 24/7, and you are required to submit your passport details when requesting their first withdrawal or any withdrawal over €2,000.
Check our extensive guide to payment options in Nigeria here. 
Welcome Bonus
---
Unlike many other betting sites which display pop-ups to new users showing what bonuses are on offer, MelBet opts not to do this. The availability of a welcome bonus or any information about this are therefore unclear at first glance. That being said, there is a tab on the top of the page with an icon of a wrapped present and labelled 'bonuses' which provides full details about the (many) bonuses MelBet does offer. Here, one can see what perks await them when registering.
Additionally, as mentioned earlier, when creating an account with MelBet, the user is required to select 1 of 3 'guaranteed' welcome bonuses (or no bonus at all), so even if the bonuses tab is overlooked, new users will definitely not be missing out! MelBet cater for both sportsbook and casino with their welcome bonus options. These include a 100% sports bonus up to €100, a casino bonus up to €1750 + 290 spins, or placing a €10 bet and getting €30 as a free bet.

We opted to go with the 100% sports bonus up to €100. In the bonuses tab you can find the full details on how to qualify for the bonus. A few important things to note are that the minimum deposit to claim the bonus is €1; the bonus will be automatically credited to your account once the first deposit is made and the account details (including providing identification) are completed; and you must claim the bonus within 30 days of registering an account.
Furthermore, the bonus must be rolled over 5x in accumulator bets where each accumulator must contain 3 events or more and at least 3 events within the accumulator must have odds of 1.40 or higher. Whilst this last point does provide a little bit more constraint to players, we don't think it is the worst option available.
Sportsbook promotions
---

At the time of writing, MelBet offered 2 sportsbook related promotions to players. The first is a '100% Refund on Accumulators' – which basically means that if just one bet in your accumulator loses and all the others win, your original stake will be refunded. The requirements to take advantage of this offer are that you must place an accumulator bet consisting of 7 or more bets and that each bet will have odds of 1.7 or higher.
The second promotion available is the 'Accumulator of the Day' whereby each day MelBet selects a choice of several accumulator bets (corresponding to matches played on that same day) to promote. If you choose to bet on these games and end up winning, MelBet will increase your odds by a solid 10%!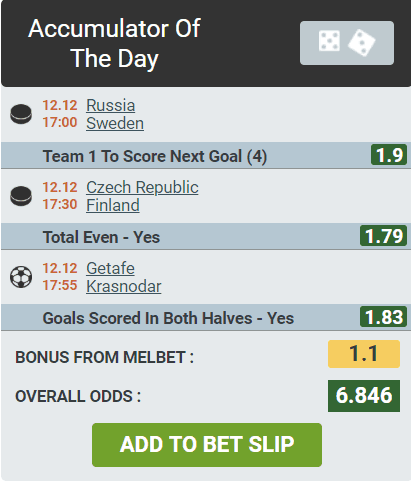 For its most devoted players, MelBet offers a loyalty programme which is available for all registered users. In this programme, players can collect points every time they bet and then redeem these points for real money. The bookmaker uses a special calculation to determine the number of points allotted per bet whereby the stake is multiplied by the number of outcomes in the bet and divided by three. So for example, if you place an accumulator bet of 300 euro with 4 outcomes then your bonus points will be 300 x 4 / 3 = 400 points.
Check our extensive guide to Accumulator Betting and Promotions here. 
Players can view and redeem their collected points easily through the 'my account – MelBet Club' sections. To convert the points into the users' currency, the total number of points collected is divided by 200. The loyalty programme is available on all single, accumulator, and system bets (which includes live bets) and is something we would highly recommend taking advantage of.
Pre-match offer
---
One area where MelBet really sets the bar is its wide range of sports offerings. At the time of writing, players could place bets on no less than 40 different sports ranging from traditional sports, like football, tennis and basketball, to more niche options like Ski Jumping, Trotting, and Sailing. There is an astonishing amount of betting markets available. One specific UEFA Champions League game offered a whopping 1598 submarkets to play on. The max stake for an outright bet on this event was a very generous €110,000. With such a vast portfolio, MelBet truly offer all types of bets on all types of sports and cater for any type of player – and we haven't yet touched on eSports!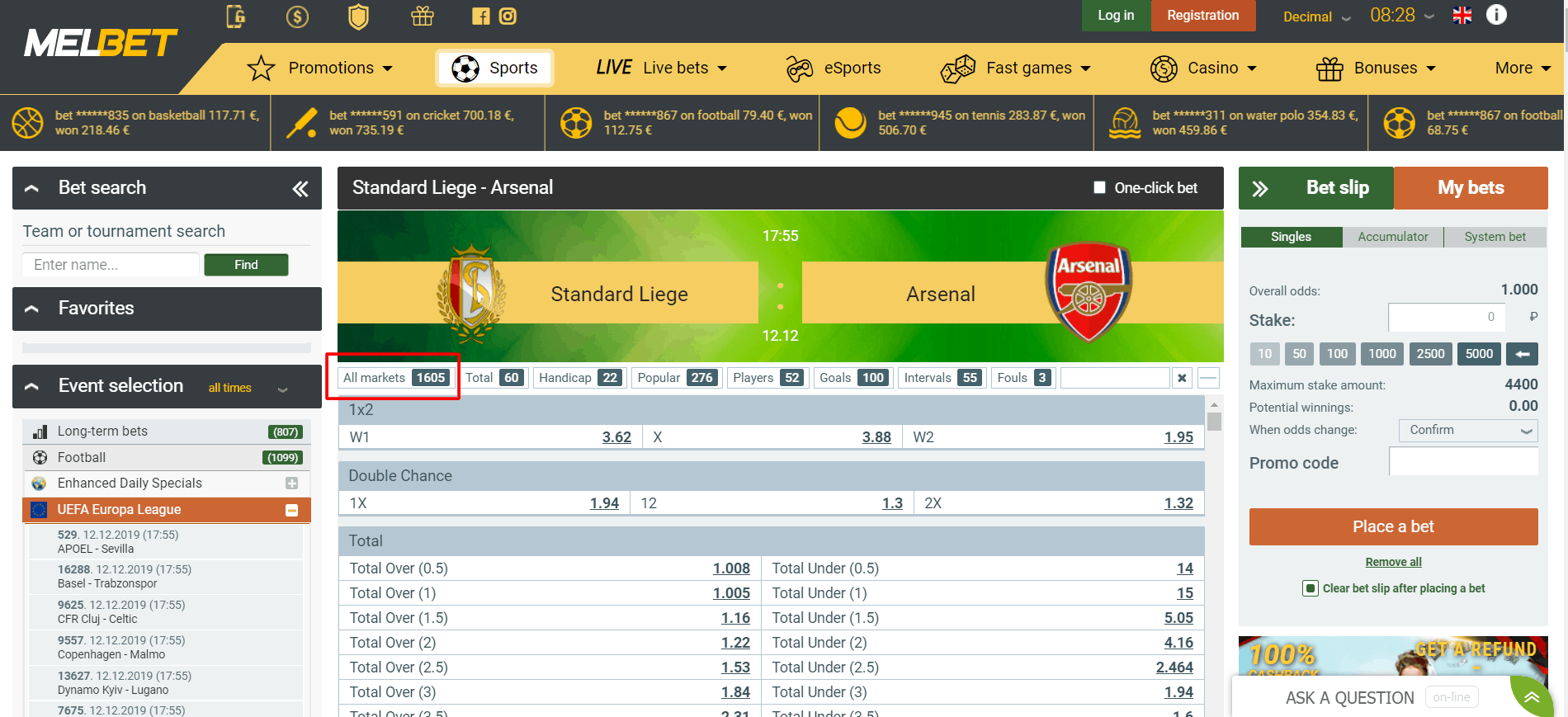 A large sportsbook means nothing if the odds are not competitive. Let's face it, what is the point of placing bets on a site when you could be getting higher winnings elsewhere? To analyse the quality of MelBet's odds we calculated the odds over-round. This is the number you get when you add the probability percentages of every possible outcome. Naturally, this figure should come to 100% however the term over-round actually refers to the bookmakers' profit margins i.e. the percentage over the 100%. Anything below 110% is typically considered good. We looked at 3 random football fixtures, from Europa League, Premier League, and La Liga. The over-rounds came to 104.6%, 104.4%, and 104.5%, respectively which indicates that MelBet does indeed provide its players with very competitive betting odds.
See the list of most popular betting terms and markets here.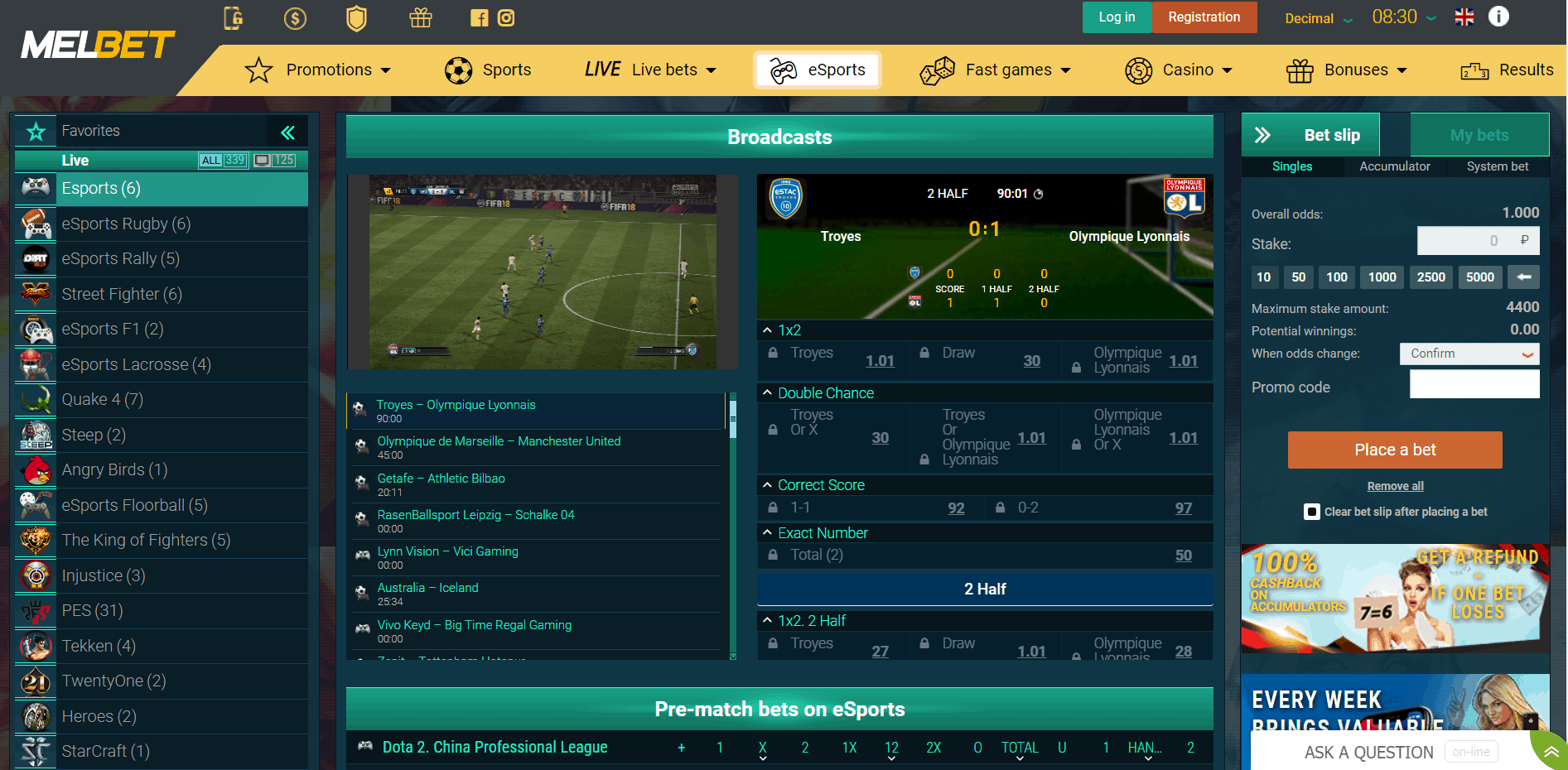 Even though the world of esports emerged far more recently than other traditional sports, MelBet makes sure that it is ahead of the game with a large variety of esports available to its users. At the time of writing an outstanding 67 markets where available, ranging from sports related games such as FIFA, eSports Tennis, and eSports F1, to video games such as Dota, League of Legends and Tekken. The top market on the day at the time of writing was a CS:GO match which had 34 submarkets. The maximum stake amount varied significantly between sports but outright bets on video games had a max of about €250.
If traditional sports and eSports betting are not your thing, then fear not because MelBet has you covered. The company offers players the option to place bets on other special events such as the weather. With 80 different submarkets to choose from and a maximum stake of €20 (at the time of writing), you will not be disappointed.
Live offer
---
Continuing from its large sportsbook offering, the Live betting options are of the same elevated standard. At the time of writing, 161 markets across 17 sports were available to bet on. Of these, 70 matches across 10 sports offered a live streaming feature.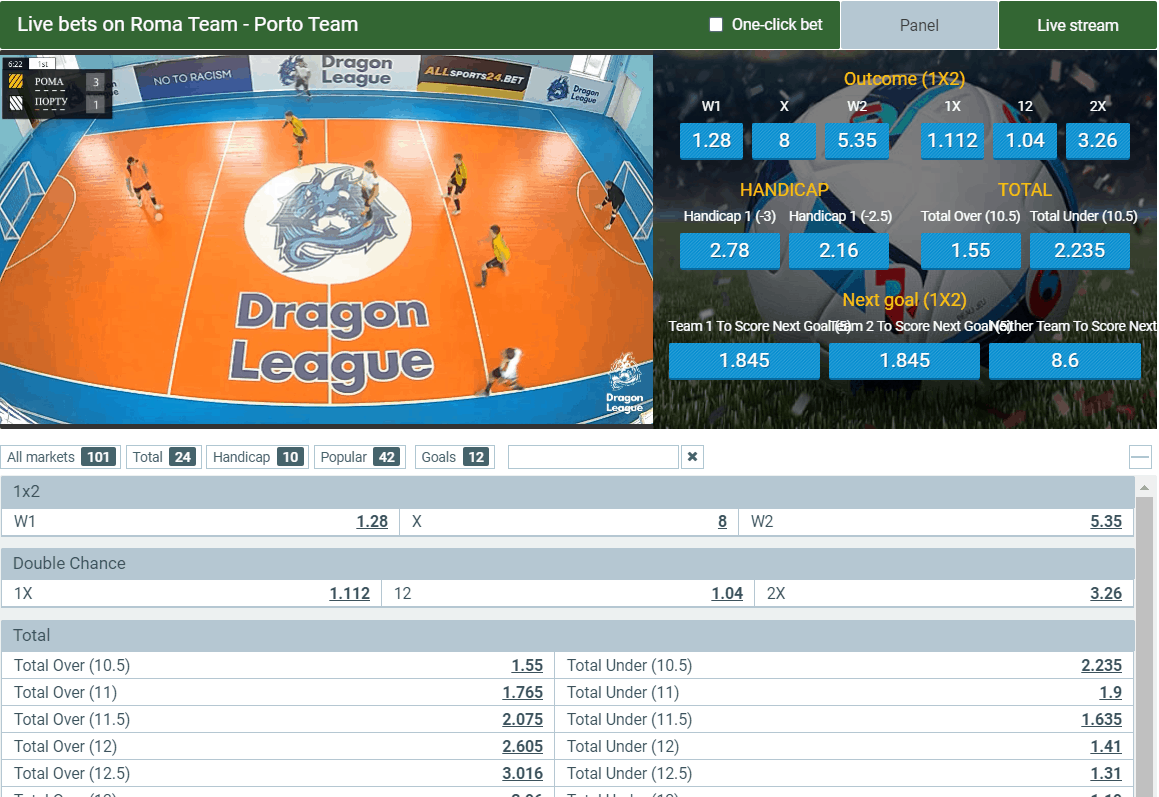 The stream starts off in a nicely sized window at the top of the screen but can be made to open in full screen for a fully immersive experience. The quality of the different streams is fantastic with sharp video and very little-to-no lagging (any reductions in quality would typically be the fault of the streamer and not MelBet). For those games without a live streaming option, an animated graphic is available. This is designed very nicely and shows constant updates to the games in real-time. The live betting experience at MelBet is overall very well made.
Read our extensive guide to Live Betting here.
We have also a list of best betting sites with Live Streaming here.
Security
---
MelBet is in possession of a license by Curacao Interactive Licensing N.V which is awarded by the Central Government of Curacao. When registering an account the company uses reCAPTCHA to verify legitimate players. Unfortunately, at the time of writing there is no responsible gambling tab on the homepage. In the terms and conditions section on the site however there is a responsible gambling section which does provide some detailed information on this topic.
The company offers a voluntary self-exclusion policy which allows players to limit their spending or close their account. To make use of this feature, you can contact customer service, although we think an automated option could prove to be more beneficial. MelBet also provides a list of tips to combat the onset of gambling addictions which is a nice touch. Within the terms and conditions there is also a very detailed Privacy Policy section which shows how the company manages its users' data.
Service and Customer Support
---
Customer support at MelBet is available in an incredible 23 languages. You can contact customer support at MelBet through several methods. There is a live chat function which provides instantaneous feedback with a representative; you can make a phone call to the dedicated help centre; or you can send an email to one of the various departments listed on the website – a good feature to have for very specific issues. All company contact information can be found at the bottom of the webpage in the 'contacts' section. A nice feature that was noticed was that when taking long with the initial account registration, a pop up emerged prompting us to contact customer service via live chat or to leave a phone number and be contacted by the company. This is helpful as it ensures that users are well taken care of throughout their betting journey.

The site itself does not specify if its customer service is available 24/7 but when we asked the live chat, they clarified that they are in fact available 24 hours a day. The response was provided within less than a minute and despite our (purposefully) abrupt messages, the representative greeted us politely, with a professional tone and offered to provide further assistance if needed. There is no dedicated FAQs section on the website.

Design and Usability
---
MelBet deserves a lot of praise for the site's layout. The simple, sleek and friendly design combined with the ease at which information can be found puts this betting platform up there with the best. It's warm yellow and black colours are easy on the eyes. The moving graphics promoting the offers are easily identifiable but not over-the-top or cluttered, though we think the welcome bonus should be given a bit more prominence on the homepage.
Statistics on matches and league tables, news updates, and that previously mentioned detailed help section were also unavailable at the time of writing and the pages seemed to have a bit of lag occasionally. That said, these critiques should put only the slightest of dents into MelBet's overall fantastic usability.  To cater for players from all around the world, MelBet even offers its services in an impressive 44 languages, signalling the bookmaker's strong ambitions to make it big internationally.
Mobile
---
MelBet has a mobile app available for Apple, Android, and Windows devices. Upon installing the app, users are greeted with a 5-step simple walkthrough showing how to navigate through the app, which we think is a great introductory feature. The app has all the features available on the site excluding the option to live stream matches. Some very minor aspects like some teams not displaying their official logos are also lacking on the app.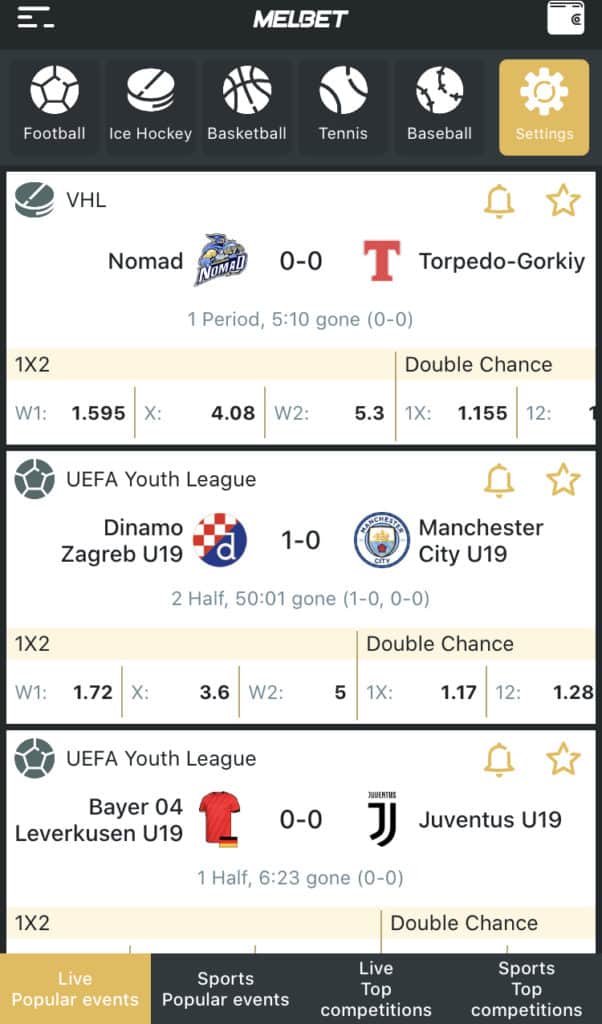 Unique actions you can take on the mobile app include adding whole sports into a 'favourites' section, a recently viewed section, enabling Touch ID (for added security), using additional odds formats (Hong Kong, Indonesian or Malay), viewing current match statistics as well as extra information about the teams playing and location of the match, and setting push notifications.
Overall, we were extremely impressed with the layout and features available on the mobile app. The whole betting process is easy to use, and the design of the app is made beautifully. MelBet really outdid themselves with this one.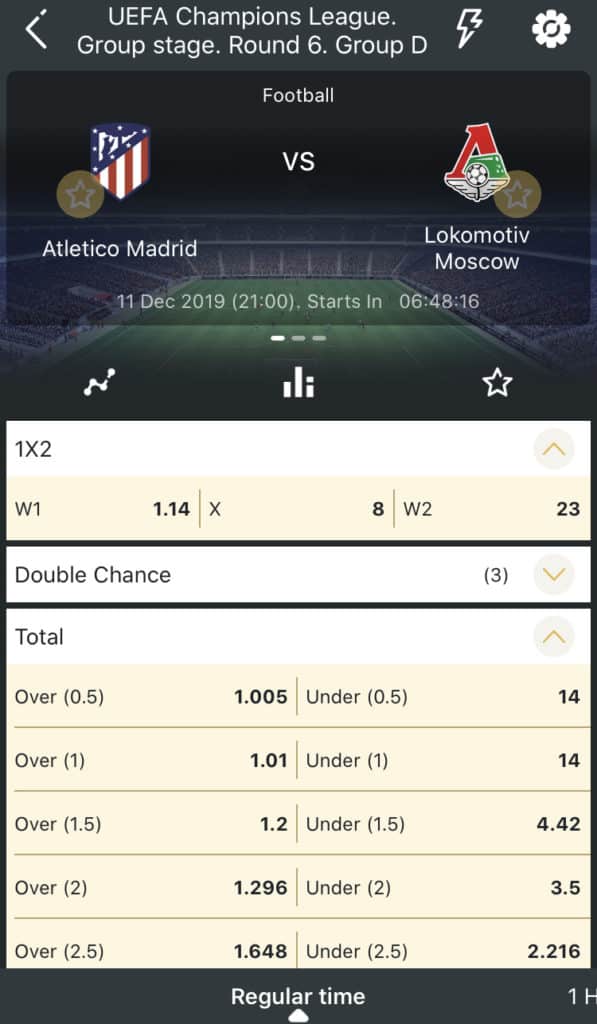 MelBet's mobile site is also very well done and it is clear that this bookmaker has invested a lot into ensuring proper optimisation of its platform for mobile. The mobile site more closely resembles the website in its structure but just like the mobile app, everything is very easy to use and easily accessible – particularly the bet slip. Live streaming is also available on the mobile site.
Read our article about best mobile betting apps in Nigeria here.
Other products
---
In addition to its very strong sports offering, MelBet also has a wide array of other products available to players, including Casino, Bingo, TOTO, and Fast games. In fact, the bulk of MelBet's bonuses and promotions are actually aimed at casino players. An exclusive VIP loyalty programme for casino is also offered. As previously mentioned the casino welcome bonus consists of up to €1750 + 290 free spins. You must deposit a minimum of €10 euro to be eligible for the bonus and according to the site the terms are as follows:
50% first deposit bonus up to €350 + 30 FS

75% second deposit bonus up to €350 + 40 FS

100% third deposit bonus up to €350 + 50 FS

150% forth deposit bonus up to €350 + 70 FS

200% fifth deposit bonus up to €350 + 100 FS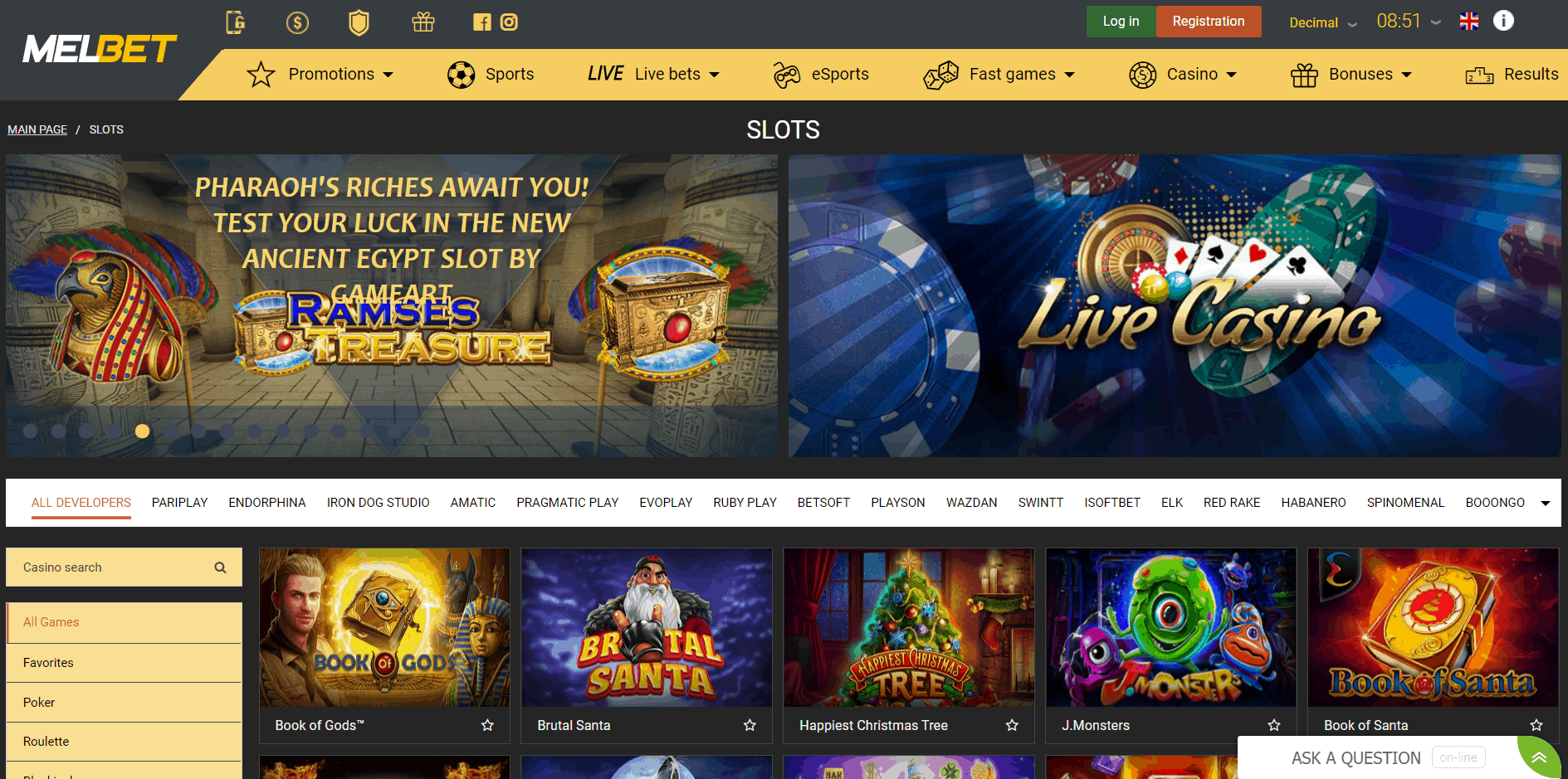 Free spins will not be available to players using the following currencies and cryptocurrencies: OMR, BHD, QTUM, KWD, mBT, ZEC, XMR, LTC, DASH, ETH, XAU.
Every Wednesday (aptly named Winning Wednesdays) is also Fast Games day on MelBet. With each minimum deposit of €1 on the day, MelBet will give you a bonus equalling the deposit amount (up to €100) and 5 spins on the Lucky Wheel. With a choice of 46 Fast Games to play (Roulette and Lucky Wheel are excluded), this definitely seems like a bonus to be enjoyed!
Summary
---
Despite being a relatively young site, MelBet really does tick all the right boxes. It has a great design and is very easy to use. Creating an account and making deposits and withdrawals are straight forward and there are many payment modes to choose from. The platform has a strong international appeal shown by the amount of currencies and languages provided both on the interface as well as in customer support. Most importantly, the number of sports and esports betting markets and submarkets available are outstandingly high and are complemented by quality odds which will undoubtedly appeal to any sports lover. As mentioned, there are areas which could use some extra care such as a dedicated FAQ section and more emphasis on welcome bonuses, but these are very minor. Overall, we would have no trouble recommending MelBet to anyone who is looking for a place to bet.