Exchange betting is essentially the practice to bet against one and other rather than against the bookmaker. The bookmaker makes money via a commission scheme and the punters by simply winning there bets. It's essentially like a trade, however the idea is that your end of the deal is far more superior and worthwhile.
NG
Exchange Betting
#1

The first ever exchange to be published
Most amount of punters using it meaning more bets to place
Most exchange markets. Commission = Net Winnings x 5% x (1 – Discount Rate)

#2

Newcomers with a good software
Easy layout and easy to navigate
Great odds on UK based sports. Commission is 2% on net winnings

#3

Online since 2004
Good odds for US based sports
Great customer support experiences. Commission is 2% on net winnings
Exchange Betting Explained
Has anyone every said to you "I bet you £5 that My team will beat your team this weekend" and you take them up on it? Well, this is essentially the same method for exchange betting. Instead of betting against the bookies, you are betting against other people. The only trouble sometimes Is trying to find someone who will take you up on your bet.
The Betfair exchange was the first of its kind to be released back in the early 2000s. At first it was criticized massively due to the inconsistency of lack of understanding between the punters themselves. However, over time Betfair managed to control the amount of markets on the site and was able to create a simpler platform for the users. Short videos with celebrities can be found on the help page of the site which will explain how their exchange market works.
The first question that many people would ask is why use a betting exchange when I can just bet normally. Well, there are many advantages with betting on the exchange than the bookmaker:
The value for betters is usually better on the exchange because bookies set their own odds, whereas in the exchange you are betting against someone else. You could essentially create a ridiculous bet such as "Manchester City to win the league at 100/1". Now this is a silly bet because not only are Manchester City one of the favorites to win the league, but the odds would never be accepted by a bookie because the risk for them is too high. However, if you offer this in the exchange, somebody may strongly believe that Manchester City will not win the league, and therefore back against your bet, giving them 100/1 odds on them not winning the league.

The amount of choice given is much greater. If a bookie is not willing to accept your bet, then they simply wouldn't, or they would cancel it after its been placed, which can be very frustrating. However, they do this if they truly believe your bet will win, due to a change of circumstances, and it will be too risky for them as they will lose a lot of money. Amazingly, the exchange doesn't offer this problem and the bets can't be cancelled as the bookmaker is not involved at all, its between you and another punter. This means no cancelled bets, no risky bets, and most importantly, no bets being declined.

All the markets that you see on an exchange is all being priced up by hundreds or thousands of bets. If the layers do not get the odds correct, then they could risk not getting their bets matched meaning they won't have any profit. This is why it's important, if you're a layer yourself, to make sure you understand the market and what the odds could be, in a fair and realistic manner.
Exchange betting terms explained
Exchange betting has a number of different betting terms and the explanations for them are fairly straight forward, however you would never guess what the terms meant just by looking at them. We have complied below a list of the key terms, so you don't need to be confused when you begin to open your account and start betting:
Lay betting – This is essentially the process to sell a bet rather than back a bet. It complies with the term of backing and selling a bet in matched betting in order to have risk free bets. It is essentially playing the bookmaker.

Back betting – Traditionally what you pretty much already class as typical betting. If you back bet on a horse, you are betting on that horse to come first in the race.

Arbitrage betting – This is the back and lay bets combined in one to create a risk free proportionate bet which essentially covers all outcomes of the match, guaranteeing profit.

Hedge betting – This term slightly differentiates itself from arbitrage betting. Simply, you don't have the 'guaranteed profit' outcome, however instead of backing and laying, you use more than one existing bet in opposite directions, which in hindsight, reduces the risk of losing. It is used to minimize the losses rather than to win and make profit.
Best Exchange Betting Strategies and Tips to increase Profits
Being strategical when betting on the exchange is not an easy task, in fact, we would go as far to say it's extremely difficult. It mainly comes with practice and some experience in betting too, however, if you are a newcomer to the exchange betting scene, fear not, as we have you covered on some of the best tips and strategies that we have found in order to make your life easier:
Find the right platforms and tools – As we mentioned previously in the article, there are lots of tools to help you out with exchange betting, however there are only a handful amount of bookies who offer the exchange markets. It's important o first locate the tools you need and then find the bookie you prefer to work with. Below you can find a list of the tools we recommend using and where to find them online:
Matched betting Calculator
This is very key and is allows you to understand how the calculations would work depending on how much is staked and what the odds are. The best place to find this is over at
beating betting
as they make this extremely easy and straight forward for you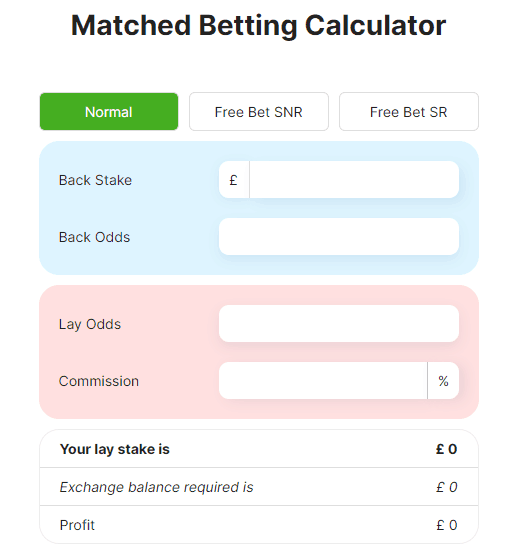 Joining betting forums
Forums are great as you can get a second opinion from another punter who may have more experience as a bettor or just in that general sporting topic. There are lots of different types of forums out there, all having their own unique selling pint so go and do some exploring and see what you can find. Social media sites are also great places to find pages on tips and strategies for exchange betting
Shop Around
You will probably be able to see after a while of betting that most bookies will compare their odds with each other. It just so happens that Betfair seems to be the one that bookies prefer to copy the most. This means that if a bookmaker has an odd higher than the one on Betfair, as long as there is enough liquidity, then
you have found a value bet
or possibly an arb situation.
Check our guide to understanding odds here.
Best bookmakers for betting on the Exchange
So now you understand how an exchange betting platform operates and runs, we can now introduce you to the actually singing up of the sites. There a handful of exchange sites out there, however it's important to figure out which one suits you best. We have compiled our top 3 best exchange betting sites with some notes next to them, so you can get a better understanding of which one you may prefer:
Not only the most popular exchange betting platform in the world but also one of the most reliable. Betfair really tries to help make you understand what the exchange is all about by giving explanations in there FAQs and videos online with professional sportsmen and women in order to help explain in a visual context. They have fantastic odds too which allows the punter a great amount of flexibility when placing bets. The site is also very simple to use. Simply decide which market and match you wish to bet on, select it, and then a small banner will pop up asking you to input your odds and stake amount. It also gives you a quick calculation on the profit made if successful.
Claiming to have the lowest commission rate in the world, Smarkets is becoming more and more popular over the years. Not only do they have a wonderfully entertaining website, but they have a consistent amount of players who bet a join them every day. They excel in their customer service department helping you with anything you may have issues with and most importantly offer a brilliant statistical graph for each event, meaning you don't need to look far in order to help you out with tips. Regarding the sites layout it is very opiniated, but we honestly believe it is a better layout than the Betfair exchange. It's less clunky and scattered and offers a very visible and pleasant to the eye visual element which is also very key.
Fairly newcomers and have only recently gained some notice from regular punters and the betting world. The fundamentals seem to be there however they could improve just slightly on that layout of the site. Other than that they have a huge variety of sport markets in the exchange and the odds seem to be very reasonable compared to others. Definitely a site to consider.
The whole idea of a betting exchange is that punters can bet among themselves and against one and other in order to make some profit. This also allows customers to offer certain odds or request them, but these requested odds are from fellow punters.

The Betfair exchange was the first ever exchange platform to hit the market and it paved the way for back and lay betting options. As you can imagine Matched betting also increased highly hence why the whole exchange idea wasn't exactly a huge hit with other big named bookies who didn't have an exchange. Other sites have attempted to pull off the same success that Betfair has had with it but haven't managed to do so yet. This is mainly due to the amount of customers each site has. Because Betfair had already given itself a name in the regular online betting world, they had the platform and a high enough tier to produce an exchange market. This technically became risk free as if it didn't work, all they had to do was remove it and re-gain its original site as it's priority. However, luckily for them this has worked out very successfully, and will carry on doing so in the far future.

Regarding the markets the pretty much cover every single sport in the world that can be bet on or that has an event running. As you may be able to imagine, its most popular in the exchange are football, cricket and horse racing. The football mainly for the matched betting techniques and the horses due to its high betting demand and interest across the whole UK scene.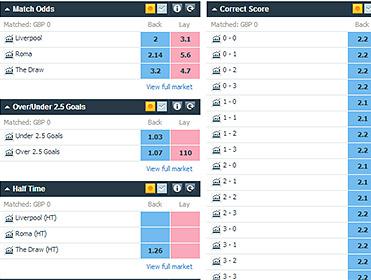 Betfair Commission
At this point, you may be wondering how exactly Betfair are making any money out of the exchange. Well it's fairly simple, they basically take a commission on the transactions that punters like yourself are/will be doing. The calculations for the commission they take is they multiply your net profit with the market base rate. Put simply, if you place a bet and it wins, they will take a commission, if it doesn't win, they won't touch your money. This is how Betfair have made and will continue to make money on the exchange, as they have no choice, because they are not involved in these transactions, it's you and another punter.
Is it safe to bet on the exchange and is there more risk?
Technically there is less risk, however this also comes with a bit of common sense. The idea of the exchange is to bet against other people rather than the bookies themselves, which in theory, holds the exact same amount of risk that a normal bet would have that isn't on the exchange. It starts to become risky when you begin matched/ arbitrage betting.

Now I know we mentioned previously in the article that this is risk free, however it's only risk free if you do it correctly. A slight mistake or misjudgment of the odds and you could see yourself facing a hefty loss and what should have been a simple banker.

Its also extremely important and highly advised by us and the bookies to read through the necessary FAQs on the site before you go ahead and start betting on the exchange, and don't forget, you can always contact the

bookies

customer support if you have any further questions on the matter.
Betting Exchange FAQs
Do I need to be an experienced punter in order to use the Exchange?

Absolutely not, of course some experience in betting would help you understand the odds and calculations, however, its for anybody. If anything, its more valuable if your new, as you can make the most of the new welcome offers!

Is Betfair the best exchange to start with?'

Not necessarily, its for sure the most successful and popular. It's important you try it out on the recommended bookies pages we mentioned in the article, so you get a feel for all the sites.

Is lay and back betting allowed?

Absolutely, I'm sure the bookies aren't particularly fond of it, however, there isn't anything they can do to stop you as its within the rules.

Can I make a living from the exchange?

Definitely, if you become good enough and put enough time in to your research, then anybody can be successful in it.

What is the main advantage to using the exchange?

Mainly, it's for matched betting as you can use the 'Arbitrage or Hedge' betting technique to have risk free betting. But it's also used as some punters enjoy betting among themselves rather than against the bookies.
Conclusion:
The exchange is a beautiful way of betting for some, and a nightmare for others, but each to their own. Our job was to simply enlighten you into the world of exchange betting and try to get you to understand exactly how it works and what's required. Technically speaking you are increasing your chances to win with the options of lay and back betting. Also, with knowing that the bookie isn't involved and all the odds are coming form either yourself or other punters, this gives you a great chance of getting better odds than the original bookmaker.