Registration process
---
Registering an account with BetBonanza could not be easier. Simply navigate to the bright orange 'Register Now' button at the top of the homepage and fill in your details (all conveniently laid out on one page) to complete your registration. Required details include your name, surname, gender, email address, mobile number, date of birth, residential address, and a username and password.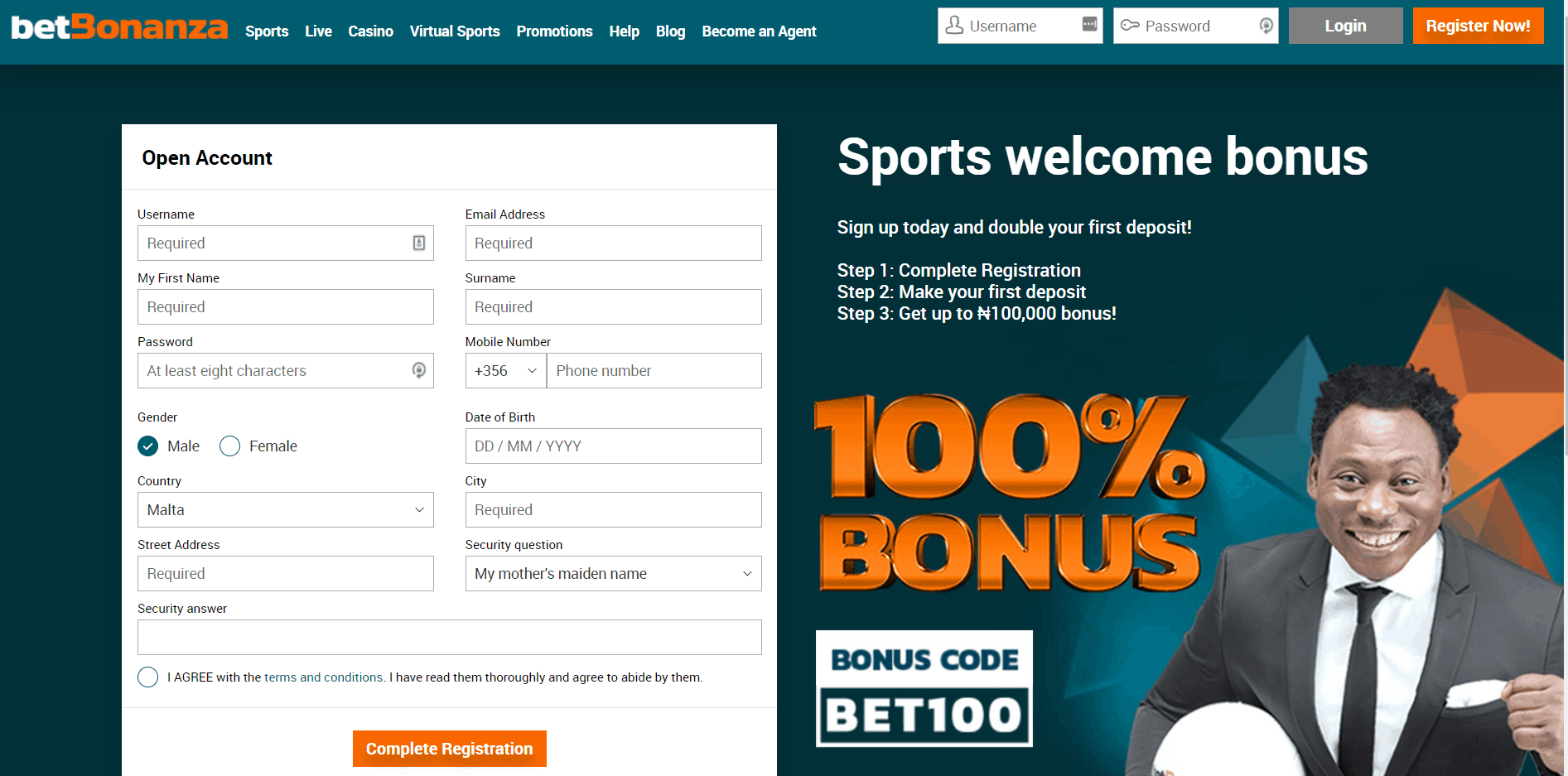 There is no requirement to make any deposit when registering an account with BetBonanza, which is nice as this allows you to explore the site and all its features before committing to spend your hard-earned cash. Once registered, the page directs you to the payment processes page where you can explore the details of making deposits and withdrawals.
Deposits and Withdrawals options
---
BetBonanza provides a wide array of convenient payment options for making a deposit. These include online deposits, cash via a bank branch or betting shop, through an ATM, or by mobile transfer. Each payment method is supported by a helpful description of how it works so that you can choose the best option for you. Online payments can be made using world renowned and trusted names such as Visa and MasterCard or through the more local Interswitch and GT Bank. In-person deposits must be made via the latter two options.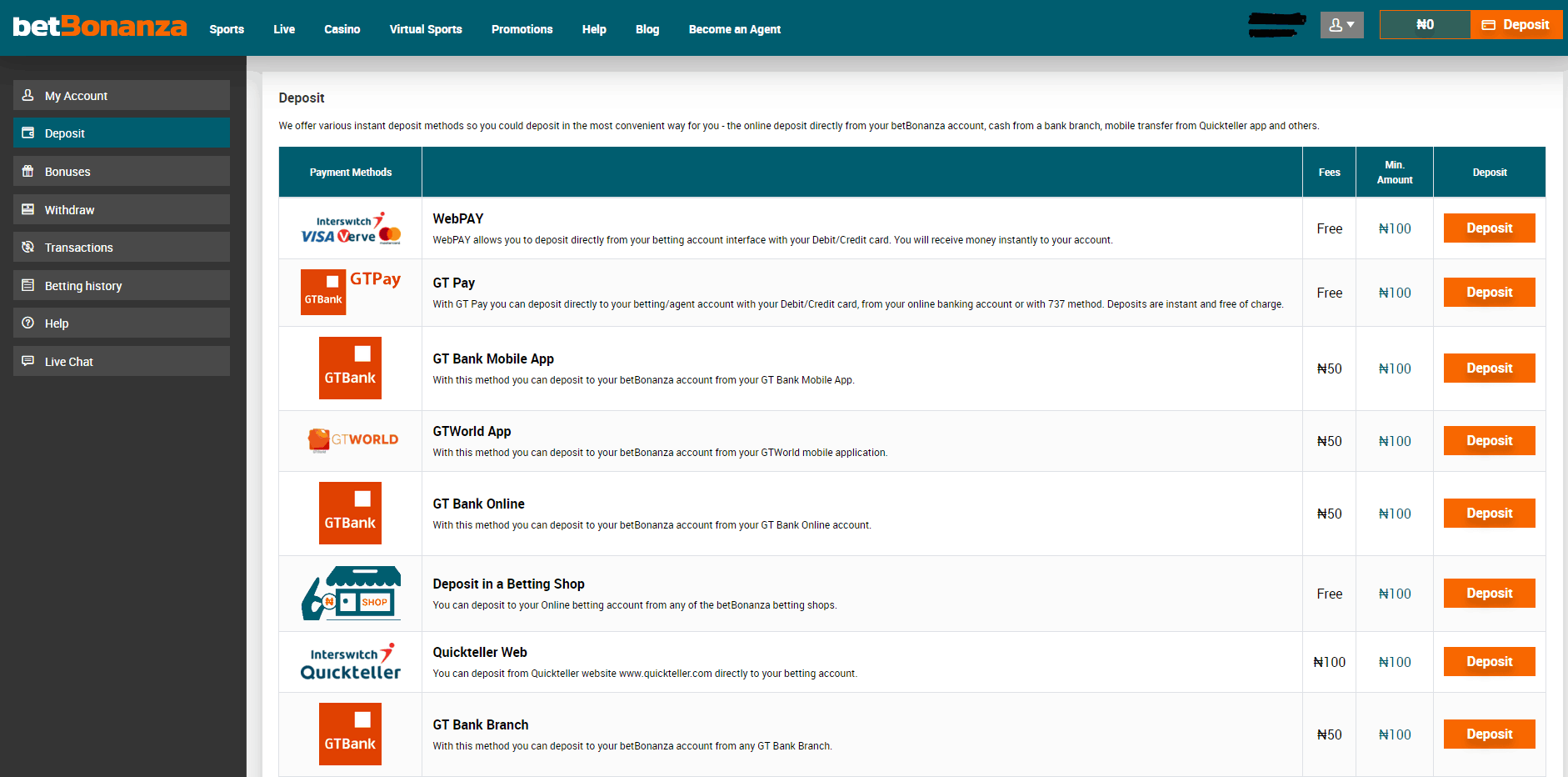 Deposit fees differ according to the option used and range from free (webPAY, betting shop, ATM, bank branch), to ₦50 (GT Mobile App, and GT Bank Branch) to ₦100 (Quickteller Web, Quickteller Mobile App, USSD). The minimum deposit amount required for each method of payment is ₦100. The maximum deposit amount varies from ₦250,000 for some payment options such as betting shops, ATM deposits, and Quickteller to ₦10,000,000 for others such GT Bank Mobile App and bank branches.
Withdrawals are also relatively straight forward. You can receive a withdrawal into any bank account you wish (it doesn't need to be the one you registered with) as long as your ID is successfully verified. Withdrawals are processed daily between 8am and 10pm (local Nigerian time) and can only be made in NGN. There is a minimum withdrawal requirement of ₦2,000, a maximum withdrawal of ₦1,000,000 every 24 hours, and no processing fees. No cryptocurrency methods of payment were available at the time of writing.
Check our extensive guide to payment options in Nigeria here. 
Welcome Bonus
---
Upon visiting the site, BetBonanza's sportsbook welcome bonus is made clear to players through the use of an eye-catching moving banner. Alternatively, you can see more details about the welcome bonus and other promotions offered by BetBonanza in the 'Promotions' section on the top of the page.

The welcome bonus consists of a 100% bonus on your deposit up to a maximum of ₦100,000. This deposit can be claimed by using the bonus code BET100 when making your first deposit and must be wagered a hefty 6x with minimum odds per selection of 1.85. You can use the bonus amount on any pre-match and live games, and you must do so within 30 days of it being activated.
Sportsbook promotions
---
At the time of writing, BetBonanza offers its players two extra bonuses in addition to the welcome bonus, which can be found in the promotions tab at the top of the website. These include a seasonal 'Xmas Bonanza' as well as the 'Yakata Bonus.'
The Xmas Bonanza is a very generous celebration of offers with different promotions being run on both sportsbook and casino everyday throughout the month of December. The page displays the bonuses that were available for the last 4 days, but players are encouraged to keep checking the promotions page every day to see the latest daily updates. An email was also sent to remind us about these daily promotions.
The latest offer to be provided at the time of writing, relates to the English Premier League match between Crystal Palace and Brighton and states that if you bet ₦500 or more on any sports before Crystal Palace and Brighton kicks off, and if Palace scores the first goal, then you will receive a free ₦200. We think this bonus bonanza extravaganza is a great little way of increasing betting excitement during the busy festive period whilst also increasing the chances of getting free bets for players.

The second sportsbook bonus on offer is the Yakata Bonus. This daring bonus states that BetBonanza will offer you a bonus on each bet you make (with a minimum of 5 selections) up to 200%! Does this sound too good to be true? Well it just might be. Whilst 5 lines will get you a nice bonus of 10% on your winnings and 8 lines will get you 20%, in order to receive that coveted 200% bonus you will need to have a whopping 40 selections or more. Yes, 40 selections or more. On one bet slip. If you are actually considering going all out to get that 200% bonus then we here at SoccerBetting365 would like to wish you the very best of luck in your endeavours (also, please see our responsible gambling section below).
Check our extensive guide to Accumulator Betting and Promotions here. 
There is no loyalty or VIP programme offered by BetBonanza and the time of writing.
Pre-match offer
---
BetBonanza offers a vast amount of sports for players to bet on. At the time of writing, there were no less than 20 sports markets available. This bookmaker is definitely not lacking in the submarkets department too. One English Premier League fixture had a choice 1,235 submarkets which shows that no matter what your betting preference is, you will more than likely be satisfied on BetBonanza. No information is provided regarding maximum betting limits. It is also important to note that since this bookie's sportsbook is relatively new, we expect that the number of markets will increase soon.
As always, we all know that having a wide variety of markets and submarkets means nothing if the odds are not competitive. To analyse the quality of BetBonanza's odds we used the odds over-round calculation. This is the number you get when you add the probability percentages of every possible outcome. Logically, this figure should come to 100% however the term over-round actually refers to the bookmakers' profit margins i.e. the percentage over the 100%. Anything below 110% is typically considered good. For this analysis we looked at 1 English Premier League fixture, 1 Italian Serie A fixture, and 1 German Bundesliga fixture. The results came to 103.59%, 105.28%, 104.12% respectively, which indicates that BetBonanza offer very favourable and high-quality odds for their users.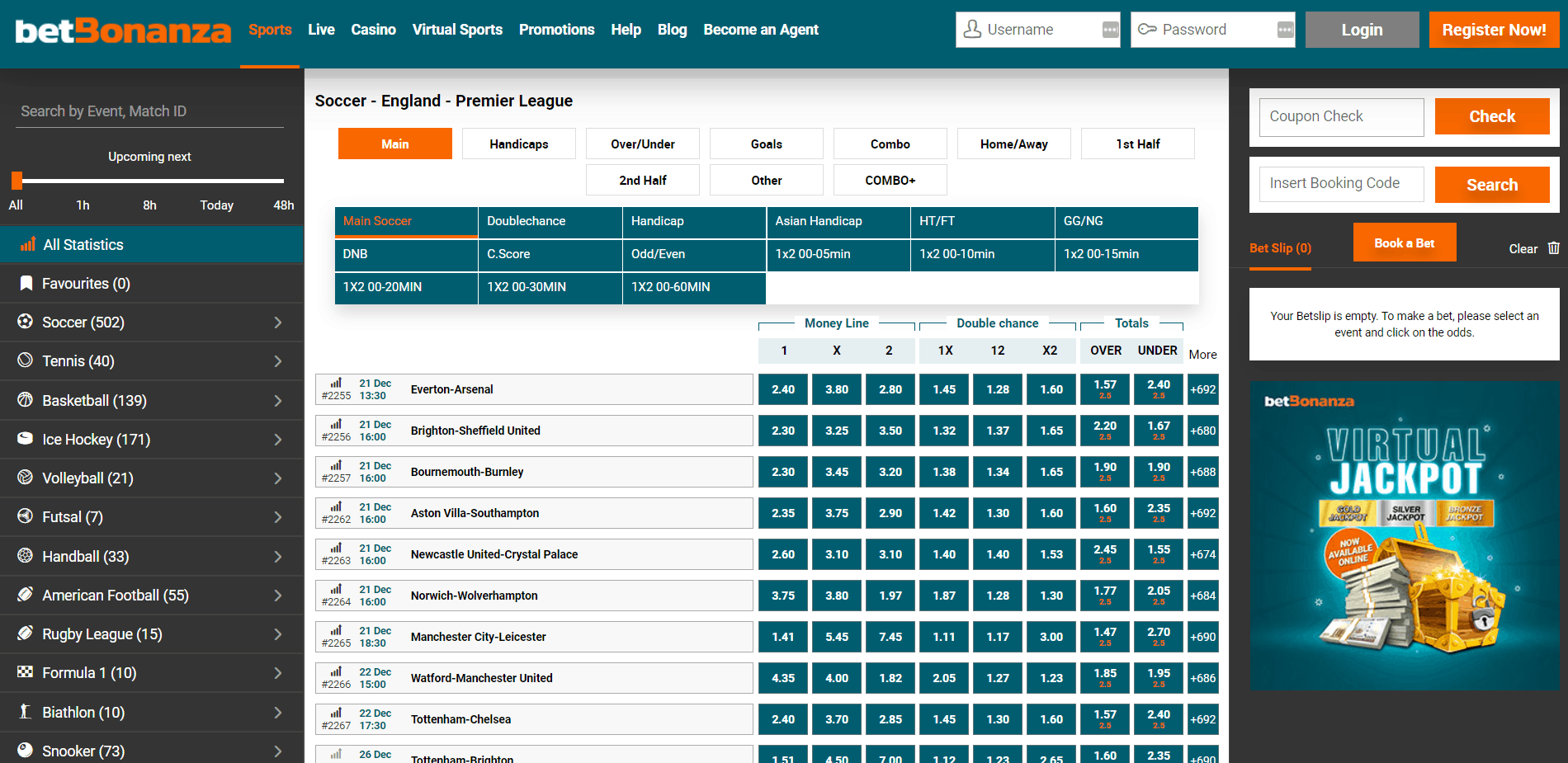 Although not the most extensive selection, BetBonanza does offer its players the chance to bet on esports. These esports do not have their own distinguished interface as we have seen in other bookmakers and can instead be hidden at the very bottom of the list displaying all the other sportsbook offerings. The esports options are divided into two main categories – Esports FPS (first person shooter) and Esports MOBA (multiplayer online battle arena). The Esports FPS category consists of CS:GO betting options whilst the MOBA category includes Dota 2 and League of Legends options. The top market of the day was a CS:GO FPS match which consisted of a very commendable 94 submarkets.
Read our guide to Esports Betting here.
In addition to sports and eports, BetBonanza also has a dedicated Virtual Sports tab. Here, you can bet on a number of different sporting activities such as turbo football, greyhounds, keno and more. This section of the site is very nicely made with a simple but clear layout and a live stream constantly showing each of the different offerings. Furthermore, if sports betting of kind, be it real, virtual or electronic, is not for you, BetBonanza also gives you the chance to place wagers on other special features like entertainment awards shows or political events such as general elections. There really is something for everyone on this site.
Live offer
---
At the time of writing, there were 38 live games across 7 sports and 1 esports selection available. To be fair on BetBonanza, these were not assessed at peak times of the day yet on average each live fixture still had an average of 50 submarkets available. Unfortunately though, the live sports section of the site did not meet the same expectations of the pre-match sportsbook offering. There was no live streaming service available on any of the matches, and unlike some other bookies, who in the absence of live steaming tend to offer an animated graphic to keep users updated on what is happening in the match in real time, BetBonanza opts not to provide this. This makes keeping a track of a live match extremely difficult and might be a bit off putting to certain players.  Once again there is no indication on any maximum betting limits.
Read our extensive guide to Live Betting here. 
We have also a list of best betting sites with Live Streaming here.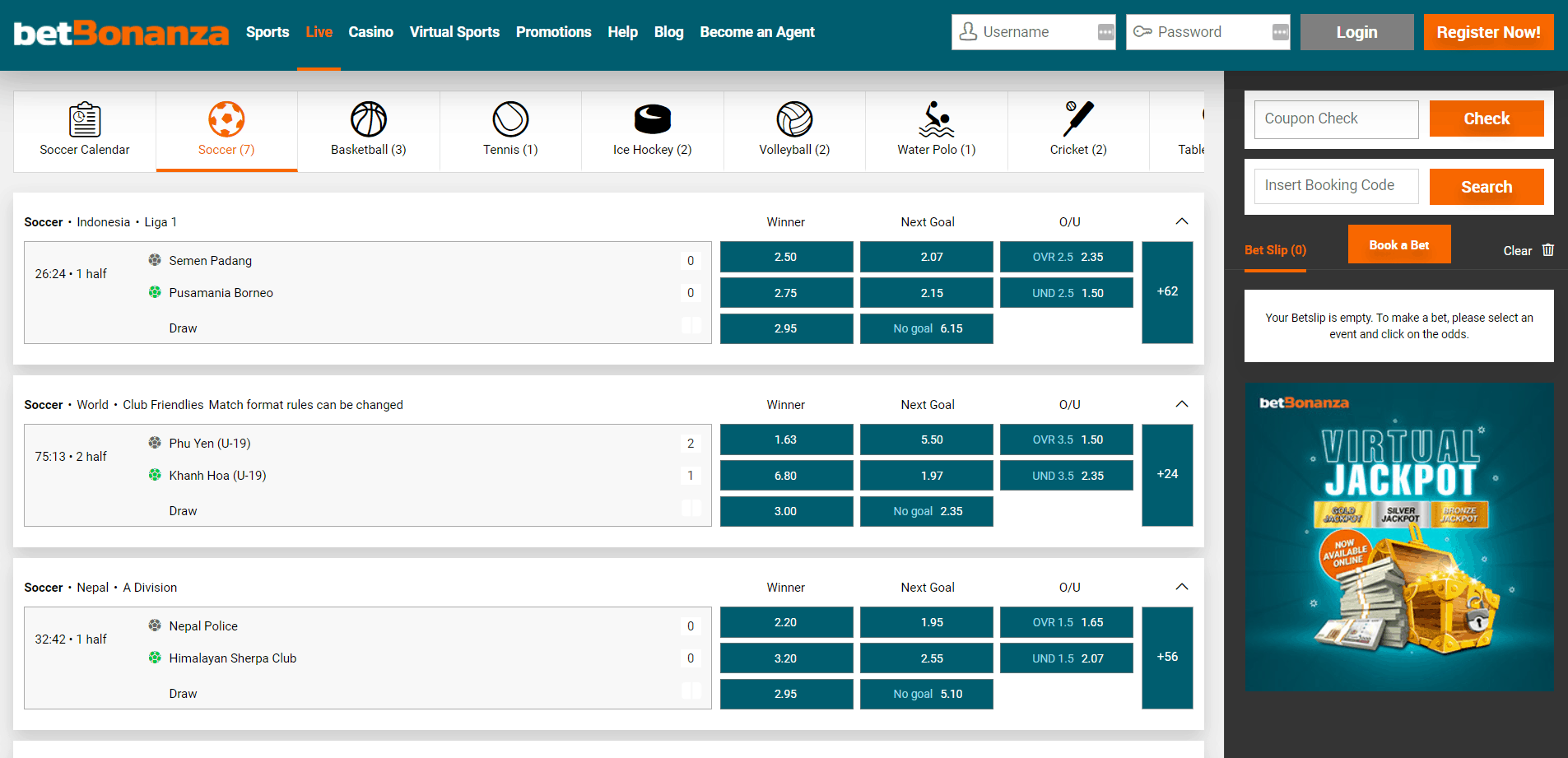 Security
---
BetBonanza is licensed by the Lagos State Lotteries Board. The company has a detailed responsible gambling tab which clearly states that nobody under the age of 18 should be gambling and provides some tips about how to keep bad betting habits under control. In this section, BetBonanza also includes a 16-question survey which you can take to address any potential concerns you might have regarding any potential gambling problems. If there is a trace of a problem, the site encourages users to make use of its 'player protection tools' to limit their gambling however disappointingly, no more information on these 'tools' is given on this page or any other section of the site.
We sent a message to customer service to clarify what this means and they confirmed that players can limit their betting spending and maximum deposits as well as suspend or terminate their account. We would prefer an automatic feature for this instead of having to do it manually but at least the option is there. BetBonanza also has a very detailed privacy policy tab which shows how your personal data is extracted and used.
Service and Customer Support
---
You can reach customer service at BetBonanza through several means, including through live chat, by phone call, through Whatsapp, or by email. Customer support is available everyday from 8am-10pm. In addition to the question we asked regarding the previously mentioned, responsible gambling player protection tools, we also contacted customer support via the live chat function and asked them if their services are offered in any language apart from English.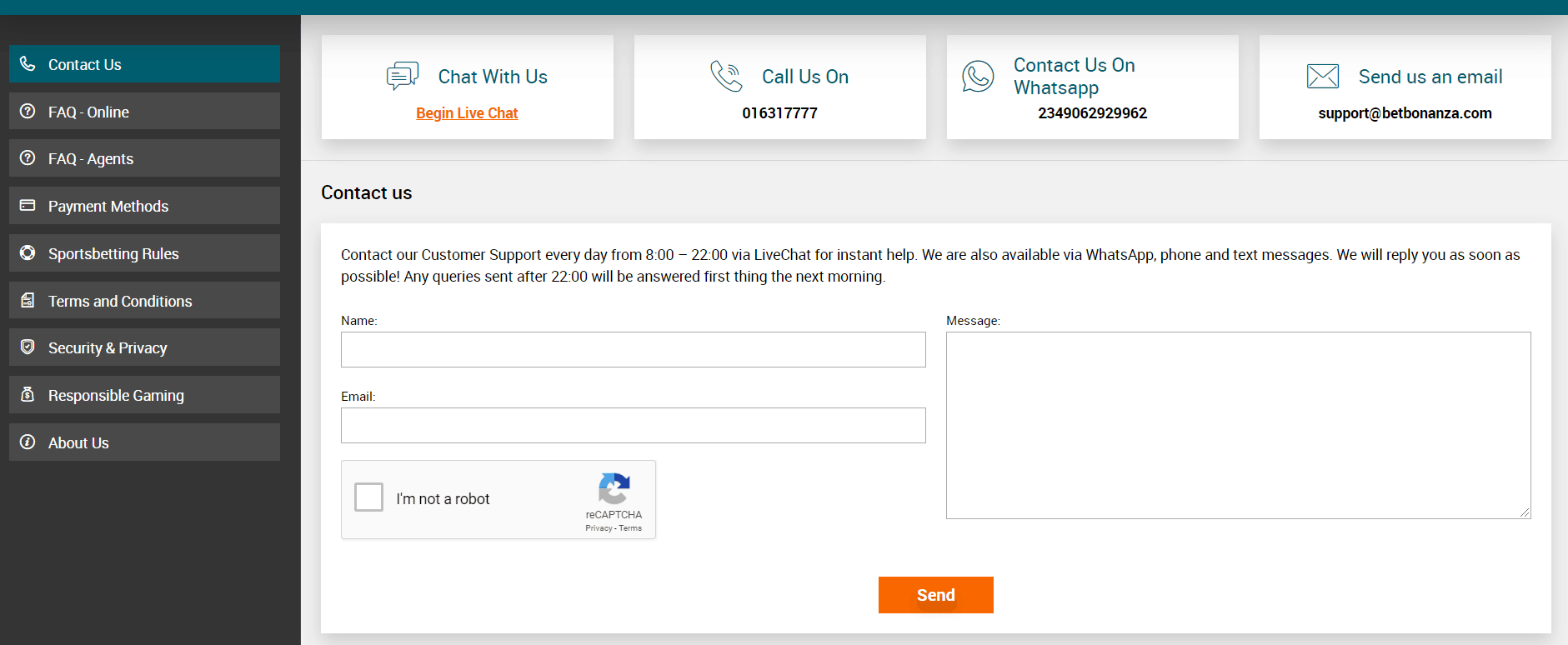 The representative responded within just 1 minute, naturally saying that since English is the national language of Nigeria, services were only available in English, but that we could change the language in our phone settings. Overall the representative was polite but seems to lack some of the knowledge needed as well as a more professional level of English – that being said we still understood everything that was being said which is the most important thing. The site also has a very thorough FAQ's section which addresses the most common queries that players might have.
Design and Usability
---
The BetBonanza interface is uncomplicated, easy on the eyes, and very user friendly, with all information simple to find. Everything is spread out nicely and the site, therefore, does not need to rely on any cheap gimmicks.  If we had to criticise one aspect of it however it would be that it might look a little bit dated. At the time of writing, certain features of the layout look like they could do with a refreshing update– however we also acknowledge that this could be a matter of personal preference. As previously mentioned, being a Nigerian site, BetBonanza's services are only offered in English.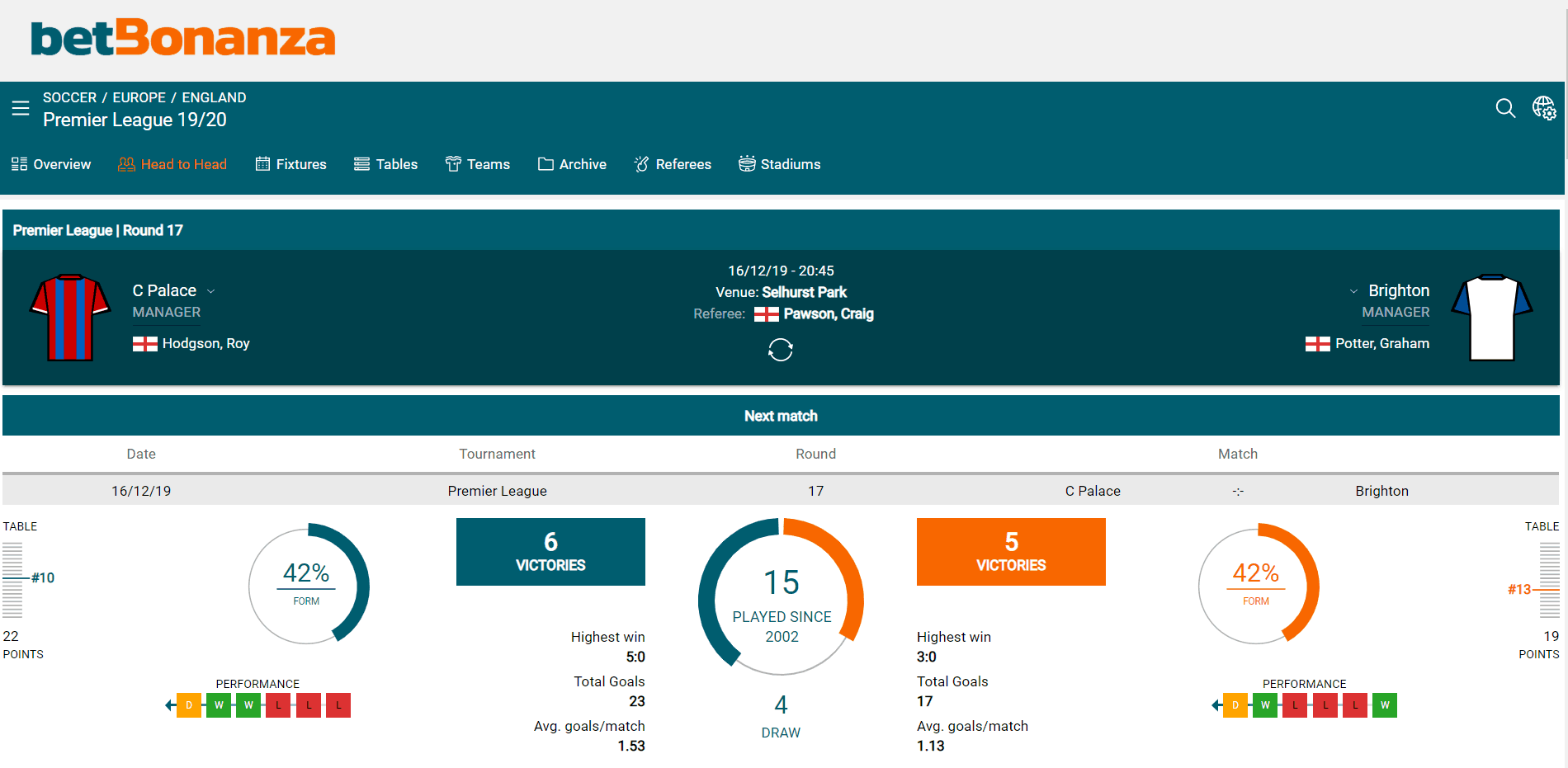 One aspect where BetBonanza really does shine is when it comes to its comprehensive provision of match statistics. Each fixture comes with an extremely detailed section where players can analyse head to head information on previous matches, upcoming fixtures, league tables, team news, and referee and stadium information. Statistics like these are of utmost importance for all bettors to keep informed and make the best possible decision regarding their bet to maximise the chances of winning. Further to this, if you are new to the world of betting, BetBonanza has created a useful blog which provides a good amount of information regarding instructions, tips and tutorials to guide you throughout your betting journey.
Mobile
---
Whilst BetBonanza does not have a dedicated mobile app, its highly optimised mobile version will make you forget you ever needed one. Just like its parent site, this mobile site is sleek, clean and very well organised. Large icons make every feature easily noticeable and accessible, which results in a streamlined mobile betting process. If you are a fan of betting on the go, this mobile site will definitely appeal to you. As far as we can tell, the mobile site does not have any exclusive features and contains everything that can be found on the main site. Live streaming of matches is also not permitted on the mobile version of BetBonanza.
Check our extensive guide to best betting apps in Nigeria here.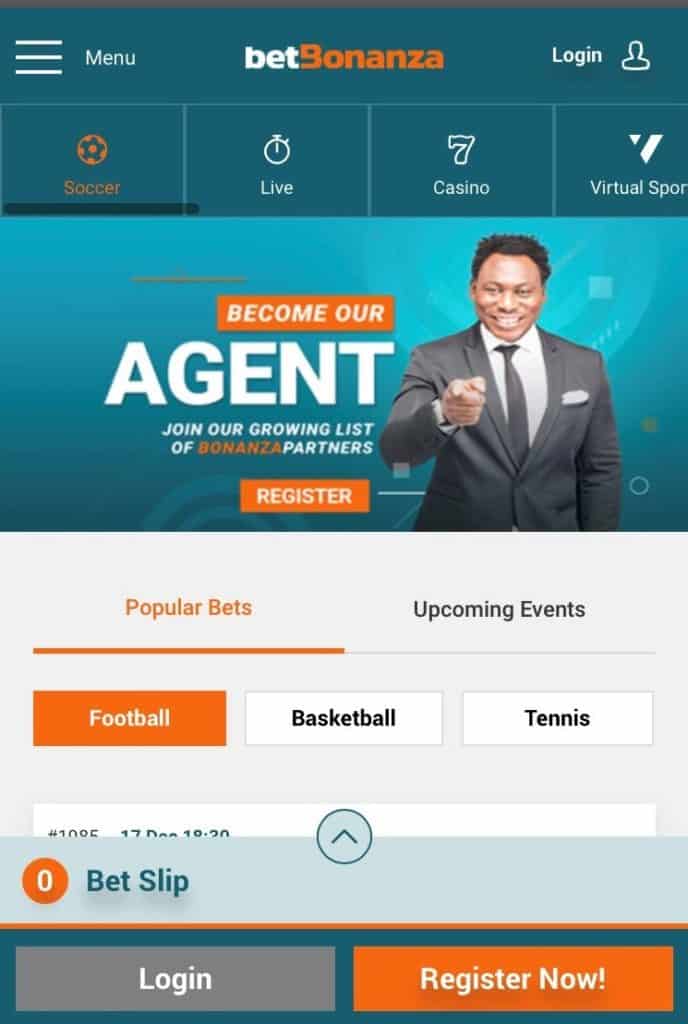 Other products
---
In addition to its sportsbook offerings (and the previously mentioned virtual sports), BetBonanza also provides a strong casino portfolio featuring a range of slots, jackpots, scratch cards, and table games. Strangely, at the time of writing, there were no dedicated promotions or welcome bonuses offered by BetBonanza for casino, apart from an occasional one-day offer that feature in the Xmas Bonanza. This might indicate a greater desire from BetBonanza to focus more on optimising the sportsbook for its players.
Read out article about how to win in the casino here.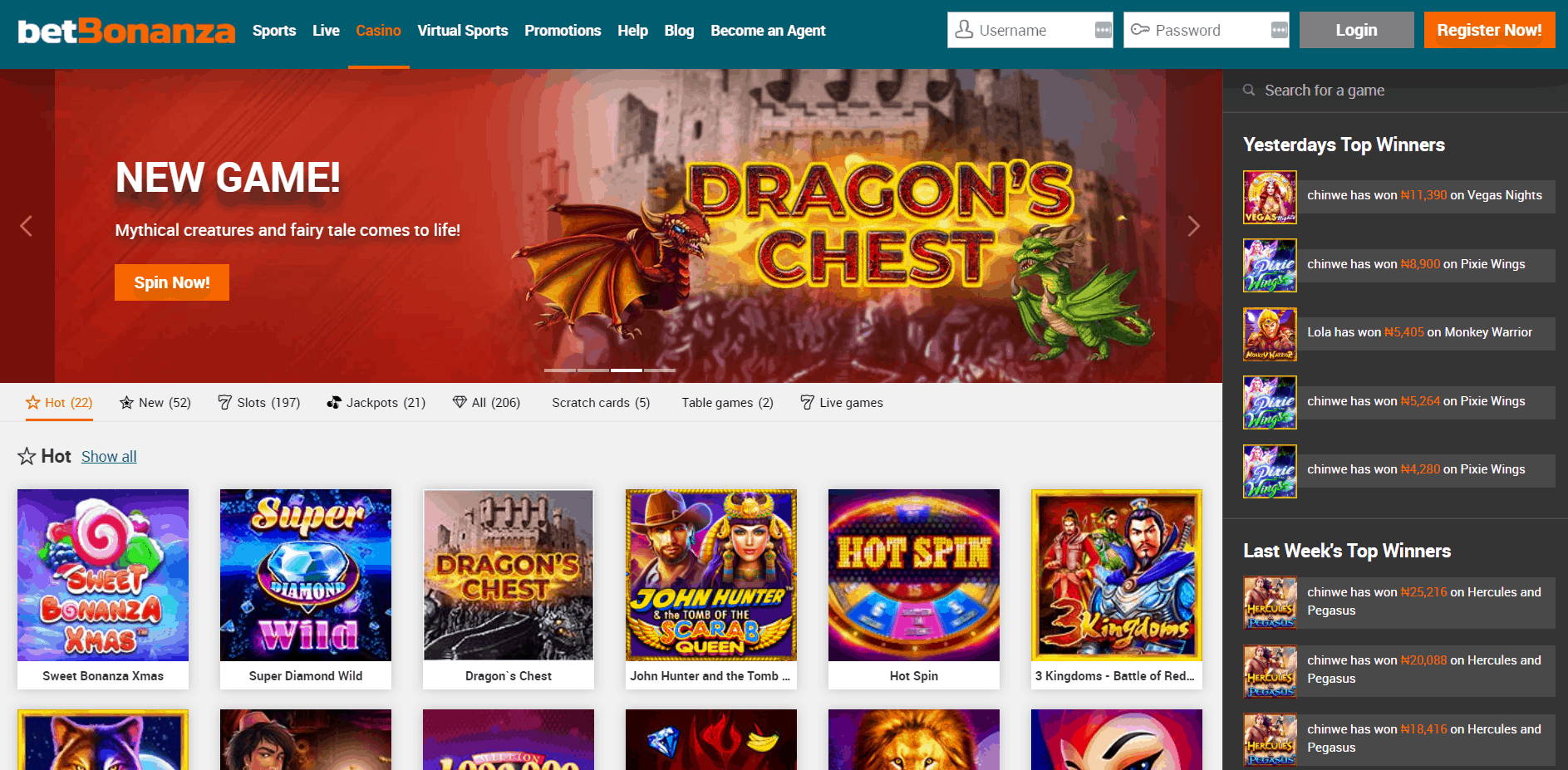 There was however 1 virtual sports promotion called the 'combo boost'. Similar to the sports Yakata bonus mentioned earlier, this accumulator bonus provides increased bonus pay-outs depending on how many selections you add to your bet slip up to 40% and with a minimum of 3 lines. There was no information regarding any minimum and maximum amounts for this bonus.
Summary
---
All in all, BetBonzanza's varied sportsbook offering, high quality odds, impressive mobile site, and impeccable match statistics will provide you a great overall betting experience. That being said, we are a little bit frustrated because even though this bookmaker offers some fantastic features, we have been left wanting much more as we know this site has a lot of potential. Offering live streaming, different type of betting odds, and 24/7 customer service would be a great place to start. BetBonanza is a still a very young site and what they've put out in such a short time should definitely be commended. We strongly believe that as more time passes, this bookmaker will only be getting better and better and should definitely be kept in mind.