The Rugby World Cup is the most prestigious prize in International Rugby Union, one which guarantees drama, passion and plenty of twists and turns each and every year.
You'll find the top teams in Rugby Union from all across the world at their absolute best, all fighting it out for the highest of sporting honours. Only a select few teams have ever won the Rugby World Cup, meaning that being crowned champion here cements that team and those athletes in the record books for all time.
That's why you can expect the competition to be as fierce as ever. Rugby fans all around the world should get ready, because this is going to be one wild ride.
Without further ado let's check out our Rugby Betting Guide!
NG
Rugby Betting
#1

Huge amount of betting markets
Regular free bets
Game specific promotions

#2

Huge variety on this and other international tournaments
Great odds for Rugby World Cup "Name The Finalists"
Choose between several options as top tournament try scorer

#3

Tons of choice for multiples bets
Excellent track record of bonuses
Great odds for Half Time Results
Rugby World Cup Betting Preview
The unpredictability of the Rugby World Cup is one of the reasons it's so exciting but is also why it can be tough to bet on. Every tournament so far has seen surprises, but perhaps we shouldn't consider them that way, as fireworks are bound to fly when the best international Rugby Union teams go to battle for the richest prize in the game.
Another key reason people struggle with betting on the Rugby World Cup is because there's often confusion about the structure of the tournament. Both of these are excellent reasons to make sure you are properly informed in this regard. The best way of making smart bets is through preparation, especially with a tournament as tough to predict as this.
The way the tournament works is simple. The 20 teams are split into four groups of five. Each of the five teams will have four games, one against each other team in that group. They get four points for a win, one point for a draw and none for a loss. They can also receive bonus points. They can receive a bonus point for scoring four tries in a match and for losing by less than seven points.
The top two in points for each group then make it to the knockout rounds, beginning with the quarter-finals. There must be a winner in each of these games. If they cannot be separated in 80 minutes, there will be an extra-time, sudden death and then kicking competition until one finally comes out victorious.  We're already well into the tournament now, with four teams having made it to the prestigious semi-finals round.
With all this in mind, we are going to be breaking down who we consider to be the final four remaining teams as we move towards the end game of the biggest tournament in international Rugby Union.
Popular Rugby Betting Markets
While so much of the attention understandably goes on the odds to win the overall tournament, it is important to know that this is merely the tip of the iceberg when it comes to the betting options.
One of the best things about betting today is there is such a wealth of possibilities. This means you can tweak and tinker with your bets until they are exactly how you want them in terms of the prediction and the level of risk you find most interesting. Here's a look at some of the most popular betting options for the Rugby World Cup aside from Outright Tournament Winner. We'll still be including betting options not relevant for this late stage of the tournament, so you know for future instalment and similar tournaments.
Outright Match Winner
This one is fairly self-explanatory: you are betting on the winner of the matches as opposed to the winner of the tournament. Of course, now those things become one and the same. However, betting on an Outright Match Winner is a great way of keeping your interest throughout the tournament.
Name the Finalists
That's right: if you want to increase your potential winnings and you think you can correctly predict both winners and thus the participants in the final of the World Cup, then this might be the right bet for you. In essence, this is a variation of an accumulator bet, where you are betting your whole stake on the outcome of two predictions instead of one. Of course, this one is void right now, but is an interesting one to keep in mind for the future.
Top Tryscorer
Another interesting bet is Top Tryscorer. This can be for both the tournament as a whole and for individual matches. It is a betting market which really lets you focus on individual players as opposed to entire team results. As always, it's all about variety when it comes to betting markets and this is a perfect way to expand your horizons.

Tryscorer Bets
But that's not the only Tryscorer specific bet you can choose. Other Tryscorer bets include the first or last person to score. In fact, this type of betting is so versatile that you can pretty much bet on anyone at any point. These all have their own charms. For instance, a First Tryscorer bet can get the game off to a thrilling start, whereas a Last Tryscorer bet can keep your interest even if the result of the game is pretty much settled.
Winning Margin
This betting market is about as classic as they come. You can pick a winning margin within point bands. So, for instance, you can pick New Zealand to win by a five-point or 10-point band, with the former naturally yielding higher odds. This is a great way of making a bet more interesting if you are fairly confident of a winner and want to increase your potential winnings. Learn more about this market here.
Total Points
This is very similar to Winning Margin, but you don't have to pick a winner. Instead, you are simply betting on how many points you think will be scored by both teams at the final whistle. The bookmaker will provide a points line and offer different prices on it being over or under that amount. This is a really interesting way to bet because instead of concerning yourself with a winner, as is usually the case, you're instead making a prediction on the type of game it will be.
Special Bets
These are really down to the imagination of the bookmakers. However, it isn't surprising that in a tournament as big as the Rugby World Cup, they would try and get some extra attention by cooking up something special for users.
One great example right now is Betway's "Rugby World Cup, You Lead, You Win" offer, which allows people backing outright winners to still win their bet if they lead by 14 points at any point during the match. This means that even if they go on to lose or draw, you still win the bet.
We would like to reiterate that the amount of betting options for the Rugby World Cup 2019 truly is vast, even at this later stage. That means that the betting options available to you are rarely limited by anything other than a lack of imagination, with some bookmakers even allowing you to suggest your own bets if the wealth of options available still isn't enough.
Rugby Betting Tips
Often people look at betting in the wrong way, especially when it comes to a big tournament like this. With so much passion involved, it can be easy to get carried away and not make the wisest of betting decisions.
Ultimately, a good prediction is one that is made with a cool head. So, with that in mind, we are going to take you through some pieces of advice that will help you make smarter, and hopefully, more successful bets.
1) Don't just bet for what you want
We said that passion can cloud a person's judgement, and this is exactly what we mean. Unfortunately, we can all be biased, especially when it comes to a rugby team that we love. So, we want you to do your absolute best to put your emotions aside when analysing the most likely outcome of a game and/or tournament.
Of course, if you just want to make a possible victory that much sweeter, then that is entirely fair enough. However, if what you are looking for is a success, then that might not be the right path. Try as much as you can to look at these games from a neutral standpoint, and you'll likely come to more reliable conclusions.
2) Get to know all the teams, but bet on what you know the best
This is a little bit different to the advice often given to people when it comes to betting on large tournaments. They will generally tell them to focus on what they know and the reason for this is because it's pretty unreasonable to expect someone to have an encyclopaedic knowledge of, for instance, every team in the Super League.
However, with not that many teams playing in a league or a tournament we think that the scope of knowledge is small enough for you to get a reasonable grasp of each of the potential champions. Getting to know each is especially useful if you are focusing on more than just one match. With that said though, it is likely that even with that recommended research, you will still know more about some teams, or one team, than others. So, use this extra information to help with your predictions, but still stick to what you know best for the best chance of results.

3) Look beyond Outright Winners
We understand that for many people betting on a team to win a game, or indeed a tournament is what they find most straightforward and enjoyable. However, in doing so, they are missing out on a whole host of other options: many of which may offer better value odds than a simple Outright Winners bet. We're not even saying that you have to go with one of the many alternatives available to you if you decide that they just aren't the right fit. But check out the options available to you before making a decision in order to avoid missing out on a bet that could be perfect for you.
4) Check out the stats
The best way of making an informed bet is to check out the stats and use them to craft as informed an opinion as you possibly can. It might not be what you want to hear, but a little bit of studying really is what separates good bets from bad bets.
Go through everything you feel you can absorb, from results from score lines to try scorers, to kick goals, injuries and past results between those two teams. Anything that improves your understanding and gives you a better overview of how they are likely to interact and how their styles are likely to mesh will improve your ability to bet intelligently. A good place to start is www.rugbyworldcup.com/stats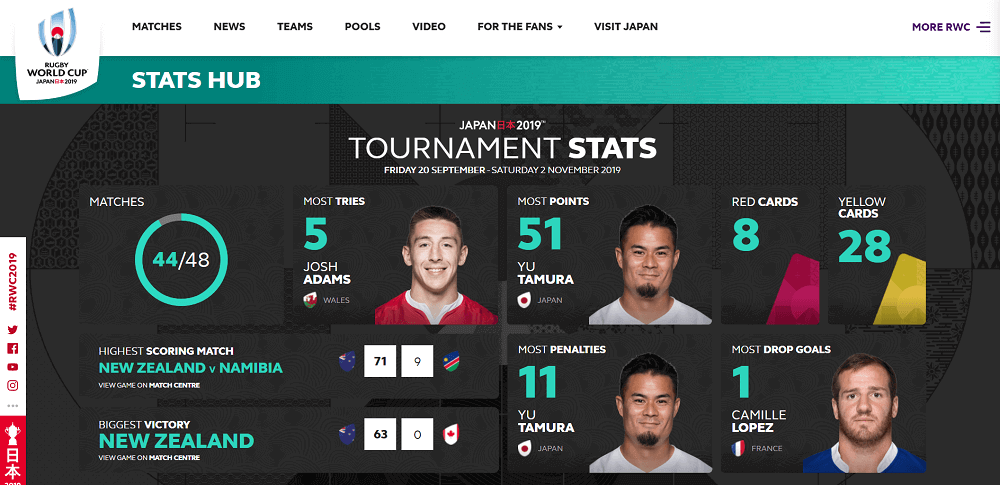 5) Check out the games
Just as important as getting an overview via the stats is to get the details, and you can only really do this one way in our opinion. And that is by watching the games themselves. This is partly why we say you should bet on what you know best because it is far more likely that you will have already watched, for instance, the quarter-final including the team you want to bet on. Therefore, you won't have to make any extra effort to do so.
It's this mix between the more general understanding of tactics you get from the statistics and the in-depth look on how these things operate in practice from watching the games that really bring together your predictions as something much more credible than a shot in the dark.
Recent Rugby World Cup Winners and Runner-ups
We've talked at length about the importance of understanding the past when it comes to betting smart. Understanding how the tournament has gone so far, how these teams may have faced off in the past and so forth are all vital things to know to make an informed prediction. But it's also a good idea to widen your scope a little further and look at the past winners of the more recent iterations of the tournament, especially when one is a defending champion.
With that in mind, we are going to be taking a look at the last three world cup winners and the runners up in order to learn a little bit more about both the games you can bet on as well as the tournament as a whole.
World Cup 2007
Winners: South Africa
Runners Up: England
It's clear that while Rugby Union does change quickly, the quality of certain teams has been undimmed by the last decade-plus in the sport. Both South Africa and England are in the semi-finals this year, and it is certainly a starch reminder that South Africa – a side that are foolishly overlooked by some in these fixtures – are and have been a top-tier side for a very, very long time.
In fact, they bested England in both the group stages and the finals. New Zealand, by the way, didn't make it beyond the Quarter Finals, while Wales have shown the most improvement since this tournament, as here they failed to make it past Pool B.
World Cup 2011
Winners: New Zealand
Runners Up: France
This is where New Zealand's most recent run of dominance began. They tore apart the competition in Group Stages, battered Argentina and Australia on route to the final and then gasped past France by a single point in a classic final. This was also an excellent tournament for Wales, who almost bested France to make it to that showdown in Auckland. Both South Africa and England dropped out at the quarter-finals.
World Cup 2015
Winners: New Zealand
Runners Up: Australia
The drama of this tournament between these four started early as England were denied their place in the knockout stages directly as result of a loss to Wales in Pool A. This is a huge reminder of why we think Wales are so underrated in this contest.
Elsewhere, South Africa and New Zealand dominated their groups, and they met in the semi-finals after South Africa knocked out Wales in a tense quarter-finals clash. Of course, we know how the semi-finals went, as New Zealand went on to win the tournament for the second time. It is worth noting though that their game against South Africa was actually a much tougher test than their final in London against Australia.
Overall, we think what we have learned from examining these past tournaments – and we really think this exercise is a great example of why you should take researching the statistics so seriously – is that the final four teams of this tournament have been at the pinnacle of international Rugby Union for a long time, so this final, and a result either way, shouldn't come as too much of a surprise to anyone.
As we can see, these are all world-class sides, all of whom have the ability to best one another on the right night. How that feeds into your predictions is down to your interpretation, but what it says to us is the importance of cool-headed facts over media narratives to best understand upcoming games.
World Cup 2019
Winners: South Africa
Runners Up: England
If nothing else the most recent Rugby World Cup was a reminder never to assume anything in this tournament. Most had New Zealand as favourites and were shocked to see them get knocked out after a dominating performance by England. Admittedly it took arguably the finest England performance of a generation to do it, but few saw it coming.
And not only that, England didn't even go on to win it! Instead the ever-resilient South Africa showed why their quality should never be underestimated in a shockingly one-sided finale. Elsewhere Wales showed why they remain arguably the finest team to have never won the tournament, and Australia failed to capitalise on high expectations.
| | | | |
| --- | --- | --- | --- |
| Year | Winners | Runners Ups | Score |
| 2019 | South Africa | England | 32-12 |
| 2015 | New Zealand | Australia | 34-17 |
| 2011 | New Zealand | France | 8-7 |
| 2007 | South Africa | England | 15-6 |
| 2003 | England | Australia | 20-17 |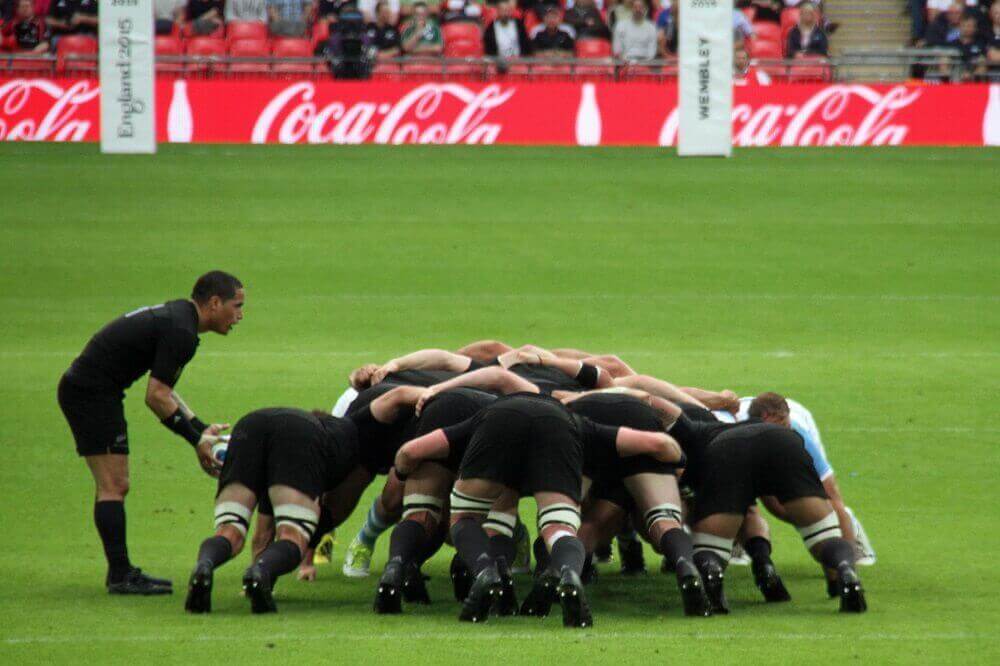 Rugby history in a nutshell
The first Rugby World Cup tournament began in 1987, and if that seems like a long time ago – seeing as though we are only on the 9th edition – remember that there are a full four years between each iteration. The winners were awarded the Webb Ellis Cup, as is still the case today. The Webb Ellis Cup is named after William Webb Ellis, who it is claimed to have invented the sport after picking up the ball during a game of football at Rugby School in 1845.
The game had a long way to travel from this point to that first tournament. For example, there were initially 20 players, with a different point scoring system and some different rules. In fact, disagreements on how the game should be played helped lead to the split of the sport into two factions in 1895. This paved the way for what we now know as Rugby Union and Rugby League.
It wasn't until 1995 that Rugby Union fully turned professional and made the split that began a century ago official. But even before that, at that first World Cup eight years prior, the rules of Rugby had already changed dramatically from its initial inception.
It was hosted by both New Zealand and Australia: two teams that have had a huge impact upon its history. New Zealand are not only the most recent holders of the title and the most prolific, but they were also the first winners of the tournament, besting France to hold the gold.
The other winners so far include Australia, who won the very next year; South Africa, who won in both 1995 and, as we mentioned, in 2007; and England as sole time winners from 2003. As you can probably tell from this list, it remains a very exclusive club and one dominated by a select few teams. This also means that Wales are the only team in these semi-finals who have yet to win the tournament.
Before the Rugby World Cup, there was no global Rugby Union competition, although the Six Nations Championship, first held in 1883, is probably the first example of something similar. Other international games took place during the Summer Olympic Games. The first such example was the 1900 Paris games.
Another international Rugby Union tournament held today is the Champions Cup, also known as the European Rugby Champions Cup. It is though, as its name suggests, only held between teams from that continent. Super Rugby also involves teams from throughout the world, including Australia, New Zealand, South Africa and Japan. And it's worth mentioning that the New Zealand teams are also the dominant force here.
Rugby League also has its own international tournaments, such as the Challenge Cup, Rugby League Four Nations and, of course, the Rugby League World Cup.
The history of Rugby is vast and ever-changing, and this tournament represents one more thrilling chapter of this sport's mighty legacy.