Registration process
---
Only three small pages to fill out

No need for banking information at this stage

Choose how the bookmaker can contact you
Before we settle into our review properly, we would like to point out that we will be focusing on the South African version of this site. This means that if you are from elsewhere then the details shown here may differ slightly. With that said let's dive into everything Sportingbet.
After over 20 years in the business you'd certainly imagine Sportingbet to have mastered the fine art of the registration form, and you'd be absolutely right. Nonetheless we know that, especially for new online bettors, this process may seem initially daunting. With that in mind we're going to be taking a look through the registration process step by step so you know exactly what you can expect should you decide Sportingbet is right for you.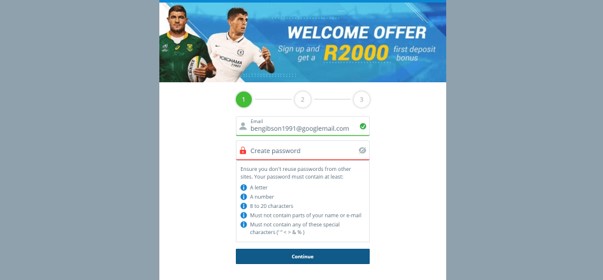 Start by using a valid e-mail, one you have access to and by creating a strong password. Your password will need to contain at least a letter, number, 6 to 20 characters and must not contain parts of your name, e-mail or special characters.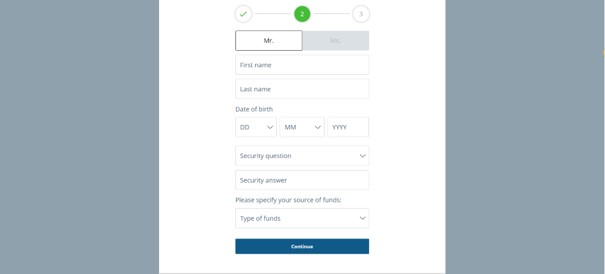 Step two has you enter your full name, date of birth and a security question and answer. You will of course need to be above the legal gambling age for your country of residence and make sure you select your security information wisely because it may be a lifesaver if you are unlucky enough to get locked out of your account. Finally, you have to select your source of funds from a drop list before moving onto the final page.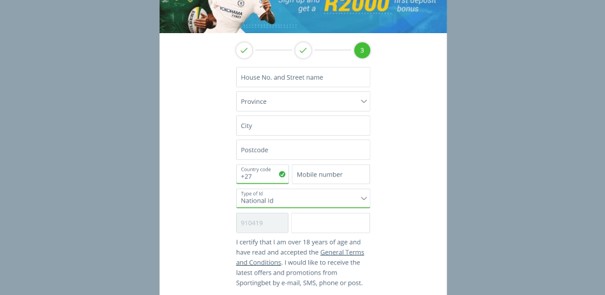 The final step, yes, we are here already, sees you enter your address, mobile number, identification and accept the terms and conditions. And that is pretty much all there is to it.
There's not much to fault here. Some people prefer to add their banking details at this stage, but considering that can be done so easily following registration, and their welcome bonus is one which doesn't require bank details, this makes a lot of sense. It's simple but it gets the job done.
Deposits and withdrawals options
---
Huge selection of banking options

Ability to see progress of withdrawals

Only cryptocurrencies are truly notable by their absence
As soon as you have completed your registration form you will be given the option to sort out your banking information, however, if you don't want to at this time you can easily leave this screen and go check out the site before making any further commitments.
The first thing you will notice though is that before you get onto banking methods, you are asked if you want to set deposit limits. Putting responsible gaming at the forefront like this is something that we appreciate and shows that Sportingbet are taking that side of things seriously.
Another side point before we start talking about the banking methods properly is that Sportingbet don't just deserve credit for how easy they have made depositing funds, but also the explanation of all the different payment options in their terms and conditions is among the most comprehensive we have come across.
Having said that, the following banking options were available at the time of writing for South African players: Ozow, ecoPayz, Fast Bank Transfer, Mastercard, Neteller, Skrill and Visa.
Ozow is only a deposit option, but with no charges and instant transfers, and you'll need to be part of ABSA, Capitec, FNB, Investec, Nedbank or Standard bank to make use of its services.
EcoPayz allows you to both withdraw and deposit funds. In terms of charges, there are none from Sportingbet, but may be some from ecoPayz itself. To withdraw using this method, you must have made a successful deposit in your ecoPayz account within the last six months. Funds will be credited to your account after 24 hours of approval.
Fast Bank transfer can be used for both deposits and withdrawals, but it will take 1-4 business days for the money to be credited to your account using this method. It will take 2-4 business days to receive money withdrawn using this method.
Mastercard is available to deposit for South African players using Sportingbet but is only available for withdrawal for customers in Ireland, Romania and the UK. Transfers only take two minutes and there are no fees unless administered by the credit card company. All processing should take around 24 hours after approved by the internal review team.
You can deposit and withdraw funds using NETELLER, who set their own fees, once again, none are administered by Sportingbet.
Skrill can be used to deposit funds and can be withdrawn 24 hours after they are approved by the internal review team and there are no transaction fees.
Finally, there are VISA deposits, these can be deposited with no fees within a couple of minutes and withdrawn for South African players, although there are restrictions for players from other countries.
This is of course just an overview and there's a huge amount more information in the terms and conditions for you to check out if you want any additional information. We do however think this could be laid out to be easier to understand. A massive amount of additional payment methods is also available for players all across the world.
Speaking more internationally, it's a huge selection, one which really represents the worldwide appeal of SportingBet, with the only real notable absence being cryptocurrencies.
Beyond that, this is a fairly comprehensive list with plenty to offer a wide variety of users. You can even check the status of your withdrawal as part of your transaction history.
Also, when you need to confirm your identification all you need to do is scan a photograph of your passport, national ID or driving license.
The main criticisms here are that we can't say they will quite appeal to everyone due to a lack of cryptocurrencies and a simple table to understand the key information would be helpful.
Beyond that, the selection here is varied and should appeal to a wide variety of users. The attention to detail is also something they deserve praise for. Consider for instance, how they place the live chat at the bottom of the banking page so you always know where to find help as one example. Not quite perfect, but close.
Check our extensive guide to payment options in Nigeria here. 
Welcome Bonus
---
100% bonus up to R2000

3X wagering requirement

Minimum odds of 1.5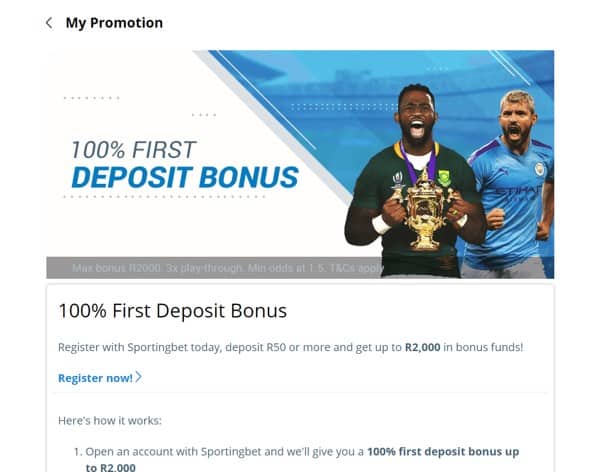 Introduction to bookie welcome offer
If there's one way to show that Sportingbet is very serious indeed about appealing to a mass audience, it's with a generous welcome offer. This promotion provides you with a 100% First Deposit Bonus up to R2000. Of course, when it comes to promotions, the devil is in the details, or in this case, the terms and conditions. On a side note, do keep in mind before we start to go into detail that bonuses and terms and conditions are subject to change meaning you should always check them out for yourself before committing.
Sportsbook Bonus Description
We'll start with how you receive the welcome offer. Simply sign up, open an account and make your first deposit. This deposit will be equalled to a maximum of R2000, with a minimum of R50. A couple of important notes: this first deposit must be made within 30 days following registration and Skrill and Neteller do not count towards this promotion.
Although this may be a disappointment for some the fact that the wagering requirement is only 3 times will make up for that for many more users. Minimum odds are also a reasonable 1.5. Bonus funds are also available for 30 days but considering the reasonable wagering requirement that seems pretty fair too. All in all, a very generous start to your journey with Sportingbet.
Sportsbook promotions
---
Current ongoing promotions provide free bets for losing accumulators

Available on both Football and Tennis

Event-specific promotions are also very common
And the welcome bonus is far from where the generosity ends with Sportingbet as they have plenty of other promotions to keep you coming back for more.
One thing that we feel is important to point out is that Sportingbet are constantly updating their bonus page, more than most we would say.
In fact, there were two time-sensitive, in other words, based on specific upcoming sporting events, bonuses available at the time of writing which we won't mention because there's a very good chance they will have passed by the time you are reading this.
But we just want to point out that there's more to look forward to than can be found here. With that in mind here are some of the promotions at Sportingbet right now.
Football Multi Special: This is an accumulator bonus which gives you cashback if you lose by a single selection. Minimum selections to qualify is five, and stakes to be refunded via a free bet. This means there's a solid chance that you can get a second chance at a losing bet, with no clear downside. The key condition here is that the odds of each selection must be greater than 1.5.
Check our extensive guide to Accumulator Betting and Promotions here. 
Tennis Multiple Refund: The rules of this are the same as our previous promotion except this time we're talking about accumulators for Tennis match winners rather than Football. Another key difference is the minimum odds are lower this time, down to 1.25.
A couple of great bonuses there but like we said there's much more to enjoy as many of the promotions are event specific. The only thing we'd say is missing is the lack of a loyalty scheme. Other than that, the promotions we've seen are pretty excellent.
Pre-match Offer
---
Fantastic selection of sports both mainstream and left field

Excellent E-Sports options

Surprising selection of specials

Odds format: fractions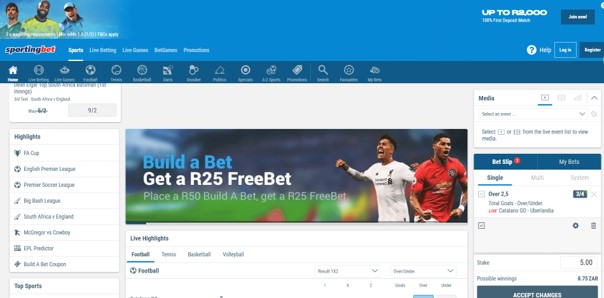 Sports
It shouldn't be much of a surprise that the key selling point for Sportingbet is, well, sports. And they have plenty of them.
At first glance it may seem that Sportingbet doesn't go too left field with its options, instead focusing on the likes of Football, Tennis, and Basketball, covering major sports extensively. And this is true, plus a lot of people would be perfectly happy if this were the extent of their reach. After all, for many, being able to bet on the La Liga to the Premier League is all they are after.
See the list of most popular betting terms and markets here. 
However, this is before you dive into Sportingbet's A-Z of sports which is on a whole different level. Alongside all those hugely popular picks there are options like Handball, Darts, Politics, Virtual Sports, Entertainment and other Specials. It's a massive amount of options for South African players, and it only looks set to expand.
We have an extensive article about Virtual Sports here.
And that's not the only area where Sportingbet excels, not only is the number of sports huge, so is the number of markets on major games. We found over 70 markets available on a random game we looked at between Manchester United and Wolves, and that's just one example.
In terms of odds quality, we're going to use the overround to examine the quality of their odds using this very game.
The overround is the margin above 100% when you convert odds to percentages. The closer the percentage to 100, the better. The amount above that is essentially how bookmakers stay in profit, and less than 110% is generally viewed as good.  The odds available on this game were 91/100 for United to Win, 12/5 for a Draw and 13/4 for Wolves. That translated to 52.4%, 29.4% and 23.5%. This comes out to 108.9%, all in all, we'd consider the number of options and the quality they represent to be excellent.
eSports
Speaking of left-field options there's also Esports, which in our opinion aren't always covered as well as they should be in South African markets. There were 47 events to bet on when we checked, focusing on CS: GO, COD and League of Legends.
The markets are currently limited to who will win but that is pretty much expected from most bookmakers. In that regard, we could say they meet but don't exceed expectations. When we look at odds do keep in mind that Esports odds are generally higher than typical sports.
With that in mind odds for a game between Chicago Huntsmen and Dallas Empire on the Call of Duty league gave us 6/5 and 3/5 odds respectively. These come out at 45.5% and 62.5%, giving us a respectable total of 108%, which to our surprise, is lower than the sports example!
Read our guide to Esports Betting here.
Other Specials
We spoke of specials and we're certain you're dying of curiosity as to what exactly these referred to. Well, do keep in mind that the number of events in this regard varies hugely and many of these markets will have likely passed at the time of you reading this.
Nonetheless, as an example of the type of thing you can expect at the time of writing we had markets on the BAFTA's, the Sanremo Festival, the next Irish general election and even who will replace Pope Francis. Honestly, we were blown away by the variety here. When it comes to specials, Sportingbet can stand with the very best.
Cashout & Bet Builder
Both Cashouts and Bet Builder are available on Sportingbet, with the latter, as is common, being restricted to soccer matches.
The specifics of when Cashouts is available is at the bookmaker's discretion but we found it to be widely available. Both of them worked perfectly during our usage, allowing us to craft custom bets and accumulators alongside taking money out early during live betting, speaking of which…
Check our extensive guide to Cash Out betting here.
Live Offer
---
Live streaming available on some events

Many others covered by updating graphics

Live offer, in general, is hugely extensive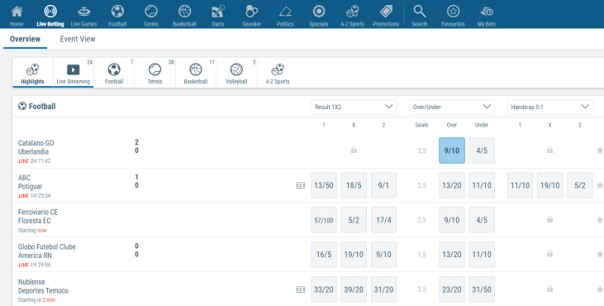 We've had plenty positive to say about Sportingbet's pre-match offer and we are happy to say that we have been no less impressed by the live options either.
It's not just impressive that the live offer can stand up to the pre-match variety but what really blows us away is how seamlessly the site makes this experience. Live betting is all about thinking fast and a hard to use or slow to update site can have a hugely detrimental effect. There's no need to be concerned here as Sportingbet provides one of the finest live experiences South Africa has to offer.
Not only that but live streaming is even available on selected events, and for those which can't get a direct feed, this is often due to logistical and licensing issues, are lovingly followed by an updating on-screen graphics. This is just one more example of how Sportingbet go the extra mile.
Read our extensive guide to Live Betting here. 
We have also a list of best betting sites with Live Streaming here. 
Security
---
Licensed by Western Cape Gambling &amp

Racing Board among others

Encrypted to keep data safe

Encrypted to keep data safe

We already talked about how impressed we were by Sportingbet providing deposit limits the moment we registered, well, that's just the tip of the iceberg. They have an entire policy section which also provides advice alongside a self-exclusion option. There's even a phone line for those who wish to seek help.
Of course, security goes far beyond responsible gaming, you also need to know that the site is legitimate and your data is safe. While we doubt there are many who think that Sportingbet is illegitimate, it is worth noting that they are licensed for South African players by the Western Cape Gambling and Racing board. They also have several other licenses from the likes of the UK Gambling Commission for instance, for players from elsewhere.
Encryption is also utilised to keep your data safe and their privacy policy and use of information are strictly laid out.
Service and customer support
---
Extensive help section means that often no contact is needed

But customer service is contactable via e-mail, live chat and in some areas phone

Coverage for South African users runs between 9 am and 9 pm
One side effect of the terms and conditions section being so comprehensive is that you may find that you don't need to contact customer service very often.
However, if you do they can be found, although one small criticism we have to point out is you need to seek out the contact section, which should be easier to find. This is a bit ironic considering that we praised the site for making the live chat so easy to find during that initial deposit.
That aside you can contact the site via live chat, e-mail or in some countries, phone. For South African users the live chat hours available are between 9 am and 9 pm. Reasonable opening hours then, if not quite as good as round the clock coverage.
The customer support staff also live up to the high standards set by the help section with fast and friendly advice. Although not quite perfect, they still do enough in this department to get our recommendation.
Design and Usability
---
Classic if unoriginal aesthetic

Brilliant layout and usability

Makes the site's many features a joy to use

While in terms of aesthetic we doubt that Sportingbet is going to be a world-changer, it is fairly easy on the eye, if a touch old fashioned in places. What really matters though is how brilliant this site is on a practical level. With the odd exception, like getting to the contact options, everything is meticulously laid out making for an easy and smooth online experience.
This is especially important when it comes to balancing the sheer amount of content available at Sportingbet. Providing all this while keeping the experience accessible is no small task, and they've pulled it off here.
Mobile
---
Optimised browsers help craft a better handheld experience

Web Design is perfect for the small screen

No app available at the time of writing
There's no app for mobile with Sportingbet, which may disappoint some, but they've managed to come to a good compromise with the help of optimised browsers. Yes, you may have to make a couple of extra clicks to get onto Sportingbet, which means we can't give it a perfect score, but the mobile experience itself is a very good one.
That simple design we talked about also pays dividends here, and all of your additional features are present and just as easy to use. We wouldn't say that the mobile experience offers anything new, but it does offer a great small-screen version of the Sportingbet experience.
Other Products
---

A quick note before we discuss the other products Sportingbet has to offer: while we have focused this review on the experience for South African players they do not have access to Sportingbet's Casino.
However, because we know there will be readers that will have access to the casino, we thought it was worth discussing regardless. If you are a South African reader, feel free to skip forward to the summary.
The casino at Sportingbet is no mere afterthought and although we would probably say on balance the sportsbook is objectively more impressive this side of the site nonetheless comes very close to matching its level of quality.
Read out article about how to win in the casino here. 
The simple design of Sportingbet works beautifully here and also translates to mobile about as well as any casino we've seen.
There's a huge amount of games to choose from with software developers like NetEnt showcasing their skills across dozens and dozens of options.
Perhaps even more impressive is their monstrously huge live casino which features a massive selection of games by Evolution gaming for players all across the world.
Their commitment to an international audience perhaps has no better example than the number of Roulette tables aimed at players from different parts of the world.
Just like the sportsbook the promotions are also generally event-specific, meaning you can look forward to new and exciting bonuses being added regularly. An excellent addition, and allows Sportingbet to appeal to an even wider audience.
Summary
---
Sportingbet is rather old fashioned in the sense that it is more focused on getting the fundamentals right than looking impressive. That's not to say it looks bad, but that first impression might not be as striking as some of its competitors. That said, we recommend that you look a little deeper because beneath what seems like a fairly standard, conservatively designed site in many ways, is an enormous level of quality and variety.
We're not just talking about the number of sports here, which is ample, but the markets available for those sports, the excellent promotions, the top class customer service and help section. Even the design, which may not be to everybody's tastes, actually turns out to be something to be celebrated as well. Because instead of needless gimmicks of fancy graphics, what you have is a site that from top to bottom is crafted to create the best user experience possible. If what you're interested in is substance, that there's few better than Sportingbet.