Opay is a mobile-based platform powered by Opera, which focuses on quick payments and serves as a great alternative to traditional funding methods such as bank deposits or visits to gambling shops. One reason why Opay is becoming increasingly popular among bettors is the fact that the platform charges zero fees for deposits made into bet accounts. Chip in the regular bonuses, and discounts enjoyed by users, and Opay becomes a platform you should really try out.
This article features a step-by-step guide on how to set up an Opay account, and subsequently fund your bet account as well as the various benefits you stand to gain by transacting with Opay.
NG
Top Opay Betting Sites in Nigeria
#1

Min. Deposit ₦100 - Max. Deposit ₦100,000
Instant Deposit
No Fees

#2

Min. Deposit ₦100 - Max. Deposit ₦500,000
Instant Deposit
No Fees

#3

Min. Deposit ₦100 - Max. Deposit ₦1,000,000
Instant Deposit
No Fees

#4

Min. Deposit ₦100 - Max. Deposit ₦250,000
Instant Deposit
No Fees
Step-by-Step Guide on How to Deposit with Opay
Depositing cash in your bet account via Opay is easy and fast, and is done with little or no hassle. Follow the steps listed below to fund your bet account via the Opay app.
Step 1: Download the Opay App
If you do not already have the Opay app installed on your mobile device, the first thing to do is to visit your phone's app store to download and set up the application. The Opay app is available on the App Store for iOS users, and the Play Store for those using an Android device.
The app size is minimal, and there are no special processes involved in getting it up and running on your phone.
Step 2: Setup an Opay Account
Once you have the app installed on your phone, the next thing to do is register as a user with Opay. Immediately you launch the app for the first time, you are directed to a registration page where you are required to enter a valid email, phone number, and personal details. You will also have to verify the phone number, and email address; hence, make sure they are accessible.
Step 3: Funding Your Opay Wallet
After successfully completing registration, you will need to fund your Opay account to gain access to the features available on the app. There are several ways you can fund your Opay account, and these include:
Using an ATM card

Bank transfer

Direct cash deposit

Transfer from another Opay user
Funding with an ATM card
Using a credit or debit card is the easiest, and most stress-free method of topping up your Opay balance. To fund your Opay account using your ATM card:
Click on the balance shown on the home page of the app, and then select the 'Add money' option.

Doing the above takes you to a page where you have to choose a payment method. Click on 'add new payment options', and then select credit/debit card.

Enter your card number, it's expiry date, and the CVV located at the back of the card, in the spaces provided for them.

Also, enter the amount you wish to deposit and click on submit.

An OTP will be sent to the phone number, and email address associated with your bank account, so make sure you have access to them.

Enter the OTP sent to your phone to authorise the transaction, and your Opay account will be credited instantly.
Funding via bank transfer
Another method of funding an Opay account is through bank transfer to your wallet. To do this, you'll need to have your bank's mobile app installed on your phone, and be registered for internet banking.
Log into your bank's mobile app, and select funds transfer or send money.

You'll then be asked to choose a bank to send money to, pick 'mobile money' or 'other banks' as the case may be.

Choose 'Paycom' as the bank you're transferring money to, and enter the phone number associated with your Opay account.

Enter the amount you wish to transfer, and authorise the transaction with your bank account pin.
Direct cash deposit into your account via an Opay agent
To make transactions easier and faster, Opay has agents situated around the country, with over 250,000 operating at different locations in Nigeria. To fund your wallet through an Opay agent, simply walk up to the agent near you and request to deposit cash into your account. You hand over the cash to the agent, and they will credit your account – it's that simple.
Transfer from another Opay user
You can also top up your Opay account by asking a friend that uses the app, and has sufficient balance to transfer some money to your account. This method is easy, carries zero charges, and is completed in a matter of seconds.
Step 4: Deposit Money to a Betting Site with Opay
Once you have funded your Opay wallet, depositing money in your bet account becomes all too easy. Opay provides support for several bet sites which include Bet9ja, Nairabet, Betway and Naijabet, among others.
You can either pay from your main balance or using cash from OWealth (this is a feature of the Opay app for savings and investments).'
How to top up your betting site account with Opay
Below you will find a step-by step instruction how to do it on Bet9ja, 1xbet and Betway betting sites.
How to fund your Bet9ja account
You can fund your Bet9ja account via the website or using the Opay app.
From the website, go to the payment option section, where you will see Opay among the listed deposit options.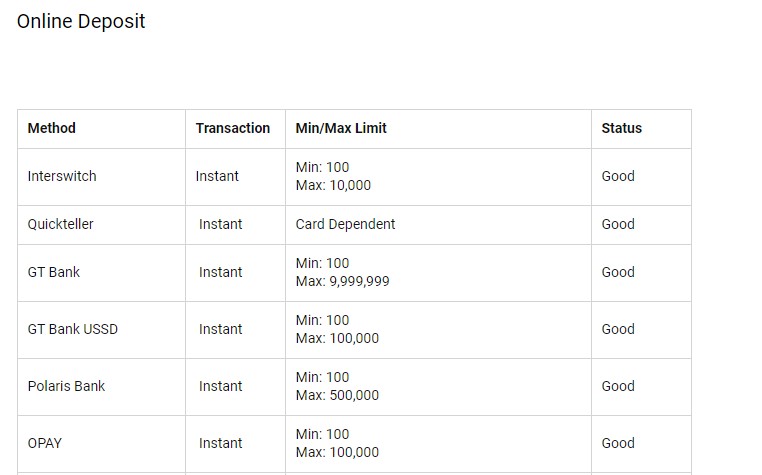 Click on the option and proceed to enter your Opay account details and the amount you wish to deposit.
Your amount will reflect immediately.
When using the app on your Opay account homepage, click the 'services' option, and among the services options available click on Bet9ja.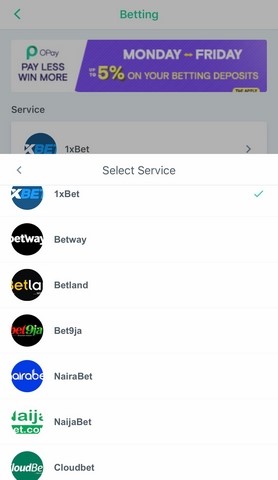 Then proceed to enter your Be9ja account details and the amount you wish to fund.
Read Bet9ja's Zoom Soccer review with tips how to win here.
How to fund your 1XBet account
Although Opay is not listed among the deposit methods on the website, you can still fund your 1XBet account using the Opay app.
From the screenshot above, it is among the listed betting sites and you can fund your betting account from ₦100, up to a maximum of ₦500,000.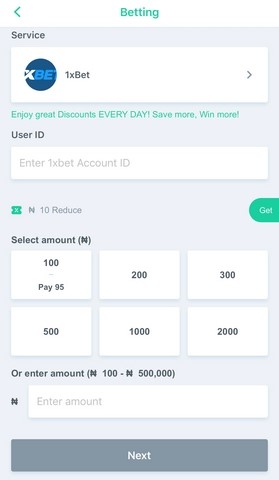 How to fund your Betway account
Similar to IXBet, with Betway, you can only fund through the Opay app where it allows you to fund your betting account from a minimum of ₦100, up to ₦1000, 000.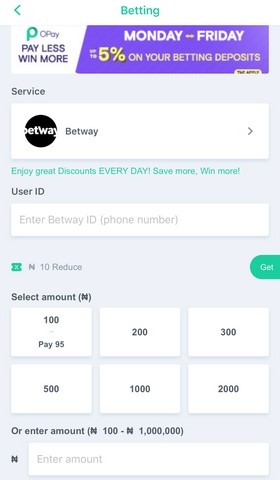 Kindly note that Opay Payment method is also available at Betland betting site, which we reviewed here. 
Advantages and Disadvantages of Funding a Bet Account with Opay
There is no doubt that Opay is an excellent platform which makes financial transactions such as funding your bet accounts so much easier, and faster. Some of the benefits you stand to derive using this app include:
Pros
Fast and seamless transactions

Transactions carried out on the app are very fast, and will reflect on your account balance within seconds. Also, you don't have to visit bet shops to fund your account as you can easily do that from the comfort of your home.

Easy-to-use app

The Opay app interface is simple, with a classic design that is easy on the eyes. There are no special instructions required to operate the app, and you can understand how to use it just by looking around. Furthermore, there are several notes, and tips scattered around the app to guide users.

Zero charges

One other reason the Opay platform stands out is that you can fund your bet account without incurring extra charges. This comes in particularly handy when one is cash-strapped or operating on a budget. Sometimes, you can even get cashback on your deposits!

Lots of freebies and promos

One reason Opay is widely loved among Nigerians is because of the amount of freebies and promotional offers available to customers. These offers range from cash gifts to vouchers, massive discounts on services, and cashback on purchases or deposits.
Cons
Some glitches when using the app

As good as the Opay platform is, there are times you might encounter some glitches, and bugs while using the app, and this can prove to be quite frustrating, especially if you need to play a game immediately. This takes nothing away from Opay though, and it remains an excellent financial service provider.

Not supported by most betting sites as a withdrawal option

Although you can fund your betting account with Opay, this option is hardly available as a withdrawal option. However, you can always choose other available withdrawal options.
Differences Between Opay Agents and Opay App
Opay agents are people who are spread across different locations in Nigeria to assist people in carrying out different financial transactions on the Opay platform. While using the Opay app to perform your transactions, and visiting an agent both work towards the same objectives, there are some key differences in their operations. These differences include:
Direct cash withdrawal
You can't make direct cash withdrawals via the Opay app, as you first have to transfer the required funds to your bank account before subsequently making withdrawal at an ATM machine. However, with Opay agents, you can make withdrawals by transferring the amount you wish to withdraw, and then receiving the equivalent in cash on the spot.
Use of a POS machine
Opay agents make use of a POS machine to carry out various operations ranging from cash withdrawal to deposits, money transfer, airtime purchase, funding bet accounts among others. However, with the Opay app, you do not need a POS machine, and all transactions, bar withdrawal, are carried out on the platform.
Alternatives to Opay
If, for one reason or the other, you have reservations about funding your bet account with Opay – why would you though? – there are a number of great alternatives for you to consider. Some of the other financial platforms through which you can fund your bet account include:
PayPal
PayPal is, arguably, the most popular e-wallet service out there, and it provides quick, and safe online financial transactions of all kinds. Due to the security of its financial transactions, PayPal has grown to become a common name in the betting industry in recent years. Users can link their PayPal and bet accounts to make cash deposits, and withdraw earnings.
However, PayPal in Nigeria comes with a lot of restrictions, with users not being able to receive cash payments. You can read more about PayPal payment method here.
Quickteller
Quickteller is another payment provider with which you can fund your bet accounts in Nigeria. It is available on the majority of Nigerian betting sites, and also offers the same services as PayPal, thereby making it a great alternative.
You can deposit cash in your bet account via Quickteller's mobile app, and the transaction is instant. However, you will be charged a transaction fee when funding your bet account with Quickteller.
Another way of funding your bet account via Quickteller is through an ATM deposit. All you need do is visit a Quickteller enabled ATM, insert your card, click on 'pay bills', and enter the merchant ID. Afterwards, you are to input the amount you wish to deposit, along with your customer ID. Transactions performed using this method are usually fast, and reflect on your bet account within minutes.
Skrill
Skrill is a popular e-commerce platform that enables users to make payments, and cash transfers via the internet. Bookies worldwide accept Skrill as a form of payment, and Nigerian bookmakers are not left behind as well.
With a Nigerian Skrill account, you can make secure deposits into your bet account, as well as receive instant payments. Even better is the fact that deposits made into your bet account via your Skrill e-wallet are free, with no additional charges incurred.
Paystack
Paystack is an evolving technology company that provides solutions for problems involving payments for their clients. Several Nigerian bookies adopt Paystack as a means of making payments, and you can instantly fund your account using this method.
Interswitch
Interswitch is an Africa-based company that focuses on electronic payments and digital commerce solutions, as well as facilitating the electronic circulation of money. Interswitch in Nigeria provides users with several payments options such as Verve, Webpay, and Quickteller.
Bettors can also make secure deposits into their bet accounts via the Interswitch platform, with bookies such as Nairabet integrating that feature into their platform.
Check our extensive guide to payment options in Nigeria here. 
Opay Betting FAQs
Opay is a digital financial platform with which users can carry out a host of cash transactions as well as get access to a wide range of services. Some of the operations you can carry out via the Opay app include airtime purchase, cash transfer, funding your bet account, and paying bills. Other special features of the Opay platform include:

• Oride – this is a transportation system which makes it easy for users to move from one place to another within the same city, at the cheapest rates possible.

• Okash – this is an Opay scheme which provides instant loans to qualified applicants.

• Owealth – another amazing feature of the Opay app which enables users to invest in businesses, and get returns of up to 10% per annum.

How can I fund my betting account using Opay?

Funding your betting account via Opay is easy, and can be done with the steps listed below:

• Select betting on the homepage of the Opay app.

• Choose your preferred bookie, and enter your username or account ID.

• Type in the amount you wish to deposit in your bet account – make sure your wallet balance is equal or greater than the amount you wish to put in your bet account.

After you authorise the transaction, the deposited amount will reflect in your bet account, after which you can then proceed to stake on sporting events.

What is the minimum deposit that I can make with Opay?

The minimum deposit you can make into your bet account via the Opay app is ₦100, while the maximum amount varies from one bookmaker to another.

It is quite inexpensive to use Opay, with most if not all of their services attracting zero charges. If you meet the requirements, there is also every possibility of you getting cashback on your deposits, massive discounts on your transactions, plus a whole lot of other freebies.

There are several reasons you should carry out your financial transactions via Opay app, and it is no brainy why the platform is loved by so many Nigerians. Firstly, transactions are super-fast, and are completed within seconds; hence, ensuring you won't be left stranded.

Furthermore, the app interface is easy to understand and use, thereby saving you precious time during urgent transactions such as when you want to stake on a game really quick. And compared to other apps, you incur zero additional changes on operations carried out on the Opay app.

Can I withdraw using Opay?

As at the time of writing, there is no way to withdraw directly from your Opay wallet, but there are methods to go about it:

Withdraw with Opay agents – to do this, you simply walk up to the nearest Opay agent, transfer the amount you wish to withdraw into his/her account, and receive the equivalent in cash. However, due to security concerns, there is a limit to the amount you can withdraw using this method.

Transfer from your Opay wallet to your bank account – you can also move cash from your Opay wallet to your bank account, and then proceed to withdraw the money from the nearest ATM.

The only Nigerian betting site that has Opay as a withdrawal method at the moment is Nairabet. To withdraw cash, you just need to select Opay on the withdrawal page, and type in the amount you wish to take out. Your Opay wallet will subsequently be credited with the specified amount.

Do I qualify for a welcome bonus if I fund my account using Opay?

Yes, you absolutely qualify for a welcome bonus if you fund your bet account using Opay. Almost all bet sites in Nigeria offer a welcome bonus on the first deposit regardless of the deposit method used.

How long does the deposit take to reflect in your account when using Opay?

Deposits made into your bet account via the Opay app are instantaneous, and will reflect on your balance almost immediately.
Final Word
Without doubt, Opay is a great option for funding your bet account. The quick, secure and free transactions serve as a major deal breaker, with the numerous bonuses and discounts users enjoy serving as the icing on the cake.
Although only several Nigerian bookies accept Opay as a payment method today, we can expect this to change over time due to the growing popularity of Opay.