We will be taking a look at the breakdown of betting in Nigeria, and our focus is to educate you on betting in Nigeria. While some of the highlight will be an in-depth analysis of the best bookmakers in Nigeria and some of the bookies with best promotions offer, bonuses, safety, their payments and withdraw structure, the bookies that offers good competitive odds, bookies platform that is easy to navigate, and bookies with wide range of betting markets. While we provide you insight on betting tips, as well as betting options that most bettors prefer in Nigeria. Check also our extensive guide to Free Bets in Nigeria and Accumulator Promotions page.
Payments and withdrawals in Nigeria – How to start building your bankroll
Betting Licenses – Check under what licenses Nigerian betting sites operate
Football betting markets and tips – Learn what markets you can bet on + tips how to win big
NG
The Best Betting Portals in Nigeria
#1

Nigeria's most popular betting site
Cash Out feature
Top-quality virtuals section

#2

Very Competitive Odds
Simple Registration Process with 4 Mediums
Excellent Betting App

#3

Huge sports selection
Live Stream on horse races
Includes commentary, stats and visuals

#4

Strong sportsbook offering
Highly competitive odds
Detailed match statistics

#5

Safe and secure site
Huge range of bonuses and promotions
Wide variety of betting markets

#6

Simple Registration Process
Competitive Odds
Wide range of sports and betting markets

#7

24/7 customer service
Great mobile app
Several promotions

#8

Available in Nigeria and Zambia
Regular free bet rewards
E-Sports available
Payments and withdrawals for Nigeria Betting
Making payment and withdrawal in online bookies account varies in different betting platforms. However, the focus will be the most frequent payments and withdrawal options in Nigeria i.e. Debit cards which is your Naira Mastercard, Visa, interswitch Verve, it is commonly used to fund your online sportsbook in Nigeria. Delve into our extensive guide to the best payment methods in Nigeria here. 
Cards:
Funding your online betting accounts with a credit card or debit card is seem to be the most common in Nigeria-the process is quick, convenient and extremely easy, there are never any annoying queues online or out-of order ATMs that is some times common in Nigeria. Follow this simple step below:
Players should ensure they have valid and funded Naira MasterCard, Interswitch Verve or Visa.

The next step is Login to your online sportsbook and go to the cashier or Banking page.

Click to open Payment or Deposit options menu.

Select Pay with ATM card then enter the amount you want to deposit into your sportsbook account, and then submit, you'll be directed to a secure and encrypted payment gateway screen, and then fill out all required card information including your secret Pin, before submitting.

You should be directed to a new page which will give you a status update I.e. let you know whether your transaction is successful.

If successful, you should be directed back to your sportsbook, where you should see your newly deposited account balance ready to use.
Further, withdrawal from your online sportsbook account is simple all you need is Click on your account, and the next step click on withdrawal, after clicking on withdrawal, you will be directed to input bank details i.e. Bank account number, the bank name and the amount you want to withdrawal after completing this step. Click on withdrawal, within few seconds, instantly the screen shows transaction successful. Well it could few minute or seconds, before you are debited. Well it all depends on the secured gateway your online sportsbook how fast it will be or and it could be bank network. So it varies different bookies use different gateway platforms i.e. interswitch, flutterwave, paystack etc.
E-wallet:
Funding your online sportsbook account through your E-wallet account is not that common in Nigeria. Paycom is a popular E-wallet account favored by many Nigerians and accepted it is accepted by an increasing number of online sportsbooks, because it's so fast, simple and feeless to use. All you need is a Paycom account, your unique sportsbook player ID and a mobile phone or computer with internet access. Follow this step below:
Login to MyPaysite using the phone number and password you signed up with, select the 'Send Money' option from the menu, and then select your chosen sportsbook from the menu.

Enter your unique player ID and the sum you want to transfer.

Confirm all the details you entered are correct, enter your PIN and finally select 'Send Money.'

You'll be instantly notify if your transaction is a success by way of an online receipt and confirm that your newly deposited funds are reflecting in your Nigerian sportsbook account.
Offshore online sportsbook that allows Nigerian players to place bets can deposit through their E-wallet account i.e.Bet365 and Netbet, Nigerian players can fund this account through Skrill or Netteler all you need to do is to make sure you open 2 Skrill Accounts i.e.
Primary Account – In your own name.
Secondary Account – in your friends / relative's name. While Skrill do so is because there no longer treats all money equally. Funds are in 2 categories Gambling Funds and Non Gambling Funds.
Don't choose the option of gambling funds while depositing money to Skrill it won't work.

Make sure you add Gambling funds to your Secondary account you can add as much money as you want to the secondary Skrill account, but fees charge is applicable between 1.9 to 2.2%.

Transfer funds to primary account, you can transfer the entire money you deposited in the secondary Skrill account to the primary account. This process is fast and no fees are involved.

The funds are unallocated funds

you can use it for gambling or anything. No restrictions.

Finally deposit from Skrill to your offshore online sportsbook simply transfer money from your Skrill account to your online sportsbook all you need is your unique ID and make sure you choose to pay via balance. Note no fees are charged in this process too.
Mobile Method:
Mobile method of payments is easy and fast popularly known as mobile money all you need to complete your transaction is just your mobile phone, neither did you need internet access.
Follow this step below:
Make sure the mobile phone SIM card, you are using is the actual SIM card or phone number you registered with your Bank i.e. where you receive transaction alerts.

Make sure you know your unique sportsbooks ID that you intend to fund through mobile payments and make sure you know the special code given to the sportsbook company by the bank.

Type the bank short USSD code along with special code, the sum you intend to deposit and with your unique sportsbook ID.

Press Send i.e.

GTBank

*737*special code*Amount*Unique ID#

You'll be directed to complete this transaction with your secret bank PIN code and press send within few second your transaction is successful.

Login to your online account to confirm.
There are many other payment methods available in Nigeria such as USSD Code, Paypal, Quickteller, and Opay.
If you enjoy mobile betting, check out our list of best Nigerian betting apps here. 
The Best Bookies in Nigeria
There are plenty of betting sites available for Nigerian punters. Please find our hand-picked recommendations below:
Bet9ja:
Bet9ja is one of Nigerians biggest bookmakers, despite not having international customers base. The company was found in 2013, holding a valid gambling license from both Lagos state lotteries boards and Osun state. As a result, the bookmaker is legal in all 36 states throughout Nigeria, with customers from other country not accepted at Bet9ja.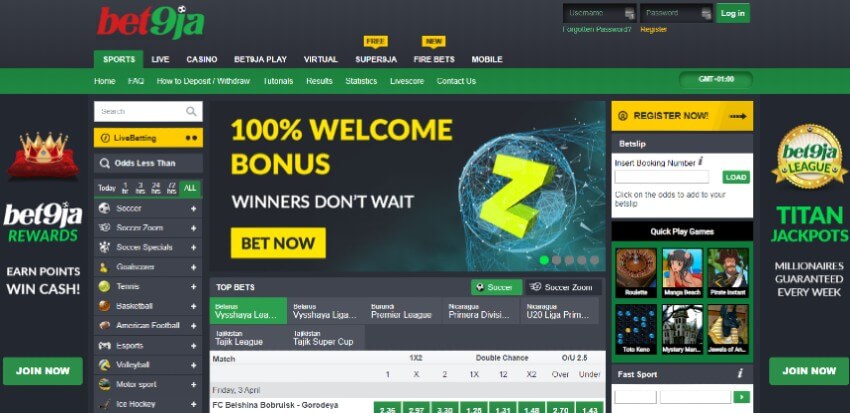 Bet9ja is the best Nigerian bookie, the most visited site in Nigeria known to have one of the best platforms in the country easy to navigate for players, a wide range of betting markets. Bet9ja offer a generous welcome offer for new customers. A new customer registering a new account at bet9ja will receive a 100% bonus in their first deposit, to qualify for this all you need is just N100 in your opening and that's all is required, before you can claim the bonus amount, you must have stake at least 10 times before the cash can be withdrawn, and while odds of at least 3.00 must also be met.
For existing customers Bet9ja offer numerous promotions 'SUPER9ja' that is perhaps the most appealing, which offers the chance to win 10,000.000 Naira, with guaranteed jackpots for the top 20 players each week. All you need is predict scores of top 6 selected matches in major European league and stand a chance to win a jackpot. As well as this, the Bet9ja rewards promotion sees customers gaining points the more you bets the more your points for reward keep increasing at the end of every month cash reward are awarded to loyal customers. Bet9ja league offer loyalty bonus up for grabs for existing customer that participate in the Bet9ja league.
Bet9ja design may not be appealing, the design and interface that customers can easily navigate between pages and features, the black, white and green colour scheme, their mobile app can be downloaded on play Store for both Android and iOS users.
Read our extensive Bet9ja review here.
Nairabet:
Nairabet are undoubtedly one of the most traditional and well-established and it is the oldest sportsbook in Nigeria, having been founded back in 2009, are full licensed by the Lagos state lotteries board. With headquarters based in Nigeria, majority of their customers come from other African country.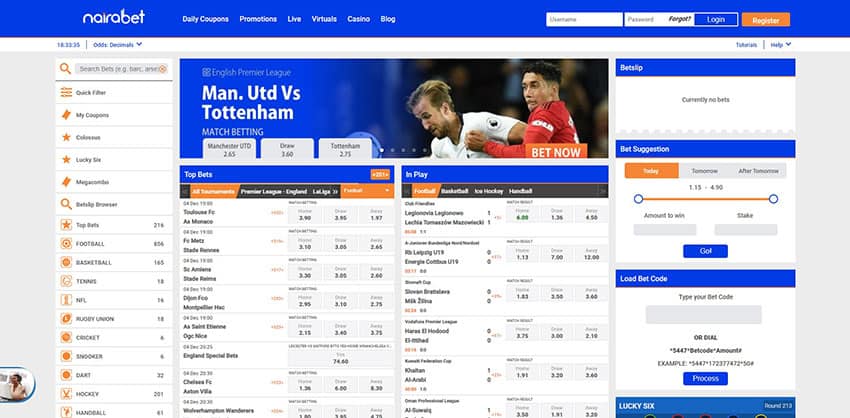 As a Nigerian-based bookie, Nairabet promotions are only meant for existing customers and their promotions is as follows. First bet bonus you make selections of 4 accumulators bet or more, odds must not be below 1.2 on sport betting and you will be awarded 100% of stake into your promotion account
Another promotion is Bet edit it is available to all sports. When you place bet, you ca only edit a minimum of 5 games in bet edit slip, in fact you wont find a slip that has less than 5 games. Nairabet offers cash out in-play even when the team you select is loosing you still have the chance to cash-out.
Nairabet Near win challenge promotion going on presently, all you need is post your loosing ticket to designated hashtag on social media; you stand a chance to win some compensation prize.
Nairabet offer One Game Cut Your Ticket this promotions reward customers who have seen just one pick ruin their bets, particularly appealing for those who enjoy placing accumulator bets. Nairabet one of the most visually-pleasing and easy-to-use and navigation between markets and features being a stress frees process and currently does not have a mobile app.
Read our extensive NairaBet review here. 
Betway:
Betway were established back in 2006, the bookmaker is firing in all cylinders under new management. Betway hold a valid gambling license from both Malta Gaming Authority and the UK Gambling Commission. Betway services are available to Nigerian players as well.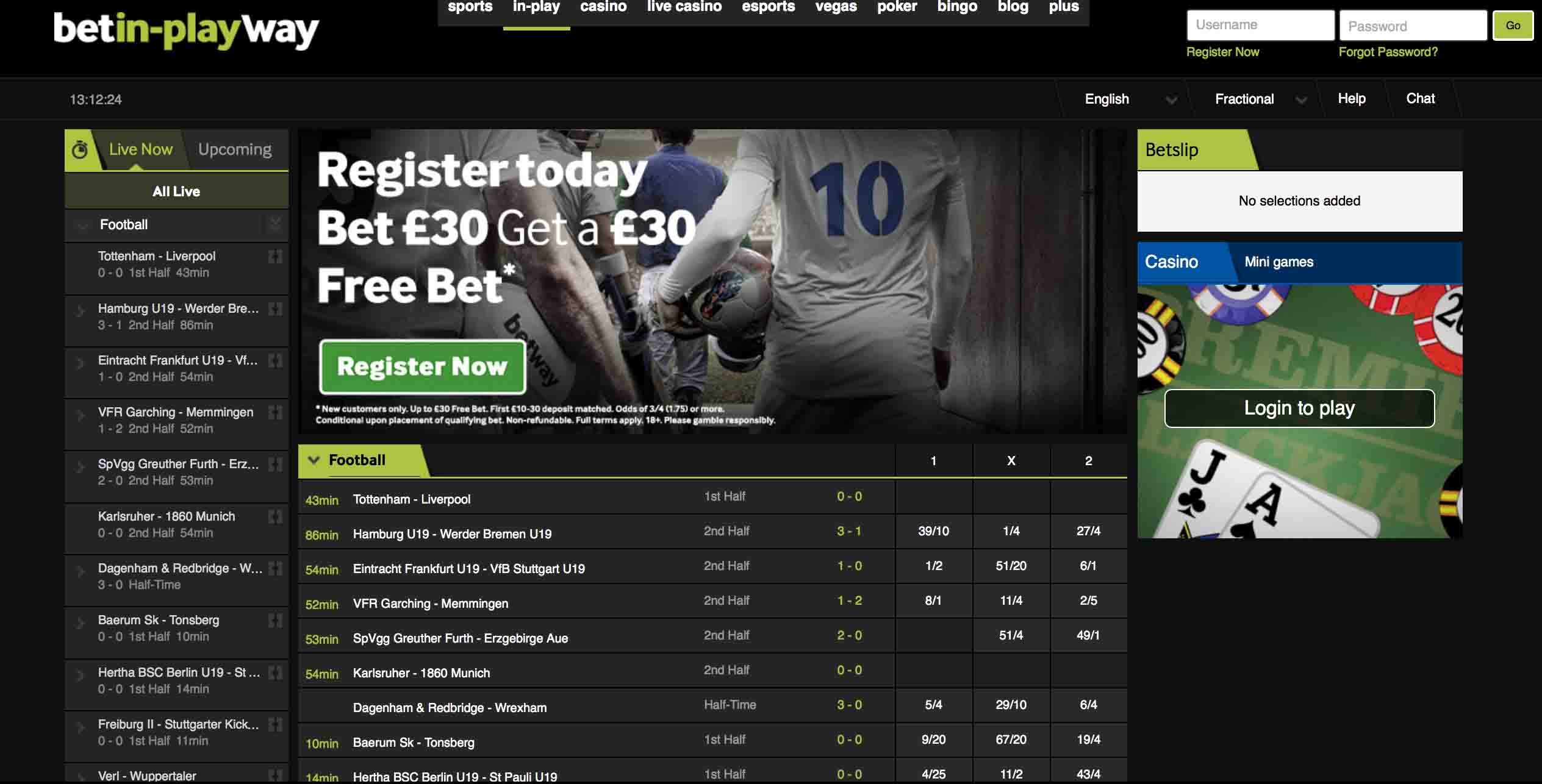 Betway offer new customers a welcome bonus offer of free bets that could worth N20, 000 in your first deposit and place bets that is equivalent to your first deposit and the odds shouldn't be below 3.00, and then you claim your welcome offer this is considered generous also having many good permanent campaigns, Betway offers multi bet winnings by up 250% for each leg with odds of 1.2 or more added to your multi bet betslip, they'll boost your winnings. Another promo is 4 to score each week Betway select for matches you are to pick first go scorer in each of the matches you stand a chance to win 3,500,000. Betway money back make six selection or more to your multi bet slip if one of your selection let you down you get 20x your bet back as well combined bets and free bets and known to have one of the best live betting platform and live streaming. Betway mobile app is perfect for those looking to placed bets on the go, the app is free to download both on iOS and Android users.
Read our extensive Betway review here.
1Xbet:
1xbet is a Cyprus based gambling company with outreach operations in Nigeria, having been established in 2007, 1xbet have quickly made a name for themselves throughout Europe, 1xbet provide a good all round betting platform, with punters in Nigeria now utilizing their wide range of service and features.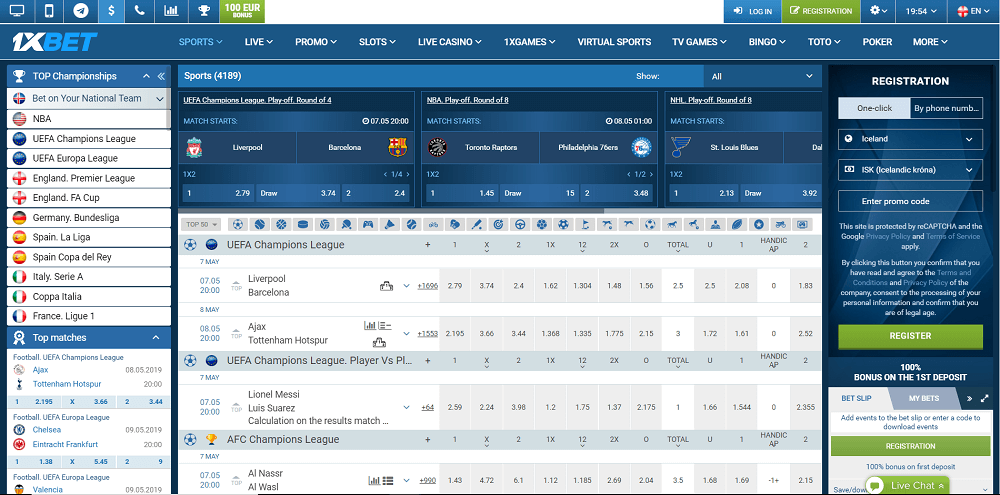 1xbet offer promotions to both new and existing customers, however welcome bonus that is the most appealing to potential customers, new players will see their opening deposit 100% matched by the bookmaker, up to the equivalent of 38,000 Naira, meaning you can effectively double your account balance immediately, there are certain requirements that must be met before withdrawals using bonus cash can be made however, with the total having to be turned over at least five times, at odds of 1.40 0r more. Another promo is 1xTOTO predict the result of 12 matches for FREE and WIN BIG consolation cash prizes are awarded also for correctly predicting 8 to 11 matches.
TOTO-15- predict the result of 15 matches and WIN JACKPOT consolation cash prizes are awarded also for correctly predicting 9 to 14 matches. TOTAL Football predict 15 matches WIN the football JACKPOT consolation cash prize are awarded predicting 9 to 14 matches!
Lucky Friday- receive bonus at every Friday you deposit into your account!
Serie A- players will receive bonus points when placing bets on matches from the Italian top flight.
TOTO-correct score- predict the correct score of all 8 allocated matches and WIN the correct score jackpot! While consolation cash prizes are awarded also for correctly predicting 2 to 7 scores. 1xbet can be said to have continuous campaign promotions.
1xbet design one of the better looking online bookmakers around, despite appearing cluttered at times. The blue and white colour scheme dominates throughout, meanwhile, betting app can be download by both iOS and Android user the app comes with all of the same features as found on the main 1xbet desktop and visually pleasing interface, which is certain to please all.
Read our extensive 1xBet review here.
Betking:
Betking is a sports betting company, that offer online service nationwide and agency services in Nigeria and the company is a product of SV Gaming Limited, it is licensed by the Lagos state Lotteries Board, and Anambra state Gaming Board as well as Osun State and National Lotteries Board.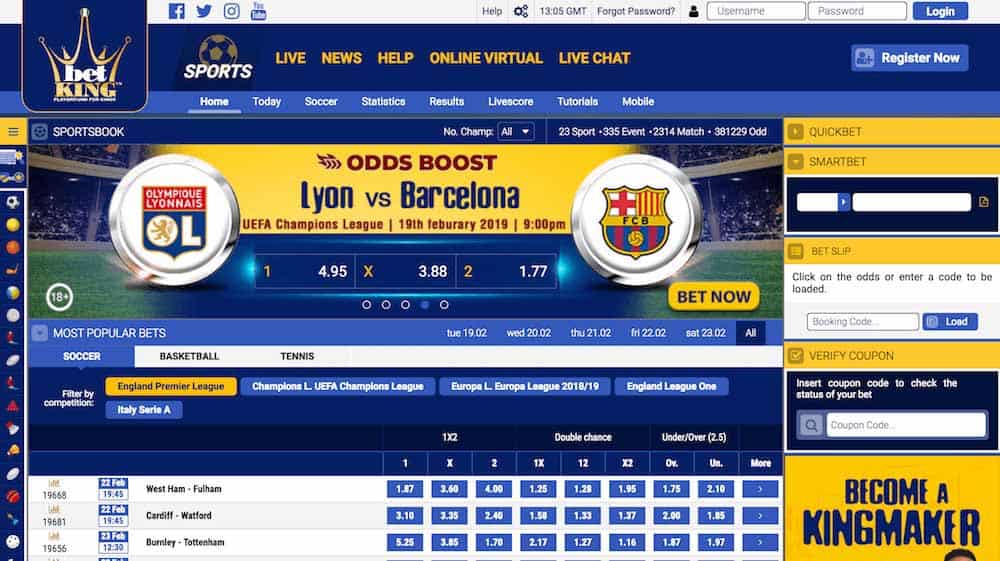 Betking is the fastest growing betting company in Nigeria, known to have similarity with bet9ja platform easy to navigate for user and the website is mobile compatible, have offer for free bets for new customer with 100% welcome bonus, offering promotions for black Friday for odds boost for existing and new customers. Betking offer 225% bonus, all you need to claim this bonus, your selections must be 5 or more, Odds selections must be at least 1.20 to qualify for this bonus boost, very good competitive odds. Website design mobile compatible, website offer live betting, but no in-play cash out. Design blue, white gold colour scheme, and as no mobile app.
Read our extensive BetKing review here.
Sportybet:
The online sport betting company has made name for themselves since it came to Nigeria, while it is licensed by Lagos State lotteries board.
Sportybet is a glocalized sports betting platform, in the sense that they operate in multiple locations across the world.
Sportybet offers a multitude of sports to bet on which including, Basketball, football, Tennis, Rugby, Cricket, Volleyball, Ice hockey, Handball, Darts etc. Sportybet offer a welcome bonus for new customer on the first deposit worth up to 10,000 Naira. Sportybet referral promo, when you invite a friend to sportybet you get up to 50% discount. Also they offer Sporty winning boost at every winnings terms and conditions may apply. Sportybet match of the day odds boost and Sportybet super bonus you get extra 135% bonus boost when your selections is 4 or more and odds selection must be 1.20, while it is apply to all betting market, and both for live betting matches as well. Sportybet offer a chance to win jackpots of 10,000,000 when you predict score of 12 matches in major European leagues.

Website design comes with red white and black colour scheme and easy to navigate it has a app that is available for both iOS and android users and with is unique app that offers live score that also offer cash out in-play and in game live betting sportybet platform is data saving mode this is to ensure users are not left out because of data which means you can spend as much time as you want to place bets and it is lightweight, the app gives you match alert options gives you a real-time alert of ongoing or matches about to start, while the winning ticket alert informs you when you win on a ticket and It is one of the fastest payment online platforms, within few minute you receive your payments on winnings and you can transfer directly to your bank account 24/7 unlike majority of betting platforms in Nigeria.
Read our extensive SportyBet review here.
Betbonanza:
Established in 2014, Nigerian-based Betbonanza worked diligently to earn a reputation as an operator you can trust. The company strives to put customers and workers first and it is licensed by the Lagos State lottery Board.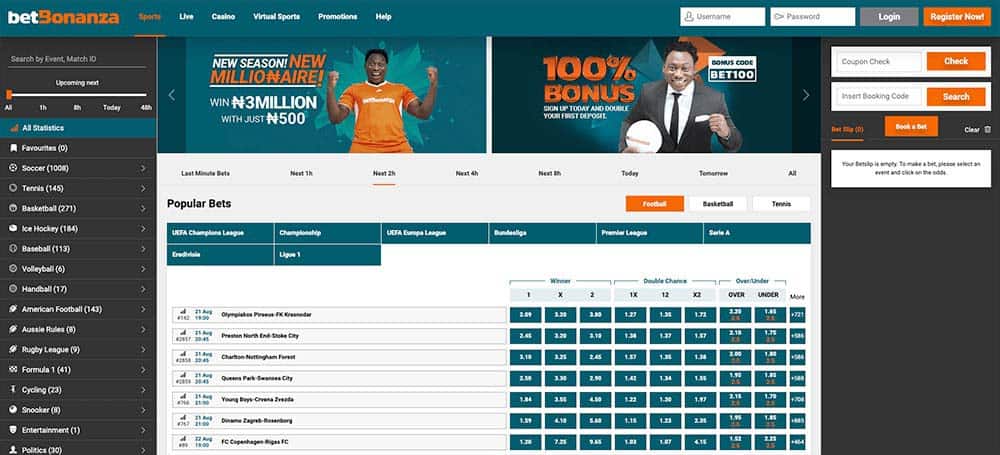 Betbonanza's 100% Welcome Bonus to qualify open a new BetBonanza betting account and make your first deposit using one of BetBonanza available payment options. Then, use the bonus code BET 100 and you will be double the amount of your deposit up to 100,000. Good betting market a very good competitive odds offer huge welcome bonus for new customers. Betbonanaza offer Yakata bonus you can win up to 200% more on winnings parlays. All you need to is bet on a parlay with five or more selections. Players qualify for the bonus as long as at least five of those selections have odds 1.20 or higher. Betbonanza offer weekend football jackpot place bet 500 and above on multiple bet, with 10 or more selections and total odds of 10.00 or higher on any sports, you will be reward with additional N50,000 jackpot bonus money. Betbonanza has no mobile app but the website is mobile compatible, design blue, white, orange scheme.
Read our extensive BetBonanza review here.
Merrybet: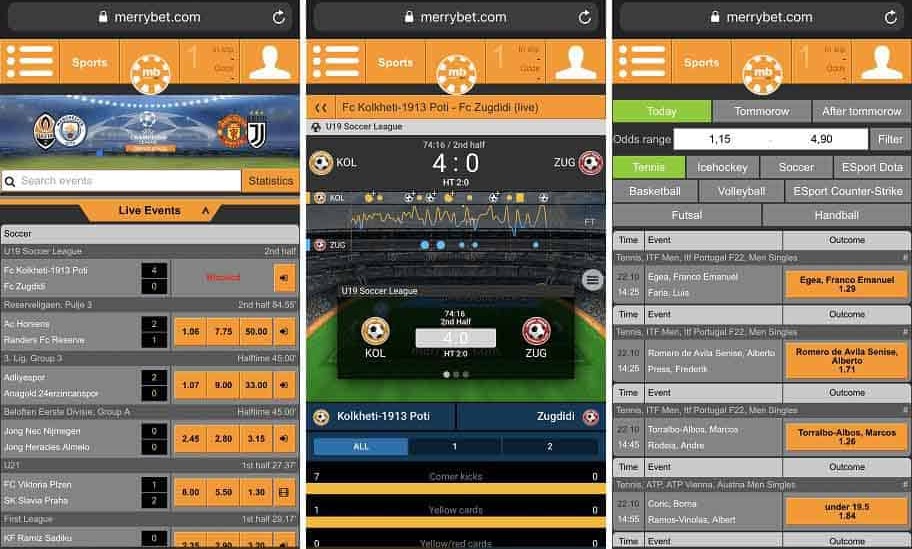 Having originally been established as an online casino back in 2013. Merrybet quickly developed and introduced an in-depth sportbook platform in order for their customers to utilize and it is fully licensed by Lagos state lotteries, headquarter in Lagos. Merrybet offers promotion for existing customer on accumulators bets 5 selections or more you have the opportunity of 5% cash back if one game cut your ticket, Referral promo if you refer your friend to Merrybet you get up to 50% of friends losses back only if you refer them to the site, and you can win up to millions on their virtual ram sport jackpot everyday.
Read our extensive MerryBet review here.
Surebet247: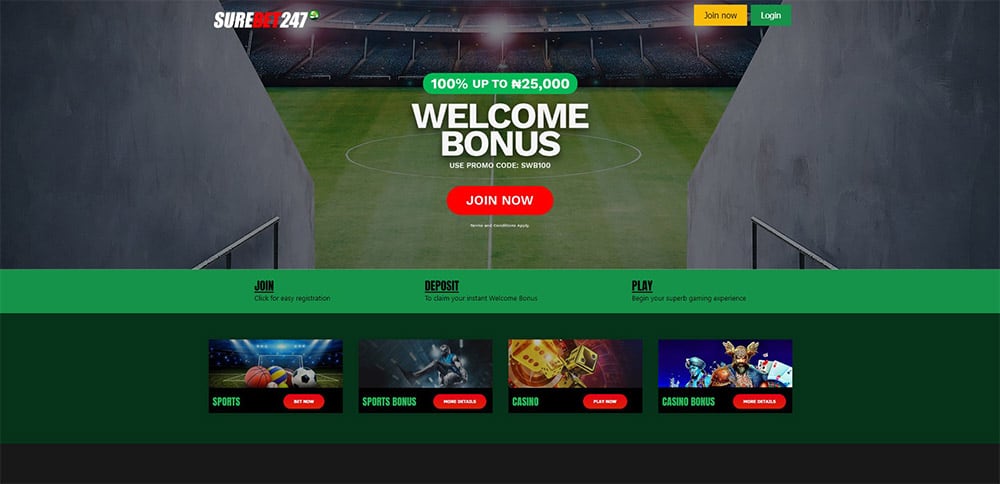 Having been founded back in 2011, Surebet247 are operated by Chessplus International Limited and licensed by the Lagos State Lotteries Board. The Bookmakers headquarters are currently in Lagos having gained a good reputation within the industry as a result of their easy to use betting platform. Surebet247 welcome bonus your first opening deposit is 100% matched up of 25,000 Naira and you have to use the promo code SWB100. Customers will then have 30 days in which to meet the stake requirement and, which must be met before any withdrawals can be made. Surebet247 offer accumulators boost you can get extra 45% extra cash on your winnings when your selections is 5 or more. One cut refund is accumulator insurance an offer that guarantee bet refund when one leg/event of your accumulator bet is lost. They also offer customers that deposit into their online sportsbook through mobile offer them 20% bonus that's N3000. website mobile compatible and  a green, black, and red colour scheme also with mobile app that is easy to navigate, partially offer cash-out, offer live betting but no live-streaming, lack of customer features etc.
Read our extensive Surebet247 review here.
What license Bookies have?
Having a betting license in Nigeria can be a complicated thing, despite this both federal and state have the power to issue license. The highest regulatory body The National Lottery Regulatory Commission (NLRC) was establish
ed in 2005 by National Lottery Act 2005 and Gambling is defined by Chapter 22 of the Criminal Code Act, enacted in 1990. The constitution empowers the 36 states that make up the federation to individually regulate gaming in their jurisdiction.
Further, Land based Casino, Lotteries; Pools, Sports bets, online sports betting, scratch card, and game machines operations are legal in the country.
It is important to get the licenses, first you need to have Certificate of Incorporation along with Tax identification Number and registered for value added Tax (VAT).
Nigeria Investment Promotion Commission (NIPC), Special Control Unit against Money Laundering (SCUML), and the National Office for Technology Acquisition and Promotion (NOTAP) Federal issued such license.
For example, state like Lagos State Lotteries Board, which is the most vibrant of all 36 states, only issued Certificate of operations to bookmaker that intends to operate in the state. Before been issued such certificate such company must up with the requirements of the state. Each jurisdiction requirement varies in Nigeria.

Football Betting Tips:
We offer wide range of football betting tips and daily predictions around the world in Europe major leagues, Africa, Asia and South America league as well as other major competitions around the globe i.e. English premier League, UEFA Champions League, Europa League, English FA Cup, Carling Cup, Spanish Cup, as well as other International major competitions. Our football prediction is made by industry experts, giving you an in-depth analysis of all football related matches. Our expert use wide range of information to predict football matches using head-to-head records, player's availability and motivation as well. We highlight on team performance and the best possible football betting tips i.e. Accumulators tips, Straight win, Double chance, Both teams to score tips, Over 1.5, Over 2.5, Both teams to score and Over 2.5 etc.
Accumulator tips:
An accumulator is one bet with multiple selections. To win the bet all selections must correspond with your prediction, well some bookmakers offer refund of stake if one game cut your ticket or multiply it by the odds and still pay you depends on the outcome. Terms and conditions may apply. However, the main advantages of win accumulator are you can stake a very small amount of money and win big in just 90 minutes. These are quite common in Nigeria.
Check our article on accumulator betting with tips and strategies here.
Straight win:
It is potentially the favorite type of bet that you can find at any bookies site and enables you win money if you predict the full-time match right. Example Chelsea vs. Ajax game and you predict Chelsea to win Ajax at full time.
Check our extensive guide to 1X2 betting here.
Double Chance:
Following the example, of Chelsea and Ajax, if you decide to place a double chance bet you will need to bet on the result of the match. To be more specific, you should predict two results and if one of the predictions is correct, your bet wins. For instance you may either bet on Chelsea win or Draw.
Both teams to score:
It is a very popular bet because it is very simple and easy to understand. To win we need both teams to score one goal or more. What matters is both team have to score each other to win your bet.
Read more on Both Teams to Score bet here.
Over/under goals betting:
It is a popular bet and easy as well. All that matters in this prediction is how many goals will be scored before the end of a full-time match.
Read more about over/under goals betting here.
Betting Tips
Our betting tips are provided regularly by our dedicate team of experts in a wide range of sports and provide you with predictions of major sports around the world, i.e. Football, Basketball, Lawn Tennis, Athletics, Boxing and Table Tennis etc.
How to Bet in Nigeria:
Betting in Nigeria varies and it can be define in different forms. Betting can be stated as gambling in an outcome of unpredictable event. However, we take a look at the most common type of betting Nigeria punters prefer. Betting in Shop is still the most preferred choice of players or punters in Nigeria. While, online betting can betting can be stated to be the next in line in Nigeria, as players behaviors keeps changing as more people prefer to place bets at the comfort of their homes via mobile phones, coupled with affordable smartphones and high rate of internet user and penetration in Nigeria we can say in few years time, betting in shop is slowly changing and in few years time online gambling will be the talking point in Nigeria.
Sports in Nigeria?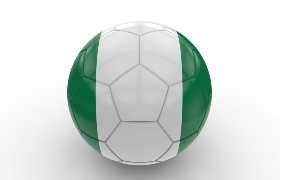 The West Africa Nation Nigeria is known to have the largest economy in Africa and the highest population in Africa as well as in terms of numbers of youth's, population the in Africa, according to Wikipedia. Well the country is known for its love affair for sports i.e. Football, Basketball, Athletics, Boxing, Table Tennis, and Lawn Tennis etc. particularly football makes an average Nigerian youths go crazy, without watching a football match in a weekend, it becomes a problem for the average Nigerians, Basketball as its own fare share of followers in Nigeria, while Athletics is another major sporting event that get the attentions of Nigerians particularly marathon race, Boxing, Table Tennis and Lawn Tennis can be stated to have its own fare share of followers in the country as well.
What football Leagues Nigerians follow
Nigerians are know to have a massive followership for European football leagues notable the English premier league, the Spanish Laliga, Italian league while the German Bundesliga can be stated to have a small viewership percentage rate. Further, the key interest why the average Nigerians love to watch the English league can be stated to be the numbers of Nigerians players playing their football trade in the English premier league. Thus, these influenced the average Nigerian to watch the English premier league and while, it gives them opportunity to watch they local heroes in a televised match.
Favorite teams and players
However, few years back, Nigerians have this culture of supporting any football clubs in major football leagues in Europe where you can find a Nigerian football stars. For example, if we take a look down the history of Nigerians that ply their football trade in European leagues, this as played a major role on the average Nigerians, to develop love affair for such clubs, it can be stated during the days of formal star players. Nwanko Kanu, for Ajax and Arsenal, Austin Jay Jay Okocha, PSG and Bolton, Amokachi, Everton, Club Brugge, Amunike, for Barcelona, and Babayaro and Mikel Obi for Chelsea etc.
In recent years, Chelsea football club can be stated to have a huge fan based in Nigeria and it is coupled with the influence of formal Nigeria National football team captain and former Chelsea player John Mikel Obi. 
Conclusion:
Nigerians in general are not people that try new things often once they have a platform that they trust, their won't bother to try new things that is one of the challenges other bookmakers are facing in the industry today, you will still see loyal customers patronizing Bet9ja because players tend to trust them over the years, with their payment structure on winnings, so if you are offering a betting tips platform you need to earn their trust with a good prediction. Nigerians love sports and the industry is no longer just about entertainment, it is also about making and losing money. The billion-dollar sports betting industry is growing astronomical as the football culture continues to bloom. Over the years many betting companies have emerge in Nigeria and growth of gambling will continue to grow as more as youth's participation will keep increasing. According to a report by News Agency of Nigeria (NAN), roughly 60 million Nigerians between the ages of 18-40 are involved in active sports betting. Almost N2billion is spent on sports betting daily in Nigeria, which translate to nearly N730 billion a year. However, Nigeria is one of the fastest growing gambling markets in Africa which is positioned to be the next big gambling markets, behind only South Africa when it comes to Game Generated Revenue (GGR) in Africa.