Win either half market is the concept of attempting to select the winner of either of the halves in 90 minutes of the match.
NG
Best Betting Sites for "To Win Either Half"
#1

Bet name: "(Team Name) To Win Either Half"
Use this bet for ''Boost your Multi Bet'' offer for bonus up to 250%!
High Odds for ''Halftime/FullTime & Exact Goals'' market

#2

Possible to Cash Out after a winning half
"Highest Scoring Half" bets also available
Good Odds on this market

#3

Bet name: ''Team 1/2 To Win Either Half''
Pace this bet in Accumulator Battle promo and win a car!
Another interesting market: "Scores in Each Half''
Win Either Half Tips & Strategy 
Be sure to check out team news

Check to previous form of the teams playing

Make sure to keep an eye on the cash out once the game is live

Attempt to create accumulators for a bigger pay out

Try to keep an eye on the match if its on television in order to see what direction the game is going in.
Unlike some other football betting markets, the strategy with win either half is slightly more complicated. The main reason being is that you are not looking for who the better team is overall, or who is most likely to win overall. You are looking to find which team is going to score more goals than the other in either two halves.
Check our guide to Half Goals betting here. 
Let's say Manchester City are playing against Everton and Manchester city are now undefeated in their last 4 games and Everton have lost 2 and drawn 2 in their last 4 games. Looking at this you would expect Manchester city to win the match. However, this is where people make mistakes. Just because Manchester city haven't lost doesn't mean they haven't conceded plenty of goals and doesn't necessarily mean they have scored many either. It's also important to note that Everton may have drawn 2 matches, but these could have been high scoring games that perhaps they were winning at half time.
Check our extensive guide to Over/Under Goals Betting here. 
With all this information and research considered, it might be worth now betting on Everton to win the first half and Manchester City to win the second half. This is the basic fundamentals of what is needed when betting on this market. We cannot express enough how important doing research is.
What Win Either Half means
As we mentioned before "Win either half market" is the concept of attempting to select the winner of either of the halves in 90 minutes of the match. This is actually an extremely reliable goal betting technique, especially for the premier league, with a high percentage of bets being payed out according to a recent bookies survey. When you place a bet on a team to win either half, the full time result is irrelevant. The requirement for a winning bet is that the team you have bet on score more goals than their opponent in one of the two 45 minute periods in a football match.
Pros:
When 2 teams that are equally matched play each other, majority of the time it becomes a game of two halves. This means it's easier to predict the outcome of who will win each half.

The odds become much more generous in this market. A lot of bookies price the odds on the expectancy of the team to win at full time, where really one team might have a better record in the first half.
Cons:
Doing too well on this market could mean getting flagged by the bookies, meaning they will restrict you on either betting on this market all together or restrict your bet amount.

There can be a slight risk on this market as

bookmaker

margins can be relatively high. This means that if you bet a lot on one team, the difference between the other team will be a fair distance, making it harder to know who will win.
The win wither half market remains fairly exclusive to football and must only be used in the right circumstances. If you are new to this betting market, it's important to know the right matches to bet this on. The better must realize the correct opportunity when placing a bet as sometimes it simply isn't worth it financially.
Otherwise, it's a case of just being lucky.
What Win Both Halves means
You'll struggle to find a simpler to understand betting market than to win both halves, the name says it all. You bet on the home or away team to win both halves.
The main difference between this and win either half, is that the team you select must win both halves in order for your bet to be successful.
A simple example is Middlesbrough vs Luton, and you bet Middlesbrough to win both halves. The first half score is 1-0 to Middlesbrough and the final score is 2-0, then your bet will come through as the first half score is 1-0 and the second half score was 1-0, making it 2-0 altogether.
Please note that if your team wins the game 1-0 and they scored that goal in the first half, you will not win your bet as the second half score is technically 0-0. You have to imagine that each 45 minute period is split up into 2 mini games which your team must win both.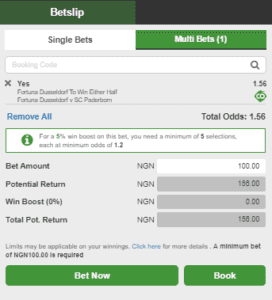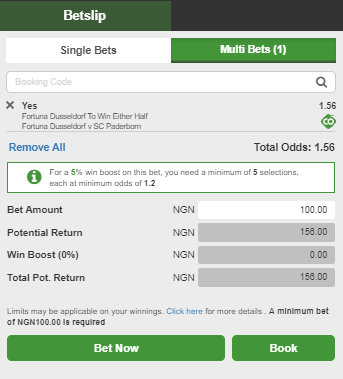 Win Both Halves Tips
As mentioned previously, it's really key that if you wish to be successful in this market, you must do your research on the teams playing. It's very important to not only check form but see how many goals they have scored and in what halves they were scored. A great site to check these types of statistics is whoscored.com.
Especially if there is a team who has scored plenty of goals in the season so far. We would recommend avoiding betting on this market at the beginning of the season as the only form you can check is preseason friendlies, where not always the strongest line-up is put out.
Cashing out on this betting market can also be beneficial. A lot of customers have in the past encourage creating a large bet with a big return and then cashing out just before for a guaranteed profit of income. We must express that the cash out is an option but not something you should always do. Definitely consider it when you place the bet but be sure to keep an eye on the cash out and on the matches that are in-play.
It's also key to check sites such as Sky Sports, in order to see team news on the players. For example, the top Goalscorer in the team might be injured, or the best defender on the team might be suspended. Team news is very crucial and can decide the outcome of each half.
Conclusion
To conclude, to win either half allows a different perspective of the betting game. It not only gives you the option to combine it into a bet builder or accumulator, but it also means you can make a single bet which is actually two bets as it's in either half.