Registration Process
---
Creating an account with OdiBets is extremely simple and should not take more than 30 seconds to complete. Since this bookmaker is mobile based, all you have to do is enter your mobile number and create a password of more than six characters. You will then receive a text message with a PIN which can be used to activate your account. OdiBet's services are only available to players in Kenya who are in possession of Kenyan mobile number. You are not required to deposit any money to create an account.
Deposits and Withdrawals options
---
There are no minimum deposit amounts at OdiBets, however there is deposit charge. OdiBets only accepts deposits through Safaricoms mobile money platform M-PESA and these can be done in two ways. You can either visit odibets.com and navigate to the 'deposit' section. From there you can simply enter the amount that you wish to deposit. The second option is to deposit funds straight from the M-PESA menu on your mobile phone.
The steps are as follows:

Go to M-PESA Menu on your mobile phone

Enter 290680 as the Business Number

Enter ODI as Account Number but you can leave blank and proceed

Enter the amount to pay (NO COMMAS) e.g. 200

Enter your M-PESA PIN and send

You will receive an SMS confirming the transaction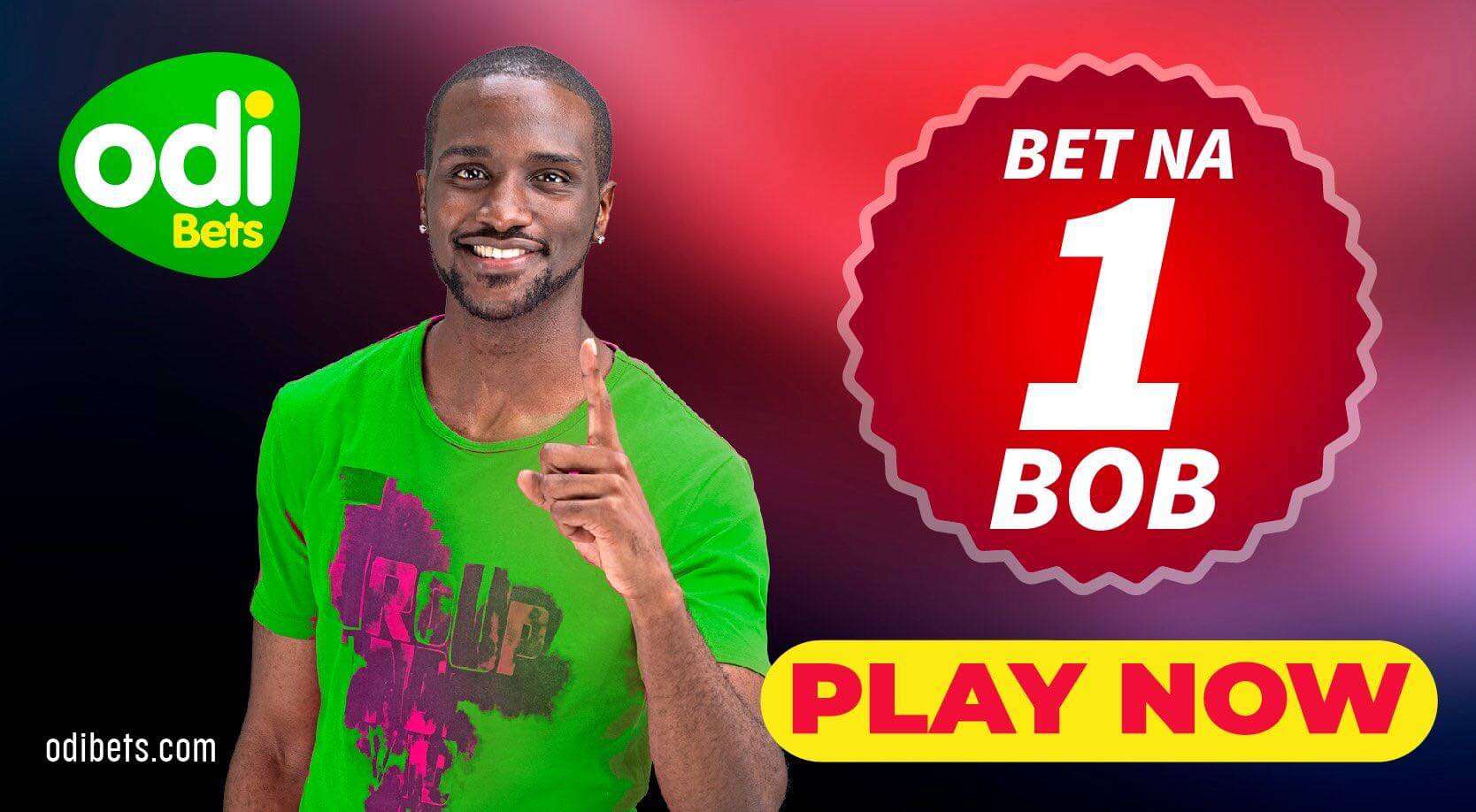 When requesting a withdrawal, there is once again two options that you can use. The first option is to send a text message with "W#Amount" to 29680 using the phone number associated with your account. The second option is to visit the OdiBets website, navigate to the 'withdrawal' section in the main menu, enter the amount you wish to withdraw and select 'request withdrawal'. Withdrawals are processed instantly and will be sent to the payment account from which the deposits were made (in this case M-PESA). The minimum withdrawal amount is KSHS 100 while the maximum pay-out stands at 20,000 KSHS. Withdrawal fees will vary depending on your chosen mobile carrier. Deposits and withdrawals can only be made using the Kenyan Shilling.
Check our extensive guide to payment options in Nigeria here. 
Welcome Bonus
---
OdiBets' welcome offer is a free bet bonus worth KSHS 30. What is unique about this bet is that no deposit is required to redeem it, so you can try out the bookmaker's services without needing to spend a cent. To claim the bonus, simply select the result (1, X, 2) from the day's freebet game, enter your phone number and account password, and submit your free bet. Make sure to activate your account when you receive the SMS confirmation code after registering because any unverified accounts will lose the free bet bonus after 7 days. It is important to note that Odibets will keep the initial stake of the free bet and bettors will only receive the winnings of the wager.

Sportsbook Promotions
---
In addition to the free bet welcome bonus, at the time of writing OdiBets offers its players two other exciting promotions. The first is a 10% bet boost which is applicable to all single and accumulator bets which have minimum odds of 1.3 and a maximum selection on 30 bets. OdiBets is pretty much giving you 10% increase in winnings on all your bets with this one!
Check our extensive guide to Accumulator Betting and Promotions here.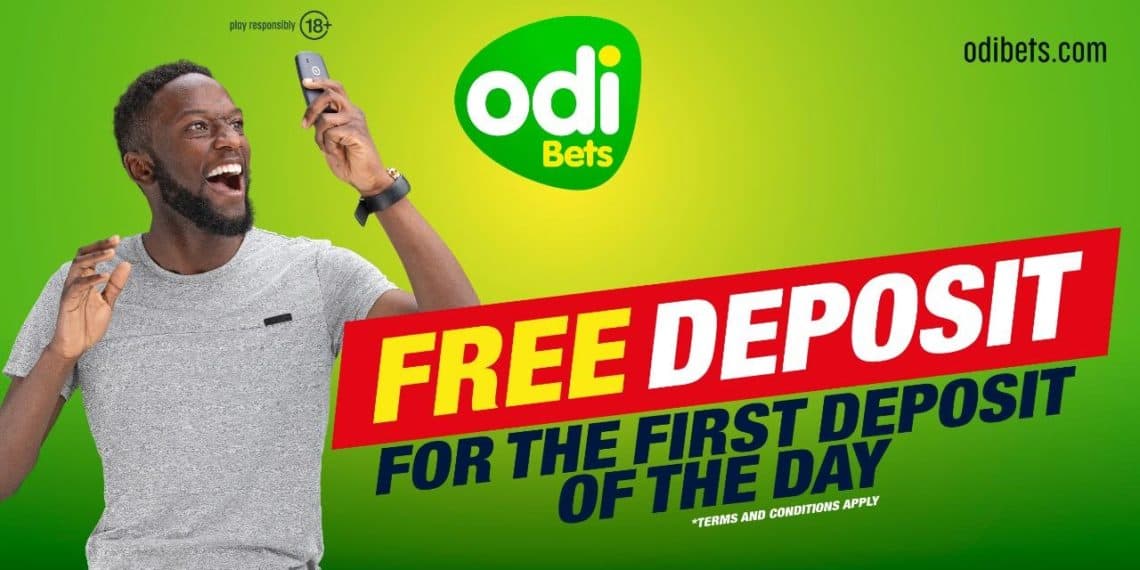 The second promotion is a free first deposit of the day offer. This can be redeemed with deposit amounts of KSHS 49-99/= and KSHS 200/= and above and basically means that the deposit charge will be refunded into your account. For example, if you deposit KSHS 95/= into your account, you will receive KSHS 100/= instead of just the 95/=.
On the promotions section of the site, you can see all the past promotions which were created by OdiBets. It is easy to see that OdiBets offers new and different types of promotions on a regular basis, with some created according to the seasons throughout the year. We encourage you to check this page on a regular basis to stay up to date on all the latest offers. There is no VIP programme on OdiBets.
Pre-Match Offer
---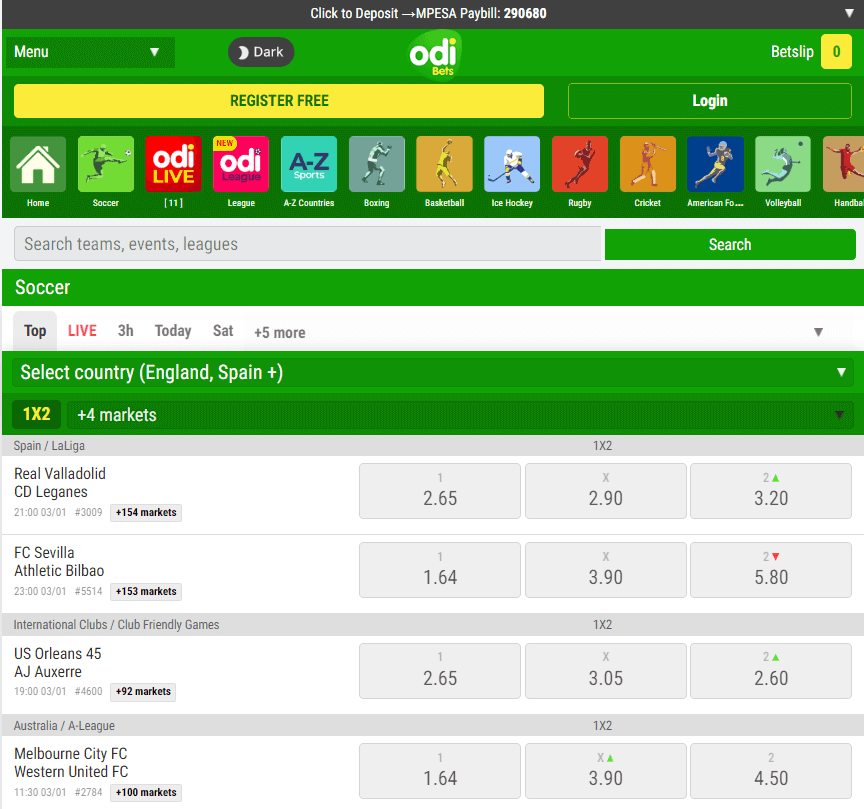 At the time of writing, OdiBets allows its players to bet on 9 different sports, including soccer, boxing, basketball, ice hockey, rugby, cricket, American football, volleyball, and handball. Although this is a smaller number of sports when compared to other African bookmakers, OdiBets makes up for it with the huge number of markets and submarkets that players can wager on. The top soccer game of the day had a very strong 117 markets with a huge number of submarkets available including to win either half, Asian handicap, odd/even goals, and first team to score – to name a few.
See the list of most popular betting terms and markets here. 
When assessing the quality of OdiBets' margins, we used the odds over round. This is a calculation whereby all the odds probabilities are added together. The total should logically come to 100% however this does not take into consideration the profit made by the bookmaker. For this reason, it typically said that any figure below 100% is deemed as being acceptable. We picked 3 random games from the English Premier League, Spanish La Liga, and Italian Serie A. These results came 103.6%, 103.5%, and 104.1% which show that OdiBets offers very favourable margins to its players.
There are no esports and other specials betting markets available to play on at OdiBets.
Live Offer
---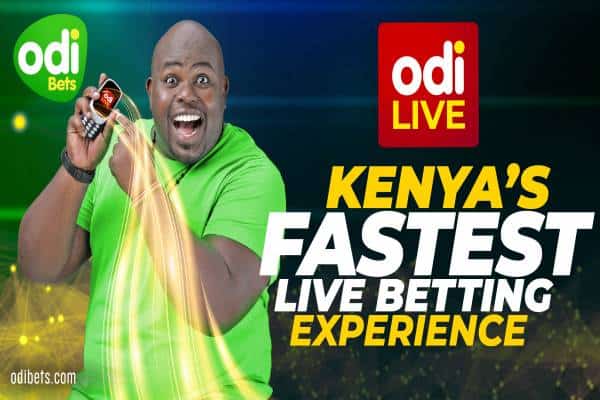 Continuing from its great sportsbook offering, OdiBets' live betting options are on the same level with the company boasting over 500 live games every day. The bookie offers in-play action on all the sports mentioned in the previous section. The top match at the time of writing was a soccer game with 103 different in-play markets to bet on. Unfortunately, there is no live streaming service available on OdiBets and apart from the live score, there is no other information about the ongoing match (such as live updates).
Read our extensive guide to Live Betting here. 
We have also a list of best betting sites with Live Streaming here. 
There is also no cash out option at OdiBets, meaning that once you submit your bet slip, all your selections have to win for you to receive any winnings. One important thing we noticed about the OdiBets website is the sheer loading speed of each web page. In fact, OdiBets is known for being one of the fastest if not the fastest betting site in Kenya. This speed will no doubt come in handy when making rapid betting decisions during in-play matches.
Security
---
OdiBets is licensed and regulated by the BCLB (Betting Control and Licensing Board). The company has extensive responsible gambling section on its website aimed at protecting its players who are vulnerable to developing a gambling addiction. In addition to providing some helpful tips for preventing harmful gambling behaviour, OdiBets allows you to set Deposit Limits. These set a limit on how much money you can deposit at any time and can be set for 24 hours, 7 days, or 30 days. You can decrease deposit limits at any time and with immediate effect but increasing the limit needs 24 hours' notice. The company even gives you access to your online account history so that you can keep track of your betting activity and see all your transactions, deposits and withdrawals.
You can also set Time-outs if you require a short break from betting. These include periods of 24 hours, 48 hours, 7 days, or 30 days. If you have very big concerns about the rate of your gambling, you can also set a Self-Exclusion. This is a longer period of time where you will not be able to gamble from your account and covers periods of 6 months, 1 year, 2 years or even 5 years. You can control all these limits in the Responsible Gambling Controls section of the members page. OdiBets makes it clear that their services should not be used by minors and they even suggest numerous third-party applications which you can use to monitor or restrict internet access. There is a comprehensive privacy policy section on the website which details how player data is collected and used by OdiBets.
Service and Customer Support
---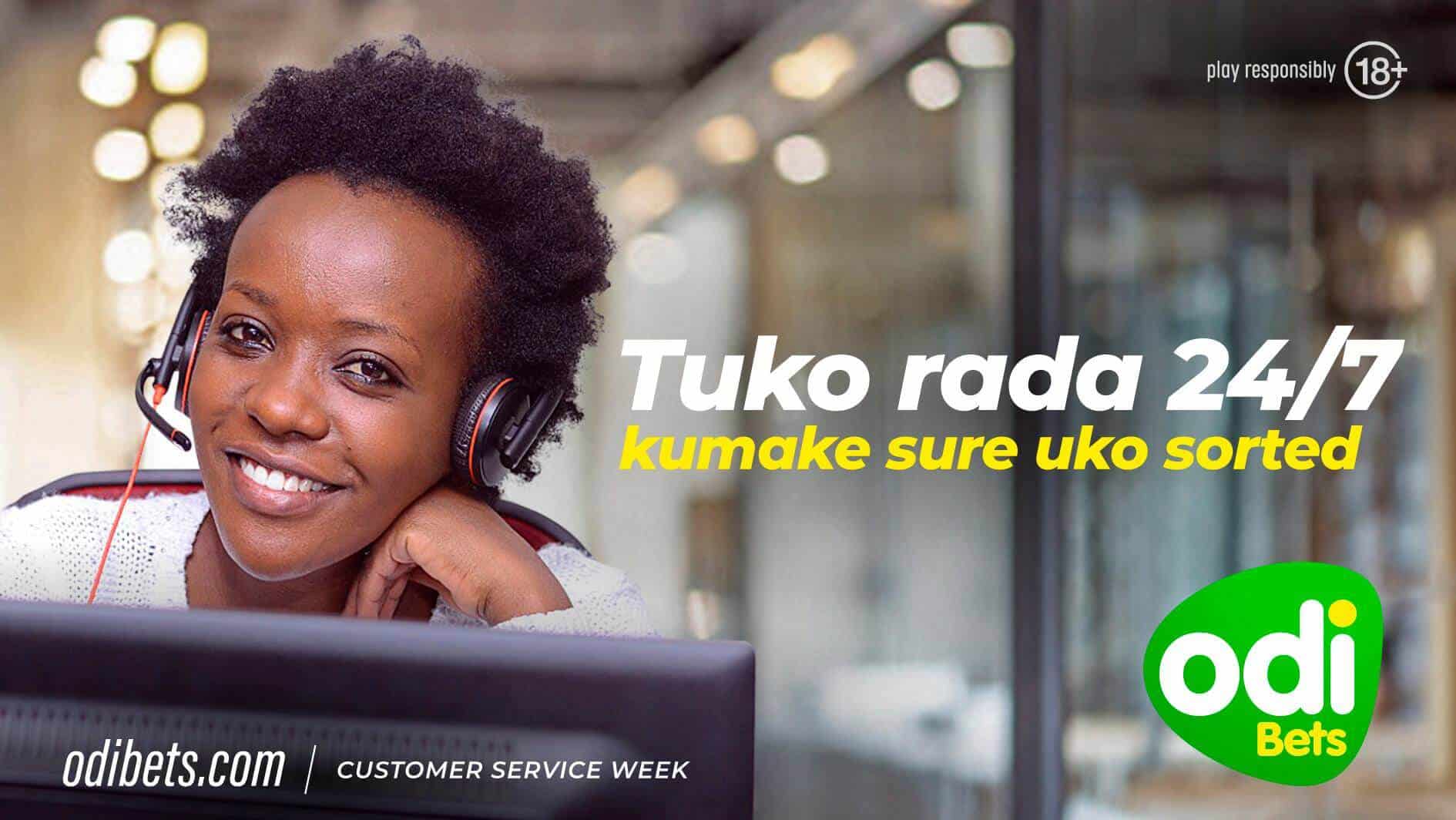 Customer service at OdiBets is available 24/7 and can be contacted by telephone or through social media (Facebook, Twitter, and Instagram). The company's Facebook feed deserves a special mention due to its funny posts and very responsive and entertaining customer service team – which is not surprising given that their main target market is the country's youths. All customer service comments on the Facebook page were polite, friendly, and provided very detailed information. With over 100k likes and high level of engagement on each post, it is no wonder that OdiBets has developed such a strong community of fans.
The FAQs section on the site also covers the most important information that most players would likely need some assistance with. These topics include how to create an account, make a deposit, make a withdrawal, check your bets and account statements, and recover your password. OdiBets does not just answer these questions but provides a step-by-step guide as to how to solve each issue – which is a very nice touch. Customer service is only available in English.
Design and Usability
---
OdiBets has a great looking website. Its vibrant colours make it fun and appealing but it's simple, easy to use layout also gives it a very professional feel. Everything on the website is very easy to find and the overall user experience is one of great quality. As mentioned earlier, the betting company is mobile-first, so the layout is naturally optimised for a mobile screen. Being a Kenyan bookmaker, all of OdiBet's services are only available in English. Within each match selection in the sportsbook, there is a 'stats' button which indicates that the bookmaker might provide some important match statistics for its users however when clicked, these buttons did not show any information. The company does not provide any sports betting news on its website. If you have sensitive eyes, OdiBet also offers a designated dark mode feature where you can darken the white background of the interface for a smoother betting experience.
Mobile
---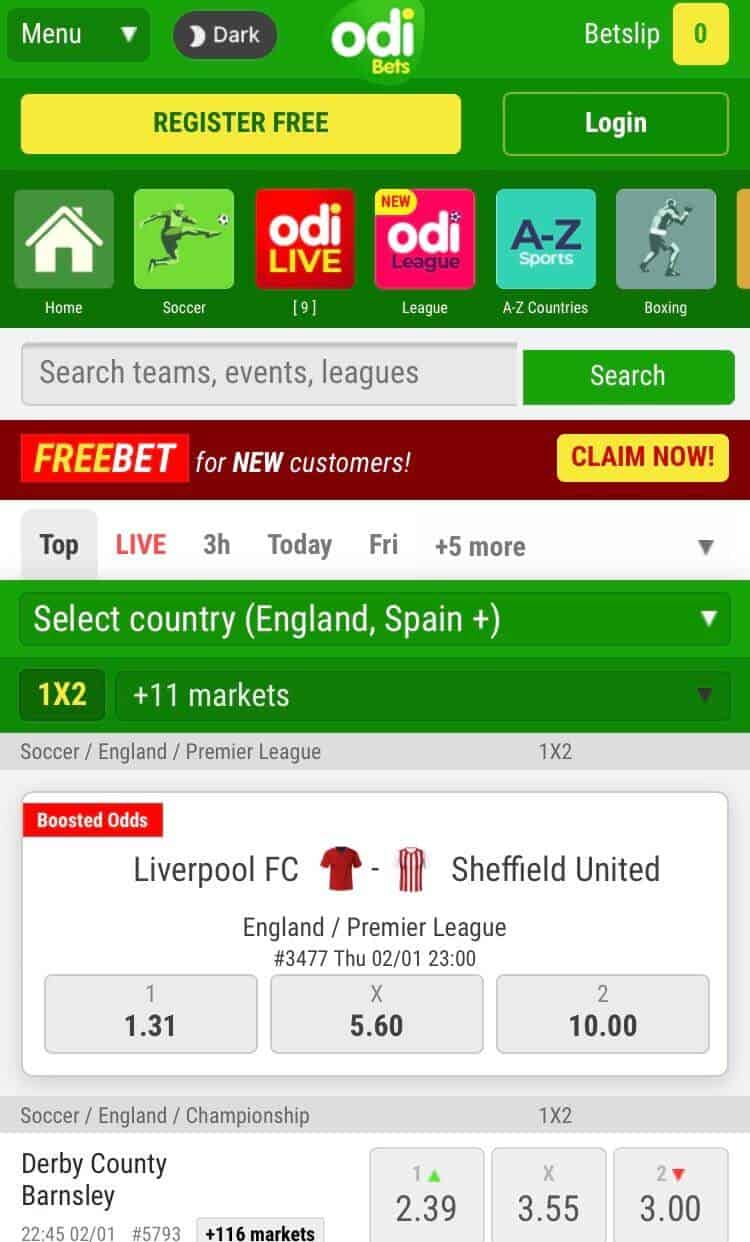 OdiBets does not have a mobile app. Being a mobile-first site however, the product's interface is strongly optimised for mobile and naturally, the mobile site looks much better than it does on the website. The main sports icons are large, colourful and with pictures – which makes identifying the right buttons on a small screen as well as tapping with fingers very easy. The mobile site has all the same features as the website, including its very fast response time between pages. OdiBets' mobile interface stands out as a great piece of technology, offering all that bettors on the go could want.
Other Products
---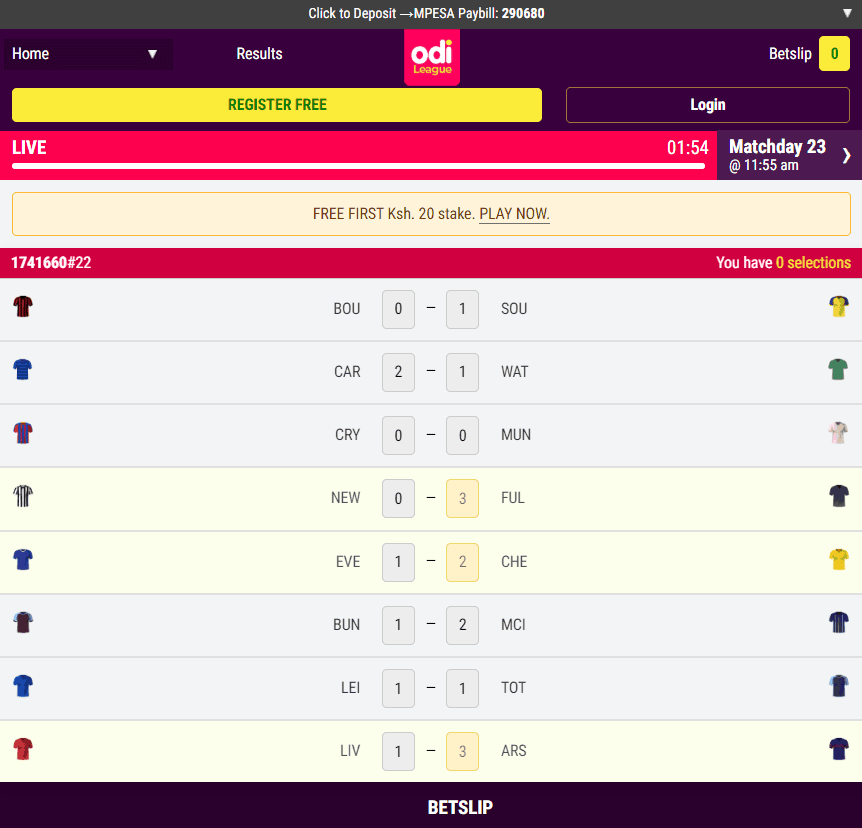 OdiBets' primary focus is on its sportsbook however the bookmaker also offers virtual sports betting options in what it refers to as the Odi League. This league occurs in the form of the English Premier League where you can place wagers on all the different teams just as you would in real life. The different matchdays are spread throughout a day and make for a unique and highly enjoyable betting experience. Like the actual sportsbook however, there is no live streaming of these games so you will not be able to actual watch the matches taking place. OdiBets offers a free first KSHS 20 stake similar to the sportsbook bonus so that players can try out the virtual sports product without having to deposit any money.
Summary
---
Considering just how young OdiBets is, we are thoroughly impressed with the high-quality product that they have managed to produce. Quick deposits, a vast sportsbook, competitive odds, 24/7 professional customer service, and a quality mobile site all make for fantastic overall betting experience. We also, however, think that there is plenty of room for some improvements. If the company introduces more deposit options, live streaming services, a cash-out feature and even a designated mobile app, we have no doubts that OdiBets will quickly become one of the very best betting companies in Kenya. Like we said earlier though, the company is still new, and we definitely expect that with some time, many of these improvements will be introduced for the players. Having recently been announced by the Football Kenya Federation as the main partner for its grassroots county league programme, OdiBets' has already cemented its name as one which cares not only about its players, but also about helping communities across the country.  If you are looking for a mobile-first reliable betting experience, OdiBets could very well be the bookmaker for you.