1X2 betting is backing one of three possible outcomes in sports, a home win, draw or away win. The 1 stands for the home team win, the X for the draw, and the 2 for the away win.
NG
Best Bookmakers For 1X2 Betting
#1

Best Odds guaranteed for 1x2 Betting
Plenty of Half Time betting markets
Sent Off markets available as well

#2

High odds across 1X2 betting markets
An absolutely huge selection of 1X2 betting markets
Use these bets in fantastic acca promo with boost up to 170%!

#3

Double Chance Bets also available
Wide offer of First Time Goalscorer Bets
Add these bets to "BetYourWay" Bet Builder feature
1×2 bet Tips and Strategy
Even with a betting market as simple as 1X2 betting, it's smart to go into it with a solid 1×2 bet strategy in mind. As is always the case with sports betting markets, there's a lot of research and thought that goes into a smart bet. With that in mind, we've decided to whittle it down to five of our 1X2 best tips that we think you'll want to follow to get the best out of your 1X2 bets.

1. Get a firm understanding of the odds
One of the best things about this market is its simplicity makes understanding the value you are getting for your bet seem a lot easier. There are two ways of assessing this. The first is to figure out how much your odds are worth. In other words, the return you will get if your bet is successful. This is generally made easy by bookmakers, but if you want a more comprehensive understanding of how this works across different odds formats, we strongly suggest you check out our Understanding Odds article, which tackles this very subject.
The other way of understanding the quality of your odds is by figuring out the overround. You can do this by using an odds converter to change your odds into a percentage, then adding the percentage of each outcome together. Because this market only has three possibilities, that makes this process a whole lot easier.
The final result will come to over 100%, and that amount more than 100% is known as the overround. This is essentially the bookmaker's margin and is how they consistently make money on random events. In terms of value, you should usually expect the overround to come to less than 110%.
2. Look up recent form
It's back to basics when it comes to betting strategy but once again because of how straightforward the market is the necessary research here is a lot simpler than otherwise.
Ideally, you would have watched games with the teams involved. Still, even if not, getting an overview of recent wins and losses, alongside head to head games, any past injuries, as well as their general performance alongside those results can give you a really good idea of the chances each team has within a matter of minutes.
You can, of course, go as deep as you want to with your research but one of the advantages of the 1X2 betting market is you don't have to spend all day pondering data to make a well-informed bet.
Check our list of betting sites with best statistics here. 
3. Don't just bet on who you want to win
This might sound obvious, but I think we have all been guilty of letting emotion get the best of us when it comes to our favourite teams.
Of course, if you just want to bet on your favourite team because that's the result you want and a winning bet would make it all the sweeter, regardless of the likelihood of the outcome, the that is entirely fair enough. Gambling should be about enhancing your enjoyment of a game. If that is what this does, then go for it.
However, for those of you who are looking to make the most accurate final result betting predictions possible, we're going to have to ask you to think deeply into whether your prediction is really what you think will happen, or what you want to happen. If you don't believe you can be objective, you may want to pick a game where you can be.
4. Keep your accumulators consistent
Whatever choices you are making for your accumulators, it is vital to make sure that they are following a continuous line of reasoning. If for instance, you are betting on a team to do very well in one game and then very poorly on the next, you have to ask yourself why and if there is no good reason then reconsider the logic behind your bet. This is just one example, but regardless of your picks, what is vital is to make sure you view your accumulator as one single entity. This means that the quality of one selection doesn't matter if another doesn't make sense. It only takes one unwise choice to see your vast returns come crumbling down.

5. Take the possibility of a draw seriously
This is a really simple one, but one we thought was worth mentioning. There are three possible outcomes in this market, as we've discussed. However, the draw is often overlooked because, quite frankly, people see it as the less interesting result. This is similar to our third suggestion here. You need to be honest with yourself about the most likely outcome, rather than the outcome you would most like to see. One easy way of checking is if you have a large accumulator and not a single game is predicted as a draw, consider how likely that is to happen across a wide variety of games.
1×2 betting predictions
One thing that is amazing about online betting is if you don't have the time to do the research you still don't have to make 1X2 betting predictions. That's because there's a massive selection of tipsters and apps available to you available in just a few clicks. A quick google search will find examples from all over the web, including on both Android and iOS devices. Take this app from APK Pure as one hugely popular example, it only takes a moment to download and can give you informed 1X2 betting tips APK style, with virtually no effort, in minutes.
And if you don't want to download anything, countless 1X2 betting tips are available online, focusing on the Nigerian customer, but with a vast international market in mind.
You can check our list of 1X2 prediction sites here. 
Using 1X2 bets in accumulators
We have talked about how three-way betting is perfect for combinations, that is, putting on more than one bet on a single event. However, the ultimate combination is of course with a big, juicy accumulator.
Check our extensive guide to Accumulator Betting and Promotions here. 
Unlike combination bets which are separate wagers, meaning that if it loses it has no effect on the other, accumulators allow you to, well, accumulate, larger and larger odds with each selection. If one of your choices fail, then you lose the entire wager (although some bookmakers do have promotions which give you your stake back in this instance), but, if you win, the returns can be absolutely astronomical.
1X2 betting predictions are perfect for accumulators.
Their simplicity allows you to make prodigious accumulators while keeping things simple, and there's nothing to get you into a tournament like putting a series of 1×2 bets down and seeing your potential winnings get higher and higher as the competition reaches its climax. The use of this betting market in accumulators does what any good betting market should, it provides the potential for huge returns while also making the sports that you love more enjoyable. Best of all, they can do this will relatively small stakes because of the often-enormous odds involved.
What 1X2 Betting means
If you're unsure about what 1X2 betting is and are worried it will be challenging to wrap your head around, there's honestly nothing to be concerned about. If you've ever done any kind of betting before, you'll most likely be familiar with it, and if not here's a quick explanation.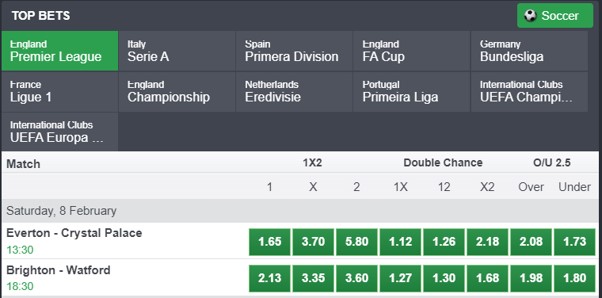 1X2 betting has you bet on three possible outcomes on a sporting event.
These outcomes include a home win, an away win, and a draw.
The 1 represents the home team victory, the 2 represents the away team victory, and the X represents the possible draw.
To make it even clearer, if Sheffield United face Liverpool, then the 1 would represent Sheffield United winning, the 2 Liverpool winning and the X as a draw.
The title of this market is made up of literal symbols for each of these possible outcomes. The reason it is written this way is because that's how it often used to appear on physical betting slips from betting shops.
However, it does also go by other names, such as three-way betting, full-time result or match betting. The reason it is called full time result in many instances is in reference to a fundamental rule that you will want to keep in mind. This market finishes at the end of regular play, this means that it includes any stoppage time, but does not include any extra time. When that final whistle blows at the end of 90 minutes plus any stoppage time, that is the result as far as this betting market is concerned.
And of course, this affects the 1X2 bet meaning because you can only bet on sports where there are three possible results. This means that a game like horse racing would not be relevant to this market, with the most common market being football, but plenty of others being available. This is a market that has truly stood the test of time, and with good reason.
Why is 1X2 betting so popular?
We'll start with the most obvious reason why this market is so popular, and that is because it is simple.
Anyone, even without an understanding of how a sport is even played, could take a guess at which out of two teams would win a game, or whether it would end up in a draw.
We very much encourage you not to take a guess, but, the fact that it is straightforward enough for anyone to bet on gives it a much more universal appeal.
That's also why it can be found on virtually any decent Nigerian bookmaker, with 1X2 on Bet9ja being one example of a betting site that has a vast selection of events for this market, alongside great accumulator options.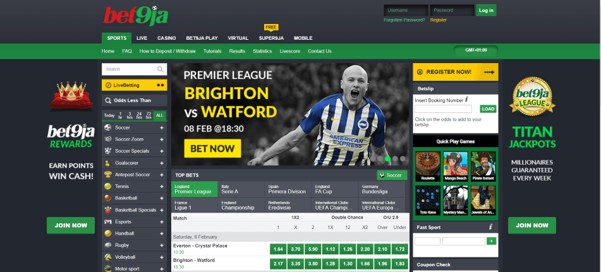 It's also an exciting betting market, there's few things as compelling as backing a team to win and seeing if they can go all the way. It's a market that helps you get invested in the game, which is what good betting markets are all about.
We also think a big part of its popularity has to do with its history. Before the days of online gaming's overwhelming wealth of options, three-way betting was often what people associated as sports betting for most of their lives. Not only does this mean that this market has great significance historically for an older generation, but that kind of legacy resonates across generations and forms an idea of what sports betting is generally. In essence, if you ask someone to give you an example of a sports bet, this is the market they are most likely to turn to.
On top of that, its simplicity also makes it an extremely versatile betting market. What we mean by this is it can be easily combined with other markets to create colossal combination bets without becoming overly complicated.
What other betting markets are similar to 1X2 betting?
We're going to take a look at some markets that we think are similar to 1X2 betting in some way or another, usually in their simplicity. But do keep in mind that there's plenty more betting markets available. We'll also look at some that are perfect for putting together with our classic betting market to create thrilling combinations.
Double Chance
This, of course, is not a market which is suitable for combining with 1X2 betting but it's such a common alternative that we couldn't avoid including it here. Double Chance betting provides you with the same three outcomes as 1X2 betting but allows you to pick two, instead of one, for lower odds but a higher chance of return. In other words, you can bet for the home team to win or draw, and if either comes true, you win that wager.
First Time Goalscorer
Moving onto betting markets which are ideal for putting together with final result betting we have first-time goal scorer, which does pretty much exactly what it says on the tin. Choose who you think will score first in the 90 minutes and if you're right, you win, it's as simple as that. This also allows you to craft a general idea of how you think a game will go.
Half Time Betting
This betting market is pretty much identical to final result betting with the exception that the result is the winner of the first half and the first half alone. Imagine an alternate universe where football games only last 45 minutes and forget that second half because as far as this market goes, it is irrelevant. An interesting market this one because it allows you to analyse how teams perform in a different light.
Total Goals (Over/Under)
We generally find that a mixture of a goal predictions and the 1X2 betting predictions is a very good one because it combines what are commonly considered to be the two most exciting parts of a football game. These are, of course, the goals and the final result, plus they naturally have an impact on each meaning you can make these bets without contradicting your overall ideas on how the game will go. Over/Under bets are once again very simple: you have a goal amount, and you have to predict whether the overall amount of goals scored in a game will be, as you may have guessed, over or under that amount.
To Be Sent Off
We suppose this is the least similar to three-way betting. However, it is a betting market with a clear binary choice and one which can be used alongside the full-time result market to significant effect. On top of that we think it is a wonderful example of the kind of versatility you can find in betting markets online. Here you simply have to predict if a player will be sent off. This is great is you're looking for higher odds as it's something that doesn't happen to a player, or at least shouldn't, all that often.
1X2 Betting FAQs
To put it simply, 1X2 betting is where you bet on a team to win, or you bet for the result to come out as a draw. These are the three critical outcomes in most sports, so one of these markets must be a winner. The 1 represents the home team to win. The X represents the result being a draw. The 2 represents the away team winning. 1X2 betting predictions see you work out which you think is most likely. It is as simple as that.

Are extra time and penalties included?

No, and this is a hugely important rule to remember because it has a significant influence on the outcome of your wager. In general, 1X2 bets include stoppage time but do not include extra time or penalties. That means that if the game ends in a draw after the 90 minutes, but a team goes onto win in extra time, that does not change the result of the wager, which would still count the game as a draw.

Does 1X2 betting go by any other names?

It does! If you think you have heard of this betting market before, but the name has confused you, that is very possibly because it went by a different name such as three-way betting or full-time result.

Can I use 1X2 bets on accumulators?

Absolutely you can, in fact, 1X2 betting markets are among the most common selections and for us, represent one of the best ways of enjoying accumulators due to its simplicity and ability to keep your interest throughout long tournaments.

Can I bet on more than one 1X2 betting outcomes?

If you want to bet on two of the three outcomes in the 1X2 market, then you can select what is known as a double chance bet. This means you can choose both a team to win and a draw as winning outcomes, with a loss only occurring if the other team wins, or even both sides to win as winning outcomes, with a draw being the only losing outcome.