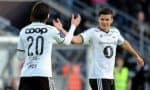 The last team to score is very straightforward and not a complicated means of betting for a punter. This basically means that the bettor has to place a bet on which team will score last at the end of the duration of 90 minutes in the football game.
Clean sheets, teams score and peculiar results.
#1



Best odds on clean sheets and certain teams to score


Great in-play statistics on live games


Fast and reliable in match updates





Read review
Visit site
#2



Great odds specifically for UK Matches


Best cash out system on the market


Previous form statistics for all teams






Read review
Visit site
#3



Constantly updating teams full time result bet odds


Amazing app which is fast and reliable


Good use of in play betting, especially for win to nil and clean sheets






Read review
Visit site
It appears easy, but there are other technicalities involved in this type of bet for punters.
Winning the bet
When you place a bet on the last team to score, you can only win the bet at the end of 90 minutes when the team has scored last in the game. For example, in a game between Ipswich and Liverpool FC, if Liverpool scores the last goal of the game, and the player places a bet on Liverpool, then the punter would have won the bet. On the other hand, if the punter placed the bet on Ipswich as the last team to score, then the punter would have lost that bet.
Losing the bet
If you think winning the bet is easy, then think again. As the term implies, last team to ''score'', meaning that for the punter to win the bet, a team has to score last. For instance, the punter places a bet on Marseille to score last in a Ligue 1 clash with Nancy and the game ends in a barren draw, then the punter would lose the bet; simple as that.
Advantage of Betting on the Last Team to Score
One might think that it's not worth the risk to bet on the last team to score, but it does really have its advantages. One of the reasons to bet on the last team to score is that you can have great odds because it is harder to predict. As with all odds, the harder it is to predict, the great the reward if you win the bet.
No risk no reward – always have that at the back of your mind when you're betting on the last team to score.