One of the most popular betting options is the Win to Nil market, which allows bettors to add an extra element and increase the odds of a simple Outright Winner wager.
NG
Best Betting Sites for "To Win To Nil" in Nigeria
#1

Good Odds for "Win To Nil" market
Cash Out in a late stage when your team is winning to nil
Try also "Home/Away Clean sheet" bets

#2

"Correct Score" Bets with "0" on one side in offer
"Home/Away team to win either half" available too
"Home/Away Exact Goals" also possible

#3

Try "Win to Nil" bets with this renowned Betting Site
Add this bet to "BetYourWay" Bet Builder feature
Cash Out your bet to minimize the risk
Top 5 tips for Win to Nil predictions
The truth about all sports betting is that there is no magic formula to making predictions. There's no tricks or tips that will turn you into some kind of sports mystic, capable of seeing things in detail long before they happen.
However, there are ways in which you can ensure that you are choosing your bets as thoughtfully and as intelligently as possible in order to ensure that you are giving yourself the best opportunities of winning. So much of this comes down to knowing what you're betting on and some good old common sense. In doing so, one bet we would make is that you will become a lot more knowledgeable than the majority of others betting on your chosen event.
With that in mind, here are our top 5 tips for making Win to Nil predictions.
1) Go with what you know
When you are making Win To Nil predictions, essentially you are betting on one team above all else, with the abilities of another team being an extra variable to consider. Nonetheless, there is no better head start than actually having watched the games with, preferably both, but at the very least the team you are betting to win the game without conceding a goal.
Actually, watching the games gives you a head start on the research that you'll want to do before making such a bet. However, before we get to that, there's another important piece of advice we want to cover.
2) Don't just bet on what you hope the result will be
Now, we know we said that it is smart to bet on a team you already follow because that gives you some base knowledge about your prediction. However, there's a bit of a pitfall here and that's the fact that if you are regularly following the games then it is very likely that you are a fan of the team. In this instance, emotions can get in the way of a well thought through prediction.
If that is the case, then when you are making your bet, we want you to ask yourself whether this is really what you think will happen, or if this is what you want to happen. And be honest with yourself, because the scoreline will ultimately tell you the truth.
3) Take a long hard look at the recent results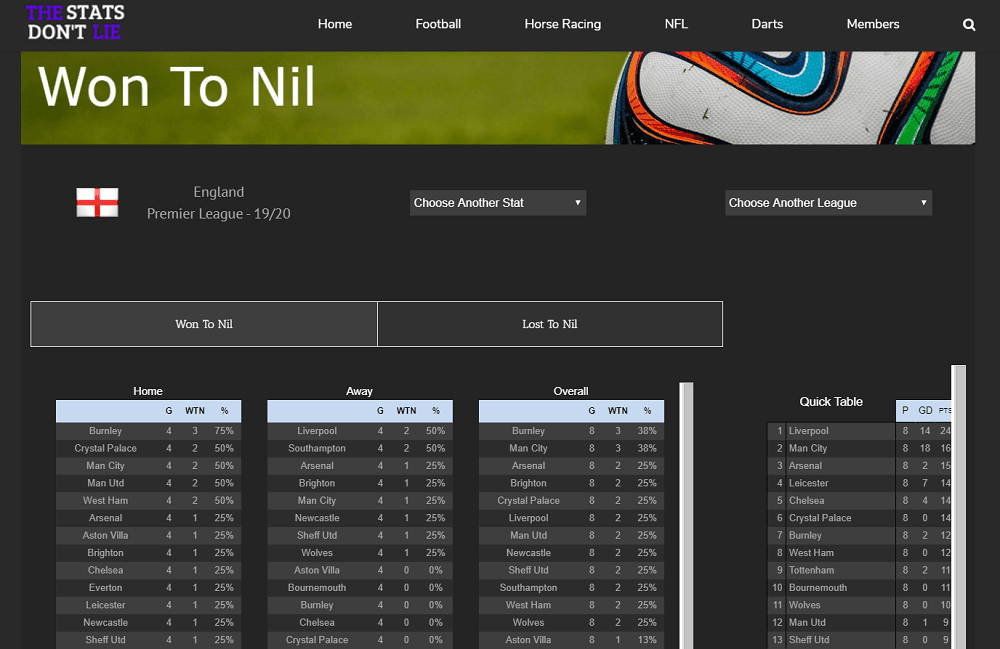 While watching the games will give you a base level of knowledge for your prediction, it's important to take a step back and take a hard look at the results to get the full picture. Combine these two areas of knowledge – the intricate details you get from watching the games alongside the cold facts of the results.
For instance, you may feel that on a couple of instances, a team played better than the results would suggest. This means they would affect your view of their potential in the upcoming game differently than if the team was completely outplayed the entire game.
There's a lot to consider when it comes to results. Naturally, one of the first is whether or not they have won to nil lately and against similar teams. You can also consider things like how their form is affected by factors such as the home advantage and the significance of this game in the grand scheme of things. Take into account whether they are a team which is easily affected by motivating factors or whether they are likely to maintain form regardless.
Consider how the defence has managed against similar opponents, the style of play and how that affects results. For example, you could have a very successful team that has nonetheless conceded goals in the majority of their victories because they play a high-risk style.
Really, a good analysis is a detailed cross-reference of a huge variety of factors, so really think carefully and pool all the knowledge available to you in order to come up with the most informed prediction possible. There are plenty of sources out there if you are looking for the most important stats, with two of the best being Soccerway.com and TheStatsDontLie.com.
4) Review their head-to-head history
You'd be surprised how often this one is overlooked. These two teams may not have met in the last couple of months, meaning it's unlikely your results sheet will be enough to reasonably analyse their past encounters. There are few better ways of getting to know a game than by seeing how the competitors have squared off against each other in the past.
Obviously, there is a bit of a time limit on this. If the teams in question last met 25 years ago, the information is probably pretty useless. However, if they have recent meetings – in the last few years or so, especially if there haven't been too many major shake-ups since – then this information might be the most important to review out of any.
That's because how teams will play against each other can only be understood in part by seeing how they face off on the actual pitch. Often, they have dynamics – either through a clash in play styles or how their strengths and weaknesses interact – which can only be truly tested one-on-one. So, make sure to check out their head-to-head history for a truly in-depth understanding of this dynamic.
5) Check out the injury list
If there is one thing that can turn a game completely on its head, it's the injury list. When players set to have a big impact are no longer able to compete – especially when it's multiple injuries on either side – then you could end up with a game that is wildly different to the one initially expected. A huge mistake that people often mistake when betting is instead of betting on the game they are getting, they are betting on what they imagine the game would be like if both teams came in with their best squad.
A couple of extra points on this is to consider what the line-up is likely to be through other factors as well. This could be impacted by a manager wanting to keep star players fresh for a bigger game in the future, for instance, or if someone is likely to debut, taking the spot of an established player. If you really want to do your homework, you can even check out the line-ups of previous games – especially those where the team has won to nil in the past – to see how it compared with the likely player selection.
Those are what we consider to be some of the most important things to keep in mind. As you can see, it's really all about careful thought and research, rather than secrets and tricks. But ultimately, that is how you make the smartest bets, both for Win to Nil bets and in general.
Why make Win to Nil predictions?
Well, the reason you make Win to Nil predictions more broadly is because it seems like an intelligent bet to put on in that particular event. For instance, you may feel that a team has a distinct advantage over another to the point where simply choosing that team to win outright is uninteresting and yields low odds. By including the added prediction that the victory will be to nil, you not only have a bet which is much more interesting but also one which provides odds that offers higher payouts.
There are few better types of bet than to Win to Nil in order to add interest to a game which appears one-sided. It has the ability to make a contest that you view as not worth watching much more entertaining by twisting the outcome you are looking for. A lot of bets, of course, also do this. However, because Win to Nil bets are so simple, they have a lot more appeal to many people than, for instance, betting on the number of corners taken per game.
Not that there's anything wrong with those types of bets. We view all different betting options to be a good thing because they simply broaden the scope of what is available and provide people with more options. Nonetheless, there's little doubt that certain bets seem to capture mainstream imagination more than others and Win to Nil is right at the top of those options.
Speaking of options, it is important to note that Win to Nil bets are not only available on soccer. You can actually place this kind of bet on all sorts of other sports. The reason they are most commonly associated with football is because it is naturally a lower scoring game than the majority of other sports. For example, it would be more unusual for a rugby team to Win to Nil than a football team, because points are much more frequent.
However, this doesn't mean those bets are not available for those who want them, and the difference in likelihood is all reflected in the odds. You can find Win to Nil bets on the likes of Rugby Union and League, Tennis, Hockey, Ice Hockey, Baseball, Basketball and more. Once again, for us, the more possibilities, the better because it allows you to craft exactly the kind of bet you want on the sports you want.
The main reason to choose Win to Nil bets though is simply because you want to, and it will make whatever you are watching that little bit more intriguing.
How does Win to Nil betting work?
The basics of Win to Nil predictions is extremely simple. Many of you reading will understand much of the concept from the title alone. To put it simply, you are predicting that one team will not only win the game but will do so without conceding a goal. Or, to examine it further, this can be thought of a bet that is split into two parts: 1) an outright winner bet on the chosen team and 2) a prediction that the other team will fail to score.
If either of these bets loses, the whole wager is lost. In a way, Win to Nil predictions can be thought of a similar idea to an accumulator bet, where you are predicting not one but two outcomes for higher odds.
What is the difference between Win to Nil and Clean Sheet betting?
We mentioned at the start of this article that one of the best things about betting today is the ability to tweak wagers so they are perfect for you. And this is absolutely true, however, there is a slight downside to this. It means many bets are quite similar, so people can get confused between them or get what they are betting on muddled up. This can often be the case with Win to Nil and Clean Sheet betting but thankfully, we're here to clear things up.
Clean sheet betting is a bet only on whether a team will or will not concede a goal. The reason this is different to Win to Nil betting is that you are not predicting which team will win.
This means that you can bet, for instance, that team A will end the game with a clean sheet. If the game were to end 0-0, then you would win that bet. However, if you bet that team A was to Win to Nil, you would not win that bet in the result of a 0-0 draw because only one of the two parts of you wager will have come in.
You can also adjust your clean sheet betting further, betting for a draw or any clean sheet on either side, depending on which you view as most likely.
Win to Nil bet offers
In truth, it is pretty unlikely that you will find many betting promotions specifically based on Win to Nil bets. It's certainly possible – stranger promotions have been and gone many times before – but as it is not something you are likely to stumble upon, we wouldn't count on it as being expected.
However, Win to Nil bets can be an excellent way of using other bonuses, in particular, free bets. This is because the simplicity and higher odds make them a perfect way to utilise such bonuses effectively.
What are the Win to Nil alternatives?
If you are looking for betting options similar to Win to Nil but don't think that bet is quite right for the event you are looking to bet on, there are plenty of other options which are easy to understand and allow you enough options to find a prediction you consider likely with fair odds.
These include Both Teams to Score, Correct Score Predictions, First Goalscorer, and Over/Under Goals to name but a few. Alongside this, you can also, of course, choose an Outright Winner or Clean Sheet prediction.
FAQs
What is a Win to Nil bet?
A Win to Nil bet is a prediction that one team will not only win the game but will do so without conceding a point or goal.
Is this type of bet only available on football events?
Not at all. While football is the most common sport associated with this kind of bet, it is also available on all kinds of sports like Tennis, Rugby, Baseball and much more.
What is the difference between an Outright Winner and a Win to Nil bet, or Clean Sheet betting?
On an Outright Winner bet, you are only betting that one team will win the game. So, for instance, if you bet on a team to be an Outright Winner, and they won the game 2-1, you would win that bet. If, however, that was a Win to Nil bet, you would not, as they had conceded a point.
On Clean Sheet Betting, you are simply betting that one team will not concede a point, not that they will win the game. So, you would win with a 0-0 result, whereas you would not win a Win to Nil bet with that score. You can also adjust your Clean Sheet betting to cover a draw or any Clean Sheet, meaning if in any instance the game ends with a 0 score on either or both sides of the scoreboard, your bet is successful.
Why is Win to Nil betting so popular?
There are plenty of reasons but the first that springs to our mind is Win to Nil predictions are a simple concept to understand. They also allow for higher odds on what may be a mismatched fixture.
Are there Win to Nil promotions?
Usually, bookmakers do not offer Win to Nil specific promotions, but there are plenty that can use Win to Nil bets. For instance, in the case of free bets or to help hit rollover requirements, and the higher odds often help in these instances.