There are so many different ways you can bet on soccer, which is just one of the things that makes the beautiful game so exciting. While full time result and total goal markets are options that most bettors choose, corners betting is becoming increasingly popular for good reason.
Corner betting

#1



Best odds on corners bets


Great in-play statistics on live games


Fast and reliable in match updates



Read review
Visit site

#2



Great odds specifically for UK Matches


Best cash out system on the market


Previous form statistics on Corners for all teams



Read review
Visit site

#3



Constantly updating corners bet odds


Amazing app which is fast and reliable


Good use of in play betting, especially for corners



Read review
Visit site
Where Can I Find the Best Alternative Corners Bets?
As well as understanding the best strategy for placing corner bets, it's also important that you know where to find the most competitive odds. We've picked three of the best bookmakers for alternative corner betting and you can find out more about each with our handy reviews.

How Does Alternative Corners Betting Work?
Alternative corners are special bets that combines two bets that relate to corners. Alternative corners can have various options, including 'first half corners', 'second half corners' and 'corners 2 way'. For each, you can choose whether you think the total corners in the game will be over or under a certain amount.
First Half Corners
As you may have guessed, 'first half corners' bets only concern the total number of corners that are taken in the first half of the soccer match. This includes any corners that are taken during extra time of the first half.
The bookmaker will offer a prediction for how many corners they expect will be taken in the first half of the match. You can then wager whether you think there will be over this amount, under this amount or this exact amount.
Our Bookmaker Pick
Bet365 offers corner betting on certain major football matches, including first half corners bets. This bookmaker is one of the best, with a diverse range of sports, tournaments and events to choose from.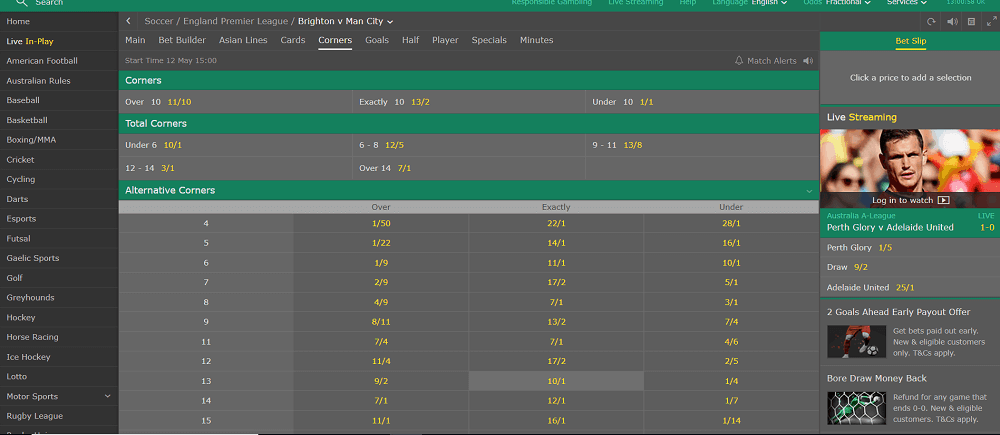 Second Half Corners
Similar to first half corners bets, 'second half corners' only count the number of corners that are taken immediately after the kickoff of the second half of the match. Some bookmakers will restrict the market to within 90 minutes only, meaning that any corners taken in extra time will not count towards the bet. Additionally, any corners that are awarded but not taken will not count on these bet types.
Again, you can choose to wager whether you think there will be over a certain amount or under a certain number of corners taken during this half of the game.
Our Bookmaker Pick
With a wide range of soccer matches covered, Betway is a great choice for corner betting. They offer a number of corners betting types, including full time corners, along with a selection of other popular bet types.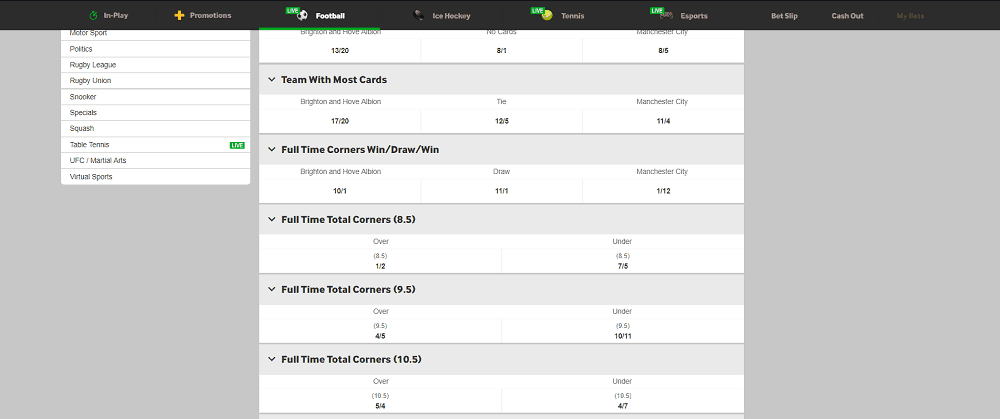 Corners 2 Way
The 'corners 2 way bet is based on the total number of corners taken by both teams across the game. Again, bettors can choose whether they believe this number will be over or under a certain amount, and these bet types will usually end with a .5. For example, the total number of goals could be over 1.5 or under 1.5 rather than 1. These bet types are usually available for major league matches.
Our Bookmaker Pick
With one of the biggest selection of corners bet types, William Hill is an all-around excellent choice for bettors looking to take advantage of this potentially profitable way of betting.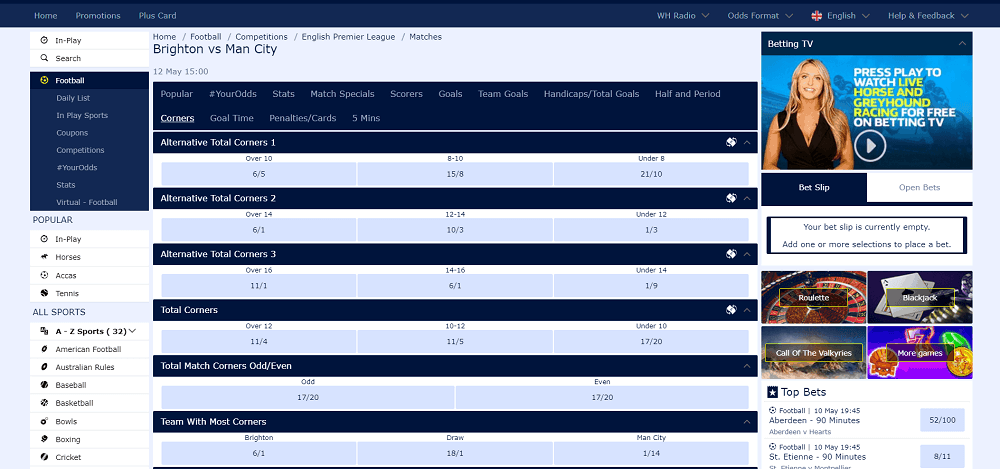 How do I Become a Corner Bet Specialist?
This type of betting has the potential to be highly profitable, as it requires a lot of knowledge into the game and the teams involved. For example, one thing to always bear in mind is that corners usually come in clusters during a soccer match. Although a corner is not necessarily always followed by another, they do tend to occur in pairs, threes or even more. Here are some tips and advice to help you make the most of your wagers.
Check on the stats
To become a corner bet specialist, you should analyse past performances and stats to gain an understanding of which teams are most likely to win corners and which are most likely to concede them. Teams that are offensively dominant are likely to take a lot of shots. When these are saved or deflected, then this will result in a corner kick being awarded.
There are plenty of free resources out there which allow you to track the latest statistics for corners. WinDrawWin is just one of these, presenting all the stats you need in an easy-to-understand table. It is always worth spending a bit of time looking through information like this to help inform your bets before you place them.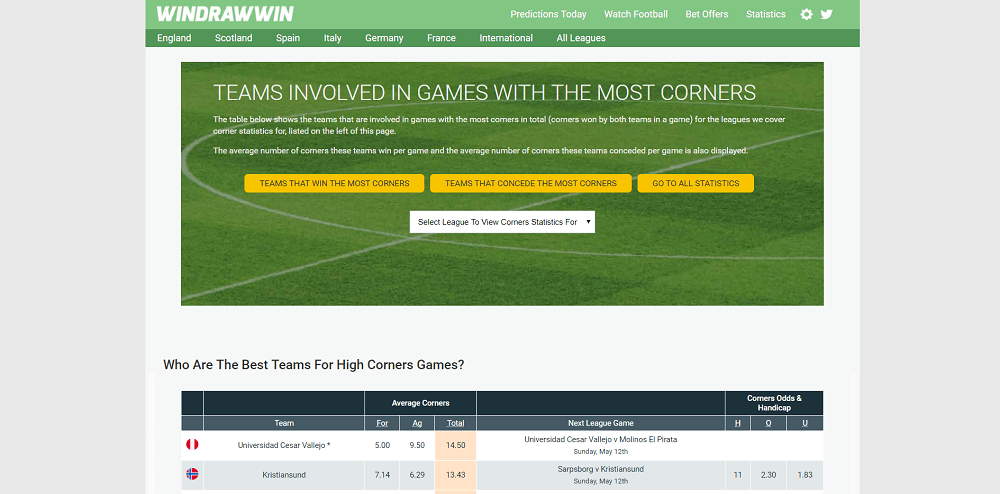 Follow the news
In addition to their offensive or defensive abilities, you should also consider the teams' strengths, weaknesses and preferred tactics when corners betting. Therefore, it's always a good idea to review the teams' recent performances when choosing to wager on this market and follow up-to-date sporting news, especially surrounding injuries and suspensions.
You can follow the latest action surrounding soccer on various sports news sites, such as Sky Sports. You can even download the Sky Sports mobile app so you can keep up to date while you're on the go.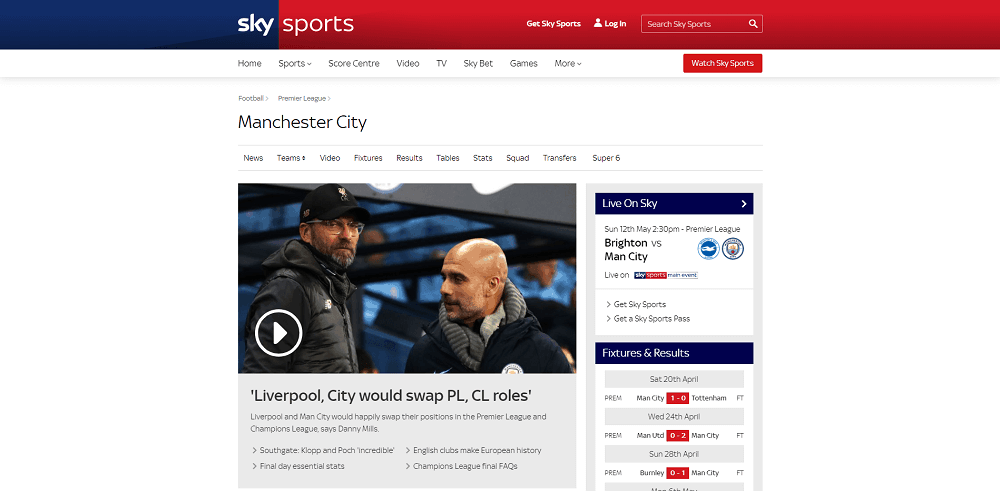 Understand the rules of corners bets
You should also take some time to understand the difference between the alternative corners and other corner bets. For example, of all the alternative corners, none are refundable when the bettor loses, unlike in Asian corners which have room for refunds with some conditions. While it does pose a bigger risk, betting on alternative corners means you can either go big or go home. This is the only choice that bettors have, and it could result in big wins when done right.
Tips from professionals for corner betting
Check the stats on the number of corners taken in past games throughout the season.
It's also worth looking at the number of goals each team has scored throughout the season.
Gain an understanding of the team's style of play, e.g. whether it is offensive or defensive.
Check the latest news to understand the team's weaknesses, strengths, pressures and injury status.
In matches where there is a clear favourite and an underdog, the favourite is likely to get more corners.
In matches between teams that are equal in skill and pressure, there tends to be fewer corners.
Remember that corners tend to occur in clusters in quick succession.
In the final moments of a close match, there can be a high number of corners.
However, remember that many bookmakers do not count corners that are taken in extra time.
What are Corner-Based Bets?
As the name suggests, corners betting is based on a prediction of how many corners will be taken during a soccer match. Corner kicks are used as a way to restart play in a match after the entire ball has gone over the goal line, whether it was on the ground or in the air at the time. They are rewarded when the ball was last in contact with a member of the defending team before it went over the goal line and when no goal was successfully scored. A player will then take the kick from the corner of the pitch which is closest to the point where the ball went out of play.
There are many different options when it comes to corners betting. Bettors can predict an exact number of corners that will take place during the match or by a specific team. They can also choose an over/exact/under type of bet. For this, bookmakers will predict a figure for the combined number of corners during a match and then bettors can wager whether they think the number will be over that amount, under that amount or the same amount. This is how alternative corners bets work.
Conclusion
Overall, corner betting does require a more in-depth level of knowledge of both the game and the teams than some other types of soccer betting does. However, it is an increasingly popular way to bet, as it has a diverse betting market and the potential to earn you high winnings when placed right.