Registration process
---
Creating an account with Soccabet requires only minimal personal information. You will need to enter your full name, date of birth, mobile number, and create a username and password. You are also required to confirm that you are older than 18 years of age and confirm that you are not a robot. Soccabet will then send you a confirmation message on your mobile number to verify your account. You need to be in possession of a valid Ghanaian mobile number to be able to create an account with Soccabet as mobile numbers from other countries are not accepted.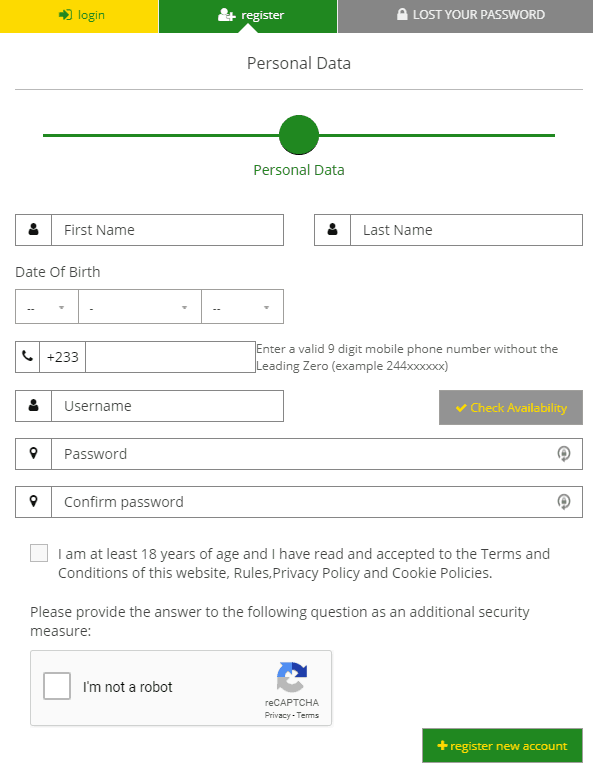 Deposits and Withdrawals options
---
At Soccabet you can choose from a variety of payment methods. Deposits can be via credit card, bank transfer, prepaid card, and by directly paying an agent. When depositing with credit card, there is a minimum requirement of €20 and a maximum of €2000 and with bank transfer there is a minimum deposit amount of €50 and a maximum of €5000. Credit card deposits are processed instantly.
Withdrawals can be made via credit card and bank transfer and usually processed in 3-5 working days. Soccabet does not charge any fees for withdrawals. The minimum withdrawal amount is €30 when using a credit card and €50 when using bank transfer. Should you wish to withdraw more than €2300 at the same time, Soccabet states that it has a legal requirement to verify its players' identity. The bookie does not permit the use of cryptocurrencies as a form of payment.
Check our extensive guide to payment options in Nigeria here. 
Welcome Bonus
---
At the time of writing this Soccabet review, the bookmaker does not offer any special welcome promotions for its new players.
Sportsbook promotions
---

What Soccabet lacks in a welcome offer, it makes up for in its sportsbook promotions. The betting site offers two exciting offers which is refers to as Socca Bonus and Socca Chance.
The Socca Bonus is an accumulator promotion where you will get an added bonus to your acca winnings depending on how many selections you make – the more you bet, the more you win! With 2 selections you will get an added bonus of 3% to your winnings, with 5-10 selections you will qualify for a 10% bonus and 21-24 selections you can earn a very generous 50% bonus on your winnings. To take advantage of this offer, each selection should have minimum odds of 1.3.
Check our extensive guide to Accumulator Betting and Promotions here. 

The Socca Chance promotion is also an accumulator offer but comes in the form of a money back bonus. If you bet on 10 or matches and lose one game, Soccabet will reward you by giving you your initial stake multiplied by 3! Any voided, postponed, or cancelled matches with not be counted towards the Socca Chance bonus and just like the previous Socca Bonus, all selections must have odds of 1.3 or higher. At the time of writing, Soccabet does not offer a VIP or loyalty programme.
Pre-match offer
---
Soccabet offers its players a vast selection of options in its sportsbook. You can choose to wager on no less than 17 sports ranging from the popular soccer, tennis, and basketball to the less common snooker, table tennis, and water polo. As you would expect from its name, Soccabet's more popular sport in soccer with dozens and dozens of leagues available to bet on. Ever wanted to bet on matches in Uganda? Kuwait? Myanmar? Or maybe New Zealand? Well at Soccabet you can do just that!
See the list of most popular betting terms and markets here.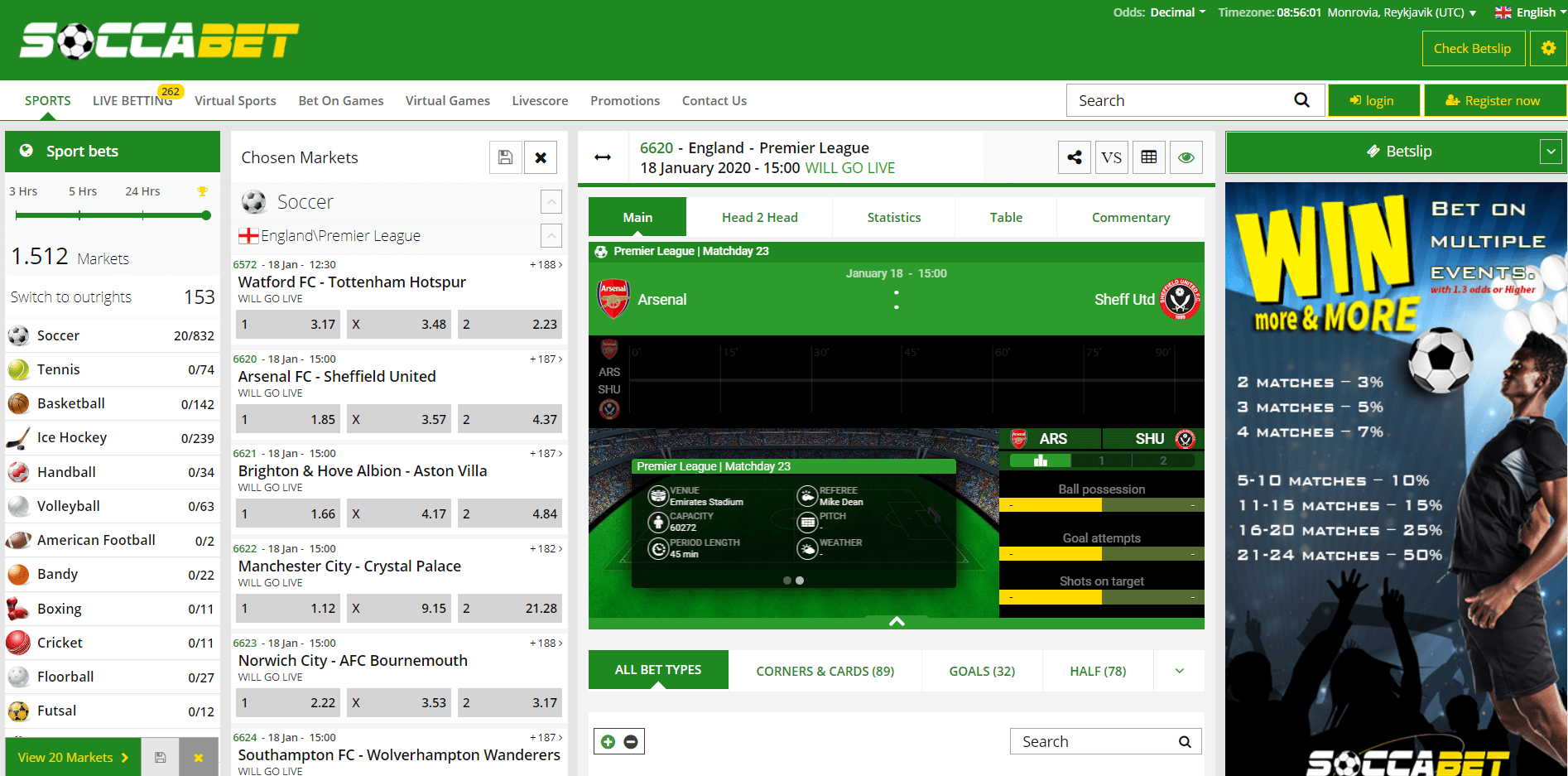 The number of markets available to bet on within each league is also very impressive. On average in the English Premier League, matches had a whopping 187 markets with an even greater number of submarkets to choose from – including some of our favourites like both teams to score, half with most goals, odd/even goals and Asian handicap. On its website, Soccabet claims to have 'the highest odds guaranteed.' To verify if what they are saying is true, we assessed their margins using the odds overround. This is a calculation whereby the percentage probabilities of all the odds winning are multiplied by each other. Logically, this figure should come to 100%, however this does not take into consideration the profits made by the bookmaker. For this reason, any result below 110% is typically seen as being acceptable.
When assessing Soccabet's margins, we looked at the 3 soccer games from the English Premier League, Spanish La Liga, and French Ligue 1. The results came 105.0%, 104.9%, and 105.1% which indicates that Soccabet offer high quality odds. Players are unable to bet on esports or other specials at Soccabet.
Read our guide to Esports Betting here.

Live offer
---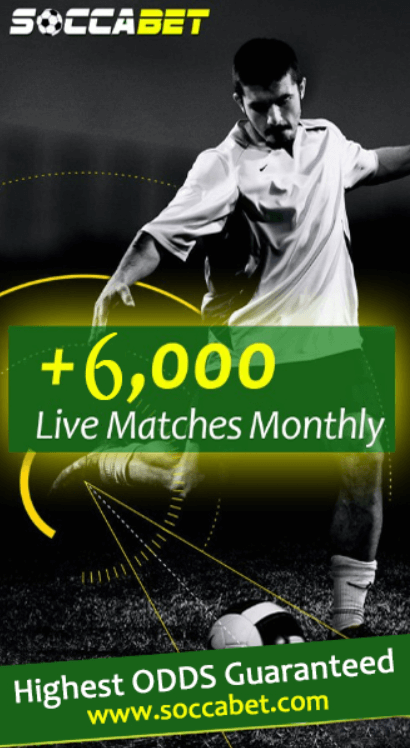 Boasting over 6,000 live matches each month, Soccabet's live sport offering really is a force to be reckoned with. Players can bet in-play on all the sports previously mentioned in this Soccabet review. You can choose to look at an Overview of all the games currently playing live or an Event View where one selection is expanded to show live updates in more detail with an animated graphic and match stats. What is especially great about this bookmaker's live betting interface, however, is the 'MultiView' feature. This allows you to keep track on live updates of multiple games at the same time and is perfect for those in-play acca bets. Many of the most popular bookies in the world do not offer this feature so we are really impressed with this one! Conveniently, Soccabet also provides a cash out feature which you can take advantage of when betting in-play to avoid losing all your bets if things don't go your way. There is no live streaming service on Soccabet.
Check our extensive guide to Cash Out betting here.
We have also a list of best betting sites with Live Streaming here. 
Security
---
There is some uncertainty as to what gambling license Soccabet has or whether it even has a license at all. With regards to responsible gambling, in the company's 'about us' section there are some tips about how you can keep in control of your bankroll. Players also have access to their customer history where a full history of transactions, withdrawals, deposits can be viewed to help keep track of spending. If you are concerned with the amount of gambling you are doing, you can send an email to Soccabet asking them to disable your account for any amount of time that you wish. We always prefer when this process is automated as it can make a big difference to someone with a gambling problem, but given that Soccabet is still relatively new, we think it's great that they do offer this feature.
When making a deposit, the name on the credit card or bank transfer must be the same as the account holder to prevent any fraudulent transactions. The company also has an extensive privacy policy section which provides information on how your personal data is collected and used by the betting site.
Service and Customer Support
---

You can contact Soccabet's customer support through several ways including via email, telephone, Whatsapp messaging, Skype, or social media. The bookmaker's help section on the website isn't very detailed and only shows a few screenshots of where to click if you want to register an account and deposit funds. Thankfully though, for any queries you might have, Soccabet's customer service department is available 24/7.
When we contacted customer support, the representative picked up very quickly and was polite, friendly and gave very helpful and detailed information – so overall this was a very good experience. On Social Media – particularly Facebook – the company maintains a very strong following of users who you can interact and engage with on a daily basis. There is no FAQs section available on the site at the time of writing this Soccabet review.
Design and Usability
---
The Soccabet website looks great. It has a simple interface with a nice layout and does not rely on any cheap gimmicks to attract the player's attention. There is good use of animated banners displaying the betting site's offers and other promotions. Overall, the site has very good usability with all sections and information very easy to find.
The betting process is a very straightforward and is made much better with the many statistics provided by Soccabet. Before placing a bet, you can take advantage of detailed match statistic, head-to-head and league table information, and pre-match commentary which are all very helpful when it comes to making the most informed bet possible. SoccaBet is available in English, French, Latvian, Turkish, and Greek.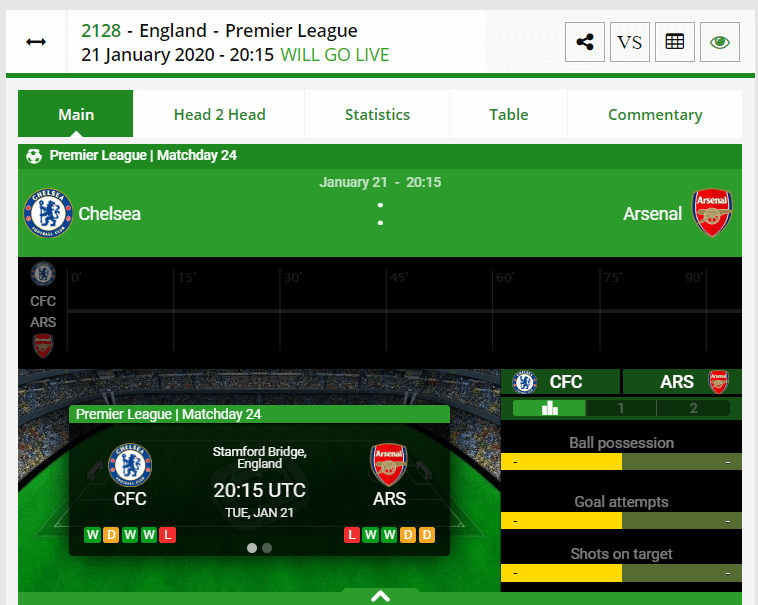 Mobile
---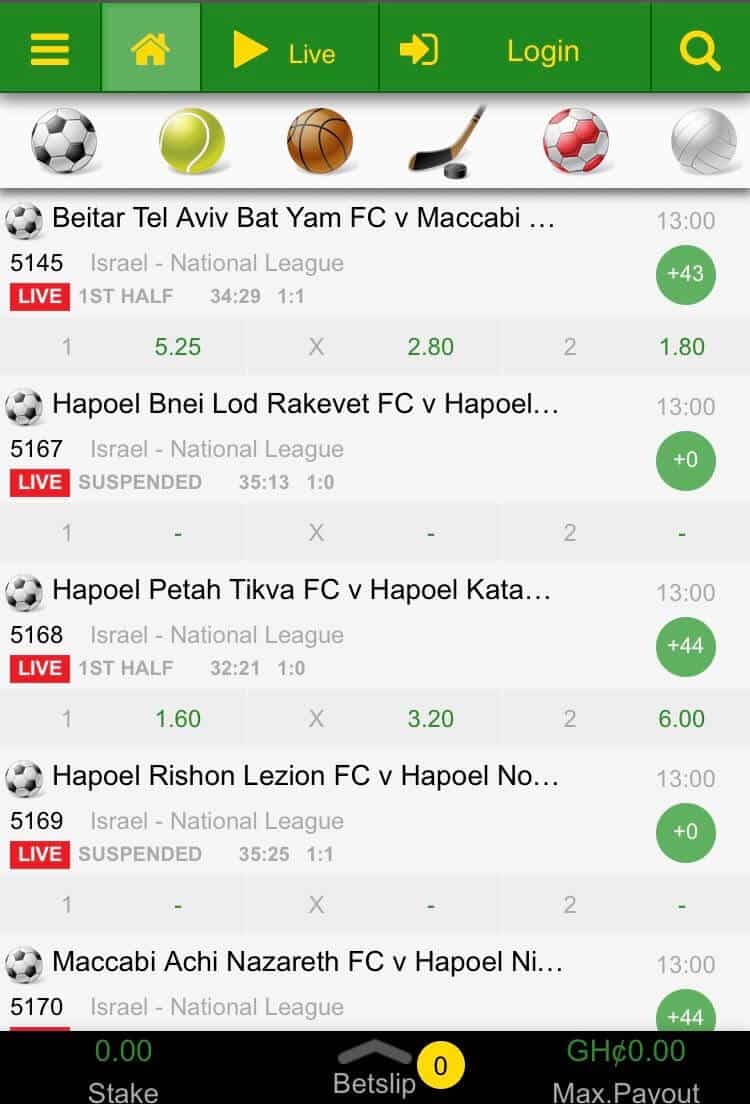 If you are looking to bet on the go, Soccabet offers a very good mobile betting experience on its mobile app – which is currently only available on Android devices. It is clear that Soccabet have put a lot of effort into optimising its product for mobile as the all the different sections on the site fit nicely on the screen. It is easy to navigate between the different pages on the app. Soccabet's mobile app has almost all of the features that are available on the main site, with the exception of the live graphic that shows important updates during a match. Additionally, the mobile app is only available in English.
Other products
---
It should come as no surprise that a betting site with the name Soccabet focuses primarily on sports betting. In addition to its sportsbook however, players can also bet on virtual sports, and a host of other live games including poker, baccarat, lucky 7, and dice duel which are presented by live dealers. The virtual sports section of the site offers virtual football, virtual horse racing, virtual dogs racing, and virtual tennis betting options. Match takes place frequently and you can keep track of the games using the built-in live stream. There are no promotions related to virtual sports of the other live games offered at the time of writing this Soccabet review.
We have an extensive article about Virtual Sports here.
Read out article about how to win in the casino here.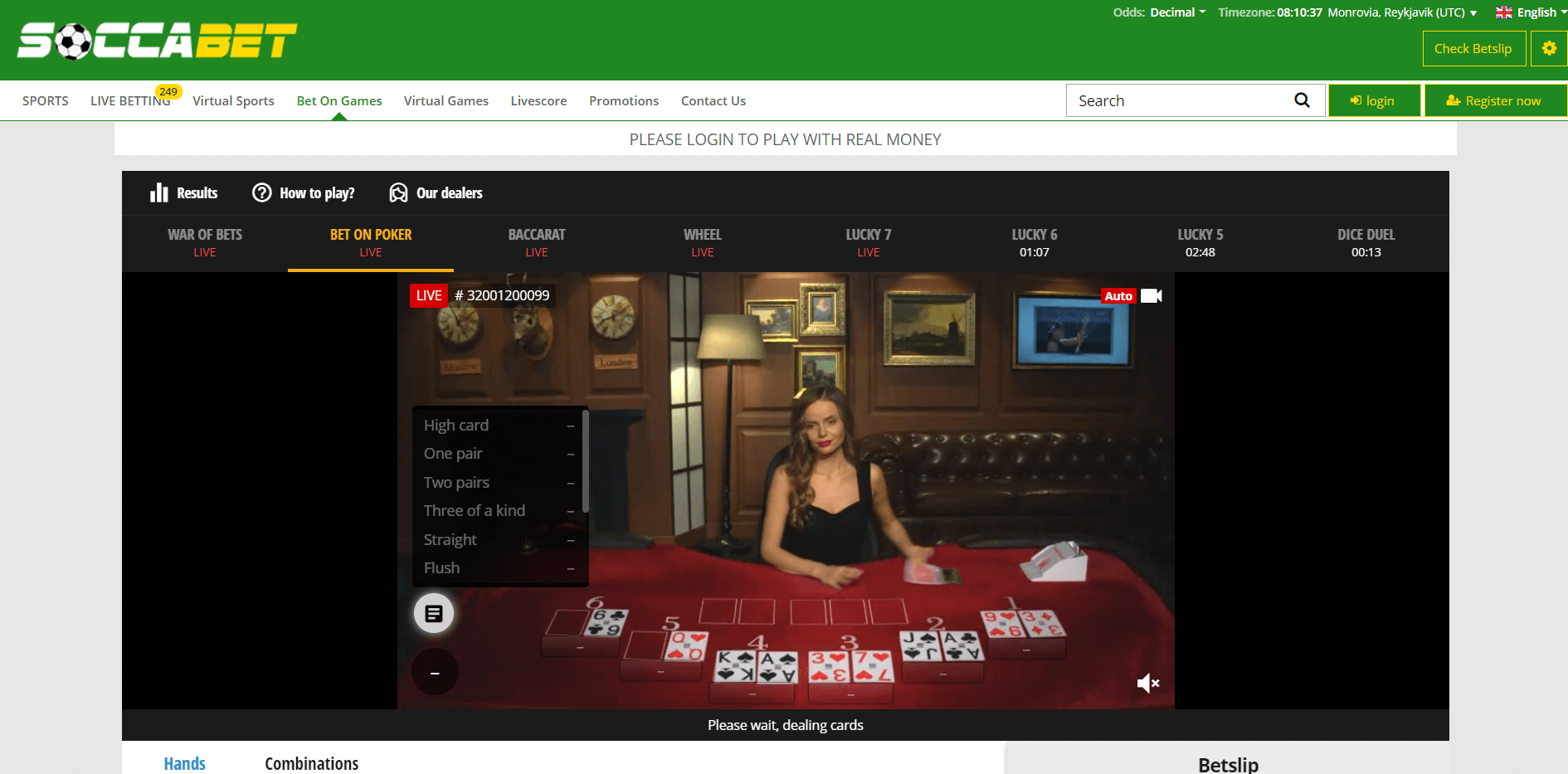 Summary
---
We have to say that we are impressed with what Soccabet has to offer. Yes, there are a lot of areas where this bookmaker can improve its services to become much more user friendly and reliable, but the most important aspect of a betting site is the betting process – and we think that Soccabet's betting process is really is one of quality. The large selection of markets to play on, the quality odds, and the MultiView in-play feature are great components to have and really set the bar high for other bookmakers.
Since they are still such a young site, Soccabet can only get better and with already such a good offering, we think there are many good things ahead for this bookie. We would love to see a live stream, more features on mobile, and proof of a license – to the say the least – but overall if you are looking for a betting experience that you can count on, you should definitely consider Soccabet.