The main difference between half time full time and half time full time correct score is that instead of selecting how many goals are going to be in the match, you are predicting who will win in each half of the match.
NG
Best Betting Sites for "HT/FT Correct score"
#1

Wide selection of HT/FT Correct Score bets
HT/FT total goals also available
Try HT/FT bet for a higher chance of winning

#2

Bet type name: HT/FT C. Score
HT C. Score and 2HT C. Score also available
Try HT/FT bet for a higher chance of winning

#3

Plenty of HT/FT Correct Score bets
Many Other Halftime/Fulltime markets in offer
Try "Halftime/Fulltime & Exact Goals" for Higher Odds

#4

Bet name: "Score At Half Time And Match Score"
Try "HT-FT" bet for higher chance of winning
"HT-FT + Total Goals" also available
Top Tips for Half Time Full Time Correct Score Predictions
In the 2018/19 Premier League season, one of the last games of the season saw Everton Travel to North London to face Tottenham. The match finished 2-2, so if you bet a draw, congratulations. However, in the first half Tottenham were 1-0 up going into half time, which meant the second half finished 1-2 to Everton. A combined bet for Tottenham to win the first half 1-0 and Everton to win the second 2-1 were approximately 18/1, Meaning a 10 pound bet would have brought in 180 pounds.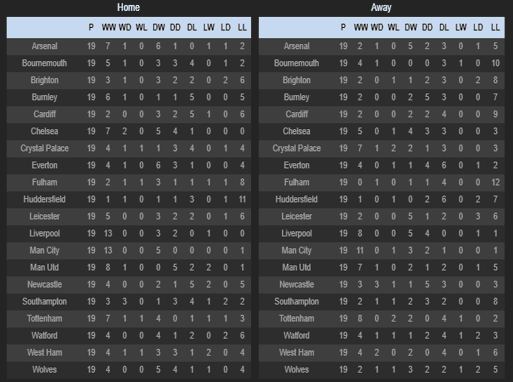 Days and hours can be spent on the internet seeking to find not only the best odds, but the best site in general for certain markets. Truthfully, it all depends on which market and bet type you wish to look into. Regarding half time/full time correct score bets, it's important to have good odds, easy selections and multiple correct score options.
The stats don't lie is a great site for getting an understanding on what teams to bet on. The site gives in depth detail of each team from across the globe in order for you to know who is most likely to score in either half. Predicting the winner of each half is much easier than predicting the score, this is why we encourage you to do some research before placing your bet. Below is a table showing which teams won at home and away in either half of all the matches they played last season:
As You can see, Arsenal played 19 games at home and away, however looking at the stats, they were clearly much better at home in the first half. However, second half they had one of the best records at winning away. This information is extremely key when deciding who to put your money on. It is also very important to check form and how the teams playing have done against each other in recent years. For example, if Wolves are playing Burnley, it's important to see who has won more of the past encounters, specifically the most recent ones. This information can be found very easily on windrawin. Here you can see the from the teams are in and how they have done in recent fixtures.
Please be aware that checking form and statistics is not guaranteed to make you a fortune for half time/full time correct score betting markets, however it will definitely increase your chance. Nobody can prevent a major upset, but majority if the times that there is an upset it's due to the fact that the favorite had some players missing/injured and new players have had to step up. If you follow the links provided and do your research, you might just be able to spot an upset on the horizon.
It is also key to find out if any of the key players are injured/suspended for the match you wish to bet on, or even any transfers. For this information we recommend taking a look at sports news sites such as Sky Sports News.
In a nutshell, these are our main top tips:
Search to find the best odds for you

Do you research into previous head to head matches

Look into the teams form going into the match

Check sports news articles team news in case of injuries/ suspensions.
Pros and Cons to Half Time /Full Time Correct Score
Candidly, there are pros and cons to all bet slips, whether it be a 15 game accumulator or a first goal scorer wager. With half time/ fulltime correct score, you are given the opportunity to not only win multiple bets at a time, but also gain a bigger pay out. Let me explain;
There is a match between West Ham and Manchester City and it's the first game of the opening premier League Season 2019/20. I have predicted that the first half will be a 0-0 draw, however Pep Guardiola Will fire up his players and Man City will become victorious winning 0-2 by full time.
If this bet comes in not only would West Ham be extremely upset, however I would have won 80 pounds for a 5 pound bet. The odds change depending on who you think will win each half and how many goals will be scored.
It's important to note that some sites offer you to choose the correct score in the first half or second half only. Whereas other sites (Such as the example given above) will combine the odds for first and second half correct score, giving you a bigger pay out. If you select the first option, then you can place a wager on the first half score, and once it's come in, you can the relax watching the second half knowing you have won already.
Half Time /Full Time Correct Score in Bet Builders and Cash outs
With sites such as Betfair, you can actually cashout just part of your winnings, and leave the rest of the bet amount in on the bet still. This way if you do end up winning, not only have you cashed out previously, but you also have the win amount from the bet. When betting on half time/full time correct score markets, your first half bet may have come through but you're still waiting for the second half to finish. If you have a feeling that this isn't going to come in, you can cashout a percentage of your win amount in order to save you the heartache of losing.
With sites such as Bet365, they have introduced what they like to call a bet builder. Essentially giving you the opportunity to create your own bet and the site will give you the odds for it. This also allows you to combine bets that you would not normally see together.
For example, you can choose The half time score, the full time score and half time score will be 0-0 to create one single bet with the price for the combined selections. You can make up to 6 selections and please note this is only for soccer. Once you have created your Bet, you simply select add to bet slip and as you can see below, you then decide how much you wish to stake on it.
Check our extensive guide to Bet Builder feature here. 
Half Time /Full Time betting on other sports
This part is fairly straight forward to get your head around. If you can think of a sport that is played with two halves, then you can probably bet on half time/full time correct score and that's one of the reasons so many betting sites have this market in their offer  Over the years the increase in this type of bets has rocketed, especially in sports such as:
Obviously other sports exist to bet in this way, however, these are the main one's. The key to betting on these sports is to not take the same approach as soccer, as the statistics differ from season to season. For example, in Rugby, the winners of the Super League have changed every year, unlike in football, where Manchester City have dominated for a long period of time. Doing a background check before you place the wager is probably a good idea. Check our extensive guide to Rugby Betting here. 
Half Time /Full Time Correct Score in a nutshell
Honestly, half time/full time correct score is just another way for you to bet differently on the game. The main differences are that you are more likely to win bigger than if you were to just bet for an outright winner. The reason being is simply due to the fact that you have less chance of winning. You can increase your chances however by looking at statistics and previous encounters that the teams have had in the past. Regardless of what you decide, look carefully, compare odds, review the stats and most importantly have fun doing it.